If you're looking for the perfect baby name with an air of sophistication for your baby, these elegant girl names are sure to please. A name makes an immediate impression, so make sure your daughter leaves an impression of class and grace!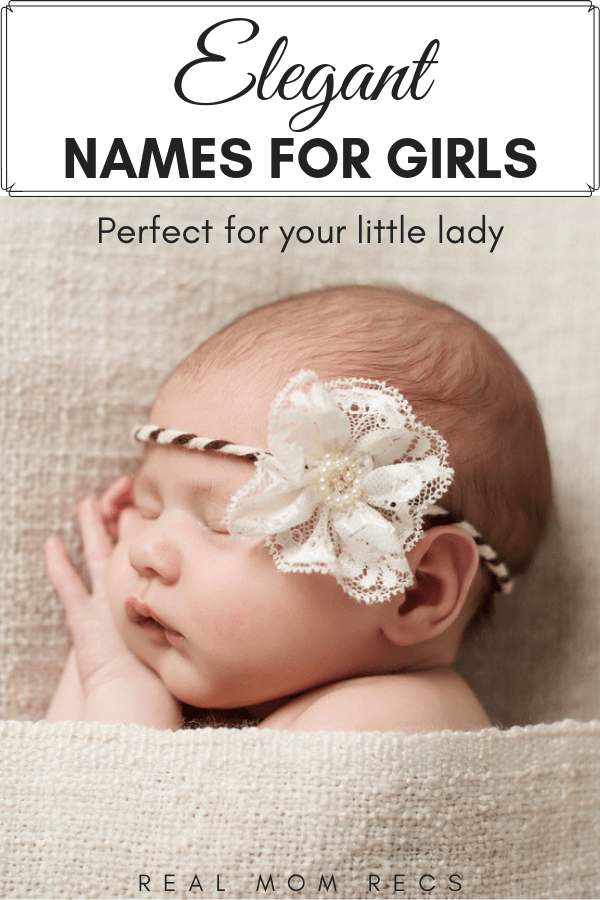 What makes a name sound elegant?
Beauty is always in the eye of the beholder, but certain name characteristics tend to give people an image of high class.
Length: Longer names are more likely to sound sophisticated (though some short names can be elegant as well).
Legacy: Names that have a history of being associated with royalty, fame, or money will conjure an elegant image.
Style: Traditional, classic names tend to leave a more favorable impression that new, made up names. A name that is stylistically similar to a traditional name can have the same effect.
Long Elegant Girl Names
Alexandra
Alexandra, and its variants Alexandria, Alessandra, and Alejandra, has a long pedigree associated with royalty. Dutch, English, and Russian royals have all donned this moniker. It is popular but not overdone and strikes a balance between strong and elegant.
Amalia
Related to the super trendy baby name Amelia, Amalia is like a sleeker, more exotic cousin. A German name meaning "hard working", Amalia has a touch of antique charm and the three "a"s make it sound super feminine.
Anastasia
Elegant and beautiful, the Russian name Anastasia is strongly associated with the lost princess Anastasia of the Romanov empire. The character Anastasia Steele of 50 Shades of Gray has made the name more culturally accessible.
Arabella
Fashionable and lacy Arabella brings to mind a glammed-up version of Isabella. Meaning "prayerful", Arabella has long been used in England and has just recently caught on in the U.S.
Aurora
Aurora has strong roots in the romance and fantasy department. In addition to the Disney princess, Aurora is the name of the Roman goddess of dawn.
Beatrice
Prim and proper Beatrice is a pretty name of Latin origin meaning "blessed". It has the old English charm in addition to modern day sweetness.
Camilla
Camilla has a timeless elegance that parents have taken notice of. Don't be surprised if this one cracks the top 100 soon!
Caroline
If you are looking for a name with understated, refined elegance, Caroline is it. Classic yet fashionable, Caroline is the name of sophisticated women like Caroline Kennedy and Princess Caroline of Monaco.
Christabel
Larger-than-life Christabel commands attention and exudes dignity. It is a combination of the Latin Christine with the French Belle, resulting in a unique name meaning "beautiful follower of Christ". Use this name if you want your daughter to be confused with someone famous.
Charlotte
Charlotte is one of the rare name that has managed to avoid becoming mundane despite its extreme popularity. It still feels like a royal, elegant name and the addition of Prince William's daughter Princess Charlotte only solidifies that image.
Eleanor
A name rooted in American history (Eleanor Roosevelt for example), Eleanor has that high class vintage feel.
Elisabetta/Elizabeth
A name strongly rooted in British royalty, Elizabeth is a timeless classic. The Italian version, Elisabetta is a softer, more glamorous alternative.
Eudora
Straight out of Greek mythology, Eudora is a lovely name choice for anyone looking for an elegant girl name that is unique and rare.
Evangeline
Romantic, elegant, and little bit whimsical, Evangeline covers a lot of bases. With Greek and Christian roots, Evangeline is traditional but still sounds creative.
Francesca
Italian stunner Francesca makes a bold and beautiful statement. Miles apart from it's derivative Frances, Francesca has a distinctive upscale feel.
Genevieve
The patron saint of Paris, Genevieve is French elegance at its finest.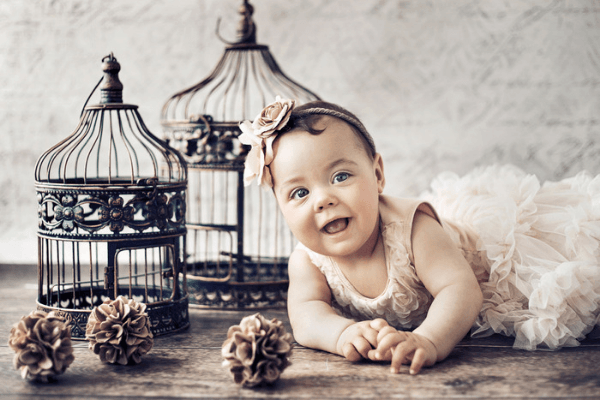 Giselle
It doesn't get much more elegant than this German name meaning "pledge". Giselle is both the name of a famous 19th century ballet and a certain Brazilian supermodel. Beauty and luxury at its best!
Isabella
Yes it's an uber popular name right now, but Isabella still has that dignified elegance. A Biblical name meaning "consecrated to God", Isabella has ties to European Royalty (especially Spanish) as well as Shakespeare and modern day Hollywood.
Lorelei
A German name meaning "alluring enchantress", Lorelei has that romantic, graceful charm.
Marguerite
Marguerite just sounds fancy! So many French names have that sophisticated vibe, and Marguerite is one of the most elegant of all.
Melisande
Full of romantic, old-world elegance, the name Melisande has French and German origins and means "strength". Pay homage to the more ordinary name Melissa with this graceful name choice.
Monroe
Thrust onto the baby name scene by Mariah Carey, Monroe pays homage to the sexy yet classy Marilyn Monroe. It also taps into the trend of using last names for first names.
Natalia
Super feminine Natalia embodies the grace and elegance of famous Russian ballerina Natalia Makarova and beauty of supermodel Natalia Vodianova.
Nicolette
Nicolette, a French name meaning "victory", sounds feminine and fancy the way so many French names do.
Odessa
Odessa is an elegant-sounding girl name with intrigue. It originates from a Ukrainian port city and is inspired by Homer's The Odyssey. It has a similar vibe to names like Larissa and Vanessa but its originality gives it that real wow factor.
Love unique names? Don't miss this list of 200 unique baby names for boys, girls, and unisex!
Ophelia
A Greek name meaning "help", beautiful Ophelia has long been associated with literature (Shakespeare's Hamlet and Harriett Beecher Stowe's Uncle Tom's Cabin come to mind). Graceful and elegant girl name, Ophelia is starting to show up on modern parents' radar.
Scarlett
Sophisticated and sexy, Scarlett is associated with Scarlett O'Hara and more recently, Scarlett Johansson.
Sophia
Mature and chic, Sophia maintains a high class reputation despite wild popularity.
Veronica
You might not know that Veronica is a name from the Bible and the patron saint of photography, but you probably do know at least one rich girl named Veronica.
Victoria
Whether it reminds you of Victoria Beckham, Victoria's Secret, or Queen Victoria, the name Victoria has major connotations to wealth, beauty, and elegance.
Violetta
An Italian girl name meaning "purple", Violetta is an ultra feminine, posh and refined name to suit a classy little lady.
Vivian
Both Vivian and the French Angelia Jolie spelling Vivienne immediately make you think "high class". It has Latin origins meaning "life" and is a great choice if you're going for something vintage but still fashionable.
Short Classy Girl Names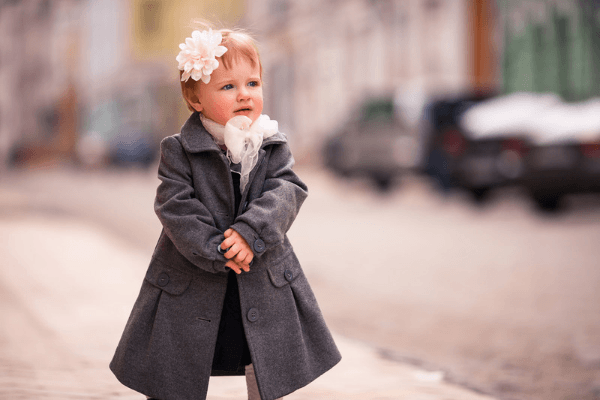 Adele
Adele, and its sweet diminutive form Adeline, has a formal if not regal air. Hit singer Adele helps give it a modern, glossy boost.
Adira
Hebrew for "strong", Adira is both simple and exotic. It is very rarely used in the U.S., but that could soon change given how many "A" names are found at the top of the charts.
Audrey
Audrey Hepburn anyone? This classy name meaning "noble strength" is sweet and beautiful.
Blythe
This old English name meaning "spirited" originated as a boys name but crossed over to the girls. Uncommon and stylish, this short name makes a big impact in the sophistication department.
Chanel
This French surname meaning "pipe, channel" was launched into the elegant category thanks to Coco Chanel and her famous luxurious fragrance, Chanel No. 5.
Elle
Simplicity means refinement with this short, classy name. Common Elle associations include supermodel Elle MacPhearson, the character Elle Woods of Legally Blond, and ELLE magazine.
Eloise
Chic Eloise has come back into fashion with all the El- names that are trending right now. It airs on being pretentious (remember the snobby-but-cute little girl in the Plaza Hotel?) but sweet nickname Ellie makes it more down-to-earth.
Isla
Fashionable and feminine Isla is a gorgeous name with Celtic origins that finally came to light in the U.S. after actress Isla Fisher became popular.
Grace
Grace has elegance by definition. Yes, it's a virtue name, but not in the way that beats you over the head (ala Chastity). It has a subtle, simple beauty that has not been overlooked by today's parents.
Mae
Single-syllable three letter baby names tend to be more cute than sophisticated, but Mae pulls it off. The association with Mae West help give it a vintage elegance.
Naomi
Hebrew for "pleasant", Naomi is an upscale pretty name with some famous beauties to back it up: Naomi Campbell and Naomi Watts for instance.
London
The only unisex name on the list, fashionable London gives off a jet-setter, slightly elitist vibe.
Rose
Would a baby by any other name be as sweet? As classic as the come, beautiful Rose is as soft and elegant as a flower.
Zara
It's no easy task for a Z-name to sound elegant, but lovely Zara nails it! British royals and a high-end clothing store solidify the glam image.
What elegant girl names do YOU love?
Leave a comment!
And for all things baby, remember to follow me on Pinterest: