Are you planning the ultimate trip to Disney World with a princess-loving little girl? I've found myself in this situation while planning a mother-daughter Disney trip with my six year old, Elle. She is a little hesitant with thrill rides, but she wants to experience everything related to princesses! Luckily there is no shortage of experiences involving Ariel, Belle, Elsa, and the rest at Walt Disney World.
And I've been enough times to know all the princess-centric highlights in all four Disney World parks. Read on to see them all!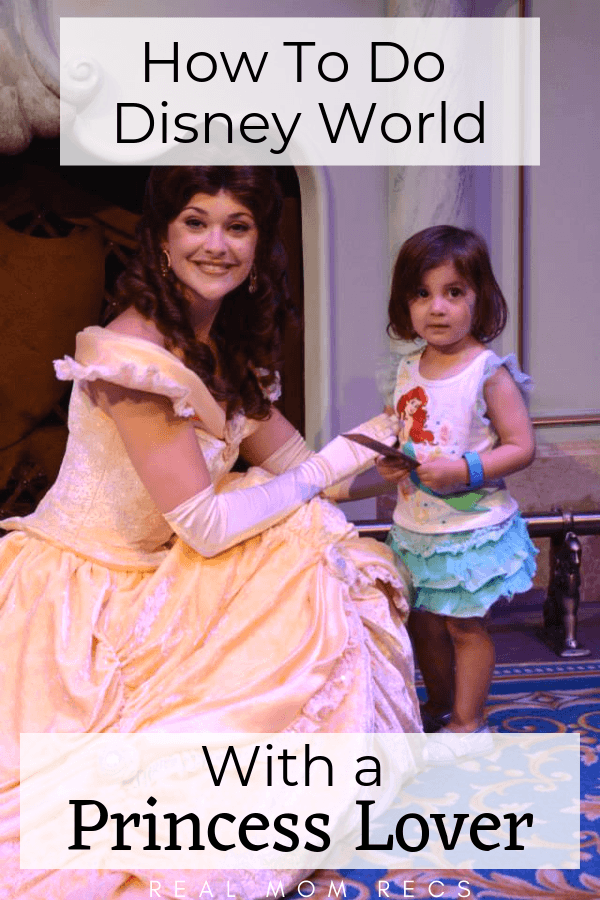 Best Princess Dining
We love going around the parks to meet characters and get their autographs, but do you know an even BETTER way to meet characters? Hint: no waiting in lines, plus you get to eat while they come to you!
That's right, it's character dining. You don't need to fill your trip with tons of them, but one or two princess meals is a great way to catch a lot of princesses in a short amount of time.
Keep in mind that Disney restaurants open for booking 180 days in advance. Mark your calendars so you know what date you can book. And if you don't get the reservation you're hoping for, keep checking as your date approaches. People frequently change their plans and something could open up anytime.
Cinderella's Royal Table
This is the holy grail of Disney princess dining. Dine with Disney royalty inside Cinderella's castle for an unforgettable experience for any princess lover.
The princesses you'll meet at Cindy's can change on any given day, but most often include Aurora, Ariel, Snow White, and Jasmine. Everyone also gets to meet Cinderella upon entrance, where there are photographers present to take your photo with her.
If you're on the Disney Dining Plan, it's important to note that this restaurant uses TWO table service dining credits per person.
Akershaus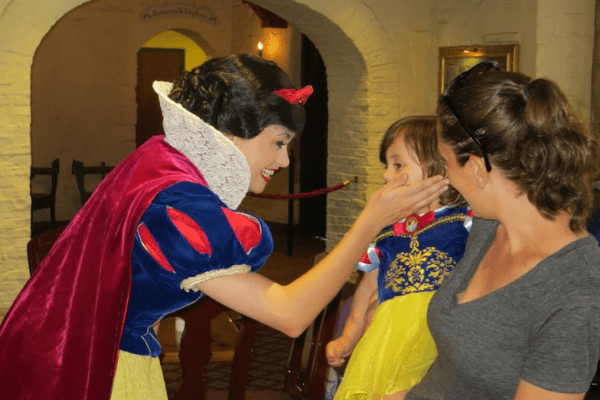 If you've already done Cinderella's Royal Table and want to try something different (and more affordable), Akershaus is a great alternative.
Located in the Norway pavilion of Epcot, Akershaus features a mix of typical American food and traditional Scandinavian dishes. It is part buffet, part table service which is nice when you're with young children and don't want to keep getting up over and over. The buffet is more cold foods, while the hot dishes are brought to your table on platters served family style.
At Akershaus you will meet many of the same princesses as CRT, but with Belle welcoming you at the door instead of Cinderella. Once you are seated the princesses circling the floor typically include Cinderella, Ariel, Aurora, and Snow White, though depending on the day you may see Jasmine or Mulan in place of one of these.
1900 Park Fare
Located in the Grand Floridian, 1900 Park Fare is a buffet restaurant with some unique character experiences. For breakfast, they have Mary Poppins, Winnie the Pooh, and Alice in Wonderland characters. At dinner, you get to meet Cinderella, Prince Charming, her evil stepmother, and wicked stepsisters. It isn't often character meals include "villains", so this experience is extra fun!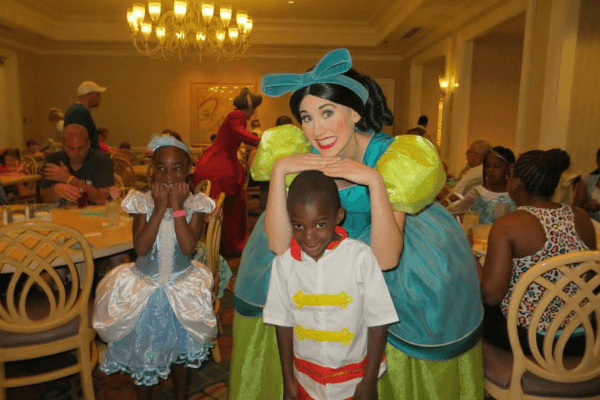 The Tremaine family is definitely the reason for going to the 1900 Park Fare dinner. You might hear them insulting Cinderella, or see the stepsisters throwing themselves at the Prince. We dressed our son as a prince for this dinner, and they hilariously asked if they could be his girlfriend. (See my list of kid's favorite Disney restaurants for this and other kid favorites!)
Bon Voyage Breakfast
At the Trattoria del Forno (located on the Boardwalk), you get the rare opportunity to meet some princes with their leading ladies at the Bon Voyage Breakfast.
Ariel, Eric, Rapunzel and Flynn Ryder greet you at your table while you dine on breakfast foods like "Tangled Eggs" and "Shipwreck al forno". This meal is high on Elle's list since it didn't exist the last time she was in Disney World!
Delight her with a princess makeover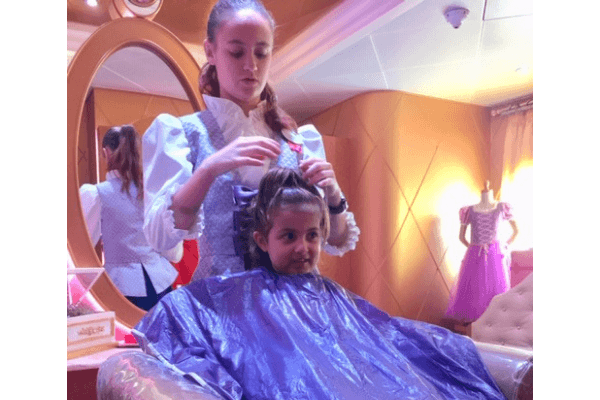 My two girls experienced princess makeovers at Bibbidi Bobbidi Boutique while we were on our Disney cruise, and this is the NUMBER ONE thing Elle wants to do on her upcoming trip to Disney World.
It's been months and they still can't stop talking about their time at BBB. I also keep catching them putting on the leftover makeup they let you bring home after it!
In Walt Disney World, there are two locations for Bibbidi Bobbidi: Magic Kingdom (yes, in the castle, could that be more perfect?) or Disney Springs. Due to popular demand, a third location will soon be opening at the Grand Floridian.
The Magic Kingdom location is very magical, but if you don't want to use up too much of your park day, Disney Springs is a great idea. You could make it part of a fun but more laid-back day off from the parks.
As a way to save money on souvenirs I will buy the costume ahead of time and bring it with us on the day of our BBB appointment. This way I can just book the basic package, called the Crown Package, for $65. The packages that include the costume go for $200 and up.
Click here for more details on the packages available at BBB.
There is another great makeover option your daughter might love if she is an Ariel fan. Pirates League in Magic Kingdom is known for their pirate makeovers of course, but they also offer mermaid makeovers. The experience is different than BBB as it's less girly and obviously more pirate-themed than princess, but it's just as immersive and fun!
The standard mermaid package will cost you around $40.
Princess themed rides and attractions
There are plenty of princess-themed attractions at the parks that don't involve dining or meeting characters. Many rides and shows incorporate some of the most-loved princesses both old and new.
At Magic Kingdom
Under the Sea: Journey of the Little Mermaid : This ride takes you through all your favorite scenes from the Little Mermaid while you sit in a moving clamshell. There is no height restriction, so babies and toddlers can see animatronic Ariel and her friends.
Enchanted Tales with Belle: Any Beauty and the Beast fan will delight in this magical experience. First you get to visit Belle's cottage and look around at all her and her inventor father's things. Then you get called into a room where the magical talking wardrobe explains that you will be traveling in time to the day the Beast met Belle. Children and adults are assigned roles in the show, which makes for a great interactive experience. At the end, all those who took part get to meet Belle and take a photo with her.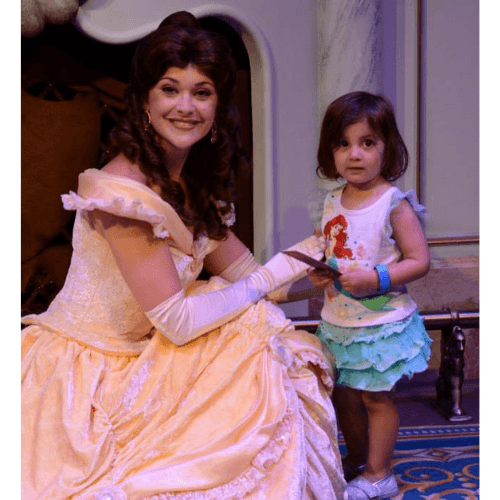 7 Dwarfs Mine Train: While not exactly a princess attraction, this super fun family-friendly coaster does stop and give you a peak into the 7 dwarfs cottage, where you can spot Snow White dancing with her favorite little men. (If you plan to ride this, you'll want to make sure to include it your fastpass strategy as lines are some of the longest at WDW.)
At Epcot
Frozen Ever After: If this log flume ride through a wintery Anna and Elsa wonderland feels familiar, you might be remembering Maelstrom, the ride that existed there before the Frozen craze. It is a pleasant boat ride with one small drop. Either use Fastpass or get there first thing at park opening to beat the crowds.
At Hollywood Studios
Though this park is best known for Star Wars, Toy Story, and a couple headliner thrill rides, that doesn't mean princesses are completely forgotten. There are several stage shows that will delight your princess fan.
Beauty and the Beast Live On Stage: Hollywood-style stage show performing a simplified version of Beauty and the Beast. Takes place in an open air theater, so despite the canopy for shade and protection from rain, it can still be hot. The show is well done and worth your time, just make a point to get there early in the day or after dark on particularly hot days.
Frozen sing-along: Technically called "For the First Time in Forever", most people just refer to it as the Frozen sing along. If your kids haven't grown tired of the Frozen soundtrack yet, they will enjoy this 25 minute show that covers ALL the songs. Anna, Elsa, and Kristoff are there as well as a pair of entertaining hosts.
Voyage of the little mermaid: Musical stage show featuring the characters and songs from the Little Mermaid. This one is inside in the cool air conditioning.
Princess meet and greets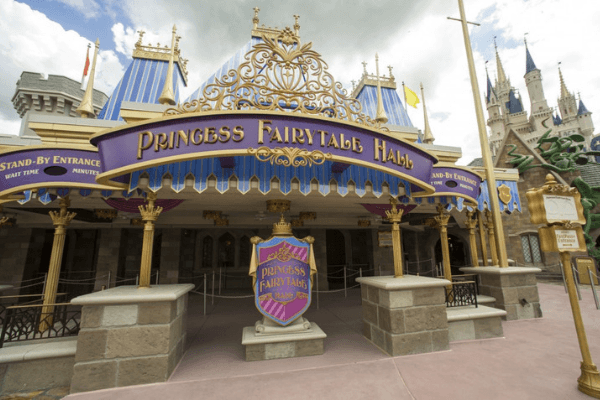 Magic Kingdom
This is the park to be if you want to meet tons of characters, especially when it comes to princesses. Some of these, such as the Fairytale Hall and Town Square meet and greets, offer Fastpass to expedite your wait times.
If characters are an important part of your trip and you want to be in the know, check out Kenny the Pirate. His character locator app will keep you at the front of the lines by giving exact places and times where you can find all the characters, including their break schedules.
Princess Fairytale Hall
Two separate lines exist for two separate meet and greets inside Princess Fairytale Hall. The character lineup frequently gets rearranged, but currently one side is Cinderella and Elena of Avalor. The other is Rapunzel and Princess Tiana.
Ariel's Grotto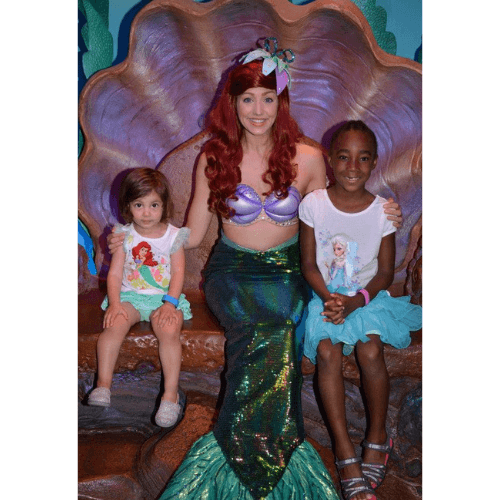 Right next to the Under the Sea ride in Fantasyland, you can meet Ariel (with her fin!) in her grotto.
Merida
It can be a little tricky to find, but if you go right at the castle and up around towards the carousel, you will see the spot to meet Merida. While you wait in line, you get to try to your hand at shooting a bow and arrow.
Jasmine
Over in Adventureland near the Magic Carpet ride, you can meet Jasmine and Aladdin.
Tinkerbelle
She may not be a princess but she's close enough for me! You can find Tinkerbelle in her own fairy location at Town Square Hall.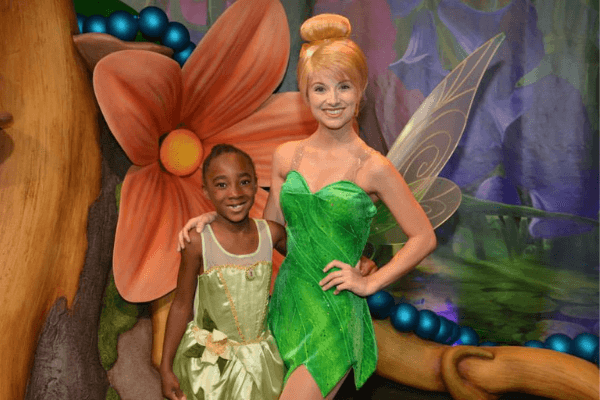 Epcot
Anna and Elsa: You can meet your favorite Frozen sisters in their Royal Summerhus in Epcot's Norway pavilion near the Frozen Ever After ride.
In a less formal setting, you can find several princesses around Epcot's World Showcase near their respective countries. For example, Aurora and Belle are often found greeting guests in France, Jasmine in Morocco, Mulan in China, and Snow White in Germany.
Animal Kingdom
Animal Kingdom is definitely more about wildlife than royalty, but there is one special princess you can find here (and only here!)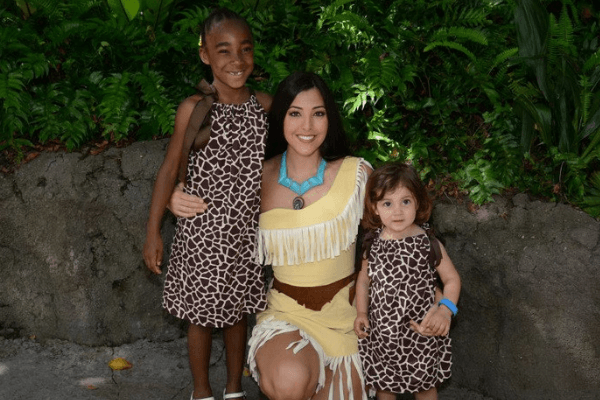 Pocahontas meets guests on the Discovery Island Trails- check the Animal Kingdom Times Guide for the exact schedule. Her location is pretty tucked away, so if you manage to find her the lines will be quite short.
What princesses can you see in the parade?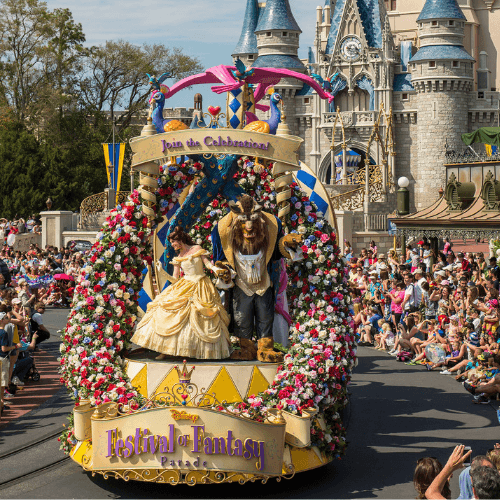 Another GREAT way to see a lot of princesses at once without much waiting is to catch the Festival of Fantasy parade at Magic Kingdom.
It takes place at 3 pm every day and you can watch it from any spot along Main Street or over the bridge from Frontierland. Depending on the time of year, it can be HOT, so a good plan is to scour the area 45 or 30 minutes ahead of time for a shady spot. Send one adult on a popsicle run and let the kids enjoy a cold treat while they wait for the parade.
Festival of Fantasy is chock full of princesses! It features Belle, Cinderella, Tiana, Anna and Elsa, Rapunzel, Ariel, Merida, and Snow White.
It is especially cool to see the detail on the different floats incorporating lots of little details from the movies!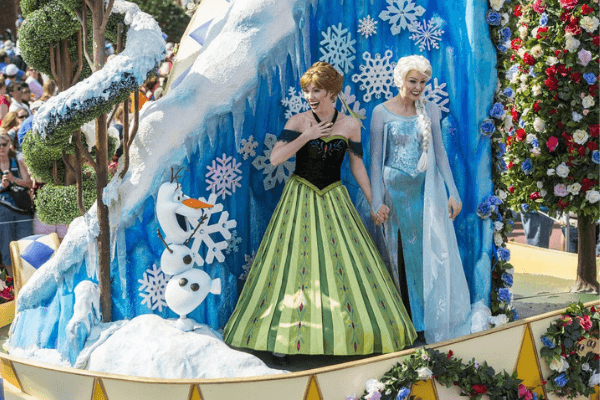 What is YOUR favorite Disney World princess experience?
Share with us in the comments!
And be sure to check back here in the fall to see the full report on Elle's princess-themed trip!