Disney world: it's fun, it's magical, and… it's expensive! Parents save and save just to get their kids there. Then you finally set foot inside the parks, and the kids have the audacity to ask for MORE! The reason? There are fun and exciting toys and souvenirs around every corner! The kids don't stand a chance against the genius of Disney marketing. The key is to figure out which Disney souvenirs to buy and which to skip (or buy ahead of time for a better price!) Here are the 5 best Disney souvenirs, and 5 not worth your money.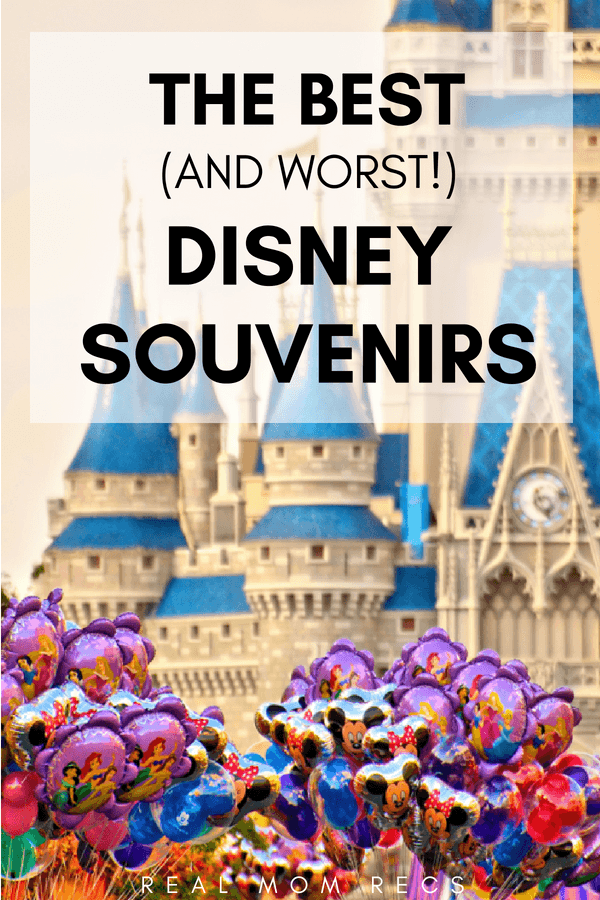 Best Disney Souvenirs
Make your own light saber
A huge hit with all the Star Wars fans visiting Disney World! The price varies depending on how elaborate you want to get, with the simplest single blade design selling for about $25 and the most elaborate double blade designs (like Kylo Ren) going for around $45.
There are several locations in WDW where you can make your own saber. Tatooine Traders in Hollywood Studios can be very busy since it attracts most of the Star Wars crowd, so check out Once Upon a Toy at Disney Springs for the same experience with a shorter line.
Another cool option is the Build a Droid available at the same locations for about $15.
Here is a fun video showing the process:

Photo Autograph Book
This is an easy and inexpensive way to capture the memories of meeting Disney characters!
Instead of just getting the basic autograph book for characters to sign, buy one with slots to put photographs in. Then when you meet a character, snap a photo of the kids (or yourself, who am I to judge?) with the characters to put in the book alongside the autograph.
We actually filled two books with all the characters we met on our last trip, so we did one for just princesses and one with all other characters.
[tp_table id=6 /]
My kids ADORE looking through these! It helps to preserve their memories of the trip too. (Have I ever mentioned how I can't stand it when people say not to take young kids to Disney World because they won't remember it? Preschool age is an amazing and magical time for a Disney trip!)
Silhouettes
Ok this one isn't exactly the most Disney-esque of all Disney souvenirs, but it is probably the best bargain around for a truly lovely keepsake.
For only $10 per person you get TWO portrait silhouettes (the way they are cut leaves you with two copies, one facing left and one facing right).
They are done extremely quickly. We were in awe watching the process, and even our toddler was able to sit long enough to get hers done. It was shocking to me how wonderful they came out. They captured our children's profile at that age perfectly. I absolutely cherish these silhouettes!
The carts selling silhouettes are stationed in several locations throughout WDW. We did ours in Liberty Square because we weren't able to find the one on Main Street near Town Square (maybe the artist was missing that day?).
You can also get them done in Disney Springs and sometimes in the France pavilion at Epcot.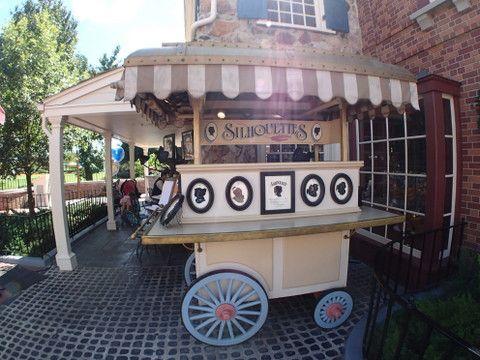 HOT TIP! Learn from my mistake and make sure to bring cash or credit card with you when you get these done!
We are so accustomed to just putting all expenses on our Magic Bands when we're in WDW that we don't even bring a wallet to the parks. But the silhouette makers are considered independent contractors and can not accept Magic Bands! I almost had to run all the way back to our hotel to get money after we had ours made, but luckily I was able to recite my credit card number for memory and they ran the transaction by typing it in.
My husband was a little alarmed by my ability to recite my entire credit card number, but that's another story for another day 😜
Personalized Mickey Ears
The most classic of all Disney Souvenirs has got to be the Mickey Mouse ear hat. Go with the classic or pick your favorite character: Buzz Lightyear, Piglet, R2-D2, and tons more.
They have sparkly Minnie Mouse ears attached to a headband, an ear hat with a bride's vail attached, and even light up ears that change color to the beat of the fireworks music. Prices range from $15-$25 depending on the style you choose.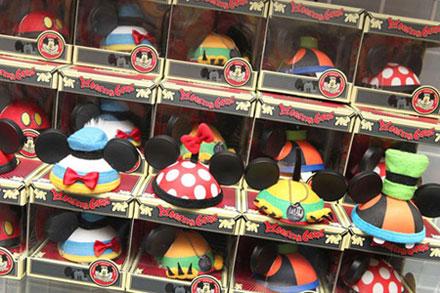 While these may not be the most practical choice for theme park attire, there is just something special about a kid wearing them on their first trip to Walt Disney World. And it makes for all kinds of iconic photo ops.
One way to make these extra special is to have them embroidered with your child's name on the back. Choose your font and stiching color, and within the hour your Mickey ears will have their owner's name on them for only $3. You can also add two lines of text for $7.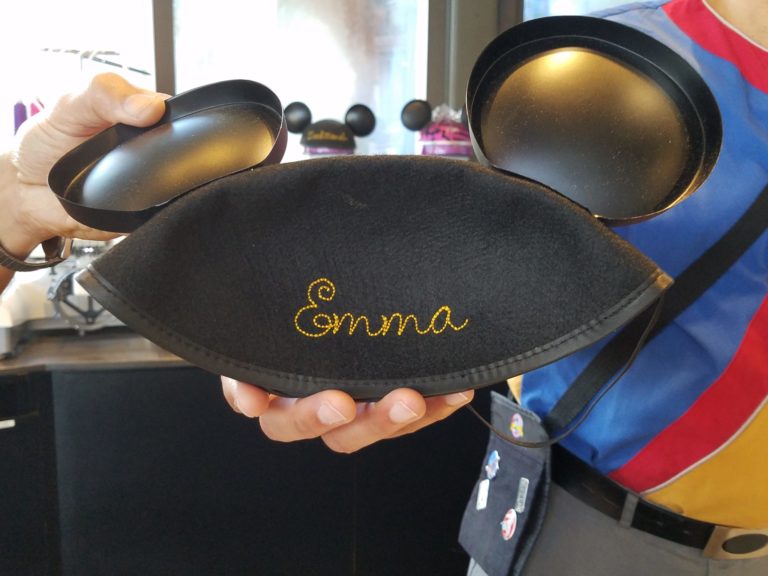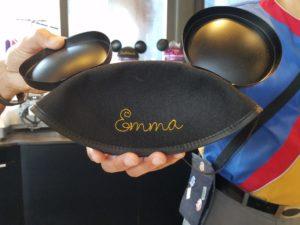 You can get your Mickey ear hat embroidered at The Chapeau on Main Street of Magic Kingdom or at Disney's Wonderful World of Memories in Disney Springs. If you want to order them ahead of time for your trip, you can order them through Disney Floral and Gifts.
Pressed Pennies
All over the parks, restaurants, and Disney hotels you will see pressed penny machines. Normally this is the kind of thing I try to steer clear of, but when traveling to Disney World with small children it's one of those tools to keep in your arsenal. When there is downtime, things like this are a great distraction for kids and they get SUPER excited about it.
Here is the book we use to store them in: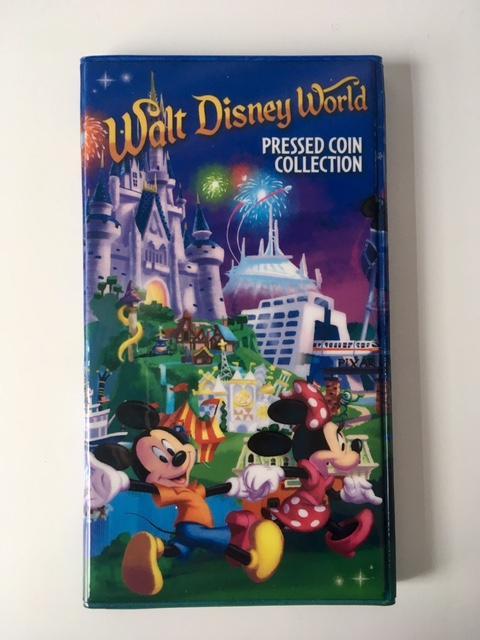 They love going back and inspecting each one to see the different characters and rides on them.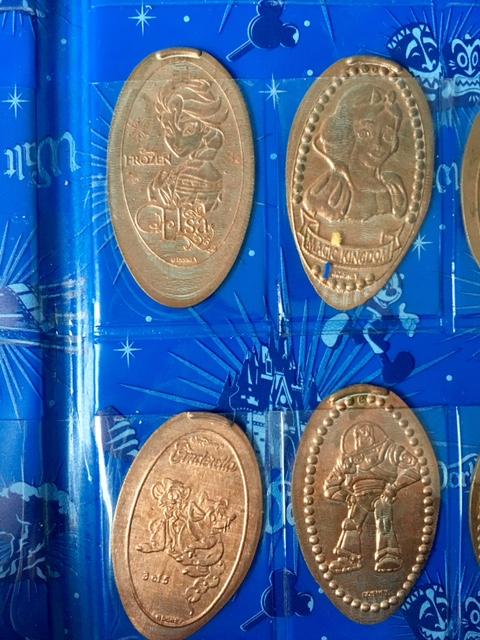 Disney Souvenirs Not Worth Your Money
Mickey balloon
I feel like such a Disney grinch saying this, but I just can't bring myself to spend $12 on a souvenir that won't even survive the duration of the trip.
While they will delight your kids for a moment, they will likely drift into the sky minutes later causing a flood of tears. Best case scenario, they end up tied to a stroller that gets parked somewhere for the day while you go on rides.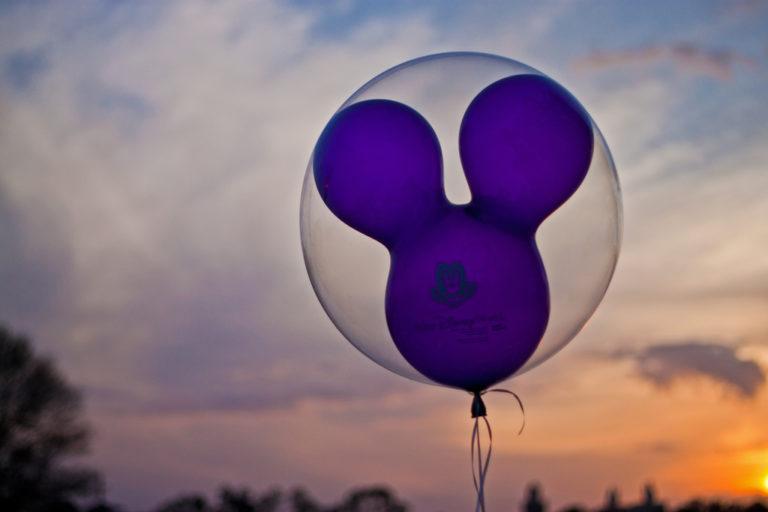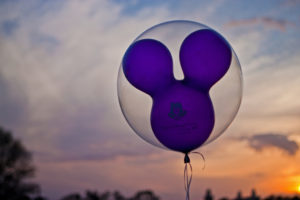 HOT TIP! If you are staying at Animal Kingdom Lodge, they do not allow balloons of any kind on the premises. They are hazardous to the animals on property. Avoid disappointment if you are staying there and don't try to bring one back to your room!
Princess dolls
For the 12 inch (Barbie size) Disney Princess dolls, buying in the parks will cost you around $20. The same dolls are sold at any Disney Store nation wide for $10 when you buy two or more.
Delight your kids by taking that same $20 and buying two at home before you leave for your trip and surprise them when you get there 😃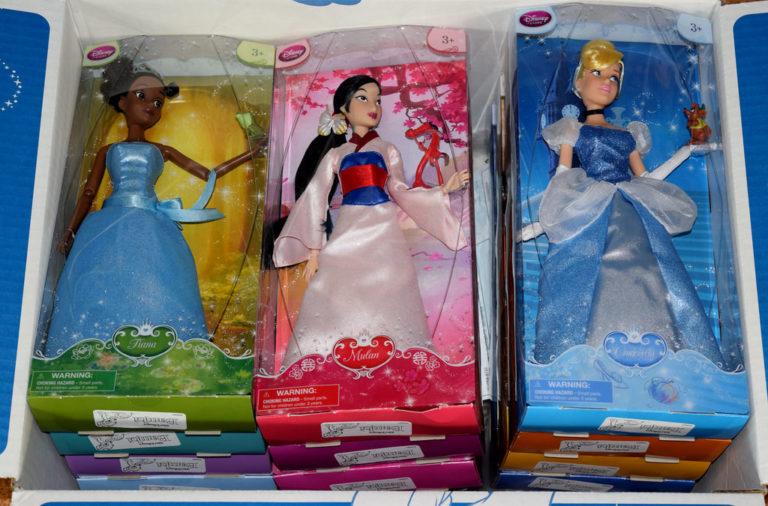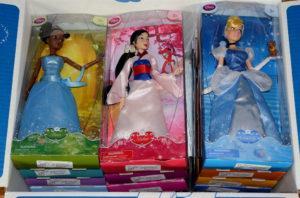 Princess dress up dresses
One thing every little girl wants to do in Disney World is Bibbidi Bobbidi Boutique.
Girls get princess makeovers with hair, nails, and shimmering makeup by cast members called "Fairy Godmothers-In-Training". The basic package costs a hefty $65 for the experience lasting 30 minutes to an hour. If you want the package that includes a new princess dress, it will set you back $200!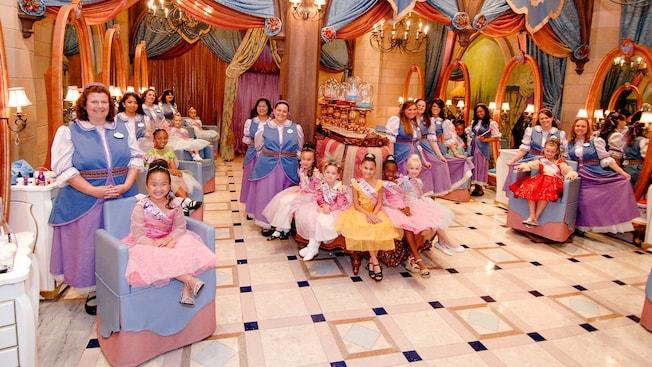 My advice would be to buy a dress elsewhere and stick to the basic package. Disney store, JCPenney, Amazon, Etsy, etc all have similar dresses.
Bibbidi Bobbidi Boutique is a special experience due to the interaction with cast members and feeling of being pampered. It really doesn't matter much where the dress comes from.
FYI: Without considering BBB, just to buy the dress alone that they sell in the parks goes for $70. This dress is considered "deluxe" meaning it is a bit more ornate than the regular Disney store dresses. But I truly don't think most kids would notice the difference between that and the $45 Disney store dress that is still shiny, sequined, and has the Disney label.
Light up Toys
When the sun goes down in Walt Disney World, the light up toys come out. Glowing swords, necklaces, spin toys, etc are everywhere you look.
Of course every kid will want one and of course they are way overpriced. I have fallen for this one before but then I got smart and came equipped with this: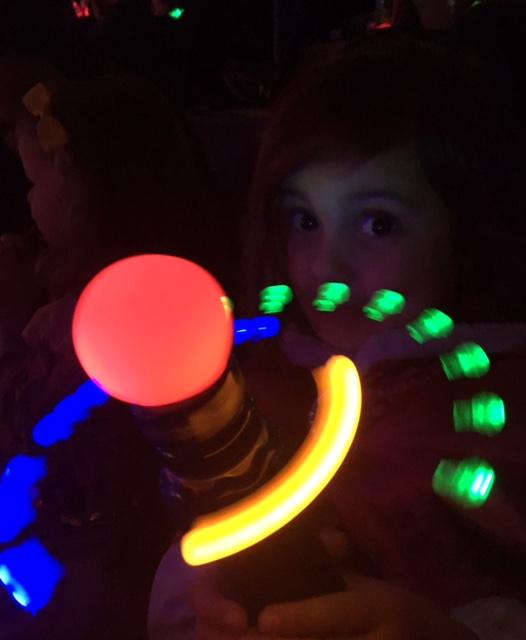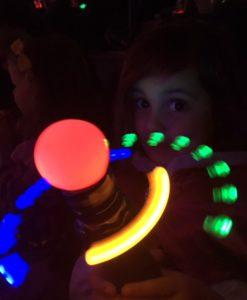 Light Up Galaxy Spinner with Flashing LED Lights
The kids were enthralled and I spent $7 on it. WIN!
Amazon also has a light up princess wand that would do the trick:
Then when it breaks or gets lost in an hour, it doesn't ruin your night 👍
Large stuffed animals
Please try to talk your kids out of buying a big stuffed animal in Disney World.
First of all, you can get them anywhere. Choose a souvenir that is more unique to the Disney parks.
Secondly, what are you going to do with the thing while you walk around the park and go on rides all day??? Yes, Disney has thought of everything so they do offer the service of holding it for you or sending it back to your room. BUT, how many kids are going to be ok with shipping off the giant Mickey they just talked you into buying? Then you know who is going to end up carrying it around… MOM!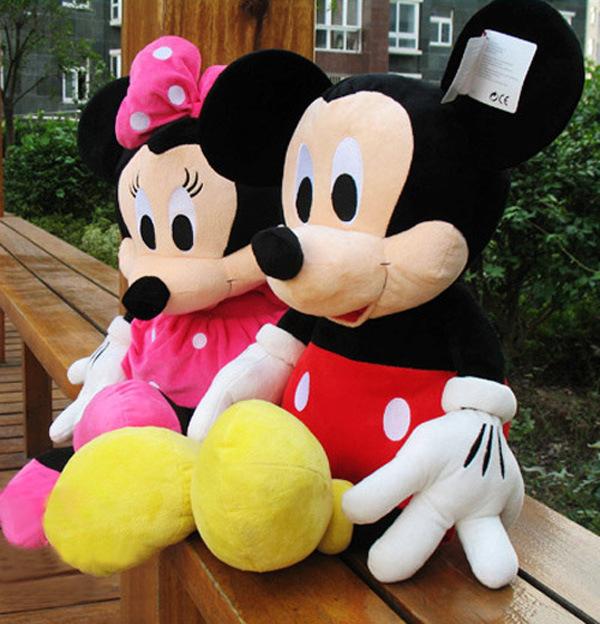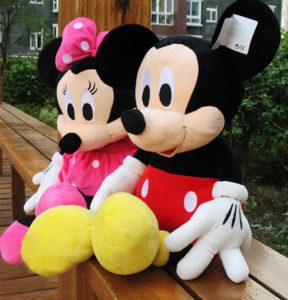 What are some of YOUR favorite Disney souvenirs?
If you are planning an amazing family vacation to Disney World, don't miss these 5 underrated attractions!