Don't sail away on your first Disney Cruise without knowing these Disney Cruise hacks! There is a steep learning curve to cruising and you'll save yourself a lot of headaches if you're prepared before you go. Here are some of our top tips for Disney cruisers.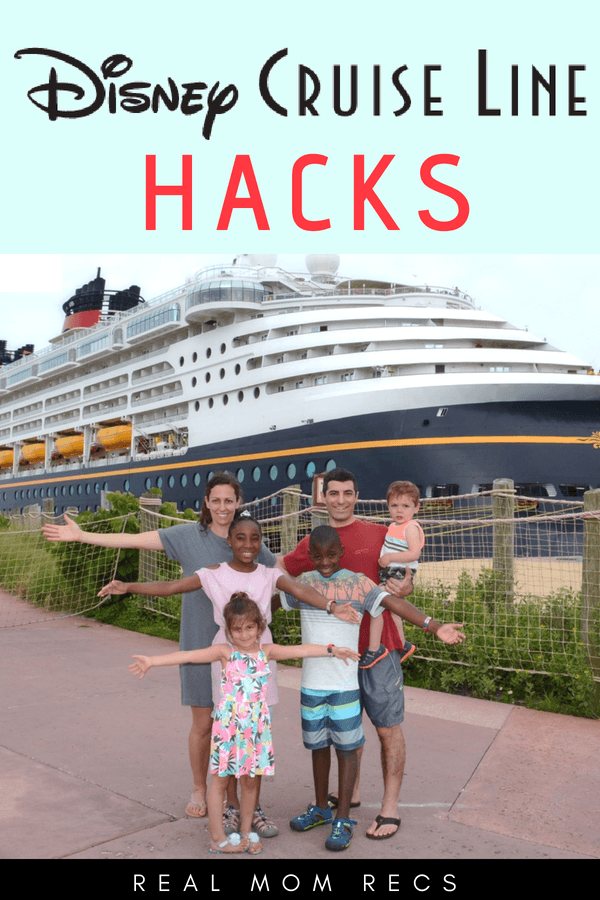 Disclosure: This post contains affiliate links, meaning any purchase made will earn me a small commission at no extra cost to you.
Your Dinner Rotation is Right Here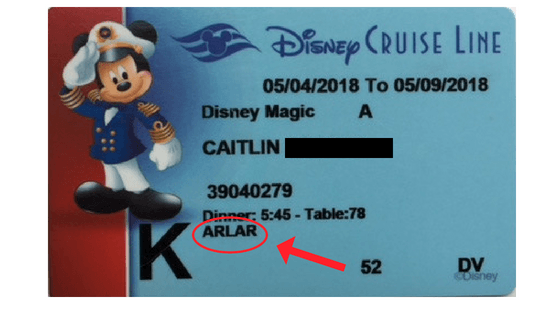 When you are about to board the ship at the start of your cruise, you will receive your Key to the World card. With it, you will make all your charges to your account, get on and off the ship, check your kids out of the kids club, and open your stateroom door.
Lots of useful information is included right on your card, including your emergency station (that's the big letter K on mine, which is where we had meet for the safety drill), dinner time and table number, and your nightly dining assignment.
The three main restaurants on the Disney Magic are Animator's Palatte (A), Rapunzel's Royal Table (R) and Lumiere's (L). So I can interpret the letters ARLAR to see that the five nights of our cruise have us dining at Animators, Rapunzel's, Lumiere's, Animator's, and Rapunzel's.
Although two of the restaurants are repeated during the cruise, they don't feel repetitive due to the different theme nights. Our second night at Animator's was Pirate Night which has its own menu, dress, and decor. The last night is the Bon Voyage dinner which isn't as elaborately themed but does have a different menu as well.
Know What Documents You'll Need
Depending on where your cruise is heading, you will likely need passports. You need to show these (and your Key To the World Card) when you first board the ship AND any time you return on board after getting off at port. In some cases an original birth certificate is enough, which worked for our toddler who doesn't have a passport.
To have these documents handy, I carried a large wristlet with our passports and KTTW cards that I kept within my beach bag. That way I could just pull it out while we waited in line to to board and didn't have to dig through the bag for everyone's IDs.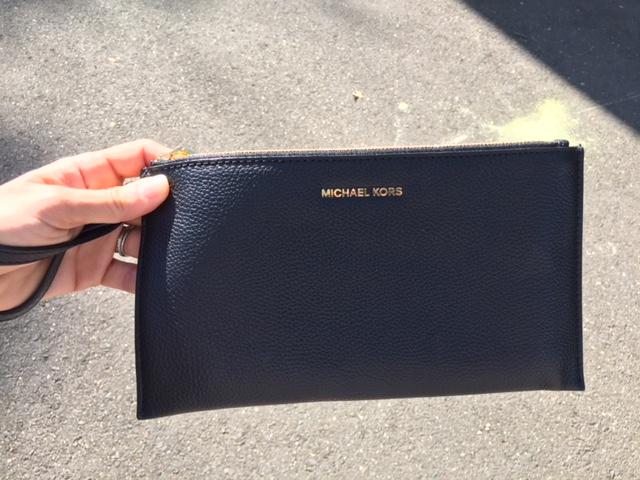 Be sure to check the Disney Cruise Line website for specifics about ID for your cruise.
Get The App Before You Go
You won't have cell phone service once you get on the ship, and you'll only have a very limited amount of wifi if you buy a package. Turn your cell phone to airplane mode when you disembark to avoid getting charged from your cell phone company, and just use your phone to tell the time and use the Disney Cruise Line app. You can text each other through the app, see the schedule of activities for the day, view your plans, and more.
Room Service Is Free
Comfy in your room and don't want to get up to go looking for food? Just pick up the phone. There is no charge for room service, just tip a couple dollars. A lot of people like doing milk and cookies before bed, but we preferred fresh fruit bowls and the cheese and cracker platter during nap time. Our toddler woke up happily with a snack right there.
We eventually got smart and ordered 3 fruit bowls at at time to keep in the room refrigerator so the kids could have a healthy snack anytime they wanted.
PRO TIP: Is one member of your family an early riser? Order a carafe of coffee at night to be delivered outside your door in the morning. That person can enjoy their coffee while waiting for the rest of the family to come to life and head to breakfast.
Collapsible Beach Buckets
These collapsible beach buckets from Amazon
fold up flat, perfect for packing in your suitcase or beach bag. Pop it open for kids to play with on the beach. Castaway Cay has showers you can rinse them out in before you get back on the ship. Then you can bring them home and use them again and again. We saw many people people buy the shovel and bucket set from Disney to play with on Castaway Cay, only to leave it behind at the end of the day because they didn't want to pack and carry bulky toys.
Order a Case of Water for the Room on Day 1
You can technically drink the water from the sink in your stateroom, but it didn't taste great and I was hesitant to drink much of it for fear of stomach issues. Instead, we had a case of water delivered to our room. They offer a special deal on waters and beer the first day of your cruise, in our case it was at a table set up outside of the D Lounge.
We kept our water bottles in the fridge and they came in handy for late night thirst, taking pills in the am, rehydrating when changing out of bathing suits, etc. Yes you can always head to the pool for the free drink stations, but sometimes you're thirsty and don't want to make the trip up.
Make Good Use of the Kids Club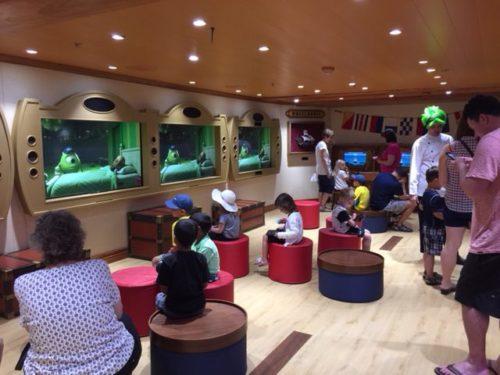 This is what sets a Disney cruise apart. The kids clubs (Oceaneer Club and Oceaneer Lab) are amazing, so kids will actually WANT to go there. The It's A Small World Nursery is also there to care for babies up to age 3 for a $9 per hour charge. Take advantage of these and get a couple "dates" in with your spouse! After all, it's your vacation too and we all know chasing after kids all day is no vacation.
Pack More Sweaters
Make sure you pack more hoodies and sweaters for everyone in your family than you think you'll need. Even in hot summer weather, the breeze on the ship is intense and can be chilly at night and early in the morning. And inside the ship, the air conditioning is blasting most of the time. I would recommend you pack something long sleeved to wear with every evening outfit on your trip.
Enjoy Adult-Only Time
When you've dropped your kids off at the kids clubs, take the time to enjoy the fantastic adults-only experiences on board. The alcohol tastings are very well done and fun. We loved Mixology, which shows you how to mix 5 different drinks in one hour. The drinks are tasty and they're all different so there's something for everyone. If you drink all five, you will definitely be feeling it, so be careful!
In addition to Mixology, we took advantage of the specialty adults-only restaurant Palo for a superb upscale Italian dinner with a view. There is a dress code, so don't forget to pack pants, a dress shirt and dress shoes for men and a dress and shoes for women.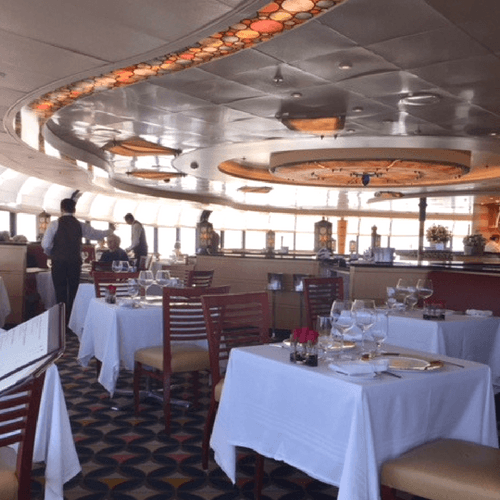 Mixology and Palo were two major highlights of the cruise for us. If you make time for it, you will not regret it!
Log In Right At Midnight When Your Booking Window Opens
If this is your first cruise, that means 75 days from the date you leave. Log in to your Disney cruise account at https://disneycruise.disney.go.com to book things in advance like port excursions, Bibbidi Bobbidi Boutique, tickets for the Princess Gathering and Frozen meet and greet, Palo dining reservations, childcare hours at the nursery, and more.
Some activities may be all booked by the time you log in. If this happens, don't panic. Many activities will be available once you're on board, just check the Navigator you get when boarding and go directly to the sign up location. In our case, plenty of time slots were open for the Princess Gathering and Frozen meet and greet once on board. Mixology classes and other drink tastings were available as well.
One reservation we were not able to get online OR on board was Palo brunch. We ended up taking an available dinner reservation instead and it was spectacular, so no regrets there.
Make Your Own Sea Day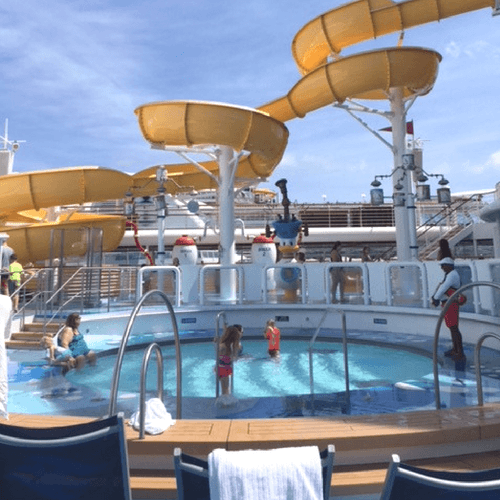 Choose the port that doesn't interest you as much as the others, and turn that day into your own sea day. Stay on the ship to take a break from the running around and get some dedicated relaxation time in. The pools and water slides will be much less crowded while everyone else is off doing port excursions so you can enjoy a quieter day by the pool.
Get a Wakeup Call From Mickey
Your kids may be less grumpy about waking up in the morning if you let Mickey do the wakeup call! He is the default voice of wakeup calls on a Disney Cruise.
You can also arrange a call from Mickey or Minnie before you leave for your cruise. My kids were super excited to hear Mickey saying he'd see them real soon on their cruise. Log in to your Disney cruise page to arrange this a few days before you leave.
Try a Sit Down Breakfast or Lunch
Each day your Navigator will tell you which restaurant is open for breakfast and lunch in addition to the buffet at Cabanas and the quick take away food from the other restaurants. While most people love the buffet, sometimes it's nice not to have to get up and just let your server take care of you for a calmer, quieter meal.
Costumes For Everyone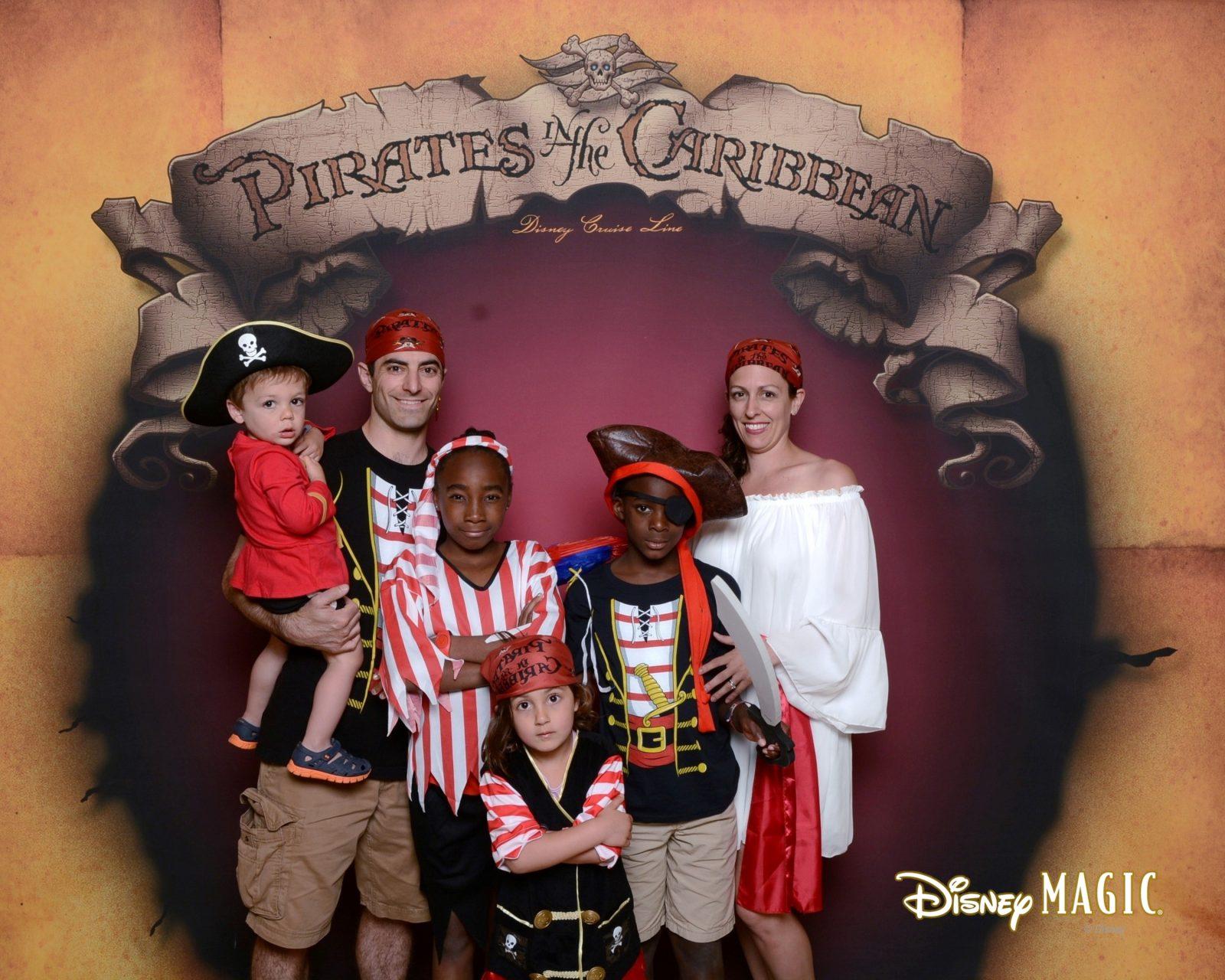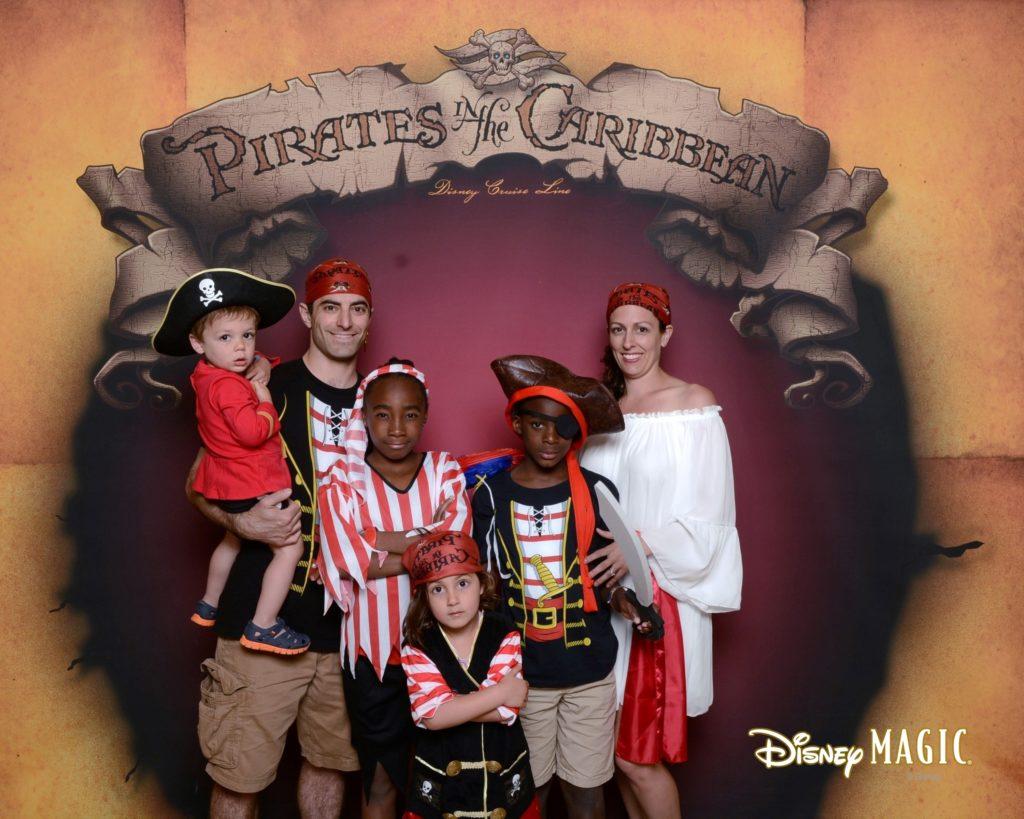 Don't be shy- Disney Cruises are for everyone to play dress up! Pirate Night is a blast, and you will want to have everyone in the family outfitted for the occasion. Disney will provide a bandana in your stateroom for each member of the family, but you will want more than that.
For a reluctant Dad who wouldn't be caught dead in a frilly pirate blouse, we went with this simple t-shirt
designed to look like a pirate vest:
You'll also want to pack any gowns or dresses your little Princess fan might want. All over the ship you'll find little girls roaming around in their princess garb, and of course it's a must for their princess makeover at Bibbidi Bobbidi Boutique.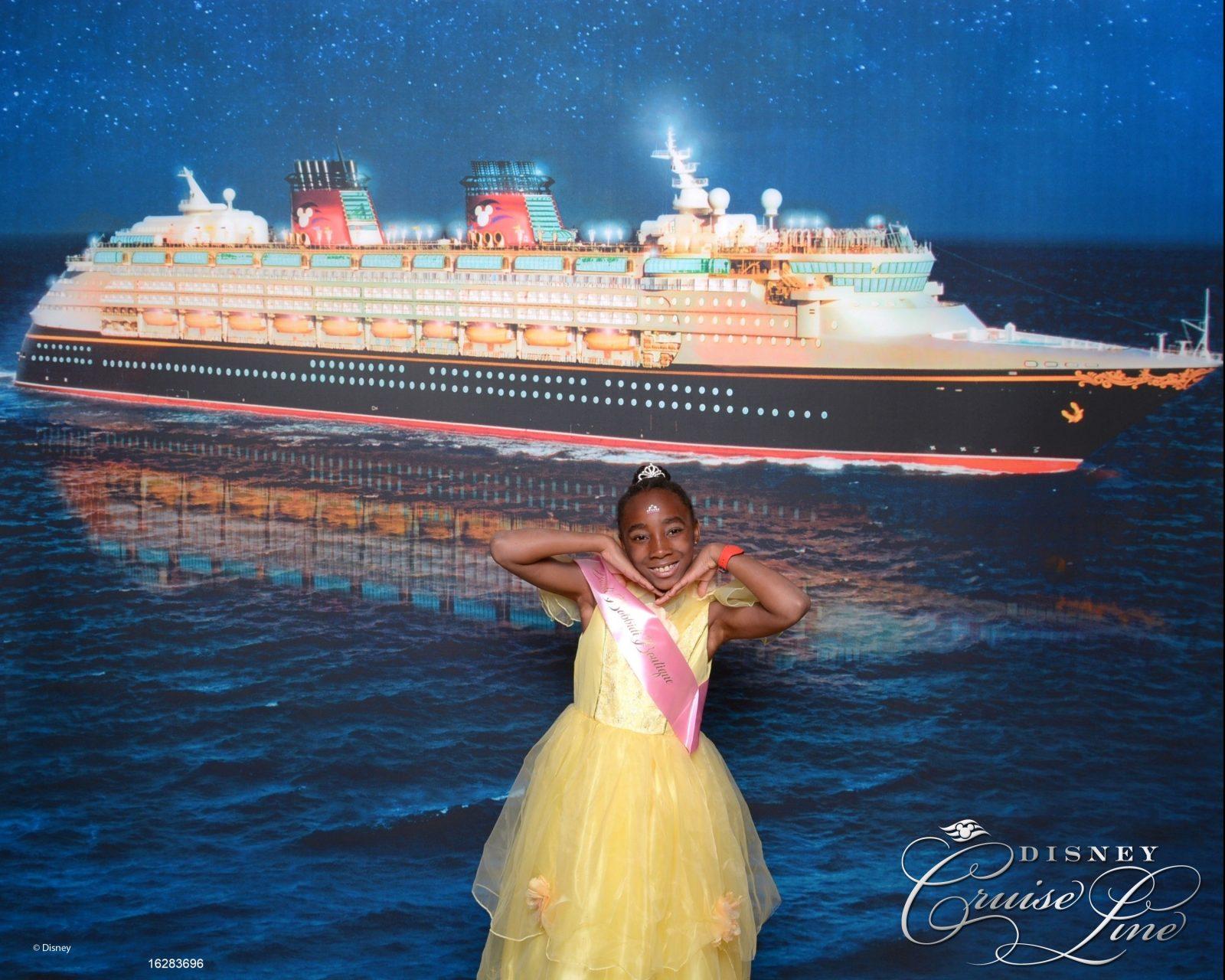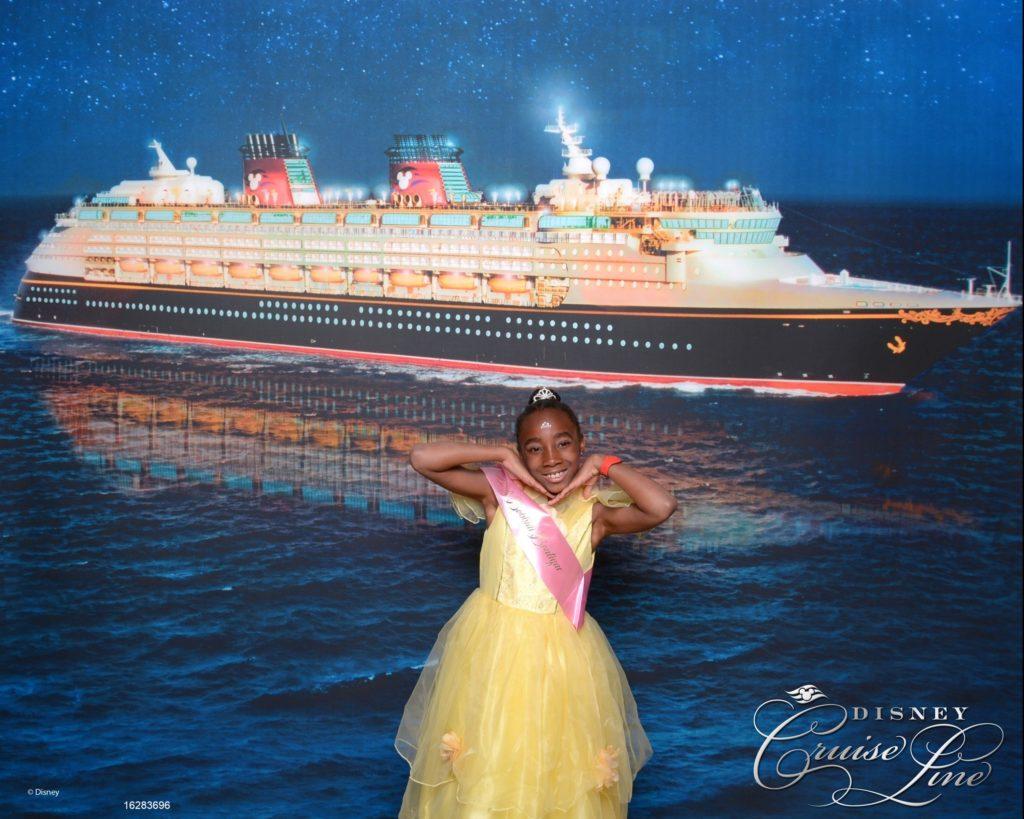 Both pirate costumes and Princess dresses are available for purchase on board, but you will find a greater selection at better prices if you shop at home.
PRO TIP: If you have your cruise booked far enough in advance, hit up clearance sales right after Halloween. Both pirate and princess costumes will be greatly discounted.
Large family? No Problem
Staterooms can only accommodate families of 4, with just a handful of exceptions. If you have a larger family like we do with six, you can book two staterooms with a connecting door in between. Then just prop the connecting door open for the week to turn the two rooms into essentially one big suite.
I was a bit concerned going into our trip that we would feel separated from the kids with this arrangement, but once you see the rooms your fears will be put to rest. The space in the staterooms is TIGHT, so the door is literally a step from the foot of your bed, and then one more step to get to the other room's bed. I was worried I wouldn't be able to hear a kid calling me in the night, but in fact I was able to hear every sniffle and cough coming from the kids' room.
Pack Some Ziploc
At the last minute, I threw some gallon size Ziploc bags
and sandwich size baggies in my luggage before leaving home. Wouldn't you know I used every last one of them while on our cruise?
Gallon size bags will allow you to separate any soiled clothes or wet stuff from the rest of the clothes in your baggage. Whether it's wet bathing suits or any bodily fluids that come along when traveling with kids, you will be glad you have these!
The smaller baggies I used for snacks and bringing food items back for later. With so many food options, my kids often took too much but didn't want to throw away the extra (for example, the Fruit Loops at the breakfast buffet- junk cereal is a special treat in our house!). I would dump it into the baggie and then break it out at a later convenient time, like sitting waiting for the stage show to start.
Take Advantage of Photo Opps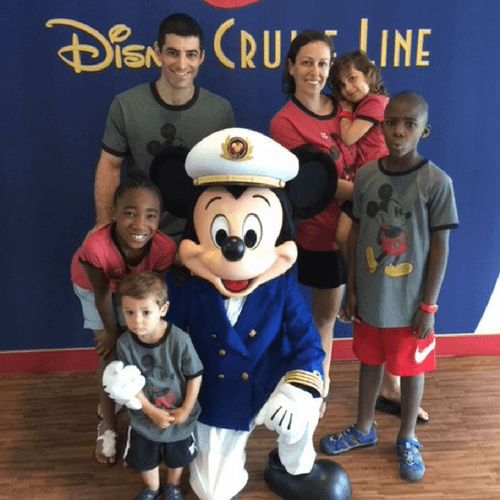 If you're like me, you probably have approximately 800,000 pictures of the kids on your phone. And you probably have a handful of pictures of the whole family with yourself included.
Each night of your cruise when you and your family dresses for dinner, get ready a few minutes early and head to one of the photographer lines set up in the atrium. If you buy the photo package ahead of time, you'll receive digital copies of all the photos on a thumb drive at the end of the cruise (costs around $200). Even if you're forgoing the photo package, you should still stop at the photo stops and have a photographer snap a picture with your camera or cell phone.
Have a Magical Time With These Disney Cruise hacks!
It takes a little bit to master the ins and outs of cruising, but I hope with these Disney Cruise hacks you will be a step ahead. I hope you love every minute of your cruise making priceless family memories.
If you are planning a Disney land and sea vacation, don't miss my Disney family vacation posts from kids' favorite Disney resorts to making the best use of Fastpass and how to save big on Disney!