You can read all you want about which Disney resort hotel is the best, but kids have their own criteria! Whether it's activities, water slides, or animals, the kids choose their favorite hotel based on FUN! Read on to find out the kids favorite Disney resort for each price category.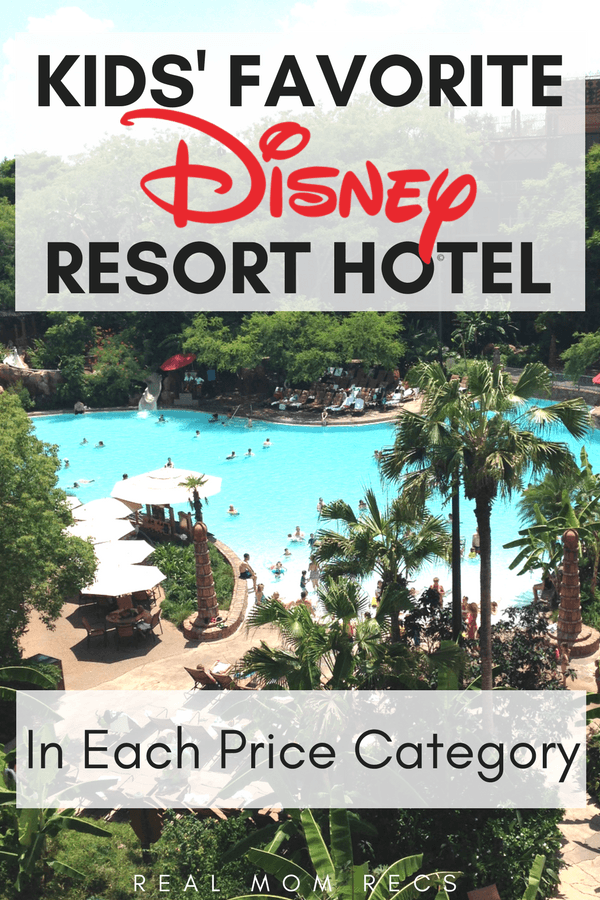 Why choose a Disney resort?
I know there are tons of non-Disney hotels in the vicinity of the property that offer more space at a lower cost than Disney-owned resorts. Personally, I have never managed to break away from Disney to go try them! There are a few reasons for this preference:
Never breaking the "Disney bubble". Everything Disney does is magical and themed down to the smallest detail. When I'm on a Disney vacation, I love staying immersed in that world.
Disney knows kids. They just get it right every time. In the lobby, they have Disney cartoons playing on TV with kid-sized chairs in front of them so Mom and Dad can check in peacefully. You can have a character call with your wakeup call each morning. The staff are amazing with children and always seem to have a sticker or a wink and a smile for the little ones. I've even had a child get sick while staying at a Disney resort and they had a doctor to the room for me in 30 minutes. That's the kind of thing that's worth paying extra for as far as I'm concerned.
Magical Express Sure, there is always Uber, but when you have four little ones in tow without car seats, the free bus from the airport to your hotel is a major convenience. (And they take your bags for you too, so no waiting around at baggage claim!)

Happiness is… boarding the Magical Express!

Earlier Fastpass Booking Window When you stay at a Disney hotel, your window to book Fastpasses opens up 60 prior to your trip. For all other guests, Fastpasses can only be made 30 days out from the start of your trip. This is a big advantage for getting those hard-to-get Fastpasses, like Avatar Flight of Passage. (Be sure to read this post for help with your Fastpass+ selections!)
Getting to the parks It's super easy to get to any of the parks (and Disney Springs) when you stay at a Disney hotel. There are frequent buses that take you to whichever one you need to get to and they run all day. Some resorts also have boat transportation, which is a slower but more fun way to travel. Some people don't care for the buses, but I've always found them to be prompt and relatively enjoyable.
Extra Magic Hours These hours, either super early in the morning or late at night, are times when only Disney resort guests are allowed to be in the parks. They may or may not fit in with your touring plan- I recommend utilizing EMH only when you have park hopper tickets. This way you can enjoy those hours when the park is less crowded, but switch to another park for the rest of the day. The reason? The park with EMH tends to end up being the most crowded park of that day during regular hours. Click here for more tips on avoiding crowds at Walt Disney World.
Disney Resort Categories: What's the difference?
Disney categorizes its hotels into Value, Moderate, and Deluxe categories. ALL Disney resort hotel stays come with the perks outlined above. All rooms also come equipped with wifi and mini fridges. However there are also some differences in the amenities based on category.
Value Resorts
Value resorts include Pop Century, Art of Animation, All-Star Movies, All-Star Sports, and All-Star Music. All of the Value resorts are boldly themed to appeal to children. They all have rooms that measure around 260 square feet and are priced around $100-$200 per night (for non-suites), depending on the season.
For dining options, the Value resorts have food courts and pizza delivery, but no sit-down (table service) restaurants.
They all include at least one pool, but no water slides.
Moderate Resorts
It seems like all Disney connoisseurs have their favorite Moderate that they will defend to the death! These resorts do all have their own unique personality. Included in the Moderates are Port Orleans Riverside, Port Orleans French Quarter, Caribbean Beach, Coronado Springs, and Fort Wilderness.
The Moderate Resorts each have a table service restaurant in addition to the food court for more dining options. They also have a main pool with a waterslide in addition to secondary "quiet pools".
Moderate rooms have a larger square footage than the Values (314-340 square feet) and some can accommodate 5 guests by including an extra pull out bed.
The cost for a Moderate resort is $180-$290 per night, depending on the resort, room location, and season.
Deluxe Resorts
Disney's Deluxe resorts include Animal Kingdom Lodge, Beach Club, Yacht Club, the Grand Floridian, the Polynesian, Boardwalk Inn, and Wilderness Lodge. The Deluxes have more mature, refined (and of course beautiful) theming. Most offer other methods of park transportation besides buses, such as by boat, monorail, or walking paths.
The dining at Deluxe resorts includes a more upscale table service restaurant and a quick service option, but not a food court. They all have a main pool with water slide in addition to smaller quiet pools. They also have gyms and salons on site.
The cost per night at a Deluxe resort ranges from $325-$830 for a standard room. Animal Kingdom Lodge tends to be the least expensive and the Grand Floridian and Polynesian being the most expensive.
Now Onto the Kids' Picks!
Kids Favorite Value: Art of Animation
One immediate perk of Art of Animation for bigger families like mine is that is has a large number of suites holding up to 6 people with 3 separate sleeping spaces. The family suites are themed after the popular movies Cars, The Lion King, and Finding Nemo (yes, you can request which one you want to stay in). The standard rooms that hold 4 people are themed after The Little Mermaid.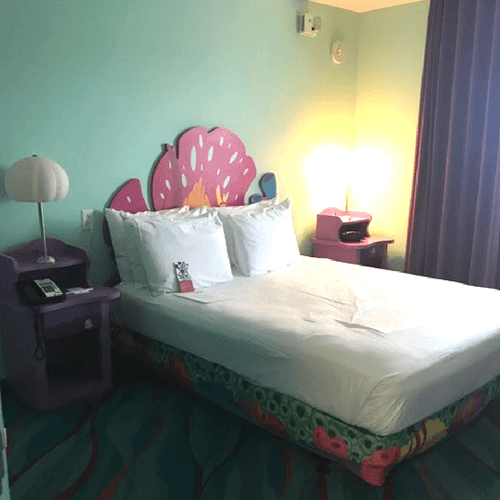 The decor in the rooms is elaborate for whichever movie you're in. It could be described as "loud" and many adults may find it to be overly bright and perhaps tacky. Kids tend to love it.
Art of Animation's exterior theming is what we'd call "larger than life." There are huge sculptures of kids' favorite characters all over the grounds.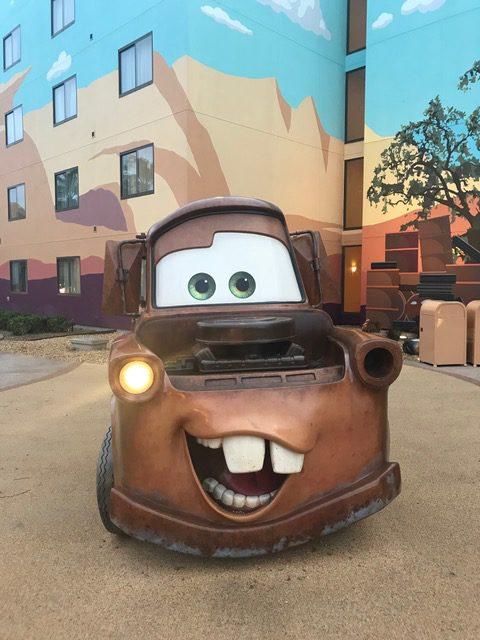 A major highlight for kids is definitely the Big Blue pool, which is truly enormous and plays underwater music. There is also a fun splash area for little ones to cool down and burn off some energy.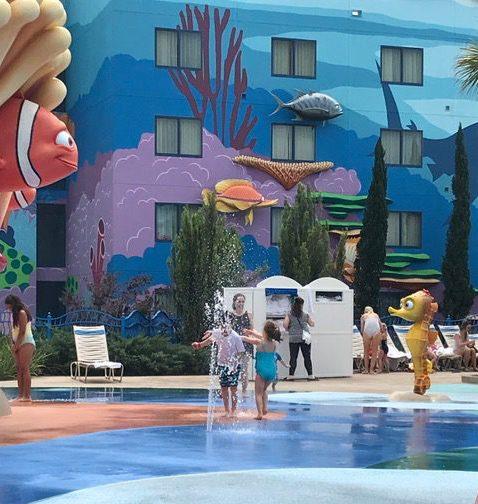 One caution about this resort: Like all of the Values, Art of Animation is VERY large and spread out. If you want to be closest to the lobby, book a Finding Nemo room. The Cars and Lion King rooms are about a 5-7 minute walk from the entrance. The Little Mermaid rooms are even farther than that. If you have any mobility issues or even just with small kids in tow, think about how you would do walking at this hotel in addition to all the walking you'll do in the parks.
A convenient aspect of Art of Animation is that it does not share a bus with any other resort. It is also in walking distance to Pop Century if you want to walk over and check out another resort or try out a different food court.
Kids Favorite Moderate: Fort Wilderness
Fort Wilderness is a huge 750 acre forest consisting of a campground, family cabins, two restaurants, and dinner show, two pools, a playground, a water playground, tennis, a lake, hayride, jogging trails and more.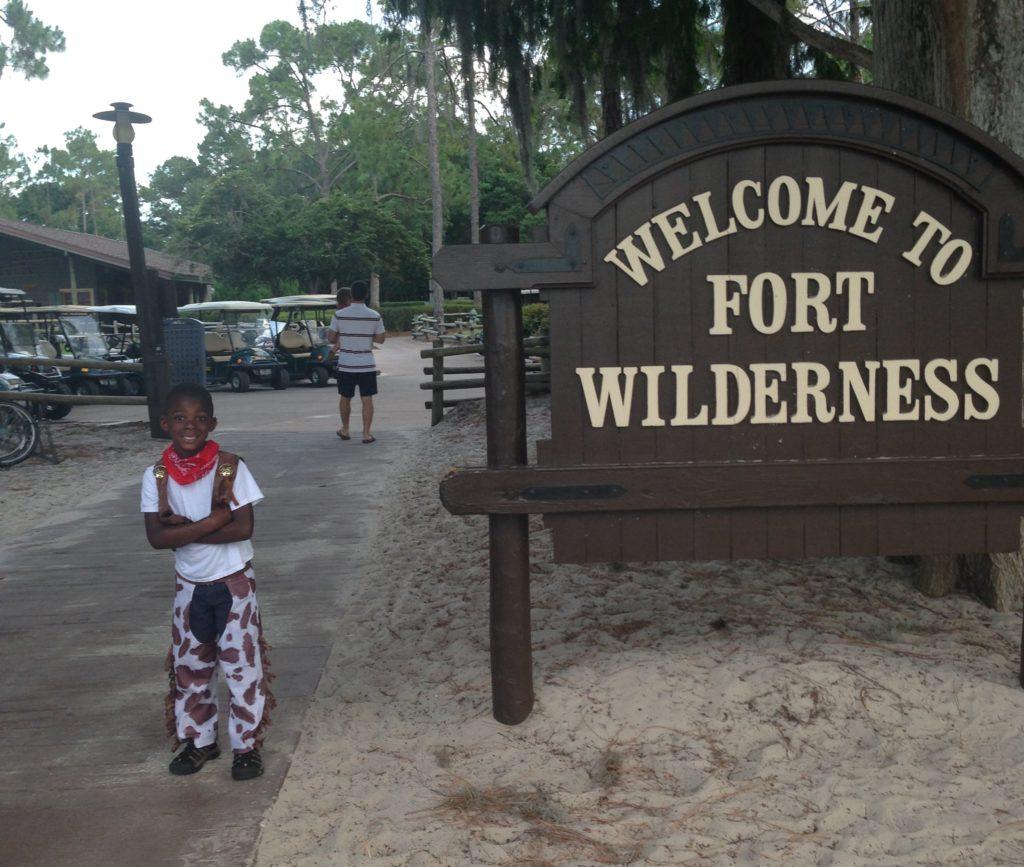 The campsite allows families to use their own camper or tent with access to facilities. The 400 standalone cabins can accommodate a family of 6. The cabins include a kitchen, which is nice if you're on a budget and want to cook in.
This resort has so many fun activities, you could make a vacation out of just staying here and not even going to the parks. Archery, horseback riding, kayak and canoe rentals are just a few of the off-the-beaten-path experiences families can enjoy here.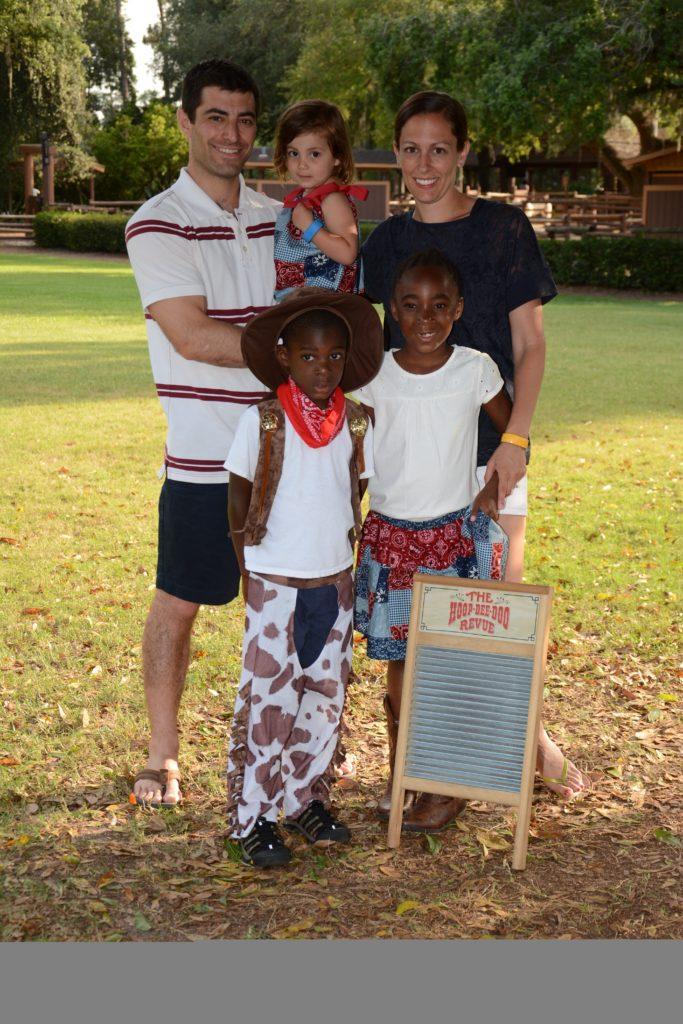 Devon of Mama Cheaps rented a golf cart for her kids to ride around the campground. Their other favorite activities included the pool, taking the water taxi to Magic Kingdom, and dinner at Hoop Dee Doo.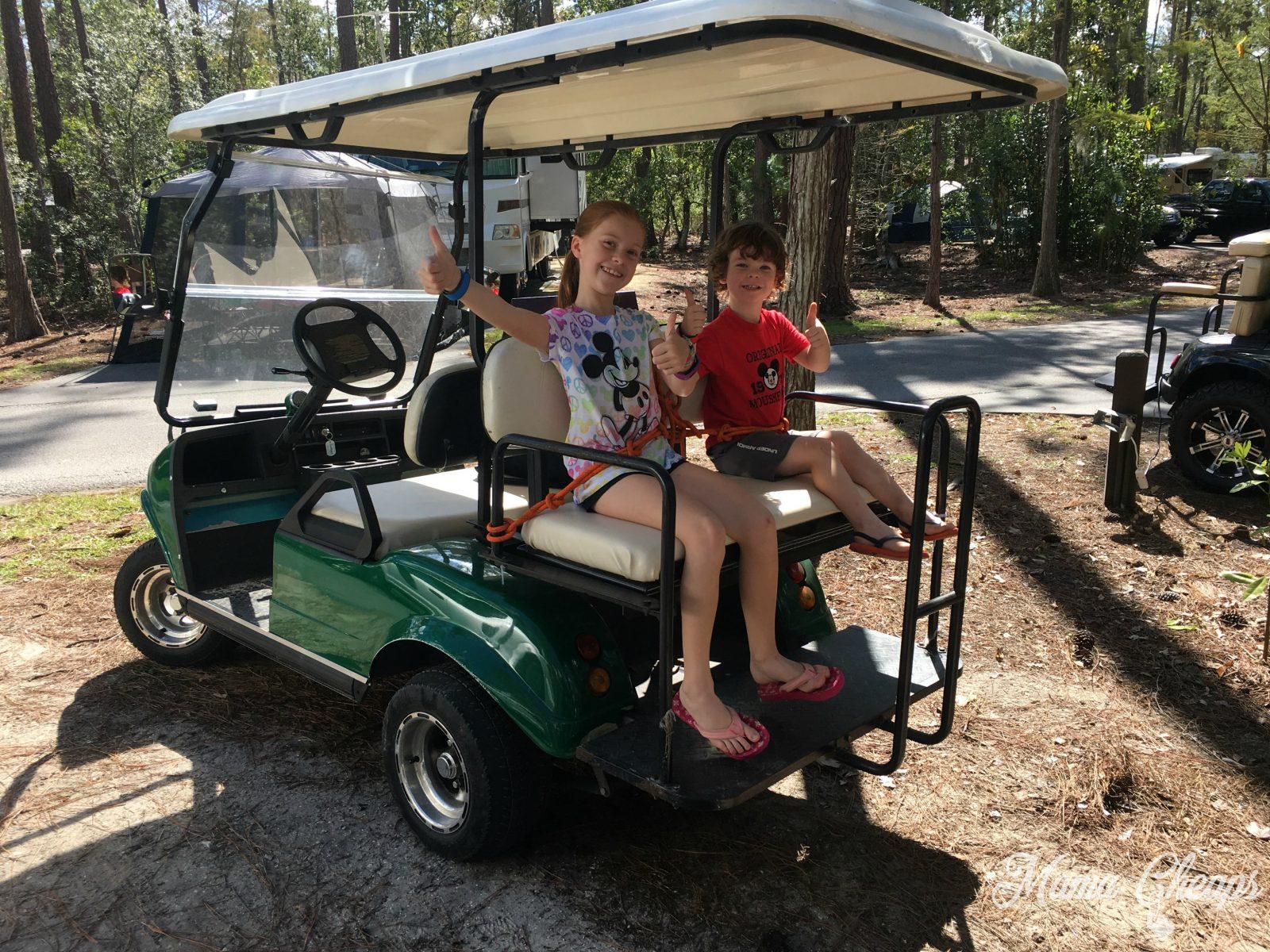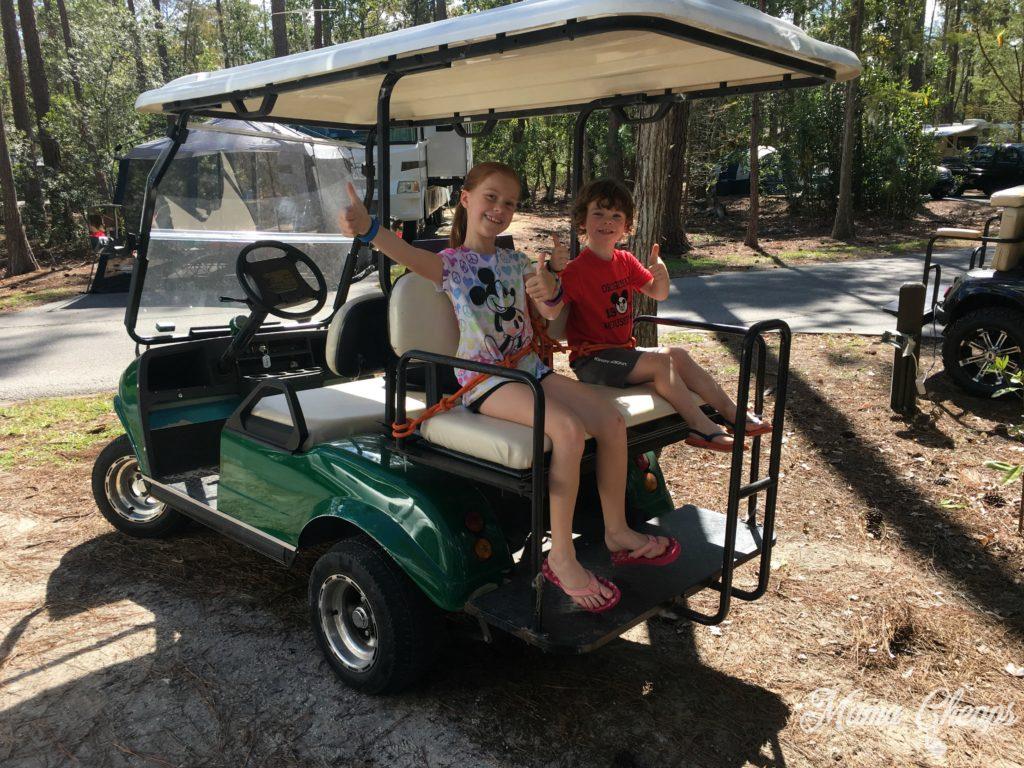 Ashley of ashleysolberg.com says her kids loved making s'mores with Chip and Dale at the camp fire sing along and move night. You can buy a s'more making kit for $10 on site, or include the supplies with your grocery order if you're having groceries delivered. It's a unique memory-making Disney experience!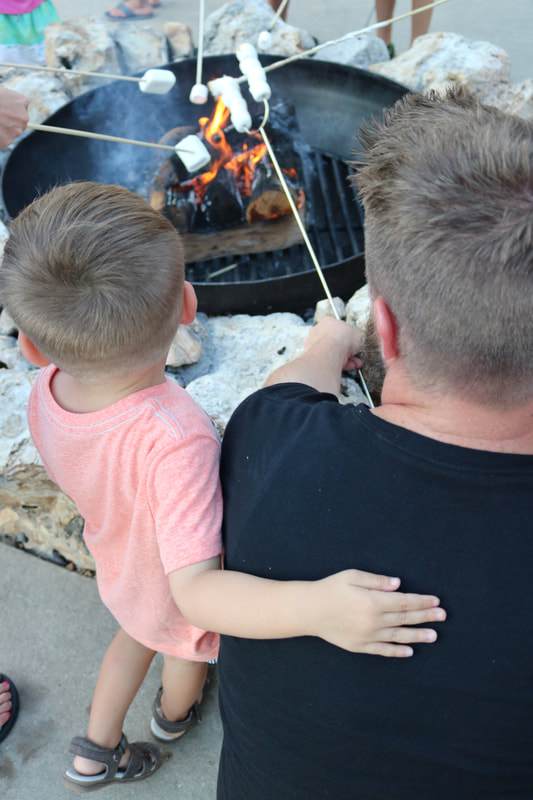 Whether you like camping or prefer something closer to clamping, Fort Wilderness will win you over with its Disney-meets-summer-camp feel.
Kids Favorite Deluxe: Animal Kingdom Lodge
I once made the terrible mistake of doing a split stay and making my kids leave Animal Kingdom Lodge for another hotel half way through our week. My kids were FURIOUS! They could not fathom how I saw the Contemporary as an "upgrade", because to them nothing tops Animal Kingdom Lodge.
Had I thought it through ahead of time, I would have realized that for a kid nothing else can compare to having giraffes and zebras roam outside your window.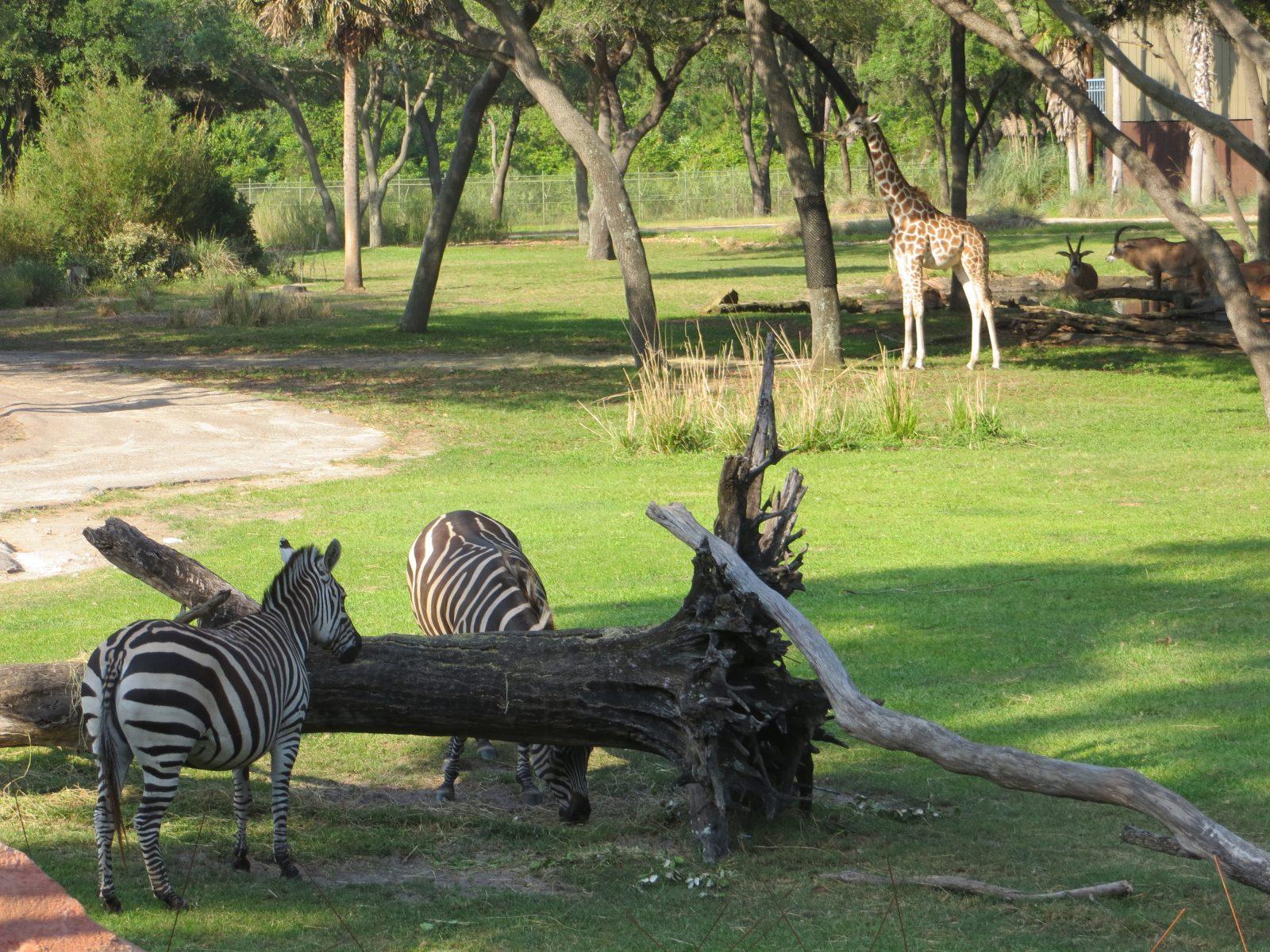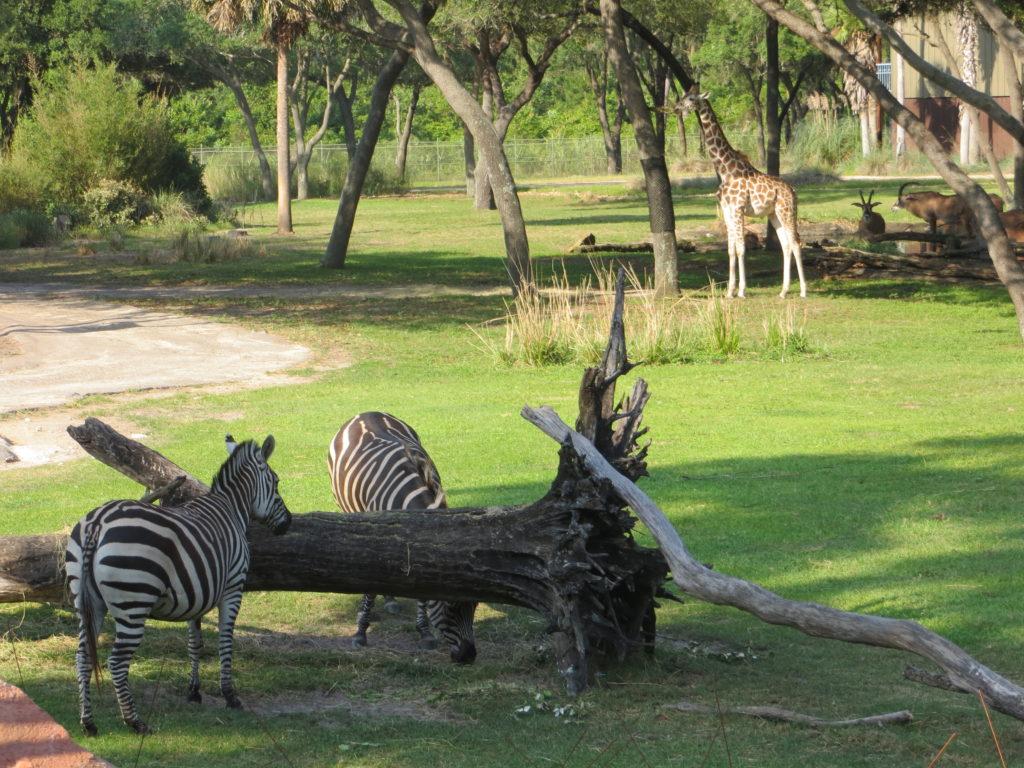 Animal Kingdom Lodge is so elaborately themed, you actually feel like you're on an African Savanna. I have never seen another hotel like it.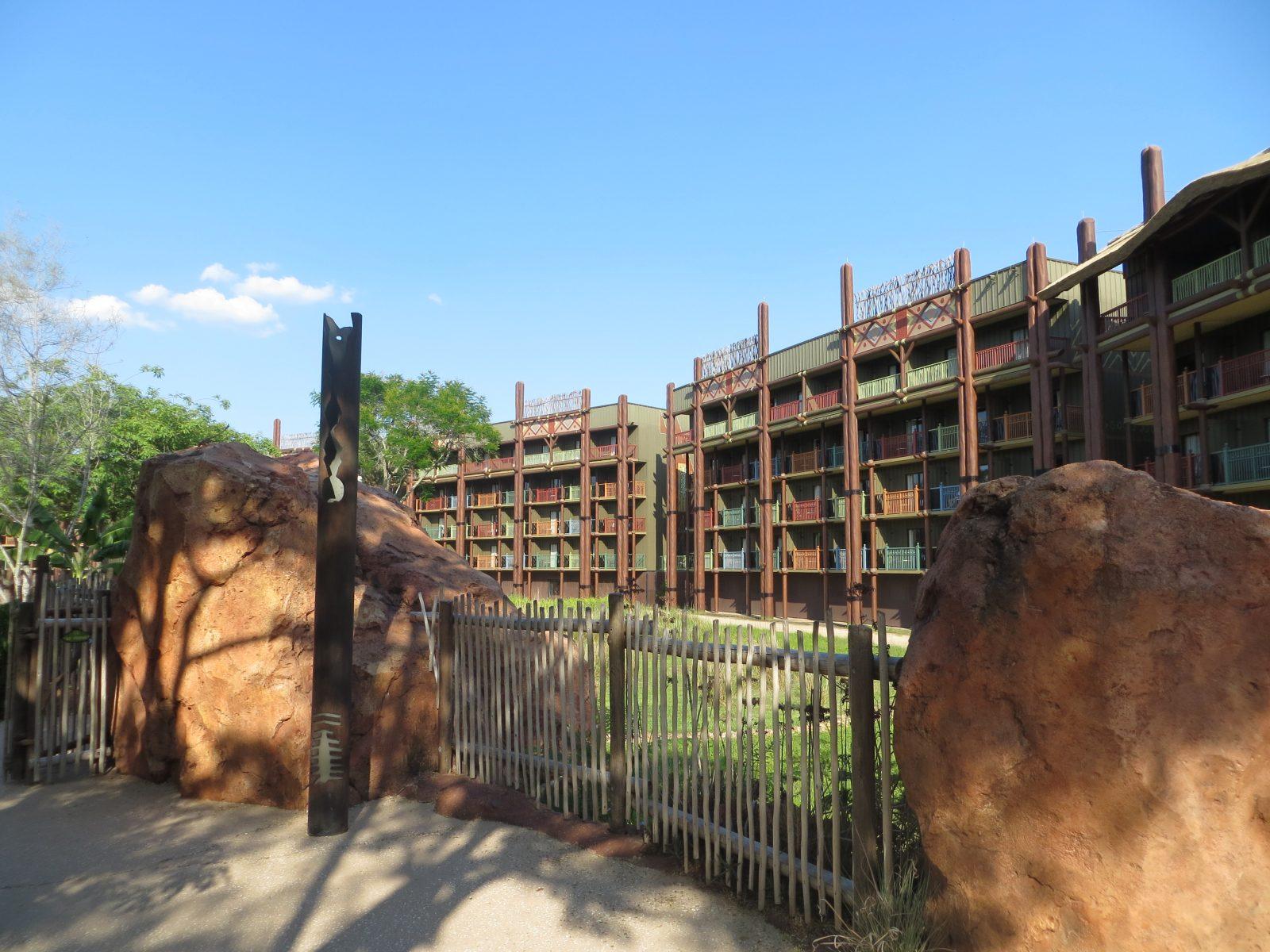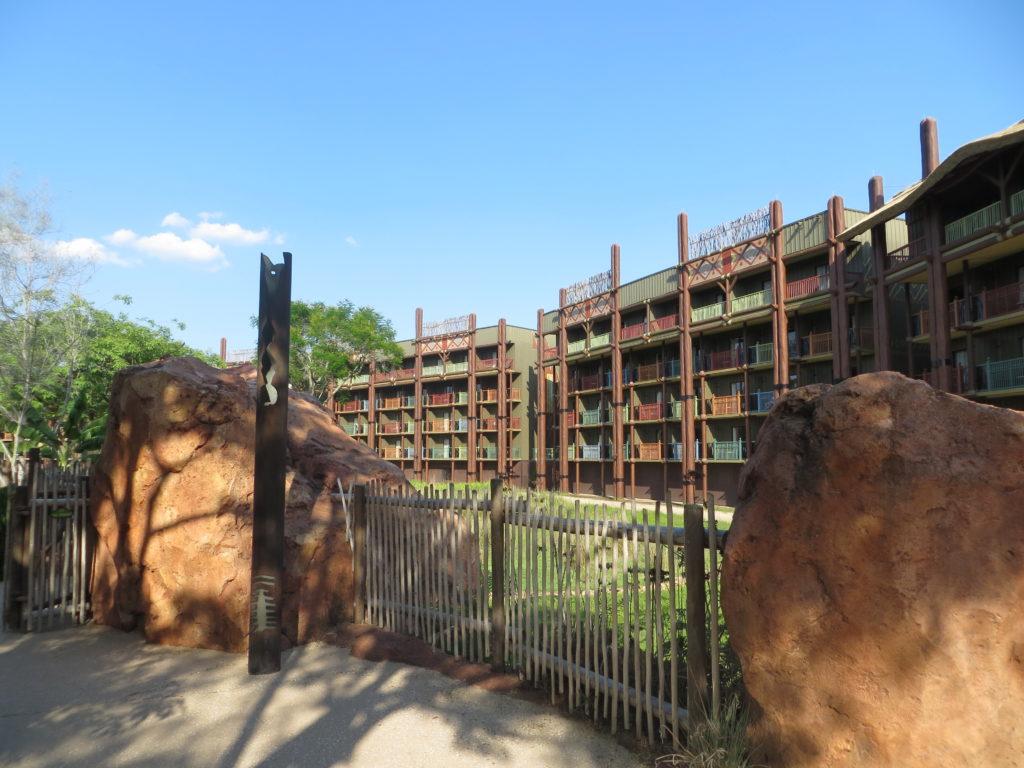 While all the Disney hotels offer children's activities, Animal Kingdom Lodge has truly special educational children's programming. Cultural immersion activities include African face painting, medallion rubbing, stamping, learning the native language of the International cast members, a cultural tour of Sanaa, and many more. Getting to speak with and learn from cast members from Africa is a true gift for our kids.
Animal Kingdom Lodge also has Wildlife Encounters on the premises where you can learn about flamingos, witness animal feedings, tour the savanna, and learn how scientists track animals in the wild.
Then there are the just-plain-fun activities like cookie decorating, Disney trivia, and hula hooping.
The pools at AKL are gorgeous and also have children's activities like African drumming and wildlife trivia. My kids enjoyed the zero depth entry and water slide.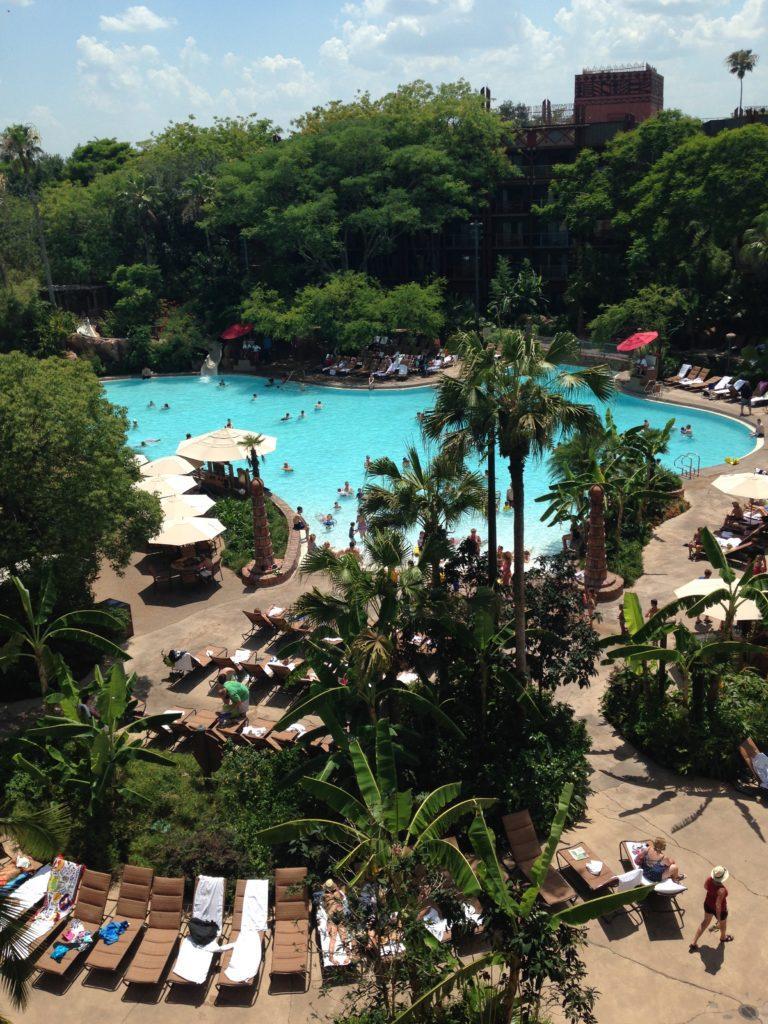 The unique ethnic restaurants at Animal Kingdom Lodge are some of the best on Disney property, including Jiko, Sanaa, and Boma. You can even take culinary tours of Jiko and Boma, the two table service restaurants found in Jambo House. The restaurant tours do require advance registration, but any guest of Walt Disney World can participate even if they aren't staying at AKL.
One activity that's on my list for a future stay- an evening tour of the savanna with night vision goggles! I know my kids would love to try this.
With so much to do at this resort, a stay at Animal Kingdom Lodge is best enjoyed with one day without any parks just to take advantage of all the fun on the premises.
Which do you think will be YOUR kids favorite Disney resort?