If you're planning a family trip and want to know how to save on Disney World, this is for you!
One question I get asked all the time when people hear I visit Disney World every year is, "how do you afford it?"
Yes, traveling to Disney World can be an enormous expense, especially when you don't live within driving distance (we don't) and you have a large family (we do!). A big family vacation including flights, hotel, tickets, and food could EASILY add up to $10,000 or more.
As much as I love Disney, I would NEVER pay that much for one trip there- not even close. So here I am to give away all my secrets of how I save on Disney World trips year after year!
(Don't forget to bookmark or pin this post so you can refer back as you continue to plan your trip!)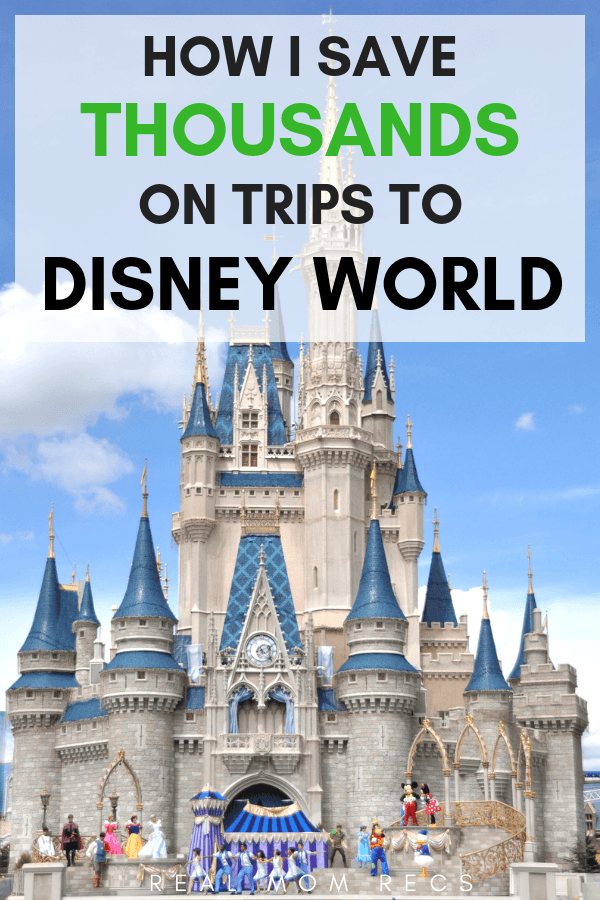 Disclaimer: This post contains affiliate links, which means if you click one of the product links, I may receive a small commission at no extra cost to you.
Plan Your Trip For the Off Season
This is my number one tip for all aspects of Disney trip planning! In addition to crowds being much lower, hotel rates and ticket prices are less too.
In fact Disney itself refers to off-peak times as "value season" because their prices are adjusted accordingly!
You'll notice the busy seasons all include times when kids are out of school. It is worth it to at least consider taking your kids out of school in order to enjoy a less expensive, less crowded vacation.
Or, take advantage of any time your child's school has days off that the rest of the country doesn't get. Random teacher work days or bonus breaks that are specific to your area work great.
Seasons to avoid:
June to mid-August
Christmas week to New Year's week
Easter week
Spring break
Thanksgiving week
Great off-peak times to visit:
September (actually late August to early October, but September is the best)
first half of November
January-February
end of April – first week of May
Read this post for more about off-peak seasons and managing crowds.
Book Flights On Points
I absolutely love to travel, and I love it even more when I don't have to pay for flights.
And with a family of 6, paying for flights would be a total budget-breaker.
Luckily, thanks to lots of research and good credit, I have been able to leverage credit card sign on bonuses to avoid paying list price for any of my flights in the last ten years.
The one I love the most is Southwest Rapid Reward Credit Card because they always have sign on bonuses of 40,000 to 60,000 points, which covers three of our round trip flights to Orlando. (And with companion pass, my companion flies free so that means four of us are covered.)
It is intimidating at first to do the whole credit card points game, but once I started and saw how easy it was I quickly grew to love it.
And since I always pay off all my balances in full each month, I maintained my excellent credit score. No, opening new credit cards does not adversely affect your credit!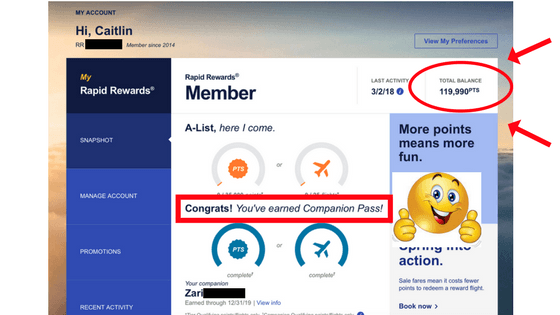 Check out this post for more details on how to fly for practically nothing, including the best travel perk around: Southwest Companion Pass, which I've been using for two years now due to two credit card sign on bonuses.
Rent DVC Points
This is another huge, huge money saver if you read up and delve into it.
In fact, it is the best kept secret for staying at a Deluxe Disney resort for the price of a Value.
Here is how it works. Disney Vacation Club (DVC) members get points on an annual basis to use for their Disney stays (think of a timeshare). If they can't or don't want to use them, they can rent them to others for a fee. A service like David's Vacation Club Rentals acts as the broker for these transactions. The points allow you to stay at Deluxe Disney resorts at heavily discounted rates compared to booking through Disney directly.
Another major perk of booking on DVC points is that there are many suites and villas available to accommodate larger families. (I love staying in a unit with a kitchen so we can save on meals too!)
Want to see how much you can save by renting DVC points? Let's take a real life example.
The Connors family of 5 wants to go to Disney the first week in October. The first thing they do is check the Disney site for rack rates.
Rack Rates
Disney's All Star Music Resort (a value resort) is the cheapest option at $313/night or $2,191 total
Disney's Art of Animation suites, a value plus resort, costs $414/night or $2,898
The Cabins at Fort Wilderness are the only moderate that can fit you all, at $394/night or $2,758
A one-bedroom villa at Bay Lake Tower (Contemporary resort) is a deluxe option on the monorail and closest to the parks, at $850/night or a whopping $5,950 total.
Now we check the same number of people for the same dates at David's Vacation Club Rentals using their Cost Calculator. All of these options are Deluxe one-bedroom villas.
DVC Rental Rates
The same one-bedroom with standard view at Bay Lake Tower will cost $3,780 (over $2,000 dollars less than rack rates!)
The least expensive one-bedroom suite is Animal Kingdom Lodge, at $2,592 (this is in between the cheapest value option and the value plus option found above)
It's also worth mentioning that Animal Kingdom Lodge is my top pick for the best Disney World resort hotels for kids!
When I do one on one trips with my kiddos, we rent points to stay in a deluxe studio which costs around $600 for the three nights.
This is a great way to upgrade your vacation with a Disney Deluxe resort while keeping with the prices of the values and moderates.
Skip the dining plan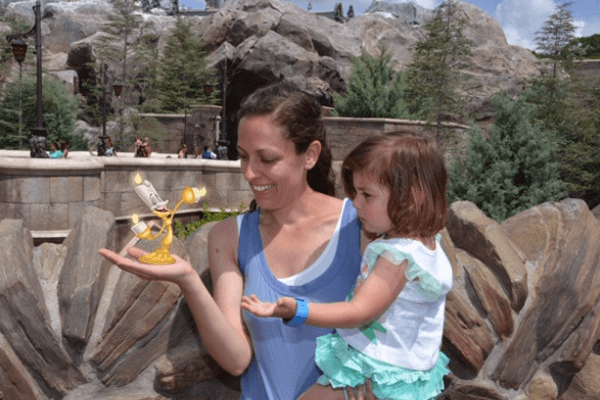 Or at least crunch the numbers.
Disney is smart (really smart) and good at getting people to spend their money (very good).
They came up with a dining plan as a way for people to essentially pre-pay for their meals, and give an all-inclusive feel to their Disney vacation.
ASSUMING that it would result in a net savings, people bought like hotcakes.
The truth? The Disney Dining plan almost never saves you money.
Lots of people have run the numbers on this one. In order to get the value of your Disney dining plan, you would have to purposefully eat at the most expensive restaurants and order only the most expensive menu items at every meal.
If you ever get water instead of soda, if you ever skip dessert, or if you ever feel like a salad or chicken dish instead of steak… you are going to lose money with the dining plan.
If you are a big eater, drink lots of soda, and never share meals or get too full, you MIGHT be a good candidate for the dining plan. Maybe. You will still want to run the numbers first.
Here is an excellent rundown of the Disney Dining plan including a handy calculator to help you out!
My family doesn't drink soda and almost never gets dessert. We also tend to split meals and snacks between the kids. An adult size chicken tenders and fries is plenty of lunch for two kids, for example.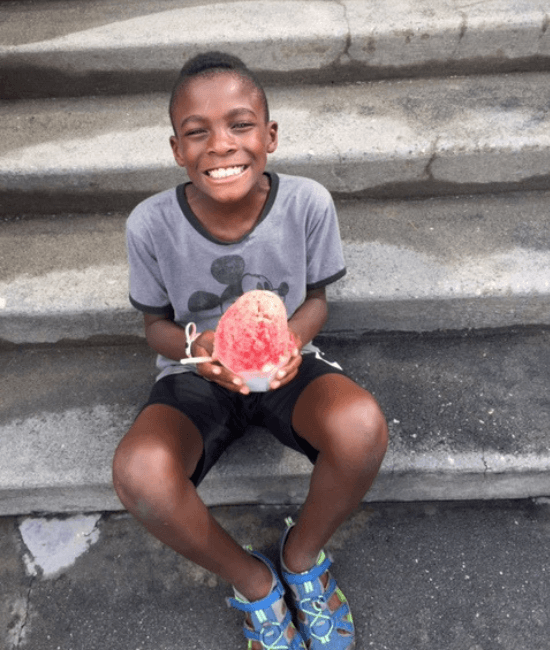 Instead of doing the dining plan, we like to stay in a suite that has a kitchen and get groceries delivered to cover our breakfast and snacks. Then we do one sit-down meal per day and one quick service. If we get a dessert, it is shared.
Remember you can always get a tap water from quick service locations for free.
Get grocery delivery
Getting groceries delivered is an awesome way to cut costs on food.
Even if you don't want to cook on vacation (I know I don't!) it still makes sense to order some quick and easy food items like cereal and milk, bananas, peanut butter and jelly, granola bars, yogurt, etc.
Having a quick breakfast in the room each morning also lets you get to the parks early and take advantage of the short lines without wasting time on a sit-down breakfast!
You can also get beer and wine delivered with your grocery order to enjoy in the evenings after the kids are in bed.
We use Orlando Grocery Express and have had all good experiences. And don't worry about having to be present for your delivery- your Disney hotel will hold and even refrigerate your groceries for you until you get to your room.
Take advantage of free fun
Disney parks are fantastic and full of WAY more than you could do in a day.
They can also be exhausting and overstimulating for both adults and kids alike.
If you are staying five days or more, I highly recommend doing a "down day" without a park ticket.
Enjoy your hotel pool and the other activities available at your hotel. Visit Disney Springs and check out the huge LEGO store and World of Disney. Rent bikes and enjoy the leisure time as a family.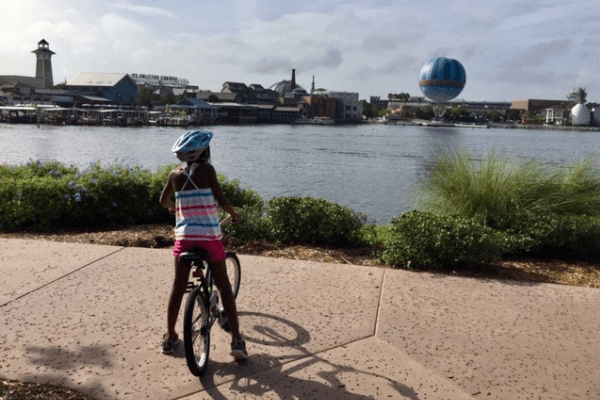 The change of pace feels so good in the middle of several busy park days. You'll also spend a lot less money by not doing a park! Just try not to be upset if your down day ends up being the kids' favorite day!
Don't rent a car
I love staying at the Disney resorts for many reasons, but one great perk is being able to use Magical Express transportation to and from the airport.
Once you're at your Disney hotel, you can use the free Disney transportation to go to and from the parks.
This eliminates the need to rent a car (estimated $250/week) and cuts out the $22/day parking fee.
If you want to go where Disney transportation won't take you (from one resort to another for example), you can use Uber all over the area. Since the distances are short, the prices are very affordable. You can enter the trip into the app ahead of time to see how much it's going to cost.
Don't have the Uber app yet? Sign up for an Uber account here and use code johnp37188ue to get $5 off your first four rides!
Skip the park hoppers
Park hopping can be awesome, especially if you have only a couple days in WDW and want to cram as much in as possible.
But at $55 per ticket, it's worth thinking about if being able to park hop is really necessary. For trips that are 5 days or longer, you should be able to configure your days without needing park hoppers. If you aren't planning to cover all four parks, you could do without park hoppers with even fewer days.
I've had amazing Disney trips both with and without park hopping, so it's certainly not a necessity!
Stay on top of souvenirs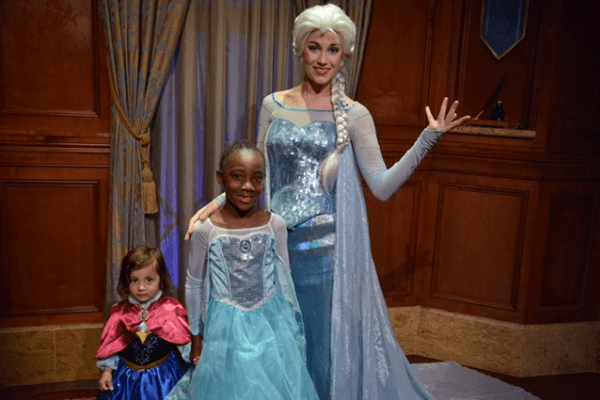 Kids can make this difficult, but don't let souvenirs bust your budget!
I always make sure to manage my kids' expectations as far as toys and souvenirs ahead of time. They know before that plane even takes off that they will see tons of things they want that they won't be getting.
I know, I know, I'm the meanest Mom ever!
My favorite way to eliminate the entire problem of kids asking for stuff is to get them each a gift card. I have my kids save coins in a coin jar that they can then cash in for their Disney gift card. You could also give them one for Christmas or a birthday gift.
$25 or $30 have been amounts that work well for us.
The kids then have the freedom to spend their gift card however they please. If they blow it all on the first day, that is that. Encourage them to think about the one thing they really want, but ultimately the choice is theirs.
It also makes sense to buy certain souvenirs ahead of time at a lower cost, such as princess dresses, light up toys, or any plush toys that can be bought at your local Disney store.
Get discounted gift cards
Disney gift cards frequently go on sale at Sam's Club or BJs at a discount of around 5%. You can also use your Target Redcard to buy them at 5% off.
5% might not sound like much, but considering you might need $2000 for park tickets and food, getting discounted Disney gift cards would save you $100 with minimal time or effort.
Some people throw in a $25 Disney gift card every time they go to Target. This won't save you any money, but it does feel like you spent less by buying them slowly throughout the year and spreading out the expense.
There are tons of other little ways to save! What is your best tip for how to save on Disney World?
For more Disney planning tips, don't forget to follow me on Pinterest: