The millenial moms have arrived, and they are writing their own rules on this parenting stuff. Here are the hottest pregnancy trends for 2020!
If you're pregnant in 2020, you'll want to be up on the latest going on this year. Everything from the new baby tech gadgets to birth options and nursery decor is changing this year, so let's get to it!
Two ingenious dads invented the first and only bottle feeding accessory that enables you to make a bottle using only one hand. It even works for sippy cups and pump components! Now you can juggle your fussy baby in one hand while preparing her meal in the other. All three colors are available on the bökee site for only $20.
2. Milk Bath Maternity Photos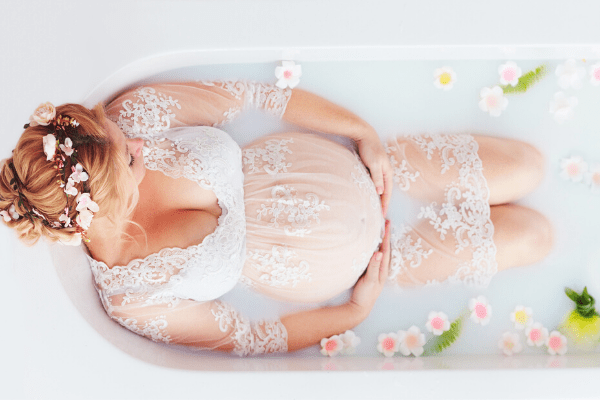 Milk baths are the latest maternity photo trend. The expecting mother seemingly floating in a creamy pool of milk filled with flowers creates a beautiful aesthetic. Milk baths have the added benefit of being highly beneficial to the skin as the lactic acid in the milk acts as a natural exfoliant. This makes it the perfect way to achieve that pregnancy glow.
The 4moms mamaRoo Sleep Bassinet might be a dream come true for mamas expecting a new addition to the family in 2020. It features five unique, soothing motions (car ride, kangaroo, tree swing, rock-a-bye, and wave), as well as vibration and five-speed options. The mamaRoo bassinet provides a firm, flat sleeping surface and tightly fitted sheet, adhering to the American Association of Pediatrics (AAP)'s safe sleep guidelines. It will be available in February 2020 for around $330.
Love 4moms products? Don't miss my comparison of the 4moms mamaRoo vs. rockaRoo!
4. Gender Neutral Everything
There has been a significant swing towards gender neutralism in the past few years, and that will only continue to grow this year. Parents in 2020 will be seeing more gender-neutral kids parties, clothing options, baby names, and toys.
(Click here for a great list of unique gender neutral names!)
Gender reveal parties are losing their popularity. Many parents feel that the celebration of the unborn child's gender is unnecessary and choose to keep their baby's gender a secret.
The Owlet band is their newest design, coming out in mid-2020. It is a thin, soft band of fabric that encircles a pregnant mother's abdomen and lower back and can be used starting at 24 weeks. The Owlet band has a small plastic sensor in the front that monitors your baby's heart rate, kick count, and contractions using passive ECG technology. This sounds like the perfect product to put your mind at ease.
6. Saturated Colors and Prints for Nurseries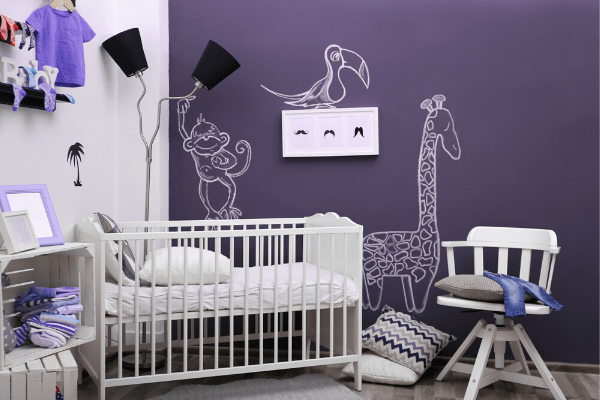 Say goodbye to the pristine white nurseries of the past decade, and say hello to the more saturated color vibe of 2020. Striking shades such as chartreuse and lime green are the new trend, as well as timeless shades of blue. Vibrant jeweled tones, color blocking, and feature walls will replace the neutral tones of the past.
7. Co-Working Nurseries
ONS statistics show that eight in ten moms work, and the female entrepreneurial mindset is rapidly rising. According to channelmum.com, "Co-working spaces like Cuckooz Nest and Mama Works are responding to demand by providing offices where mothers can meet, network and share childcare in a very modern 'mum village.' "
These are the perfect flipflops to help ease your sore, swollen pregnancy feet and plantar fasciitis. They are constructed from a squishy material that hugs your feet and supports your arch. The Belly Bandit therapeutic flipflops are now available in the US on the Belly Bandit site.
9. Smarter, Hands-Free Pumping

This may come as a surprise, but the breast pump has been around for about 200 years. Pumping moms will be excited to learn this coming year brings many advancements in the pumping world. Willow introduced their breast pump in 2018 and debuted its 2.0 version in 2019. This hands-free design can be inserted under clothes and is quieter and more discreet than its ancestors of the pumping world. It has genius features that allow you to track how long you pump, how much milk you pump at each session, and even the best time to pump!
Freemie Closed System Breast Milk Collection Cups
are another popular choice that are compatible with all different brands of pumps, including the Spectra.
2020 also brings a broader acceptance of breastfeeding/pumping mothers. More clean, accessible places for lactating mommies will be popping up in public areas.

These bibs may look basic, but they have many ingenious features. The absorbent muslin outer layer and waterproof inner layer protects your teething baby from hardcore drooling. These bibs have a detachable silicone teething ring that can be easily swapped out with other teething rings or for a wash.
The muslin is made from 100% organic cotton, and the teether is made from 100% food-grade silicone.
11. Natural Pregnancy
More and more moms are choosing to do no scans, no painkillers, and minimal medical appointments. Health experts caution that this trend is a potential danger to both mother and child, but many eco moms still choose to get back to nature with their pregnancies.
If you want to learn more about labor pain management options (with the supervision of medical professionals), read this post: How to Manage Labor Pain Like a Boss!
This monitor isn't available in North America yet, but it has some pretty cool features. Like the Owlet, it measures real-time pulse and blood oxygen, but it also measures distal temperature. It can be worn until your child is seven years old as it's a bracelet instead of a sock.
13. Plastic-Free Parenting
The top eco parenting trend is to remove all family plastic usage. It can be an expensive, difficult adjustment to make, but over 90% of families are trying to use less plastic. Brands are starting to respond to this trend with more eco-friendly products. Only good can come from this pregnancy trend, so be sure to jump on board with this one!
14. Birth Trauma Rewind
This is a type of therapy that helps mothers overcome difficult or traumatic birth experiences. This safe and effective psychological method is done by getting the mother into a peaceful, relaxed state. She is then guided through remembering the trauma and helped to accessible a peaceful memory with it.
Birth Trauma Rewind is a major step in the right direction towards promoting mental health and wellbeing.
15. Getting "Real" on Social Media
View this post on Instagram

The latest trend on social media is to be authentic and vulnerable, as opposed to only showing your "perfect self" to the world. Celebrities moms such as Chrissy Teigen, Amy Schumer, and Kristin Bell are spearheading this trend. They share their relatable mom moments, both the good and the bad, from issues with depression to postpartum underwear.
Which of these pregnancy trends for 2020 are you partaking in?
Do you love these or hate them? Let me know in the comments!