One thing I hear all the time from friends who struggled with breastfeeding is "I wish I had done things differently at the start". Pregnancy is such a whirlwind with all the preparations we make for baby, especially when it's the first. Many people don't give much thought to breastfeeding ahead of time, assuming it will just happen naturally after birth. The truth is, being prepared and knowledgeable can be the difference between breastfeeding stress and breastfeeding success.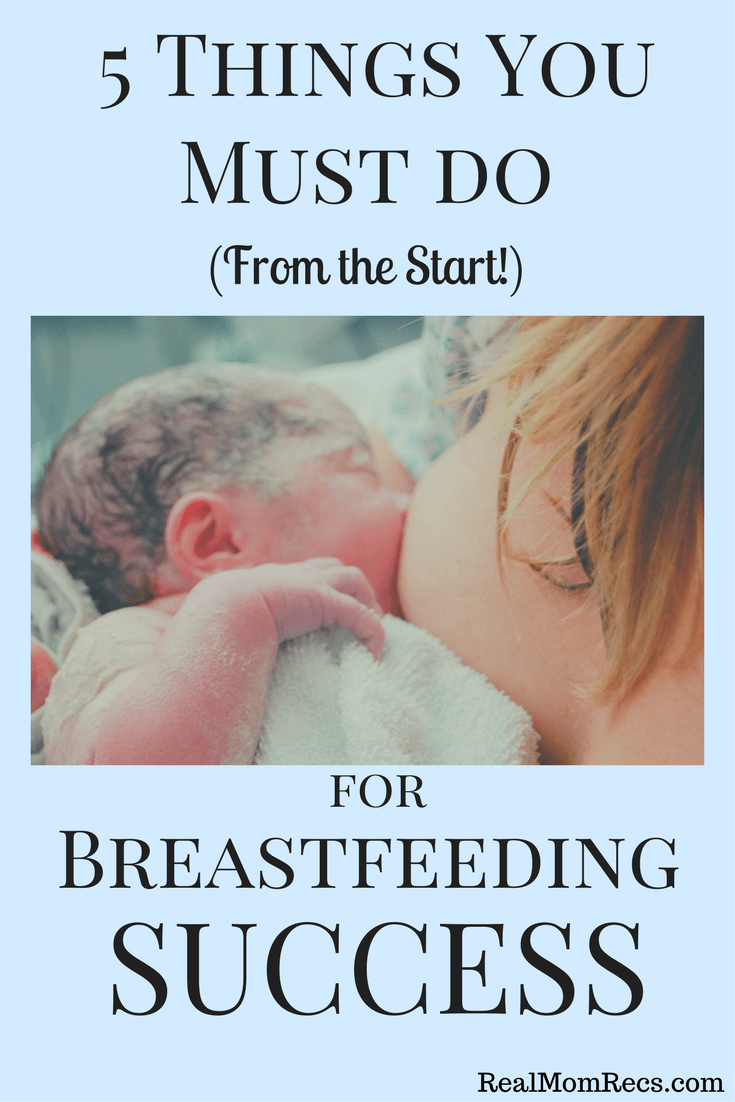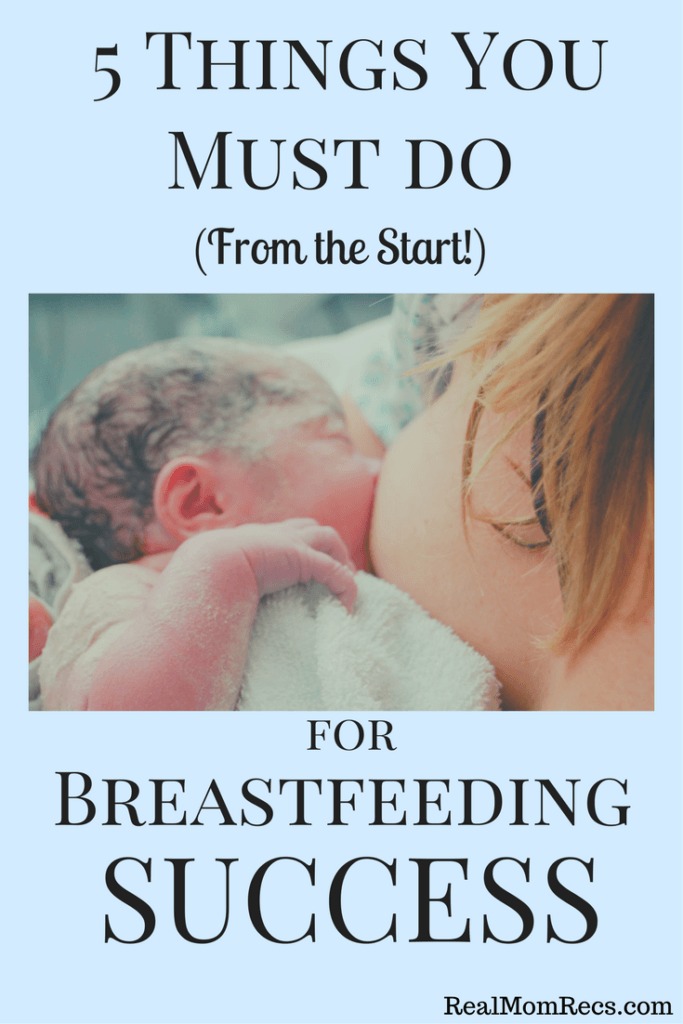 1. Nurse as soon as possible after birth
Following an uncomplicated delivery, request that the baby be put directly on your chest for skin-to-skin. Just following birth, the baby has a window of time when they are unusually alert and awake so you want to take advantage of this period. Research has shown that babies that attach to the breast within an hour after birth have more successful breastfeeding outcomes months later when compared to babies who were not placed at the breast until 2 hours later or more.
In the event of a C-section or other complications, it may not be possible to breastfeed within that first hour. Just make sure your medical professionals know that you wish to breastfeed as soon as it is safe for baby and mother.
During those first attempts at breastfeeding, some babies immediately latch on correctly and instinctively suck, swallow and breathe correctly. (Remember they have had practice in the womb drinking amniotic fluid and sucking their thumbs!) Other babies will not latch on right away but instead just hold the nipple in their mouth or move their tongue unproductively. This is not cause for concern, and after a few more tries baby should catch on.
2. Meet with a lactation consultant
If your goal is to breastfeed, part of your planning during pregnancy should be to line up a lactation consultant. Many hospitals have their own on hand, or you can ask your OB for a referral for one to meet with you shortly after birth.
A lactaction consultant has expertise at checking to make sure the baby has the proper latch and can fix any latch problems early on. A bad latch can cause damage to mother's nipples, pain when nursing, poor letdown and subsequently poor supply. Meeting with a lactation consultant while you're still in the hospital can prevent problems from happening later on. She can also make sure your posture and positioning is correct so you aren't straining your back while nursing or disturbing your incision if you've had a C-section.
Note: I have heard a few stories of people who had a bad experience with a specific lactation consultant. If you are unhappy with yours, do not be afraid to find a different one! She is providing a service to you and if your needs are not being met, by all means have them met elsewhere.
Need help finding a lactation consultant in your area? The United State Lactation Consultant Association makes it easy with this searchable map.
3. Check for tongue tie
Some doctors do this routinely but you should take it upon yourself to make SURE yours does. I have heard a few breastfeeding horror stories centering around an overlooked tongue tie!
Tongue tie, or ankyloglossia as it's called in the medical world, occurs in about 4% of newborns. It's when the connective tissue holding the tongue to the bottom of the mouth extends too far. This makes it difficult for the baby to stick out their tongue, as it is seemingly "tied" down to mouth.
There's a range in how severe tongue ties are. My fourth child was born with a mild tongue tie, meaning that his tongue was attached to the bottom of his mouth farther than normal but he was still able to extend the tongue past his lips. We monitored him at birth to see if he would need to have the procedure done to "snip" the frenulum (called a frenotomy). It turned out not to disturb his nursing so we opted not to do it. He has had no problems with his tongue tie since.
With a more severe tongue tie, the tongue is held almost completely to the bottom of the mouth. When the child attempts to stick out his tongue, the tongue will take on almost a heart-shape appearance as the center is still firmly tied down. Attempting to nurse a baby who can't extend his tongue will result in painful, unproductive nursing.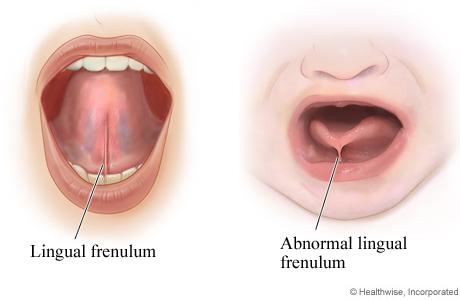 4. Feed on demand
Of everything you've ever read about what you must do for breastfeeding success, this is THE MOST CRUCIAL.
You can schedule your baby all you want after the first couple months, but in the beginning it is very important to breastfeed on demand. This is how you establish your milk supply.
The law of supply and demand is what regulates the entire breastfeeding process. Nursing frequently is what cues your body to make more milk. If you don't nurse as often as baby wants, your supply will be too low. In the beginning stages when your body is just figuring out how much to make, it is not wise to go by the clock and try to "hold off" the baby from nursing again. Let nature do its thing and allow baby to determine how much milk you should be producing.
This means you will be breastfeeding very, very often in the first few weeks of your baby's life.
One of the reasons newborns need to be fed very often is that their stomach is literally the size of a marble at birth. The small amount of colostrum you have to feed them after birth is enough to fill this tiny stomach. But their stomach is too small to keep them satiated for long, and they will need to refill themselves often, sometimes every hour to at the start.
Secondly, breastmilk is very easy for baby to digest. This is part of why it's a perfect source of nourishment for your little one! It also means it is digested extremely quickly, much quicker than formula (about 1.5 hours vs. 3-4 hours). So even if you feel like you just fed them, they very well maybe hungry again.
It is extremely common and expected to feel like you are constantly feeding your baby during the newborn stage. Prepare for it and accept it!
5. Nothing else in the mouth for 3 weeks
The supply and demand process can be disturbed by giving baby a pacifier to try and buy time until the next feeding. When baby is crying to eat, that is the "demand". Pacifiers delay the time between the baby demanding food, and you giving them the breast. When you are still trying to regulate your supply this can disturb the cycle.
Many new moms inadvertently sabotage their own supply by worrying that they aren't making enough milk. They may be tempted to pump and feed the baby bottles to see how much they're getting. However this can lead to several more problems:
1.) The pump does not drain the breast as well as the baby does, so moms may see the amount they pump and think there is a supply issue when there really is not.
2.) Bottles are less work to drink from than the breast. The baby may decide he prefers the bottle and start to refuse the breast or start latching incorrectly at the breast.
3.) Pumping and feeding from a bottle may satisfy a Mom's desire to feel "in control" of the feeding process. She may lose faith in her body's natural ability to provide for her baby.
Remember that frequent nursing in the newborn stage is normal and does not mean the baby isn't getting enough!
If you are unsure whether baby is getting enough, here are the signs: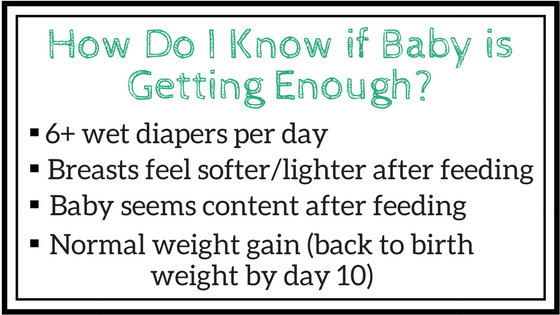 A note about nipple confusion: The idea of "nipple confusion" is debatable. Many babies, my own included, had no problem switching back and forth from bottle to breast. However I did not introduce a bottle (or pacifier) to them in their first few weeks of life.
Want to be as prepared as possible for breastfeeding?
The Ultimate Breastfeeding Class from Milkology covers it ALL. If you want to take a breastfeeding class but don't have one near you or can't work it into your schedule, this is perfect. The video format feels like you're learning from a guru in person, but you can do it at home in your sweats whenever works for you.
The course is extremely thorough, and comes with some amazing bonuses like the Common Breastfeeding Issues Troubleshooting Guide, and Tips From Pumping Moms in the Trenches. It costs $19 and at the end you will be that breastfeeding expert that all your friends call when they have problems.

What questions or concerns do you have about breastfeeding?
If you're an experienced mother, what helped (or hurt) you achieve breastfeeding success? Share in the comments!
And don't forget to pin it for later: