I'll be honest, I've been debating about whether or not to continue writing these reports. I really like reading other people's, because they usually give me hope or help me set realistic goals. They are also helpful when they share actionable ways to grow your blog. Since change is taking place super slowly with my blog, I feel like each month I'm saying the same thing. I'm not sure how useful this is for others.
So this month I'm going to take a new approach. Instead of just reporting about my month, I'll focus on sharing what has and (hasn't) worked for me that other new bloggers can benefit from.
I'd love to hear from you about this change! Leave me a comment letting me know if you like the new format better or if I should just scrap them altogether. I promise not to be offended 🙂
Without further ado…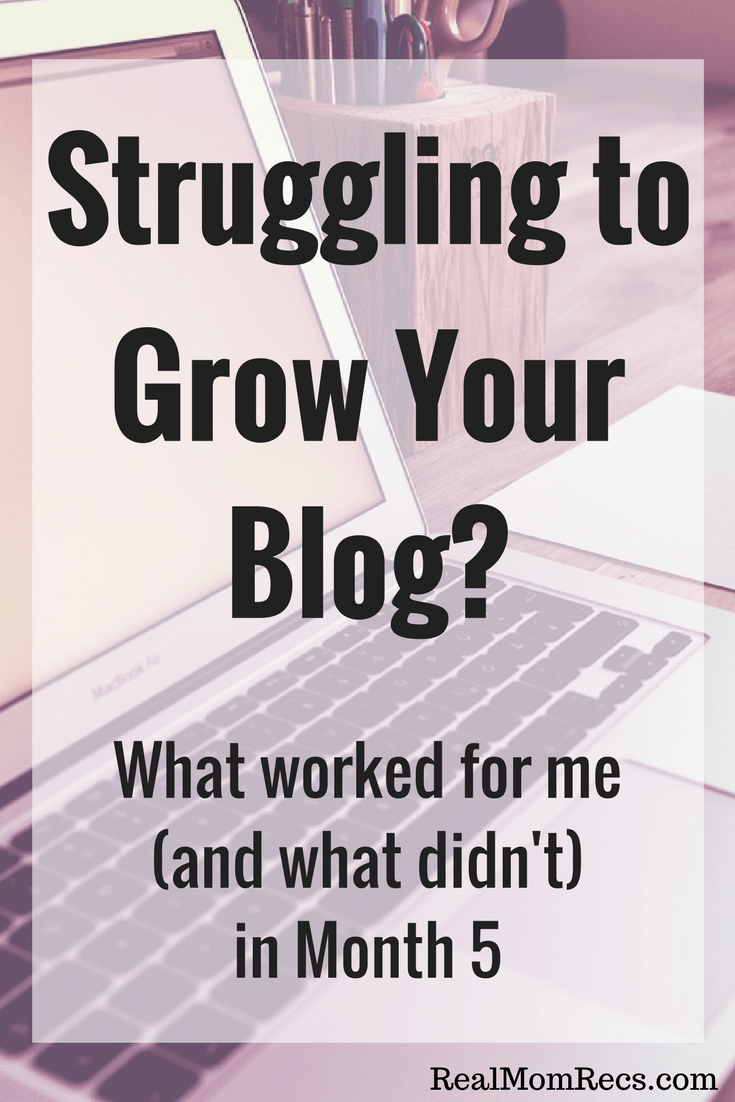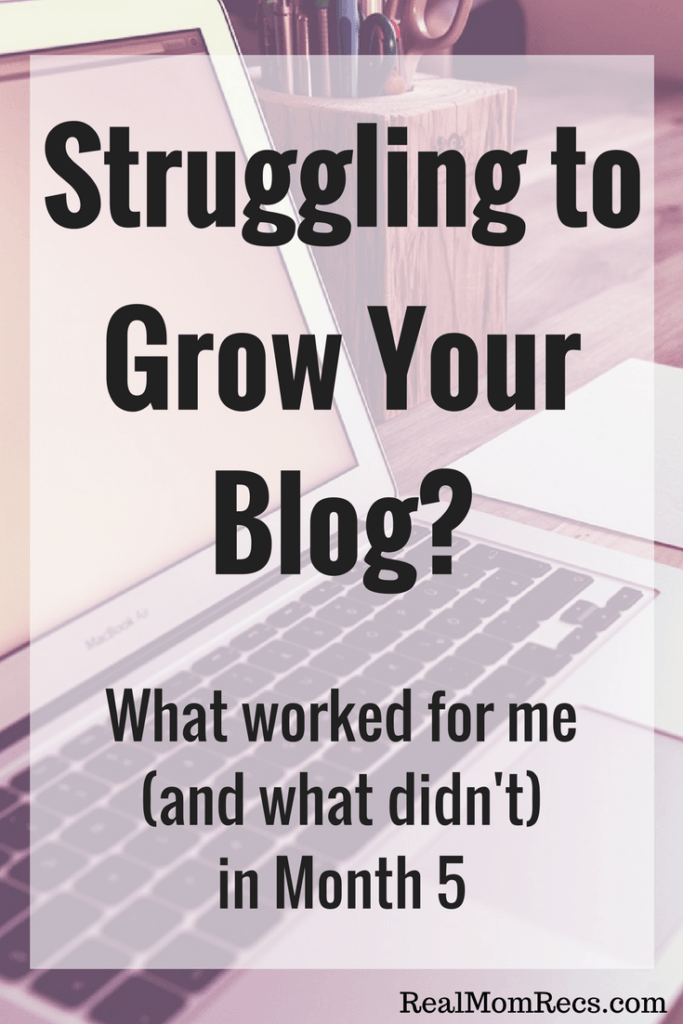 August wasn't the easiest month for me as far as writing goes, with all the kids out of school and done with most of their activities. Some of my goals got pushed off to September when I will (hopefully!) have a lot more time. Very happy to report that I was still able to increase my page views to a record high 18,000 though!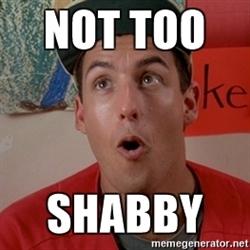 Disclaimer: This post may contain affiliate links, which means if you click one of the product links, I receive a small commission at no extra cost to you.
Month 5 Revenue: What has earned and what hasn't
There are four common ways that bloggers make money, and I will go through each one below.
1. Advertising on your site
I have Google Adsense ads, since they are pretty easy to get approval on for a new blog. Since I started using them a few months ago, I've earned $70 total. Not a huge moneymaker, but it is something to start out with when you don't have tons of page views. Once you hit some high benchmarks, you can switch to a higher paying ad network. For example, 30,000 monthly page views is required for MediaVine and 100,000 for AdThrive.
This month from Google Adsense I made $22.75.
2. Affiliates
Being an affiliate is beneficial because you don't need to create your own product, but you can earn a commission on getting your readers to buy other people's products.
As soon as I had a few posts on my blog I signed up to be an Amazon affiliate. This is another good one for new bloggers because the approval process is easy, and you can link any product on Amazon to your site. Since Amazon has just about everything, it can work for all niches. The downside is, you only get about 4% in affiliate income which is lower than other affiliate networks. Since my linked products are mostly books and toys, it takes quite a lot of sales to accumulate anything (if someone buys a $10 product, at 4% return I'll get $.40).
This month I earned $13.22 from Amazon affiliates. Since I started the blog in April, I've made a total of $60.83.
Other affiliate programs I've joined have yet to pan out for me. I am an affiliate for my web hosting company, Bluehost as well as the influencer network Linqia. While they haven't paid off yet, I've seen other bloggers make some income from these so it's worth a try for you to give it a go on your blog (especially if you write about how to start a blog).
Though not directly related to blogging, I'd also recommend using Ebates for cash back when shopping online. I've gotten a few referrals plus the earnings from my personal shopping, for a total of $239.88 since I started a year ago.
3. Selling your own product
The big bloggers who make thousands each month are almost always selling their own service or product, typically a course or e-book. I feel like this tends to come later on in the blogging journey. People are more likely to pay for something if they believe it's coming from an expert on the topic.
At this point I'm not selling any product. Having one was never really my vision for this blog. I am toying with the idea of creating a product related to Disney travel planning, but only if it's something extremely useful and different than what's out there.
We'll see what the future holds on that one.
4. Sponsored Posts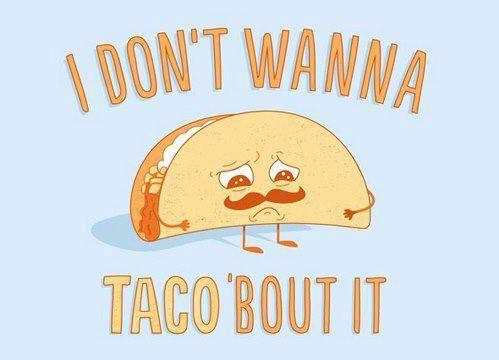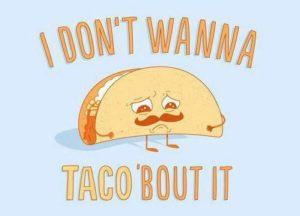 This has been my Achilles heel these last couple months. I've signed up with lots of networks without seeing any campaigns come through. They either offer me no campaigns, or I apply and never hear anything.
It could certainly be a lack of know-how on my part, so I'm not intending to discourage anyone from trying. There is always a chance you have what some brand is looking for so it wouldn't hurt to check out the networks like Social Native, Social Fabric, Influenster, Find Your Influence, Massive Sway, Izea, etc. There are tons of them out there if you're looking.
It seems like sponsored posts on social media might be easier to come by than sponsored blog posts. Still, for all of the above networks my followings aren't quite big enough.
The only small amount of success I have had is with Heartbeat. If you're like me and don't have thousands of Instagram followers yet (first of all let's connect and support one another on Instagram!) I would recommend getting your feet wet with Heartbeat. They pay small amounts for small followings (think $5 per post for an account with 500 followers). They essentially write the post for you so it's very easy to do, and you are only required to leave the post up for 72 hours.
Once I've grown a bit my plan is to check out higher paying companies like Tribe who pay about $75-$150 per post for accounts with 3,000-5,000 followers (and upwards from there).
Month 5 Expenses: TBD if these are helpful or not!
In an effort to get me out of my sponsored post rut, I did sign up for course this month. It is the first time I've signed up for any courses and I tried to choose one that would be a good return on my investment. The course set me back $50, but since I haven't gotten a chance to go through the material yet, I won't say too much about it. What I will do is report back next month on whether or not it was helpful!
I also succumbed to the relentless pressure from Facebook to boost one of my posts. I was just testing the waters so I put up $3. It result in the most engagement I've had on my page, but didn't increase my following much. I may or may not do it again depending on how I'm able to grow my page organically.
My growth this month:
Page views: One stat I'm happy about is that I've increased my page views every month since I started out. August got me 18,105 which was a nice jump from July's 11,667.
Facebook page: I had JUST started one last month and it currently has 324 followers.
Instagram: I went from 758 followers to 1,020 in the month of August.
Twitter: My twitter following grew from 1,613 followers to 2,150. Maybe it's just because I enjoy Twitter most, but I have found this one the easiest to grow. Anytime you tweet something remotely funny you get at least 10 new followers.
Pinterest: Followers aren't as important for Pinterest since it's used more like a search engine than a social media platform, but I increased my following from 953 to 1,327.
How I achieved this growth:
Here is the breakdown of my traffic sources
61% Pinterest
17.5% direct traffic
16.5% StumbleUpon
1.6% Facebook
Less than 1 percent each: search engine, Twitter, and Instagram
Pinterest
My best advice to grow your blog is to harness the power of Pinterest! Start by setting up a business account and create your profile using keywords relevant to you. State clearly who you are and what your areas of expertise are.
Use rich pins to make your pins look professional among the sea of other pins out there. Make sure each pin has a title that is clear and easy to read. Don't forget to add a description using keywords that someone might search for. (Remember, Pinterest is used more like a search engine than a social media platform).
Arrange your boards so the first board contains all of your blog posts and no one else's pins. This is typically called the "Best of (your blog name)" board. Then all your other boards are specific topics that you write about. Load these boards up with the best pins out there, along with your own. All of these boards should have board covers to give your profile a polished, streamlined look.
Lastly, join plenty of group boards and pin to them regularly while abiding by the rules of the board. Many people recommend PinGroupie for finding group boards to join, but I've had better luck with Facebook groups like Pinterest Group Boards.
StumbleUpon
StumbleUpon is like a hidden gem for bloggers. With just a couple easy steps you can get consistent daily traffic from it with no effort. Setting up your profile takes a couple minutes, then just start stumbling. If you like the page it shows you, click "like", and if you don't, click "Stumble". Your likes will be saved to your profile.
Now here is the secret. Do NOT be the first one to Stumble your own posts. Buddy up with another blogger, and Stumble one another. (This is one of those cases where you need those connections with blogging friends!) You agree to Stumble their posts and they Stumble yours.
You also don't want to Stumble every one of your posts. If you're writing something about your personal life that only your followers would take interest in, StumbleUpon isn't the place for it. StumbleUpon shows readers pages at random based on their set interests. These people will likely have no idea who you are, and are looking for value about a topic. My posts that do well on StumbeUpon are ones that have relatable advice, such as How To Talk To Kids. The more likes you get, the more StumbleUpon will show your site to new readers.
Facebook Groups
There are tons of Facebook Groups out there to network and grow your blog. The daily threads that have helped me the most are Pinterest repins (you pin everyone's pin to a relevant board and everyone repins one of yours). This is great for getting your pins in front of more eyeballs and has lead to thousands of clicks to my site. Another good one is general share threads, where you link your blog post and people share it in any way they choose. I've ended up with traffic from sources I don't even utilize, such as Reddit forums, by participating in share threads.
It does take a chunk of time each day to reciprocate these threads, but it is absolutely worth it to grow your traffic and following. These groups have also helped me meet other Mom bloggers and make my blogger friends. They help answer your questions and give you support. I would probably still have my sister as my only subscriber if it weren't for these groups!
My favorite Facebook groups are:
What hasn't worked to drive traffic
All of my social media accounts besides Pinterest (Instagram, Twitter, Facebook page) bring less than 2% of my traffic each. I know some people have success with these, I just haven't figured out how to tap into it yet. Common advice is to focus on one platform rather than spread yourself too thin, so I should probably start taking that advice. Juggling content and engagement on all platforms is a huge time suck and there just aren't enough hours in a day!
I also don't get much traffic from search engines, even though I do use plugins like Yoast to make sure my posts are SEO-friendly. Part of this is an issue of being new, as Google indexes pages that have been around a while.
Most popular posts of August:
Once again my Disney posts performed well this month, but my hottest post of August was actually a parenting post. The identity crisis continues!
These were my other top posts of August:
What has worked best for YOU to grow your blog? What would you like to hear more about from me? Let's help each other!