Did you know that since the start of the Affordable Care Act (aka Obamacare) it is now mandatory for insurance companies to cover breastfeeding supplies? So many people aren't aware of this, and they waste their money buying or registering for a breast pump. Keep reading to learn how to get a free breast pump with insurance- the easy way!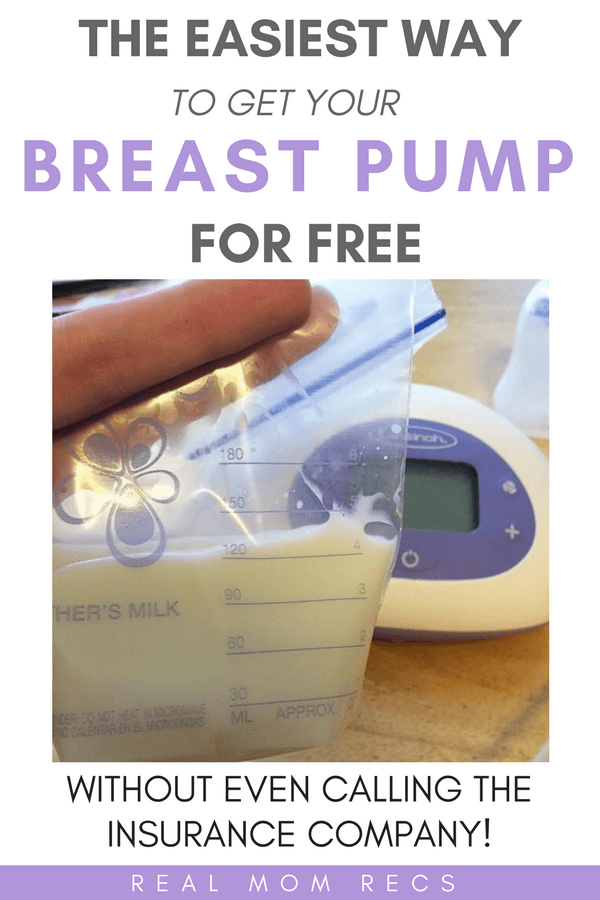 This post was written in collaboration with Aeroflow Breastpumps, but all opinions are my own.
How To Get Your Free Breast Pump With Insurance
The process for getting your insurance to cover a breast pump can be a little confusing. If you're an introvert like me, calling your provider for a prescription and then dealing with the insurance company may seem overwhelming. That's why I was so excited to learn about Aeroflow Breastpumps, which will take care of all that for you.
What is Aeroflow Breastpumps?
Aeroflow is a company that was founded in 2001 and started their Breastpump division in 2013 in conjunction with the Affordable Care Act. They specialize in helping pregnant and nursing mothers obtain breast pumps through insurance. Their user-friendly website gives mothers easy access to all the information and supplies they need to have a successful breastfeeding experience.
If you go with Aeroflow, the process to receive your pump looks like this:
Fill out the Qualify Through Insurance form with your insurance info and demographics
Your dedicated Aeroflow Breastpump Specialist will contact your insurance company and verify your specific benefits
Your Breastpump Specialist will obtain the prescription from your provider
Aeroflow will contact you to review your benefits and pump options
Your breast pump will be shipped right to your door!
That's a lot less hassle, which is a total win in my book. And the best part? Their services are entirely FREE.
Here's an even simpler outline of the process: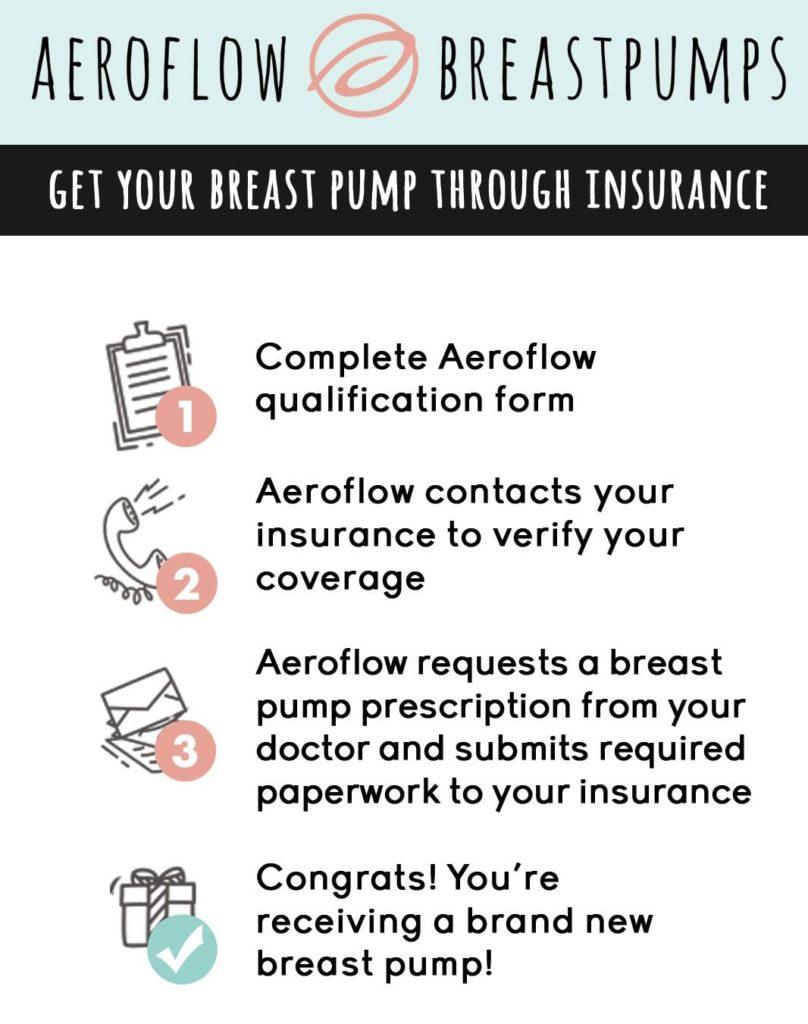 FAQs
How long does this process take?
After you fill out the Qualify Through Insurance form, your Aeroflow Breastpump Specialist will get in touch with you in 3-5 business days. Once your eligibility is confirmed and you've selected your pump, it will be shipped out to you as soon as possible at no charge to you. Aeroflow ships using UPS ground shipping and will provide you with a tracking number.
At what point during pregnancy should I contact Aeroflow?
You can reach out any time during your pregnancy. Depending on your insurance provider's regulations, you can expect to receive your breast pump 30-60 days before your due date.
If you are in need of a breast pump after baby is here, you can even qualify for one up to a year after birth. This is a fantastic benefit because sometimes pumps can lose suction power with extended use- which happened to me when I tried using the same pump for Luca that I had used with Elle!
Breast Pumps
Your insurance plan won't specify a pump brand or specific breast pump they will cover. Instead, they cover certain features. Your Breastpump Specialist will help familiarize you with the different options for features that you will need for your intended pumping use.
If you want additional features, you can choose to upgrade your pump by paying the extra amount out of pocket or with your Health Savings Account (HSA) or FSA. Upgrades might include extra sets of bottles and parts or a transportation bag if you'll be carting your pump back and forth to work.
This chart can help you compare the different breast pumps available based on their specific features: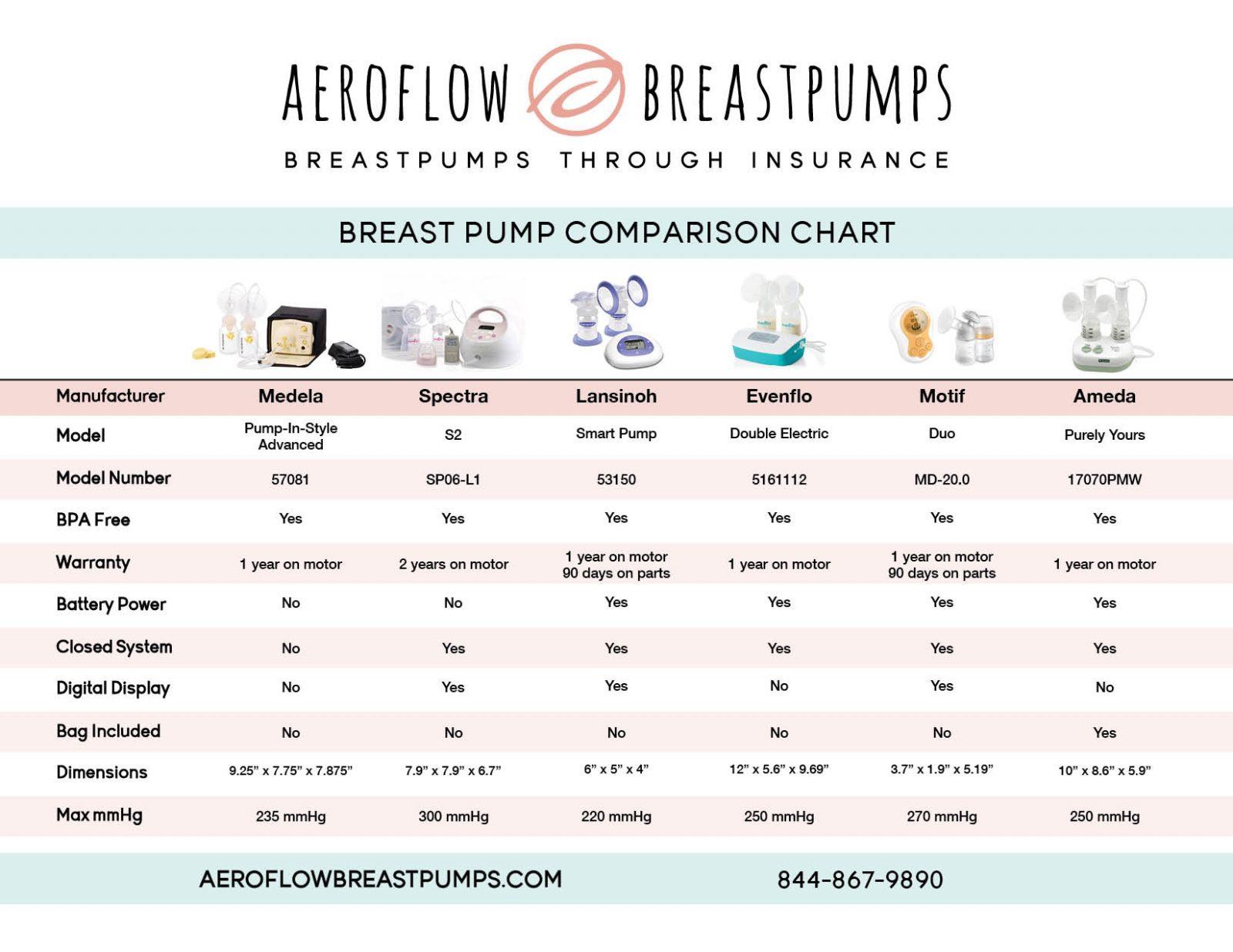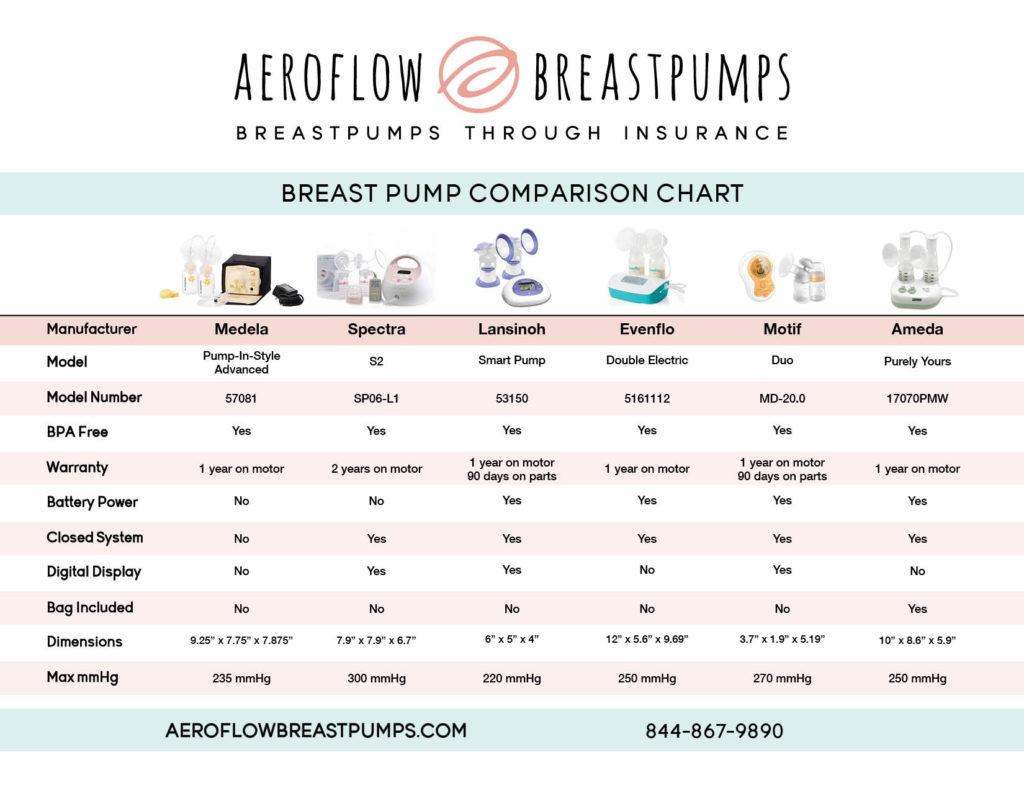 Different moms will have different preferences about their breast pump level of suction, size, noise level, etc. Think about where you will do the most pumping- will you have access to an electrical outlet? If not, make sure you get one with battery power.
A closed system pump is also a wise choice as it ensures milk can not flow back into the tubing. You want to keep your pump parts clean and dry to avoid the risk of mold.
That's how easy it is to get your free breast pump!
Going through Aeroflow means more convenience for you, so you can have a happy and stress-free pregnancy.
Do you have other concerns about breastfeeding?
If you have concerns about the crucial first few days of breastfeeding, make sure you read this post about starting breastfeeding off right.