Early Morning Magic: What Is it?
Not to be confused with Extra Magic Hours (the extra hour at an assigned park for guests staying at a Disney resort hotel only), Early Morning Magic is a ticketed event open to any guest who books it in advance.
Early Morning Magic is offered on select Sundays and Tuesdays from 7:45 to 10 am. (For specific dates, check the official Disney site). During this time, seven Fantasyland attractions are open including:
Winnie the Pooh
Seven Dwarfs Mine Train
Peter Pan's Flight
Princess Fairytale Hall
It's a Small World
Mad Tea Party
Under the Sea- Journey of the Little Mermaid
If you've done Early Morning Magic in the past, you'll notice it now includes a few more attractions than it used to! (My review of EMM in fall 2018 took place before Princess Fairytale Hall, Mad Tea Party, and the Little Mermaid were added.)
The ticket also includes a breakfast buffet at Starlight Ray's Cosmic Cafe (formerly at the Pinocchio Village Haus). It includes a good variety of breakfast foods and is all-you-care-to eat.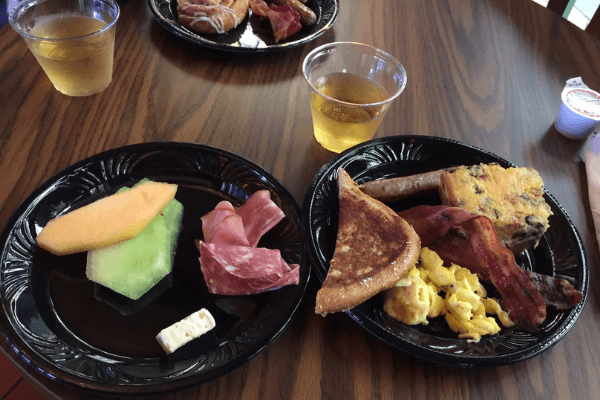 At 9am, the park is open to everyone so this event gives you a nearly empty park from 7:45 to 9 where you can ride the aforementioned attractions as many times as you want with no lines. Then at 9:00 you can ride anything in the park (while people start to file in and lines are still short), as long as you get your fill of the breakfast by 10am.
So how much does all this magic cost?
The cost for EMM is $79 for adults and $69 for kids, plus tax.
It is important to note that unlike other ticketed events like the Halloween and Christmas parties, Early Morning Magic DOES require a day's admission in addition to the event ticket.
EMM is actually booked like a dining reservation. You still need to use a regular day's admission to enter the park.
Given this cost, let's examine the pros and cons of Early Morning Magic at Magic Kingdom and determine if it is worth the price.
Our Experience at EMM
I took my 8 year old son on a whirlwind 3 day trip to Orlando to visit The Wizarding World of Harry Potter at Universal AND Walt Disney World. We only had one day to dedicate to WDW and try to get to most of our favorite Disney attractions (gasp!)
We decided on Magic Kingdom and Epcot as the two parks we wanted to visit that day. Even just scratching the service of these two huge parks would be difficult in such a short period of time, so I made the decision to splurge on Early Morning Magic as soon as I learned what it was.
Starting our day early was not an issue for us, as Zari is an early riser anyway. We were staying onsite at Universal so it was only a short Uber ride away from Magic Kingdom.
A quick timeline of our morning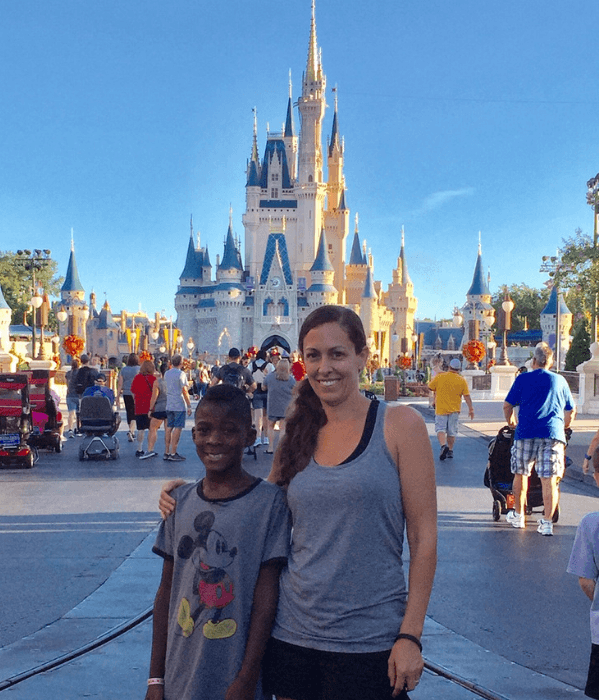 7:00: Uber to the TTC
7:30 Take the monorail to Magic Kingdom, check in and get our bracelets.
7:45 Enter Magic Kingdom. Walk down Main Street with the small herd, then take a few photos in the nearly empty park.
7:55-8:55 Fantasyland attractions (almost all walk-ons, the first couple Mine train rides had a wait of maybe 2-3 minutes): Seven Dwarfs Mine Train FIVE times total, Peter Pans flight, Winnie the Pooh, the Carrousel (not guaranteed to be open but it was for us), one bathroom break, and It's a Small World.
8:55  We head towards Tomorrowland. At 9 o'clock they let us leave Fantasyland and we had only a few minutes wait to ride Space Mountain. My plan after that was to go on Buzz Lightyear Spaceranger Spin, but my son had a bit of a panic attack on Space Mountain which derailed our plans (whoops, forgot how intense that one is!).
9:30 ride Splash Mountain (10-15 minute wait). Debated riding Big Thunder Mountain Railroad while lines were still short, but he was still a little gun-shy from Space Mountain.
9:45 Brunch at Pinnochio Village Haus. The brunch was delicious and we really enjoyed it. We didn't feel rushed at all despite walking in during the last 15 minutes. We were even able to take some food for the road (pastries to eat later) since I always carry ziplock baggies in my park bag.
If you're keeping count, that's 11 rides plus a meal by 10am. 
And no, we weren't running around or rushing in any way. I let my son lead the way and do as he pleased. We enjoyed ourselves every step of the way (well, except for the Space Mountain part!)
Here is a picture of him pretending to pull the sword out in front of the Carrousel.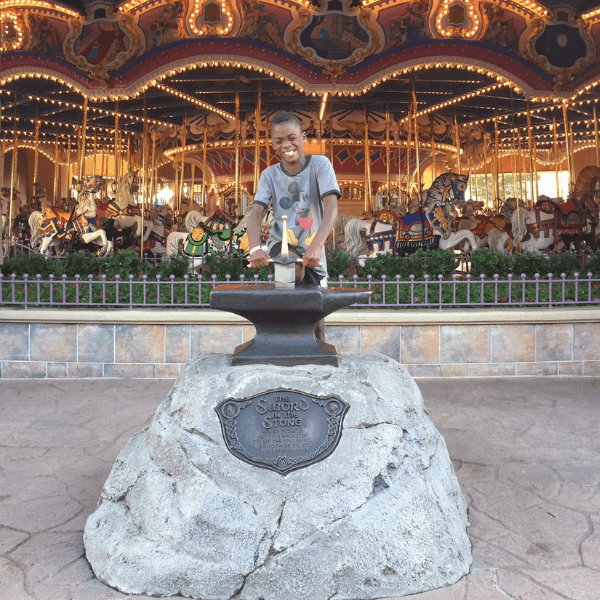 After 10:00, EMM was officially over and we spent a couple more hours at Magic Kingdom enjoying the rest of the park. Then we took the monorail over to Epcot where our 3 pre-booked Fast Passes were, and enjoyed about 7 hours there.
Early Morning Magic Pros
It maximizes your time.
If you have a very short trip like I did and still want to be able to do and see a lot, EMM is a great way to do more in less time.
As you can see from our day outlined above, we were way ahead of the game by getting that early start and riding several of the most popular rides early. It set us up many steps ahead of the pack for the rest of the day.
It eliminates several of the longest lines.
In addition to having very little time, I also knew I wanted to do Early Morning Magic because my son has ADHD and can not handle long lines. I've done enough of these trips with him to know that even a "mild" 15 minute wait can break him.
For us, EMM was essentially the equivalent of having a Fastpass for Mine Train, Winnie, Peter Pan's Flight, Space Mountain, and Splash Mountain PLUS the three FP we actually used at Epcot.
Even with the best Fastpass strategy imaginable, you won't be able to accomplish what we did with EMM.
Being "alone" in Magic Kingdom really is magical.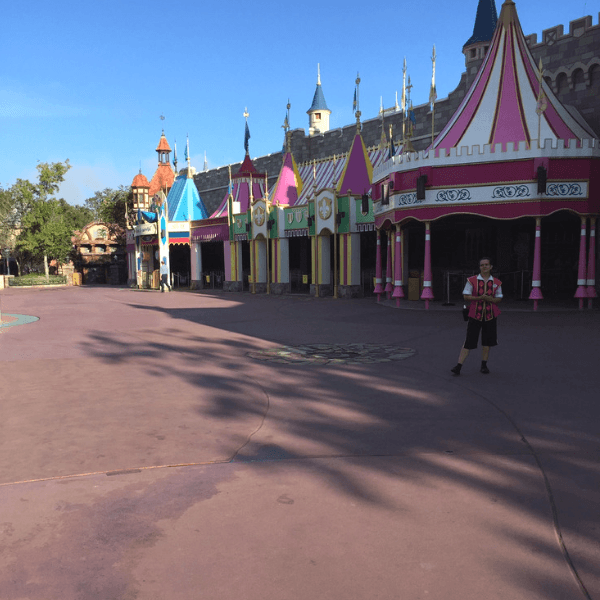 When you first enter the park, you are grouped with everyone going to EMM plus the people with early dining reservations. So you aren't exactly walking alone down Main Street. However if you wait a few minutes to allow people to pass, you do get the cool experience of seeing a nearly empty park.
Just don't make the mistake I made allowing an 8 year old to take your fantasy castle photo, because it might end up looking like this:
It's probably the only way you can ride your favorites over and over.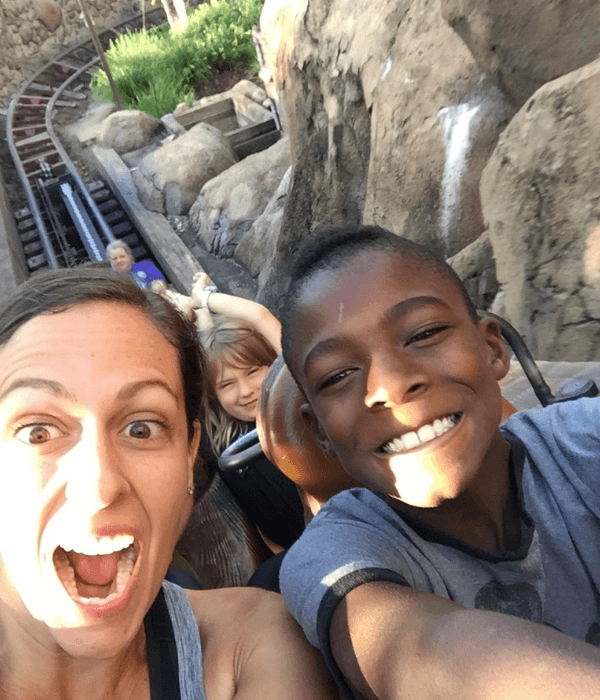 I can't think of any other way to ride Seven Dwarfs Mine Train five times in a row like we did that morning (and some people have ridden it many, many more times than that!) besides Early Morning Magic.
Even at Mickey's Not So Scary Halloween Party, when lines were very short, Mine Train still had a substantial wait.
If you love Peter Pan's Flight (one of the longest lines at WDW), the same applies. Even if you do everything possible to beat Disney World crowds, these super popular rides will still have a wait.
My son was absolutely GIDDY getting off the ride and turning around to run through the empty queue and get right back on. He got to try riding in the first car, the last car, and the middle. Those are the little things that make the experience memorable for a kid.
You get a pretty great meal.
When crunching the numbers to decide if EMM is worth the cost for you, don't forget about the cost you would pay for food without EMM.
Since we ate close to 10:00, it was essentially breakfast and lunch for us. We also had the pastries we packed up for later as a snack, and we refilled our water bottles with juice.
I had booked an early dinner reservation for us at Epcot, and aside from an ice cream treat we didn't spend anything else on food for that day.
Here are a couple pictures of the buffet: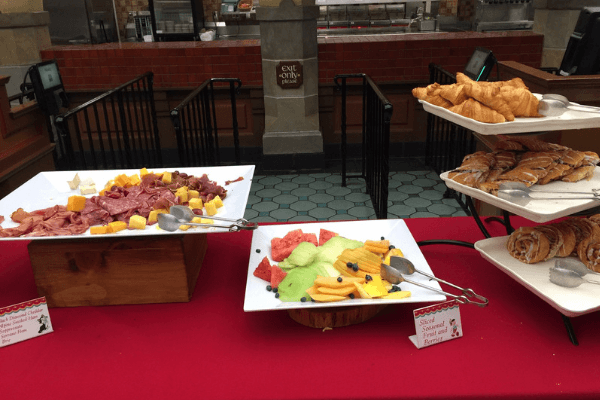 Pictured above is the cold food, including cold cuts and cheeses, sliced fruit, croissants and pastries.
Not the most helpful picture because all the containers are closed! But I can see by reading the labels they had a vegetable frittata, sausage, bacon, scrambled eggs. waffles, and French toast.
We made several trips through this line and enjoyed everything!
Early Morning Magic Cons
It makes an expensive day turn into a VERY expensive day.
Ok so I always cringe when I actually do the math and figure out how much a fun-filled Disney day actually costs. To be honest I try to avoid doing that at all costs! But for the sake of this article, I will.
The cost of a one day ticket to WDW is $109/adult and $104/child age 3-9 (this varies by day and is actually the low season pricing- it goes up from there!) = $213
Add on $55 each to make those tickets Park Hoppers = $323
Add the $79/adult and $69/child ticket for Early Morning Magic = $471
$471 for the two of us for a single day. That may or not be including taxes. It's a big number.
It requires waking up early on vacation.
For the 7:45 start time, you'll want to arrive at Magic Kingdom no later than 7:30. Considering how long you take to get ready in the morning and how far from the park you're staying, this could mean getting up earlier than 6 am.
For us, this is no biggie. For others, it's a deal-breaker.
It only includes the 7 Fantasyland attractions.
If those don't include any of your favorites, it probably doesn't make sense for you to spend those hours only having access to those.
Is Early Morning Magic Worth the Cost?
For some people, 100% yes.
For others, maybe not.
If you have a longer trip planned with more than one full day dedicated to Magic Kingdom, then I would say no, it's not necessary to book EMM.
If you have teens who are going to stay up until midnight the night before and be impossible to wake up in time, it's a definite no.
Lastly, if you have a tight budget and would rather spend your dollars on other experiences, this is probably not going to make the cut.
So who do I recommend Early Morning Magic for?
People with limited time, only 1 or 2 park days like we had. (A more enjoyable way to tour is a longer trip but when that's not possible this is very helpful.)
People who don't do well with lines.
Super Disney fans who want the experience of riding the rides over and over or seeing entire lands without people in them.
We most likely will not be booking EMM for every Disney trip we take from now on, as it is a substantial expense. But overall we had an amazing experience and I would LOVE to do it again on another one of our short whirlwind visits!
They also have Early Morning Magic at Hollywood Studios now at Toy Story Land, which I'm definitely considering for next year.
What questions do you have about Early Morning Magic?
Leave a comment and I'll be happy to answer!