Last week I took my 9 year old on a very special one-on-one trip to Disney World. While we only had three days there, we packed in as much fun and bonding as we possibly could. The focal point of the trip was Mickey's Not So Scary Halloween Party (MNSSHP), which my daughter has been wanting to go to since she knew it existed.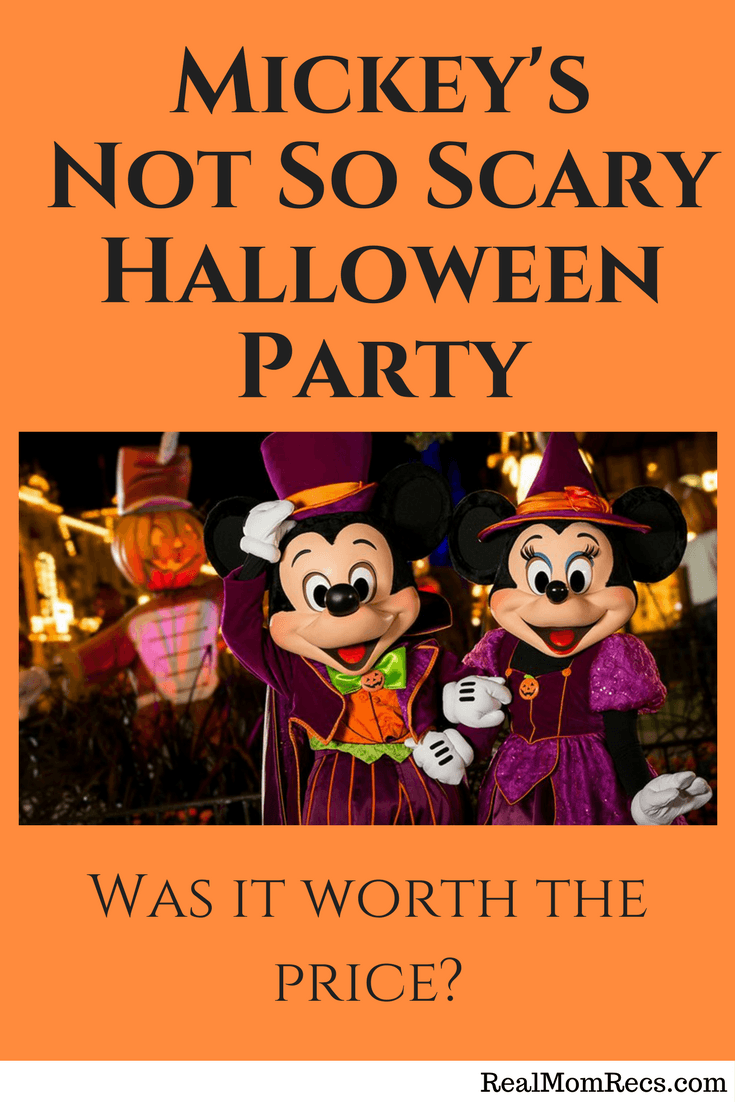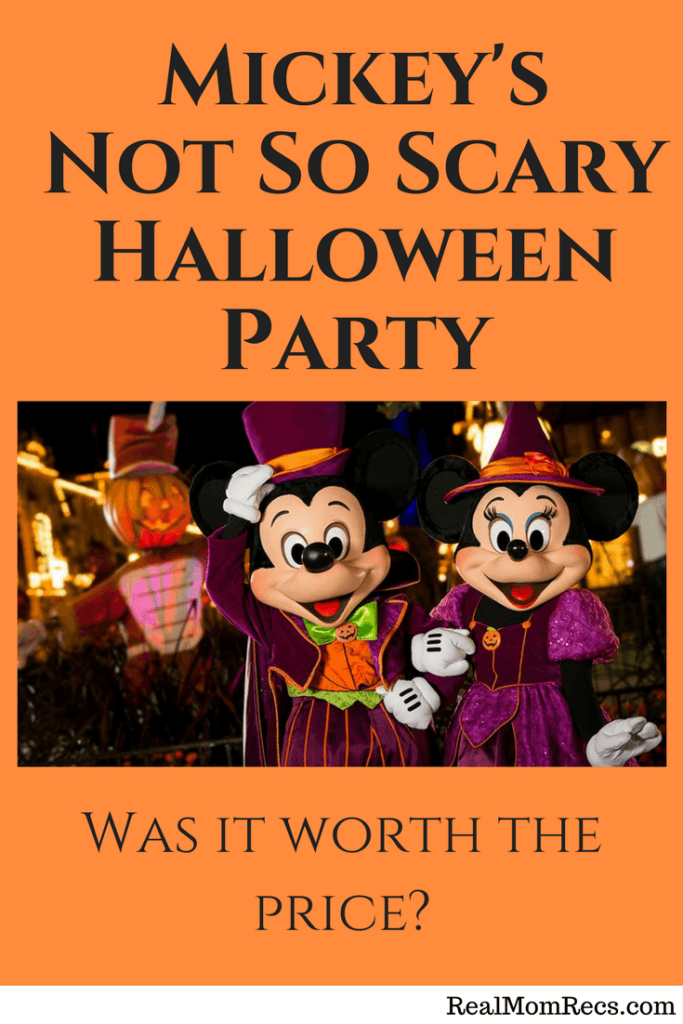 I'll give you the play by play of how our night went, and sum it up by answering the question "is it worth the ticket price?"
Ticket prices range from $74 to $115, depending on the date (Halloween night is the most expensive, August and September dates are less expensive). The party ticket costs almost as much as a full day park ticket, so it's important to weigh your priorities.
Entering the park
Here is something they don't tell you on the party ticket, and it could make a real difference for people deciding whether or not to go. The party officially runs from 7pm to 12am, but you can enter Magic Kingdom with your party ticket at 4pm. So if you're calculating how much you're paying per party hour, count it as an 8 hour party instead of 5.
Thanks to the internet, I knew this tidbit ahead of time. Tiana and I rolled up to the gates just after 3:30 pm along with a few thousand of our closest friends. The cast members were directing the people with party tickets to line up to enter through the gates on the right, and people with regular tickets to enter on the left.
They scanned our Magic bands and finger print like a normal park entry.
As soon as we were through the gates, cast members were waiting to put our party bands on us.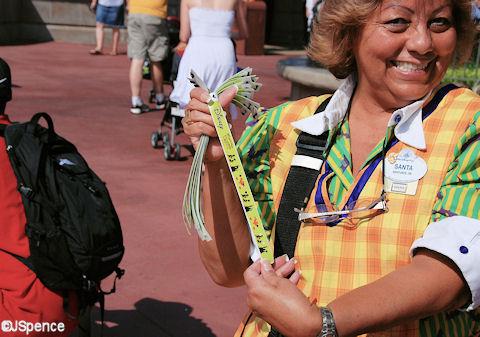 Just beyond them were other cast members handing out the treat bags.
The whole entry process was much quicker and smoother than I expected and we were actually inside the park before 4pm.
The next part was a bit different than what I expected. As soon as we got to the town square, they funneled all party guests to the right down a road not typically open to park guests. It went back behind the shops on the right side of Main Street and came out right around the Plaza Ice Cream parlor. There wasn't much going on on this path, except some photo ops with photographers and more cast members handing out the first treats for everyone's bags. My guess is they just wanted to keep Main Street clear for the regular visitors who may be trying to exit at that time.
The entrance procedure worked fine, but it is worth mentioning that you don't get to walk down Main Street upon entering. For those of us (myself included) who love the joyful feeling you get when you've just entered Magic Kingdom and you're walking down that iconic street with the exhilarating view of the castle… you might feel like you're missing something.
The 4-7pm "overlap" hours
Here is another reason to enter the park as soon as possible! During the party, there is no FP+. I'm unsure of the reason for this except that with the limited number of tickets sold plus a myriad of special party events going on, there isn't a huge need for it. But with your party ticket, you ARE able to book three fast passes from 4 to 7. This is a great way to "guarantee" you get to hit your most popular rides without wasting valuable party time.
Tiana and I had made our FP selections 60 days in advance and we chose Big Thunder Mountain Railroad, Haunted Mansion (the only ride that actually might have longer than typical wait times during the party) and Seven Dwarfs Mine Train. So as soon as we got through the entry procedure we made a beeline for Big Thunder Mountain.
Tiana had to take off her wig and I took off my horns because we were concerned about them flying off on the ride.
On the walk from Frontierland to Liberty Square, I was already starting to notice how sparse the crowds were.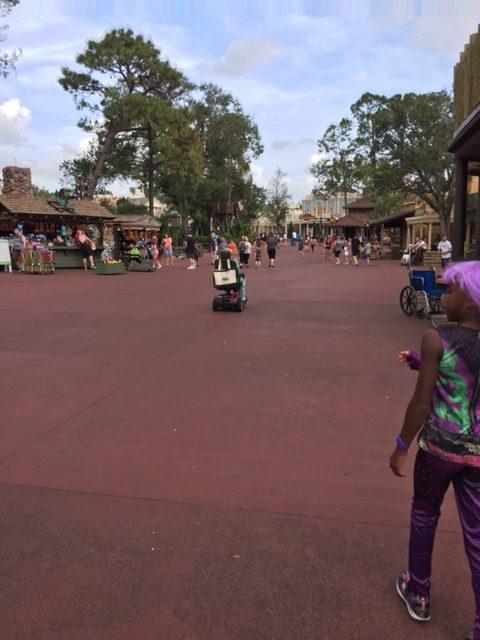 Before we knew it we were walking into Haunted Mansion. This is one that Tiana has never been brave enough to get on before, but she was excited to ride now. She may have been squeezing all the blood out of my arm and closing her eyes for most of it, but she made it through.
When we got off Haunted Mansion we were starting to get hungry and it looked like it might rain, so we made our way to Columbia Harbor House for dinner. It worked out perfectly because the restaurant was practically empty so we enjoyed a quiet, peaceful sit down dinner without taking up too much time. There was also a brief downpour outside that we completely missed.
After dinner we hopped right on Seven Dwarfs Mine Train. That ride is easily one of my favorites in all of Walt Disney World and it's one of Tiana's favorites as well so we definitely enjoyed our ride.
We were on a roller coaster kick at this point so we hopped over to Barnstormer, which was a walk-on (one of many we experienced that night!) Barnstormer is on my list of 5 most underrated Disney attractions so obviously I'm a fan of this short-but-sweet little coaster.
Now for a couple of minor disappointments. It was about 6:30 at this point, and I realized I had to hustle to a couple other of my favorite attractions that don't stay open for the party (most of the rides stay open, but not all, so you have to research beforehand). We went over to Storybook Circus hoping to catch Minnie, Daisy, Donald and Goofy before that spot closed but when we got there they were already gone and the spot was being set up the trick-or-treat stop.
We realized the non-party attractions were actually closing before 7 so we booked it over to Mickey's Philharmagic, but that was also closed already. It was a slight bummer to miss that one but we couldn't stay down with all the awesome energy going on in Magic Kingdom. Tiana was especially loving checking out everyone's costumes.
I realized our sunlight was starting to wind down so we thought we better get a picture in front of the castle. There were Photopass photographers everywhere.
After this photo was taken, we made our way to Adventureland to see how long the line was for Moana. The line turned out to be VERY long, so we decided to skip it. We were about to go ride Pirates of the Caribbean when we noticed a new line beginning to form that wasn't long at all. We jumped in it and were the 5th group to meet Aladdin and Abu.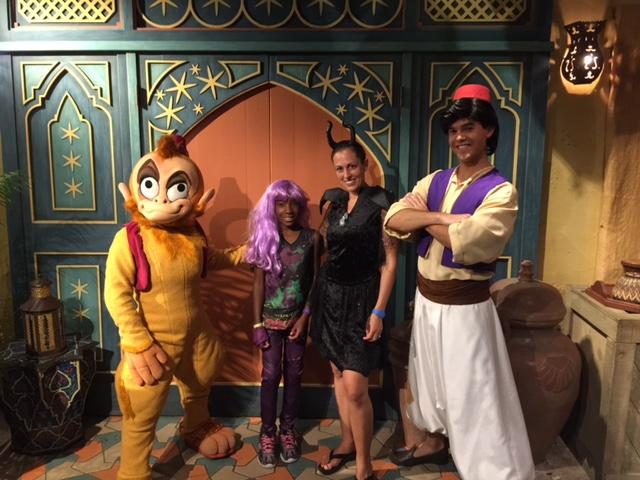 Not surprisingly, Abu did lots of "monkeying" around. He tried to rifle through our bag and looked for bugs in Tiana's hair which she thought was pretty funny!
Official party time
One thing lots of people are curious about is how they change over from regular park guests to party ticket holders only. They do it by checking for the wristband they put on us when we entered using our Halloween party ticket. Right at 7:00, we noticed cast members asking to see people's wristband (especially when going from one land to another). Anyone without a wristband was escorted to the gates while people with wristbands were allowed to keep walking.
So, we had just monkeyed around with Abu and then we went right to Pirates. Just outside the ride was a trick-or-treat stop, so we went through to add to our candy collection. All the trick-or-treat stops are easy to find because they have a big blow up marker that looks like this: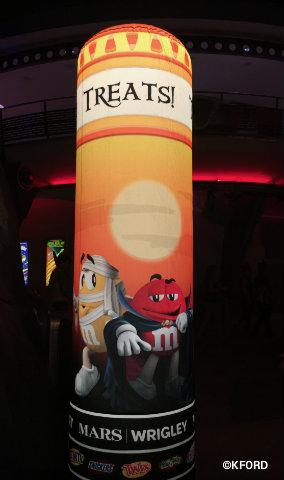 We never actually set out looking for candy during party, just stopped to grab some whenever it happened to be right in front of us. Our bags were still full by the end of the night so it doesn't take much effort to amass some serious candy.
Tiana was eager to see the Sanderson sisters in the Villains Spelltacular, having recently seeing Hocus Pocus for the first time, so we decided to head over to the castle to catch the first show. (There are three shows times: 8:15, 10:45, and 12:00). We decided to grab a snack on the way. Even though there are tons of special holiday themed treats during the party, I felt like I couldn't visit Magic Kingdom without a Dole Whip so that's what I chose. Tiana must have had enough sweet treats so she went for popcorn.
The Sanderson sisters were fantastic and we loved seeing all the other villains as well.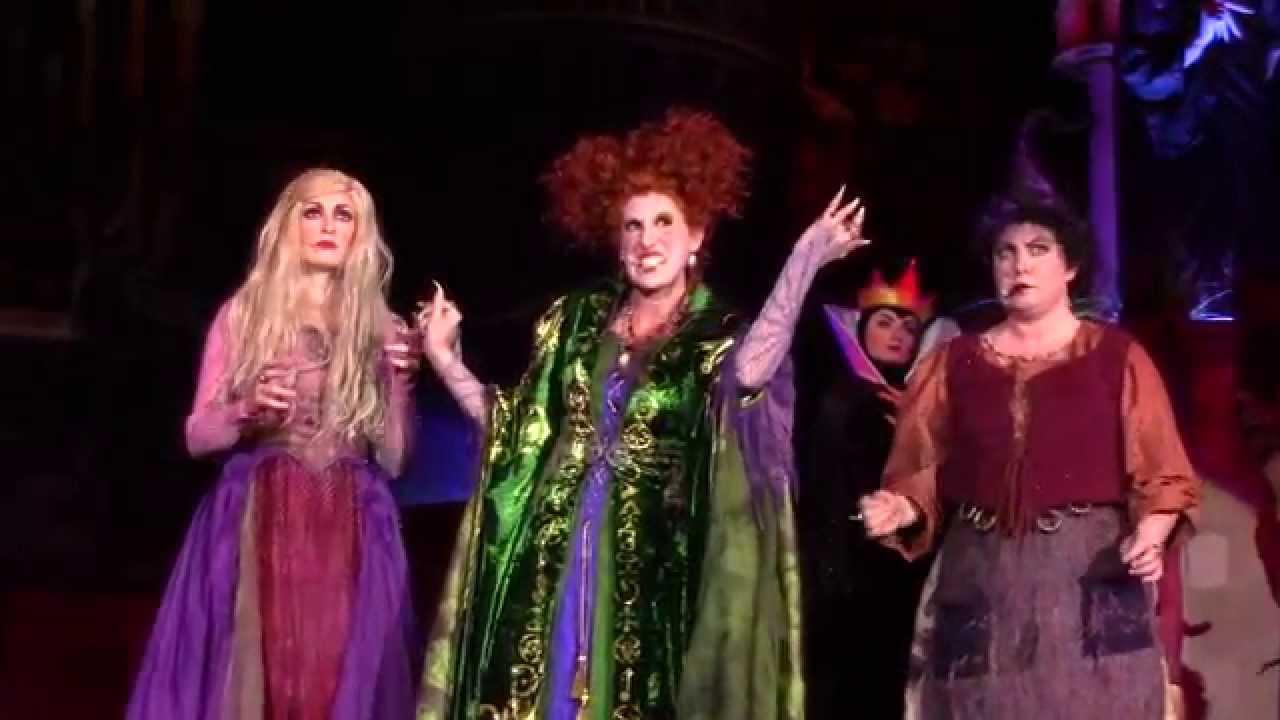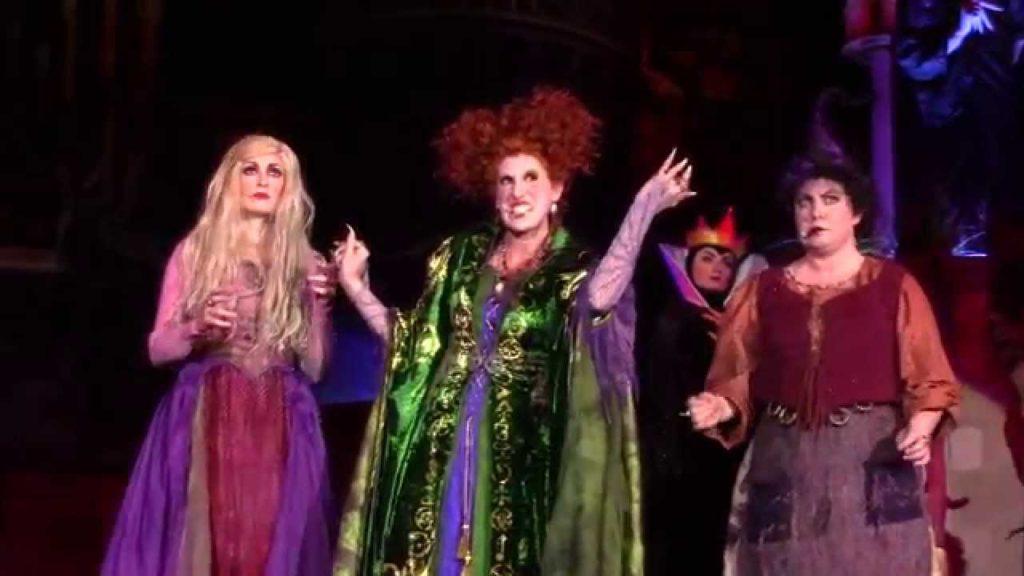 The first of the Boo to You parades was coming up at 9:15, but we decided to take advantage of everyone else watching that and go on as many rides as we could! We were on a mission to stay for the whole party so we knew we could watch the 11:15 parade which is known to be less crowded.
First we covered Tomorrowland with Buzz (walk on), Space Mountain (15 min wait) and the Peoplemover (always a walk on).
Here are the obligatory ride pics: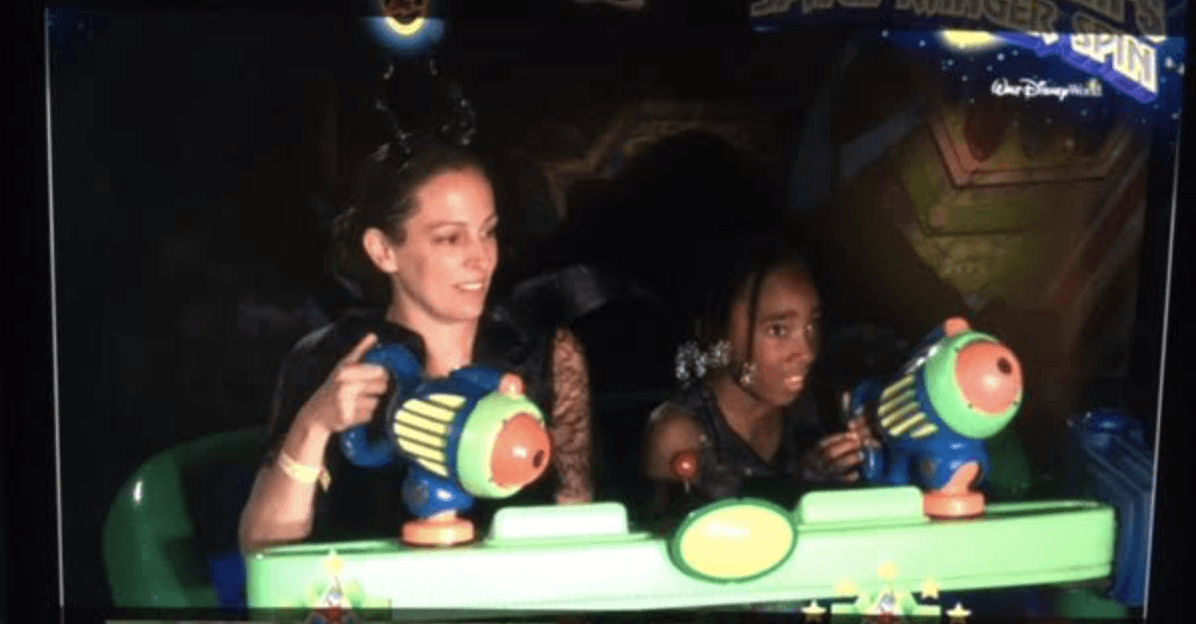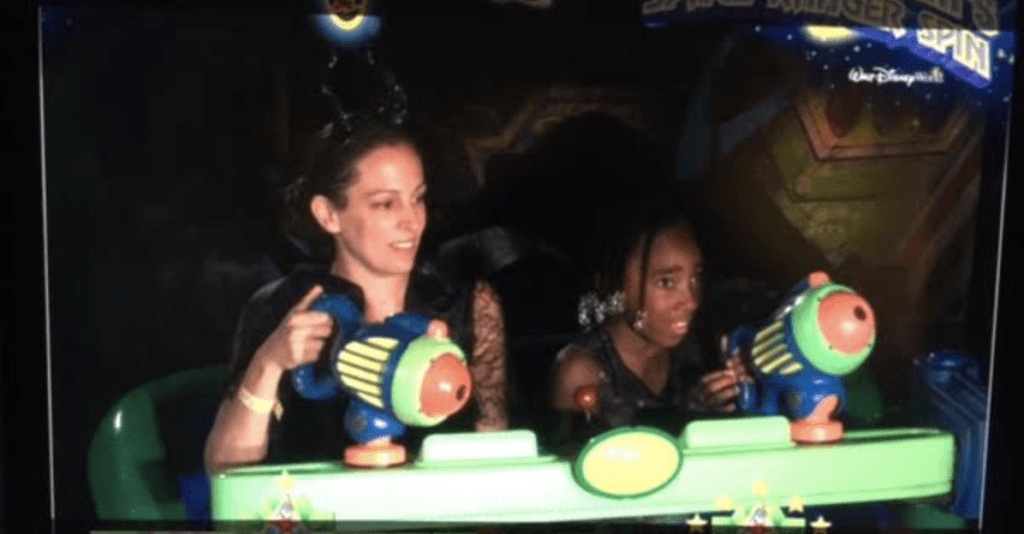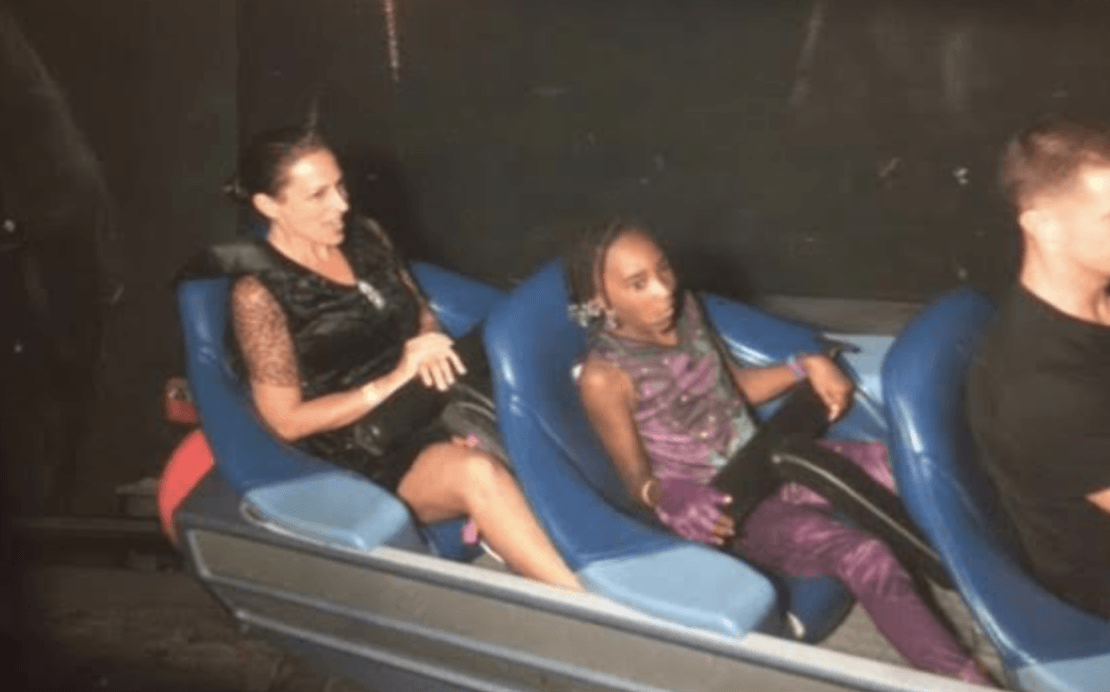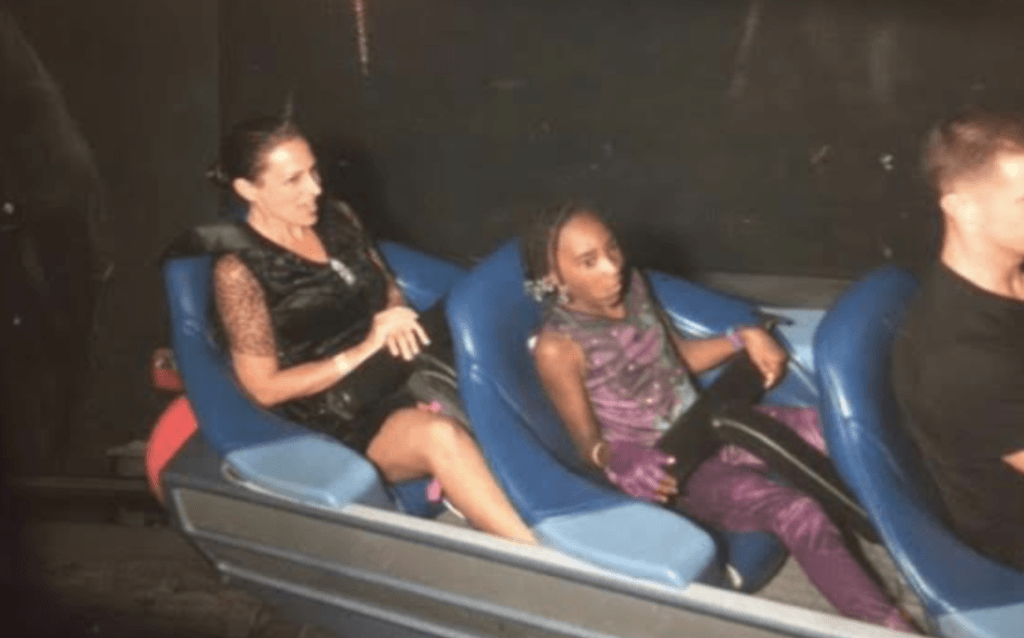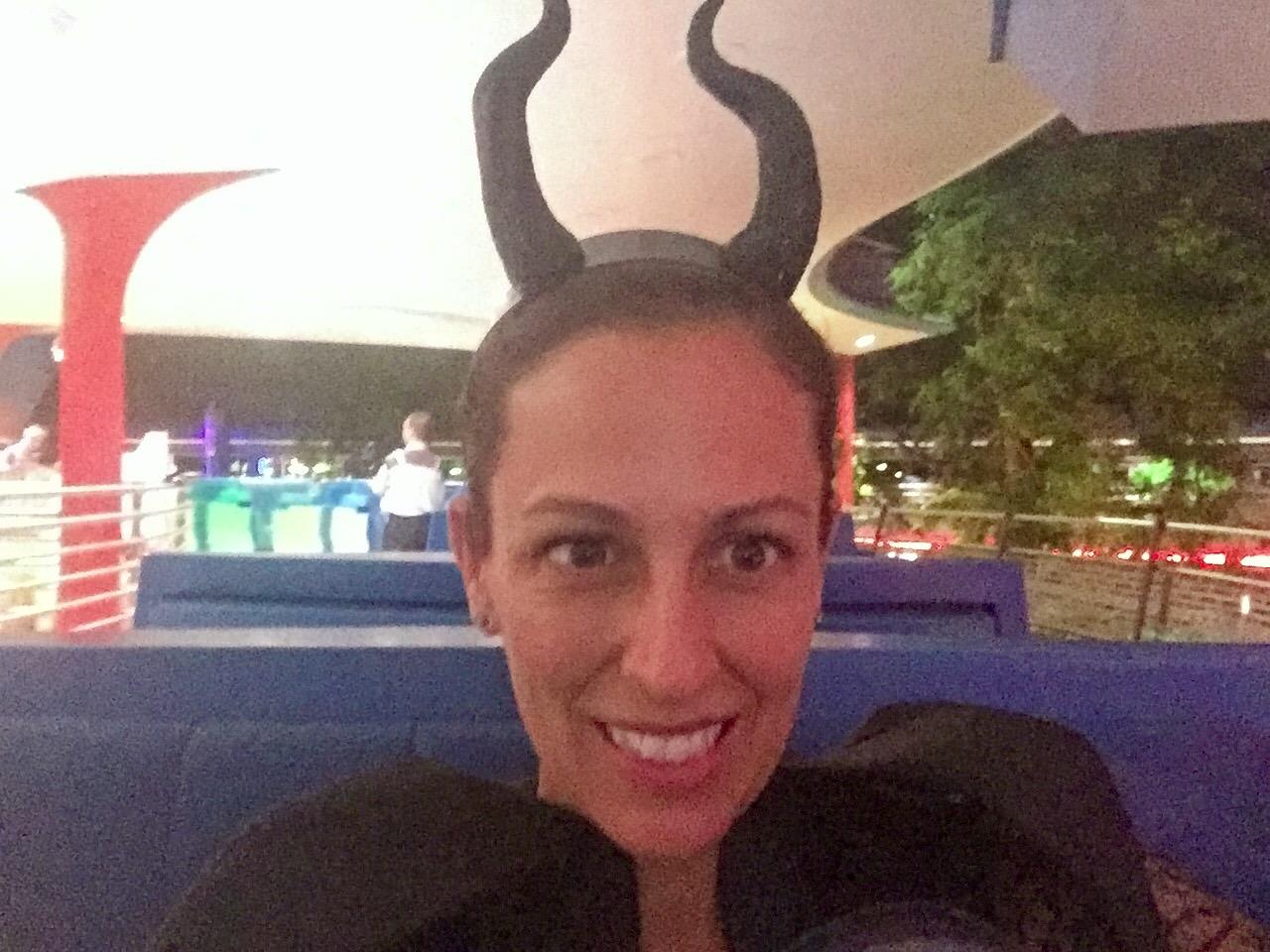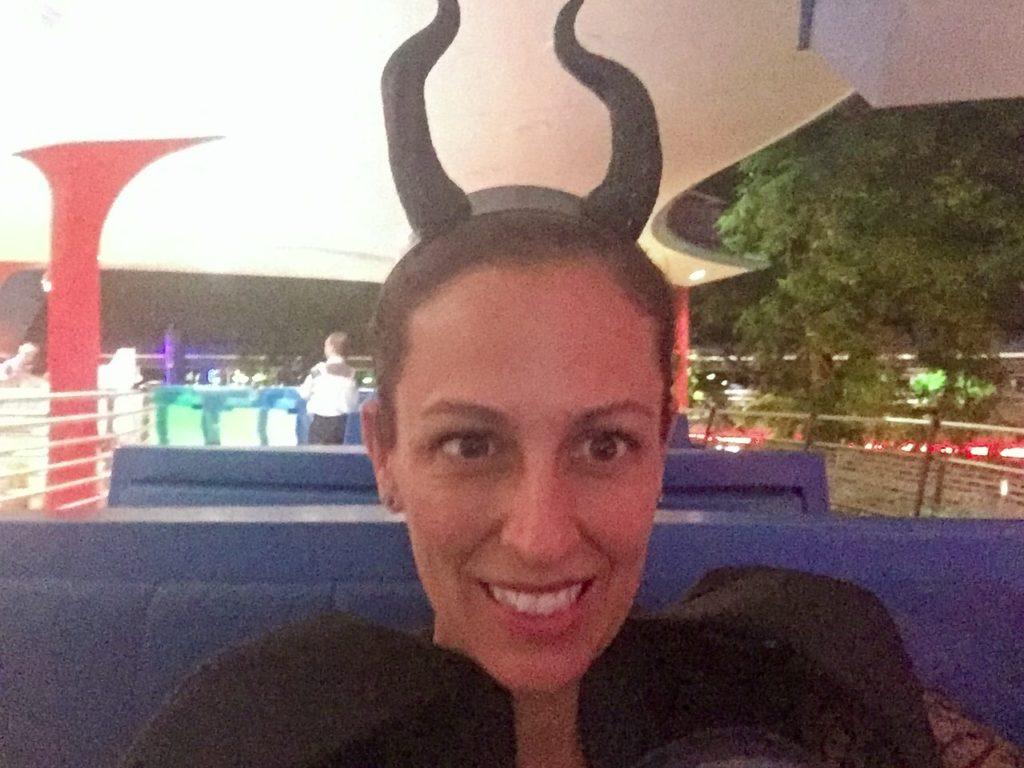 Tiana thought it was pretty much the coolest thing ever to be able to open her treat bag and stuff her face with candy while riding the Peoplemover! We were also able to see the Monsters Inc dance party which was cool because we are both too shy to dance at it but enjoyed seeing it.
Next on the docket was Fantasyland to hit everything we missed the first time around. Every ride was a walk on except for Peter Pan's Flight and Seven Dwarfs Mine Train which were 20 minutes and 30 minutes. It was crazy how fast we were hopping from ride to ride!
There were lots of special characters to meet during all of this, but I was letting Tiana take the reigns on how we spent our time and she preferred to do rides. But we did see Lotso Hugging Bear, Cruella Deville, Jack Skellington, Mickey and Minnie in their Halloween attire, and Winnie the Pooh in their Halloween costumes while we were making our rounds. We were happy enough to see them from a distance instead of waiting in line to meet them.
I told Tiana to pick one last ride before heading over to see the parade and she decided she wanted to do Haunted Mansion again, this time with her eyes open 😆. She also felt like a tough guy being brave enough to ride it when it was dark out.
Haunted Mansion was marked as a 20 minute wait but we were on the ride after waiting 10.
This time she kept her eyes open the whole time and I think she actually enjoyed it! Her famous line is now "is that a hologram?!" anytime she sees anything spooky.
Hallowishes
The special Halloween fireworks begin at 10:15 and they are even bigger and better than the normal Magic Kingdom fireworks. Of course the music and ambience set the mood as well.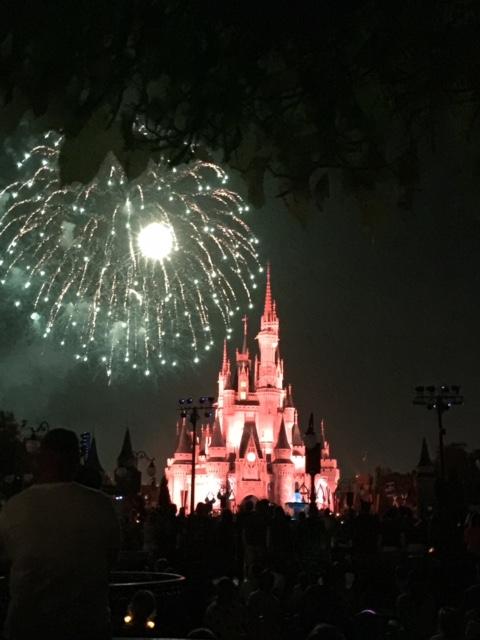 We were watching on the bridge to Frontierland, a spot we grabbed at the last second, so it's not a perfect view. There is a bit of tree hanging down which you can see in this photo, but it didn't take anything away from the experience.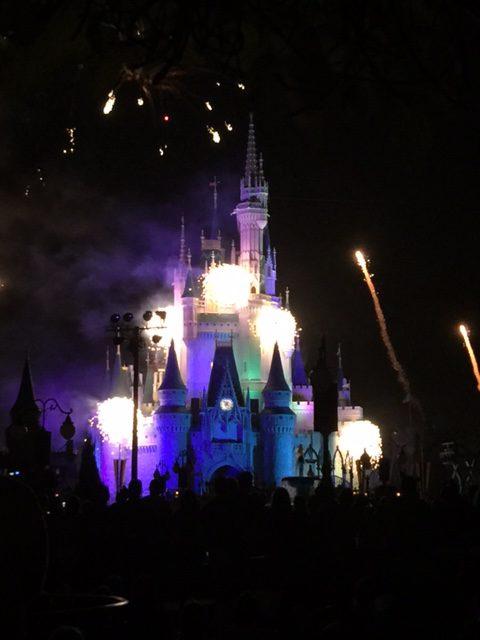 All the explosions and effects were breathtaking. I don't think Tiana enjoyed it as much as I did though, because she tends to be sensitive to loud noises and I saw her covering her ears at the end.
Boo to You Parade
After getting another snack from the Main Street bakery we found an empty spot on the curb right outside that we decided was perfect for parade viewing.
In fact we were so close, when the Headless Horseman galloped by, it seemed he was practically running over our feet!
Then they had some of the Zootopia characters come out and dance with kids to warm up the crowd.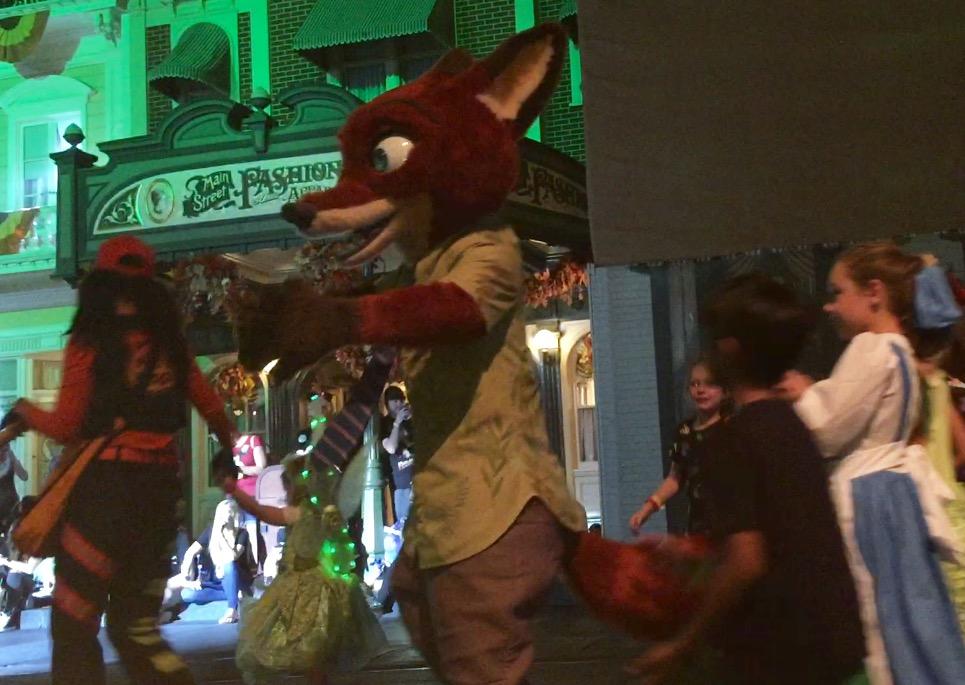 Then finally, the parade. I had heard great things about this parade, and it did not disappoint.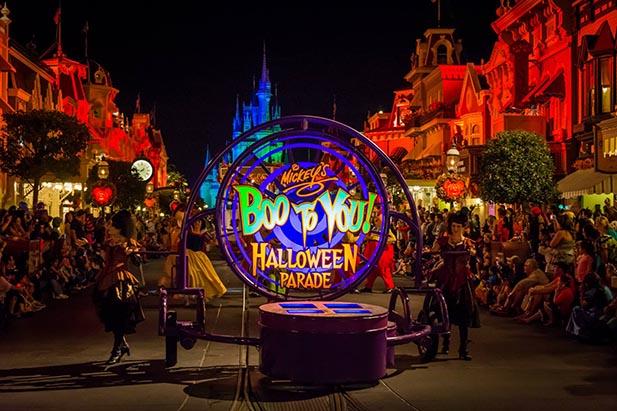 The gravediggers were a major highlight of the parade, as well as these guys: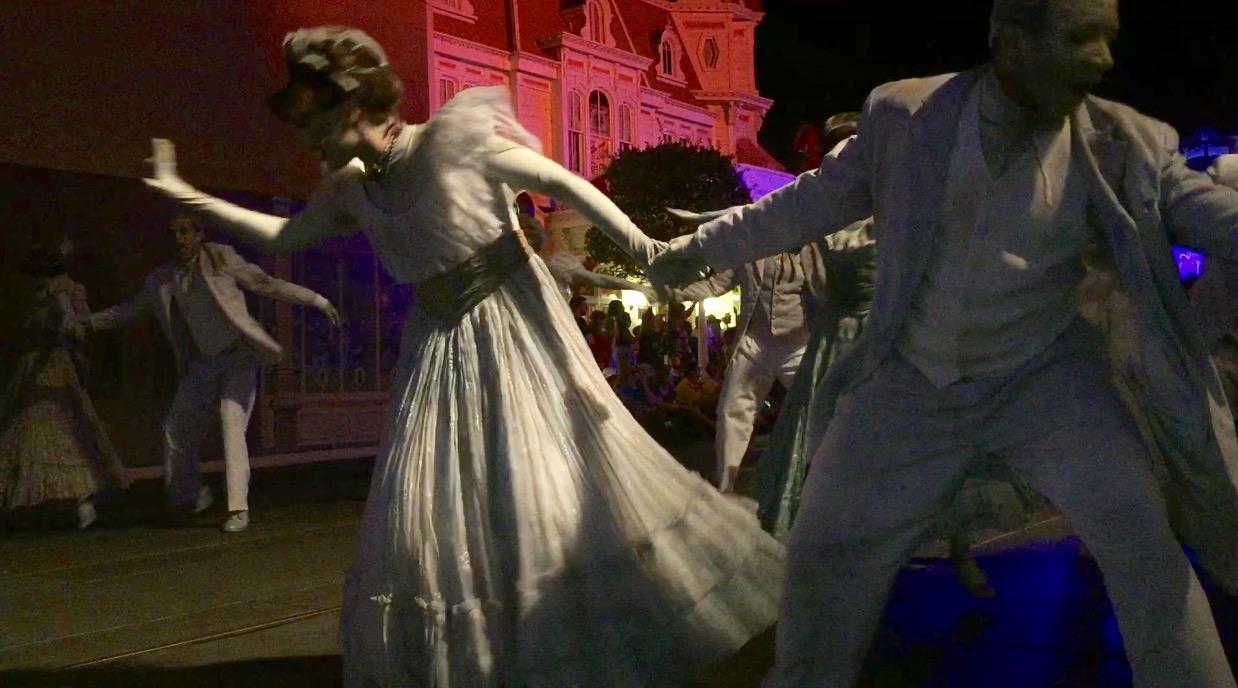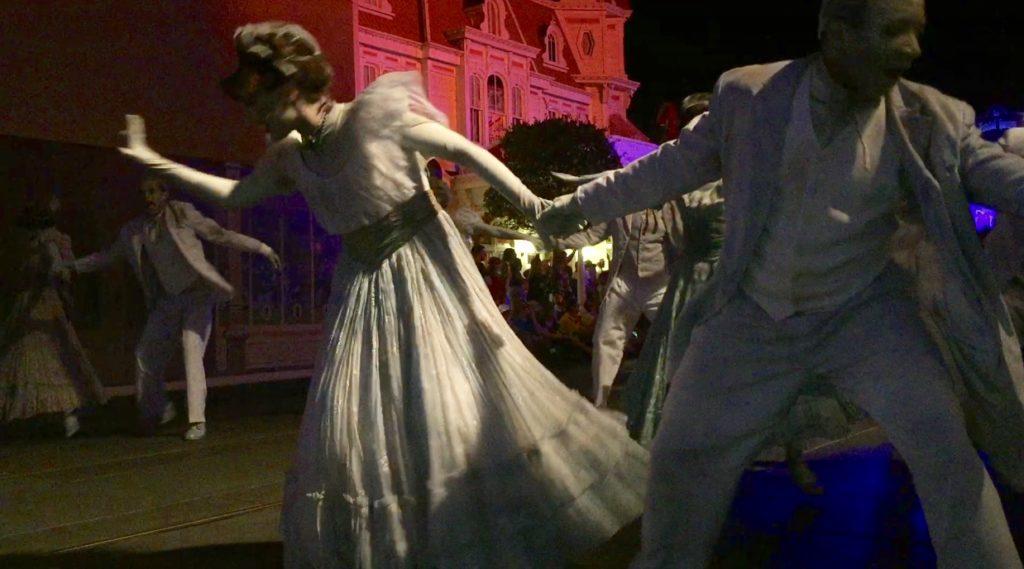 Being seated so close made the whole experience pretty eerie for a "not so scary" Halloween party!
Our first Boo to You parade was majorly pixie dusted, because not 1, not 2, but 3 characters talked to us during it! First Snow White told me she liked my horns, so my day was made. Then Cruella Deville came up and rubbed Tiana's wig saying "ohh dahling you need to foof it up more, and next time half-white half-black, ok now?" (I could kick myself for not getting that one on video!) While Tiana's jaw was still on the floor from that, Dr. Facilier waltzed over and pointed out her purple jacket, saying he likes it because it matches his jacket. We pretty much felt like we were the stars of the parade 💖 That's the kind of Disney magic that has me coming back again and again!
After the parade ended, we got swept up in the current of people heading for the exit and decided we better go catch our bus before waits started to build. We were ahead of the pack when we got to the buses so it was no problem and we made it back to our room quickly. Just in time to wash our faces and collapse in bed!
Was it worth it?
Based on our experience, the cost of the party ticket was 100% worth it. Honestly, even if you didn't like Halloween at all, just having access to Magic Kingdom with such short lines for all the rides would make it worth the price in my book. And all the Halloween extras are icing on the cake.
The park has a totally different vibe with everyone in costume, special characters, shows, parades, etc. The energy is super exciting! Had I been traveling with my whole family however, the experience would probably been very different. So these would be my guidelines for families trying to decide whether or not to do the party:
1. Will you be able to stay for the whole thing? And I don't mean with the kids falling asleep and miserable at 9 o'clock and parents forcing them to stay for the whole thing.
2. What would the rest of the your day look like? We took it easy the day of the party- sleeping in, doing a bike ride and relaxing by the pool. I would not recommend trying to "squeeze in" MNSSHP after a full day touring the park.
3. Would your children be scared? My daughter is 9 and she was spooked by some things. My younger children might have been too afraid to enjoy themselves (one of them in particular who is extremely sensitive to scary things). Even though the party isn't a "Halloween horrors" type of event, Disney knows how to set the mood to make even Disney villains seem pretty terrifying.
4. What night can you go? Our party was on a Sunday, which tend to be less crowded. The Tuesday parties are also recommended. I don't know if it makes a huge difference, but I've heard the Friday night parties close to Halloween are more packed (and sell out).
5. Are you there for the characters? If you want to do the party to meet some of the rare characters, you'd need to do some serious prioritizing and strategizing. Some of the most popular characters there (like the Seven Dwarfs and Jack Skellington) attract wait times of 2 or more hours. If meeting lots of characters is your number one priority, then go for it! Just do it knowing you might get to do little else. You can't go into it thinking you're going to meet all the characters and take part in all the other party fun.
For us this party was a magical night and the highlight of our trip! I will be recapping the other parks we visited as well, including the new Avatar rides at Animal Kingdom, so be on the lookout for that.
What other questions do you have about Mickey's Not So Scary Halloween Party?