If you're looking for ideas to capture the most precious baby Christmas pictures, check out these Instagram shots of babies who totally nailed it!
Baby Snowman
https://www.instagram.com/p/Bc_SWQhD42x/?utm_source=ig_web_button_share_sheet
How adorable is this tiny newborn snowman? All you need to do this at home is a knit snowman hat, little scarf, and any plain white blanket to swaddle the little one up.
Baby's First Snow
https://www.instagram.com/p/BdH9AvEBORt/?taken-by=southpawrian
This handsome little sweetie didn't actually need to feel a touch of cold to achieve this photo, it's just an effect put on the photo digitally. But it sure does look wintery!
Dear Santa…
https://www.instagram.com/p/Bc3PYKinlVQ/?taken-by=cabreraphotography
What would your baby ask for in his letter to Santa? I love how the old fashioned typewriter gives this photo a vintage, rustic feel.
Under the Christmas tree
https://www.instagram.com/p/BObe_Kpg4ex/?taken-by=jakefabricius
This sweet baby girl embodies the magic of Christmas with her expression of wonder looking up from under the Christmas tree! With some good background lighting this one can be recreated at home by anybody. Just don't put any breakable ornaments within baby's reach.
Baby booty wrapped in Christmas lights
https://www.instagram.com/p/BgSWZCzjvw-/?taken-by=lexypreciousmomentsphotography
Nothing could be cuter than a baby's bottom… unless it's a baby's bottom at Christmas time! The lights give this photo a warm, seasonal feeling that just adds to the baby cuteness.
Baby Elf on the Shelf
https://www.instagram.com/p/BlrLI0YBhDb/?taken-by=willowmintprops
I can't even with these babies as the Elf on the Shelf! Total cuteness overload. This has to be one of the best baby Christmas pictures I've ever seen.
Milk and Cookies Bath
https://www.instagram.com/p/BokJ0g3h71w/?taken-by=sierra.linell.photography
Combine Santa's love of milk and cookies with your baby's love for taking baths to get this fun and adorable photo.
Christmas Ornament
https://www.instagram.com/p/Bc3gn6wlg_L/?taken-by=mericurz
Babies love to look at shiny things, so capture their attention by dangling a Christmas ornament over them. With the Christmas tree glowing in the background, it makes for a magical Christmas photo.
Coming Down the Chimney
https://www.instagram.com/p/BOXiM0vjXrH/
I love a little humor in a Christmas picture. Baby is heading down the chimney the same way he came down the birth canal- head first!
Baby Santa and his pup
https://www.instagram.com/p/BcaaLr-l–s/
This little Santa may be snoozing under the Christmas tree, but Santa pup is keeping watch. Babies + dogs = double the cuteness.
Away in a Manger
https://www.instagram.com/p/BdQTUuFgfiN/?tagged=babyinamanger
Christmas is about the birth of Jesus after all, so why not recreate the scene by photographing your little one in a manger?
The best present of all
https://www.instagram.com/p/BcaTRf2licd/?taken-by=forevermylittlemoon
This precious baby girl was born on Christmas Eve. I know there was no gift more special than her under that Christmas tree!
Need help creating your own unforgettable baby Christmas pictures?
I turned to Etsy to find these adorable baby outfits and props:
After the Christmas photo shoot, it's time to start your Christmas shopping!
Here are my practical gift ideas for filling baby's Christmas stocking.
Don't lose your inspiration: Pin this post for later!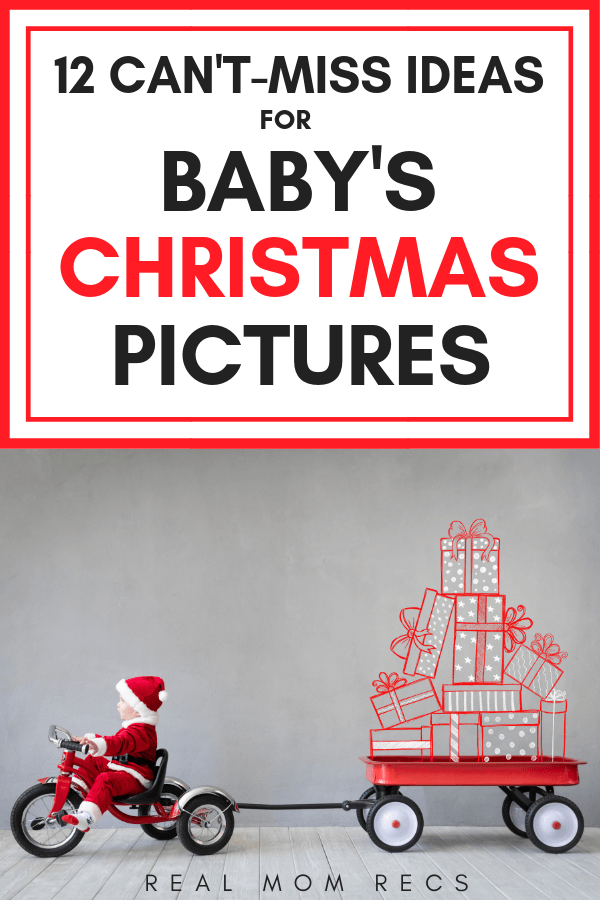 And for all things pregnancy, baby, and parenting, be sure to follow me on Pinterest!