You know what they say about people and opinions? Somehow that's even more true when it comes to planning a trip to Disney World. There is no shortage of Disney World advice out there, the problem is that so much of it is very, very wrong.
Here is some of the WORST Disney advice I've ever heard, that you should never, ever follow!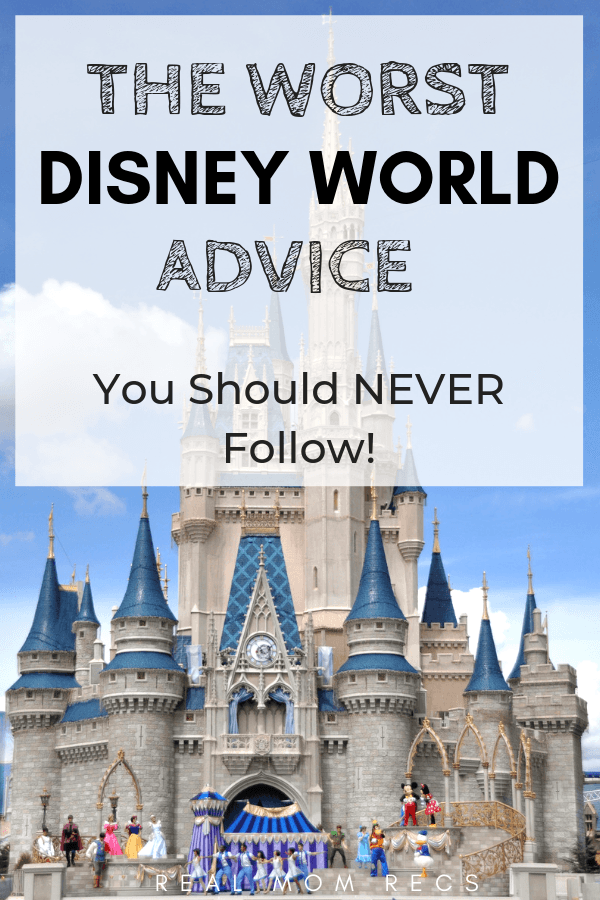 Disney World is just for kids
People! Just no.
I'll tell you who Disney World is for: people who like Disney World!
That includes a lot of children (but not all) and a lot of adults (but not all).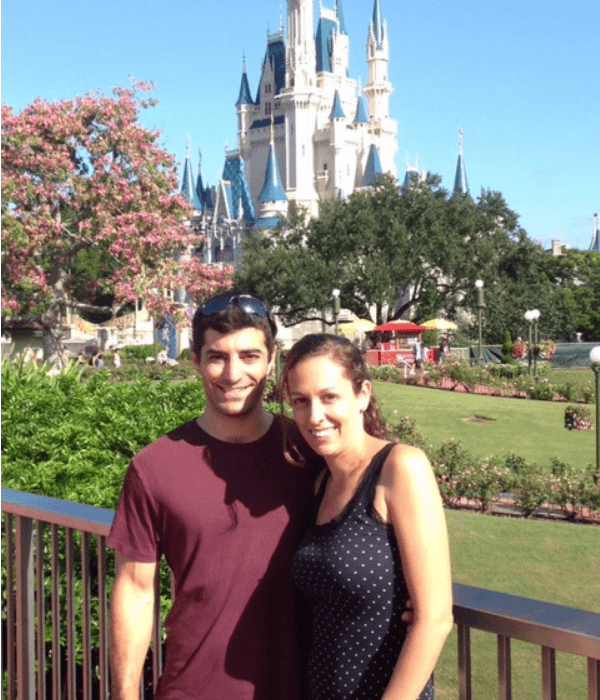 Some of my fondest Disney memories are trips I did with only adults. One was a trip my siblings, father, and uncle and I took after my mother passed away. We figured a visit to the happiest place on earth was in store to distract us from our grief, and it actually did.
Another was the trip my husband and I took for our 5 year wedding anniversary. We already had 3 kids by that point, but decided to go just the two of us. It was a very different kind of trip than when we've brought the kids, and I enjoyed every minute of it.
That was the only trip that we were able to make it all the way around World Showcase, including stopping to watch all the country movies and enjoy a Gray Goose slush in France.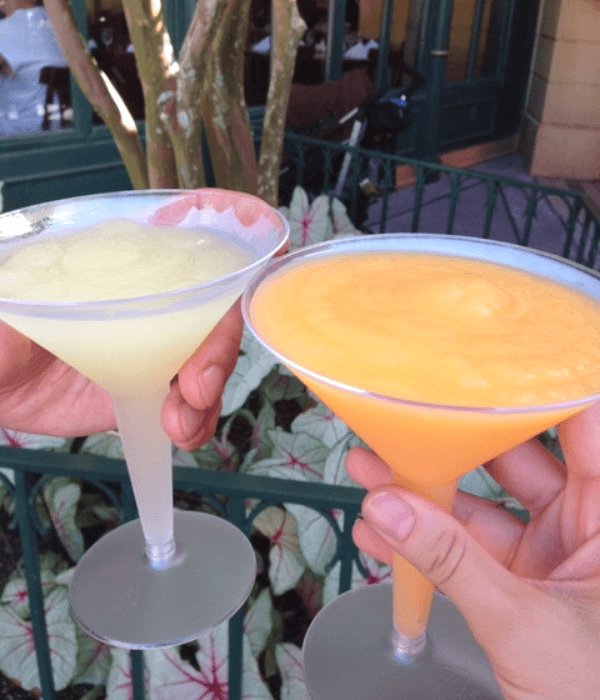 There are lots of unique Disney experiences geared specifically at adults, including fine dining locations such as:
California Grill (Disney's Contemporary Resort)
Le Cellier (Canada Pavilion at Epcot)
Narcoosee's (Disney's Grand Floridian Resort)
Jiko (Disney's Animal Kingdom Lodge)
Victoria and Albert's (Disney's Grand Floridian Resort)
Just to name a few!
There are also VIP tours that are for adults only, including the popular Keys to the Kingdom Tour.
Yes, Disney is fantastic at catering to kids. But if you are jonesing for an adults-only trip, by all means GO FOR IT!
Animal Kingdom is just a zoo
Here is another one that grinds my gears.
Animal Kingdom is a theme park that mainly revolves around animals, but it is not at all comparable to your local zoo.
One of the most mind-blowing, technologically advanced rides anywhere in the world is found at Disney's Animal Kingdom. It is called Flight of Passage and you can find it in the Pandora section, an elaborately themed land from the movie Avatar. (Note: there are no animals found in that entire land. Because Animal Kingdom is not a zoo!)
The animal experiences at Animal Kingdom (Kilimanjaro Safaris, Maharajah Jungle Trek) are very well done and worth doing. You feel like you're on a real African safari and get to view animals in a natural habitat, not in cages. They are better than what you'd find at a zoo, and they are only a small part of the park.
The rest of Animal Kingdom is like all of WDW: immersive, full of details evoking all the senses, unique dining experiences, characters, rides, etc. There are also some spectacular shows, our favorite being the Festival of the Lion King which is interactive with the audience and tells a story with amazing acrobatics.
Be spontaneous with your dinners
This could be decent advice if you are only looking to do quick service dining. But if you want to enjoy some more relaxing sit down dinners, it is truly some BAD Disney advice.
Dining is a huge part of the Disney experience, whether you're talking about character meals or adults-only signature restaurants. Many restaurants book COMPLETELY as soon as the 180 day booking window opens! You want to plan your reservations as soon as possible or risk not getting any (or not getting what you want).

Yes, it's a drag to have to plan your meals 6 months in advance and it would be more fun if it could be spontaneous. You can certainly check the app on the day of just to see if anything opens up, because of course people's plans change. Just do not count on that method if you really want to book certain meals. Play it safe and book 180 days out.
Don't use Fastpass for lines that are fun
This advice is well-meaning and usually comes from Disney fans. But I'm as much of a fan as they come, and I have to say this is some bad Disney advice.
Disney is brilliant and they have done as much as possible to make waiting in long lines less miserable. (See my post about beating Disney crowds if you hate lines as much as I do!) So they have added some entertaining elements to the longest queues to help people get through them. Peter Pan's Flight, Seven Dwarfs Mine Train, and Winnie the Pooh all have some fun things to do and see while you wait.
Does this mean it's worth it to wait an hour or more in line? That answer is simple: NOPE.
Long lines are never fun, even with a few pieces of entertainment thrown in. Even with the PLAY app to pass the time, I'd still rather be elsewhere in WDW doing more instead of being stuck in a line.
The best ways to bypass those long lines? Take your trip when it's a slow time of year, go to the parks when it's a slow time of day, and make the most of your Fastpass selections!
The ONLY exception to this (in my opinion) would be Dumbo. I never Fastpass Dumbo, because the wait is not a line. Instead they give you a pager like one you'd get while waiting for dinner in a restaurant. You then sit in the air conditioning and rest your feet while the kids play in a Dumbo-themed play area. It is a total win all-around and not at all like waiting in a typical line.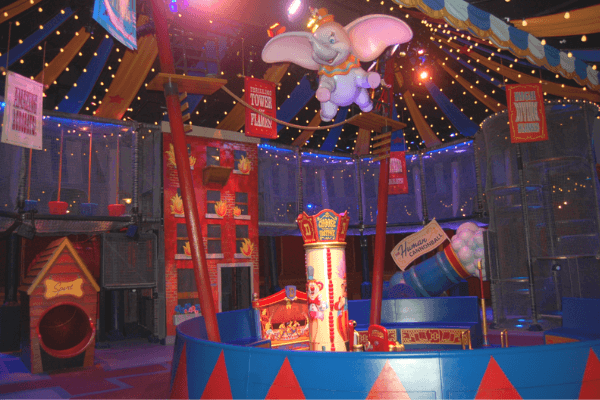 You need to do as much as possible to get your money's worth
This is a great way to ruin a good vacation.
First of all, wrong mindset. I can't even tell you how many times I've seen a grown adult have a tantrum in response to a tired or scared child saying "Do you know how much I paid for this vacation?" or something similar. If you can't afford a trip, don't take the trip. It's a horrible idea to pay too much for a trip and then try to force your money's worth out of it.
Secondly, trying to do it all is what ends up making the trip a bad experience. No one will enjoy a trip when you are sleep deprived and forced to stay in the parks from open to close! That doesn't make it more fun or more "valuable", that just makes it miserable.
Some of the most fun Disney days are when you cut your park time short and go hang by the pool. Or when you decide to rest in the room and you all end up in bed watching Disney movies together. It doesn't have to be go go go all the time to be a fun vacation, it just needs to be time spent together with room for magic to happen.
Kids don't like Epcot
While Epcot is probably the most adult-friendly of all the parks, that doesn't mean it isn't for kids.
In fact on one of my trips with kids, my then-5 year old declared Epcot his favorite park. Test Track was his favorite ride in all of WDW and he had a blast playing the Phinneas and Ferb hunt through World Showcase (Agent P). He would also pay the price of admission just to spend an hour mixing sodas at Club Cool.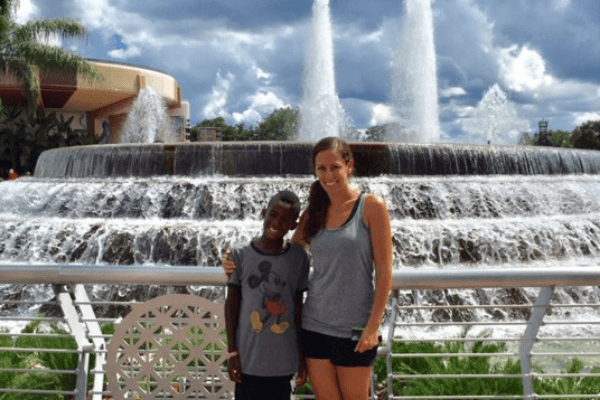 Future World is full of fun rides and experiences for kids, and World Showcase is so different from the rest of WDW that it makes for a great change of pace for the kids too. Sure, they probably won't appreciate Impression de France or watching their parents drink around the world, but if you make it about the kids there is tons for them to enjoy. Kidcot stops, exploring the pavilions, trying new foods from different countries, and meeting characters are some of the things kids love at Epcot.
If you go at a slow time of year, you don't need Fastpass
This is not just bad advice, it also makes no sense. Fastpass is free and included with your ticket, why in the world would you NOT make use of it?
While I highly recommend traveling at slow times of year (January, February, September), it's important to know that there is no time of year when there aren't lines at WDW. Low crowds make it easier to fit more attractions in as lines are overall shorter, but the most popular attractions have long lines 365 days a year. Fastpass is your friend ALWAYS.
Don't bother bringing a baby or toddler to Disney, they won't remember it
Maybe they won't, but YOU will! Taking little ones to Disney is peak magic.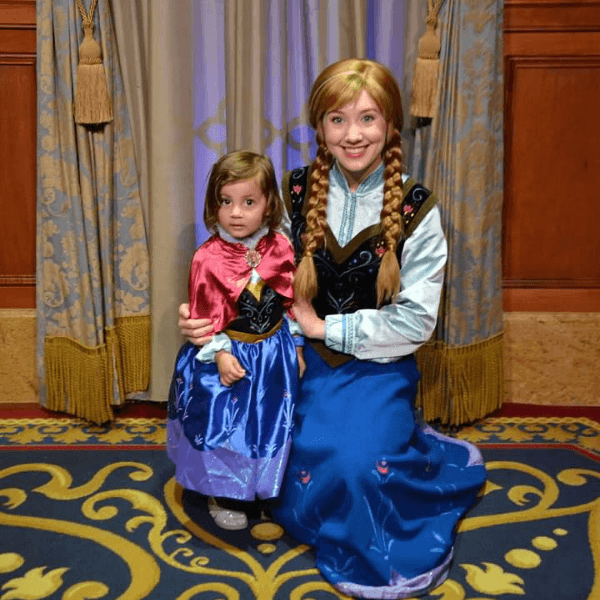 There is nothing like seeing a two year old's face light up when she meets her favorite character! And when they get older they will love seeing the photos. You can keep memories alive by telling stories and showing photos too.
The only time I agree with this advice is if you KNOW this will be your child's one and only trip to Disney World. If that's the case, I think there are better times to go (ages 5-9 would probably be my favorite). Old enough to have some stamina, but young enough to still be a true believer.
But if you have an opportunity to take a trip when your child is a toddler, and you're up for the challenge, it can be very well worth your effort. Here are some tips for doing Disney with a toddler and the best Disney attractions to do with preschoolers.
What is the worst Disney advice you've heard?
I know there is more bad advice out there! Share in the comments and let's see if we agree.