Wondering what the true breastfeeding essentials are in the endless sea of new baby products?
Truly, not too many things are needed for breastfeeding. I breastfed my baby for a year (twice!) without amassing a large amount of stuff.
I wouldn't consider myself a complete minimalist, but I do have frugal tendencies. During my pregnancies I was never in a rush to run out and by all the baby gear there is. And isn't one of the perks of breastfeeding that it saves you money you'd be spending on formula?
On the other hand, I knew I had to be as comfortable as possible to help me get to my goal of breastfeeding for a year. So I did spend some money to set myself up for success with some convenient breastfeeding essentials.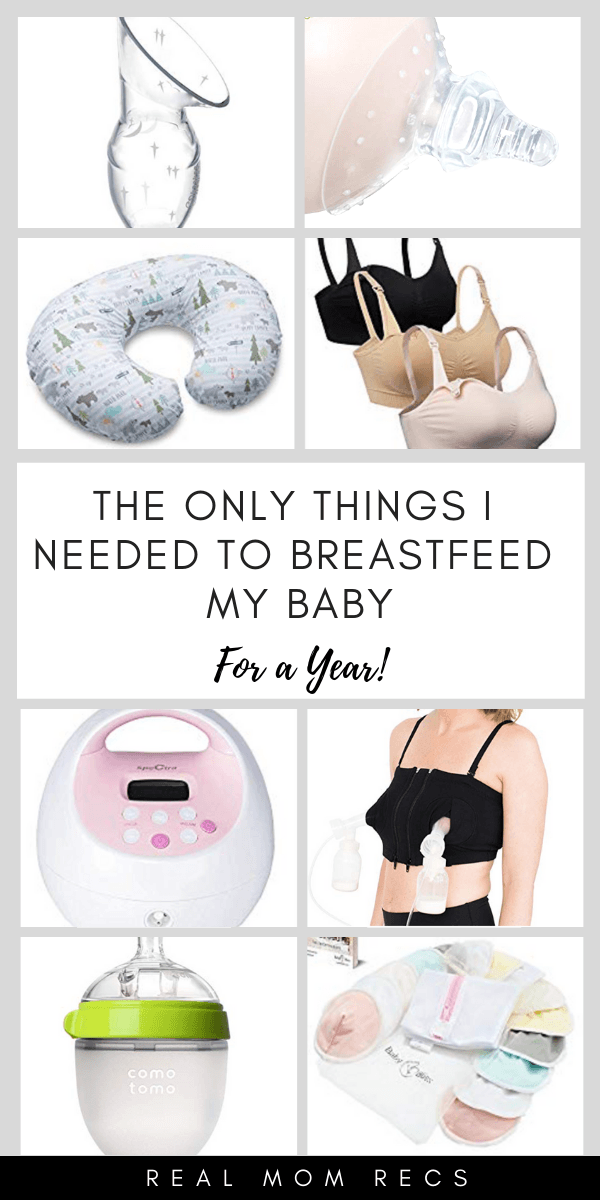 Disclosure: This post may contain affiliate links, which means if you click one of the product links, I receive a small commission at no extra cost to you.
Breastfeeding Essentials
A BREASTFEEDING COURSE
Knowledge and breasts are the only things you actually need in order to breastfeed. Arm yourself with everything you need to know about breastfeeding by taking a local class, or an online breastfeeding course if that's more convenient for you.
Remember, the greatest force working against breastfeeding moms is their own doubt. Know what to expect and dive into breastfeeding with confidence.
BOPPY
Some people prefer My Brest Friend
, but I stuck with the Boppy Pillow
for my babies. This C-shape pillow wraps around your waist. It helps get the baby up to the proper height to nurse. After trying to breastfeed without it in the beginning, I quickly realized how hard it is on your back! When you're already dealing with all the discomfort of postpartum, a sore back is the last thing you need.
BREAST PUMP
If you're planning to go back to work after maternity leave, a great pump is crucial. Even if you're not, you will want a pump if you plan to be away from your baby for any stretch of time, ever.
You should be able to get your pump covered by insurance, and then you'll just need to buy the accessories like extra parts and milk storage bags. I would recommend either the Medela Pump in Style
or the Spectra Baby USA Hospital Strength Pump
.
Then just get a convenient cooler bag with some ice packs to store the milk until you can put it in the freezer at home.
HANDS-FREE PUMPING BRA
It's not exactly essential, but a hands-free pumping bra
does make pumping less of a chore. Without it, you have to either pump one side at a time, or sit there with both hands at your breasts unable to do anything. With your hands free you can do work, read a magazine, scroll through Instagram, whatever helps you pass the time.
BOTTLES
I got lucky and my babies took to the Medela bottles without a problem. Some breastfed babies are choosy, so you may need to experiment with different types of bottles and get one that closely resembles the breast
. I'd also recommend not waiting too long to introduce the bottle- I offered one as soon as my supply was well-established, around 3 weeks.
NURSING TOPS AND NURSING BRAS
It is so much easier to pop a boob out anytime, anywhere when you're dressed right for it. But I also didn't want to go out and buy a whole new wardrobe just for breastfeeding.
If you have several nursing tanks
, you can wear one under just about any shirt and breastfeed easily. Just pull the top shirt up, and unclip the top of the tank (aka the two shirt method).
Just about any button-front shirt or low V-neck can also work for breastfeeding.
As for bras, you might need to try a few different kinds and see what you like. I found these seamless nursing bras
to be the most comfortable. They have a bit of stretch to them which is nice as breast size fluctuates all day when you're nursing.
SLEEP BRA
When I was pregnant, my mom friends told me I should get some sleep bras and I completely scoffed at the idea. Isn't taking off your bra at the end of the day one of the best feelings ever?
Of course, they were right. There really is no preparing you for how huge your breasts will get once your milk comes in. It is actually comical, if you're able to maintain a sense of humor at such a crazy time. Luckily my sister ran over with some comfy sleep bras
so I could have a little support and stay in place during the night.
(And if you leak, you'll need the sleep bra to keep nursing pads in place too.)
Other breastfeeding items moms love
I didn't use these myself, but I see them come up again and again as items new nursing moms love.
HAAKAA
Everyone in the breastfeeding world seems to be going crazy over this new product the Haakaa
.
It capitalizes on the fact that when you feed your baby, both sides experience a letdown. The side that the baby isn't eating from typically just leaks a bit.
If you have the Haakaa attached (it basically suctions to your breast), it will catch that letdown and suction out a bit more. It doesn't have the force of an actual breast pump, but you will collect a little each feeding and it adds up fast.
NIPPLE SHIELD
Not everyone needs to use a nipple shield
, but if your baby has a bad latch this little device can save your nursing relationship. It basically puts your nipple into something like a bottle nipple, which is firmer and easier for baby to latch onto. I
And if a bad latch left you with cracked and bleeding nipples, it will be less painful to breastfeed with one too.
NURSING PADS
I only used these for the first week or so until my supply adjusted, but some people continue to leak and need to use them all the way until weaning. Reusable nursing pads
will save you some money in the long run if that's the case. If you can't be bothered to wash them in the laundry, disposable nursing pads
work well too.
You really don't need much to comfortably breastfeed for as long as you want!
Prepare yourself with the essential items for breastfeeding and a good dose of patience, and you and your baby will get this nursing thing down pat.