We welcomed the first day of spring last week here in New England with… a snow storm! My poor kids were so confused. Elle asked, "if today is spring, why does it look so much like winter?" Good question, honey.
I'm happy to report that just a few days later, Mother Nature got the memo that spring had arrived. The snow has now melted and we are starting to see some buds and sprouts popping up. My little ones are fully ready to celebrate spring's arrival so I rounded up some of the most adorable spring crafts for preschoolers and toddlers!

Mommy and Me Handprint Flower Painting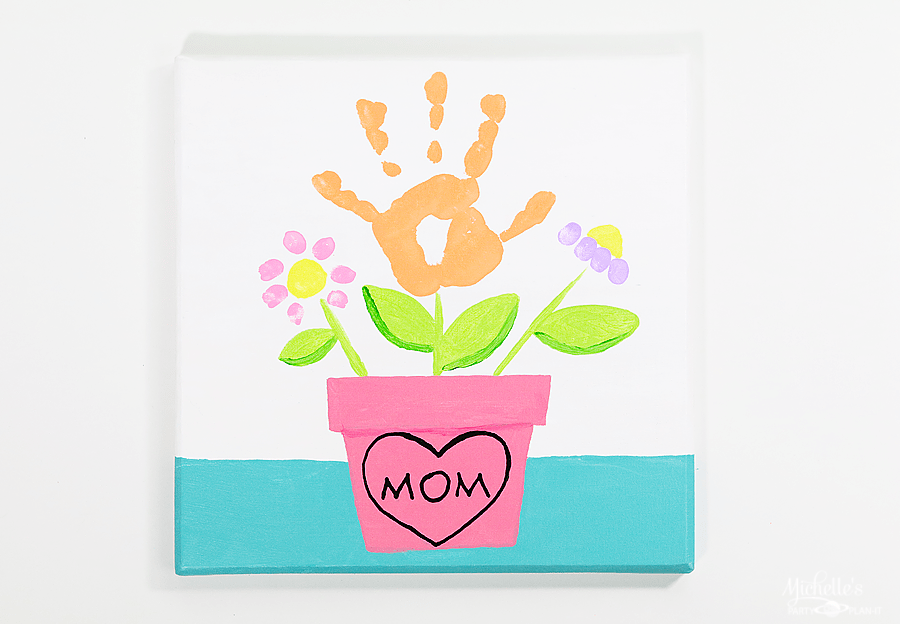 How gorgeous is this work of art from Michelle's Party Plan-It? She and her little guy painted this canvas together, with her setting the scene and his adorable handprint taking center stage. Then he got to fingerprint the flower petals. This is one of those rare pieces of kid art that you actually want to keep or even hang up somewhere!
Catepillar Counting Printable Worksheet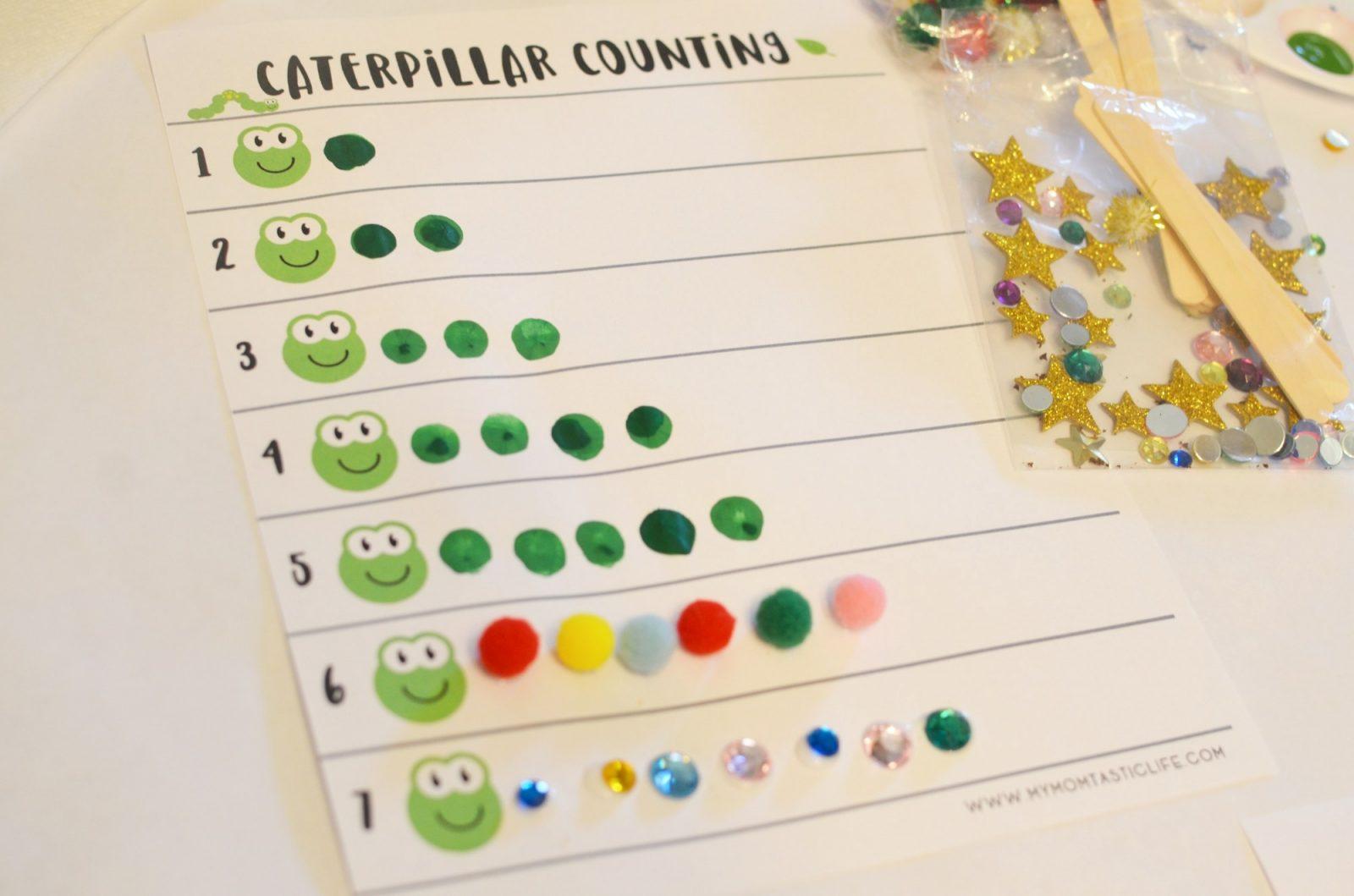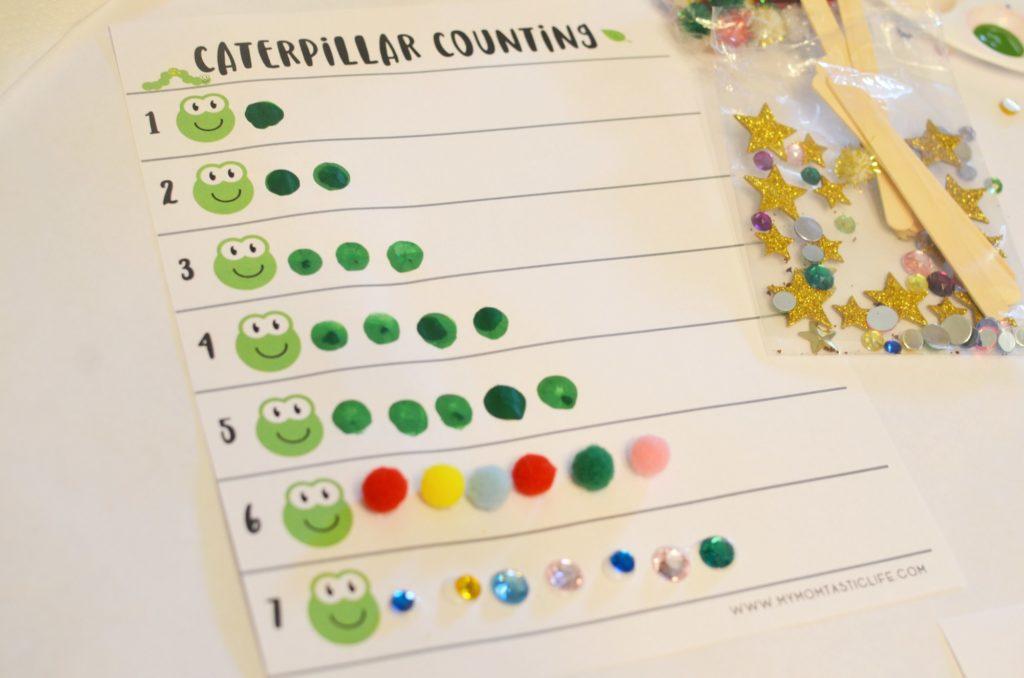 I love how my friend Victoria from My Momtastic Life made this one equal parts cute, creative AND educational. You can download the printable worksheet from her site, and use just about anything you have on hand in your craft supplies. Paint, stickers, pom poms, beads, just about anything goes!
And this activity pairs perfectly with one of our favorite books, The Very Hungry Caterpillar
. You can teach the littles about science and then follow up with a little math.
Mud Puddle Fun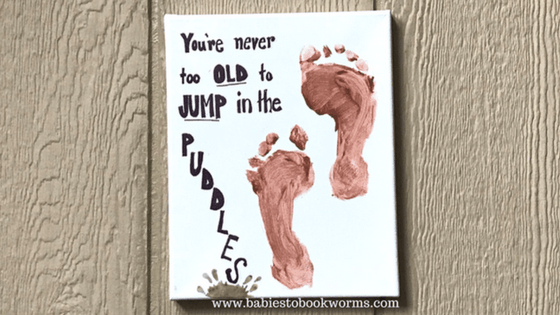 What preschooler doesn't love a muddy puddle? Babies to Bookworms came up with several mud-themed activities to do with your little one.
The artwork shown above is a footprint of your child's done in brown paint to look like mud. She also has a letter-finding sensory bag that looks like it's mud (but with no mess) and also a chocolate "mud" dessert recipe!
Rainbow DIY Suncatcher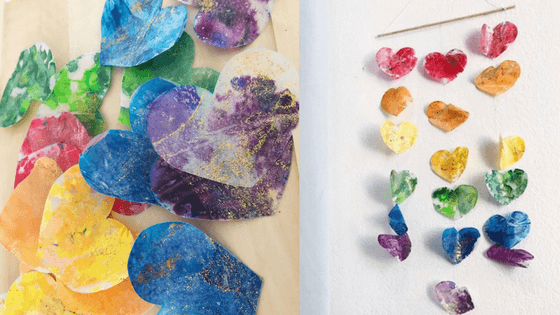 I wish I had seen this craft from Me and My Merbaby before I did my daughter's rainbow-themed birthday party!
She found the perfect solution for reusing all those broken crayons- melt them into wax paper, cut out hearts and make a sun-catcher. She was even brave enough to let her toddler paint with glitter on them to make them extra sparkly. A fun idea that also helps younger toddlers learn their colors and gives preschoolers a hands-on lesson in color mixing.
Handprint Tree Craft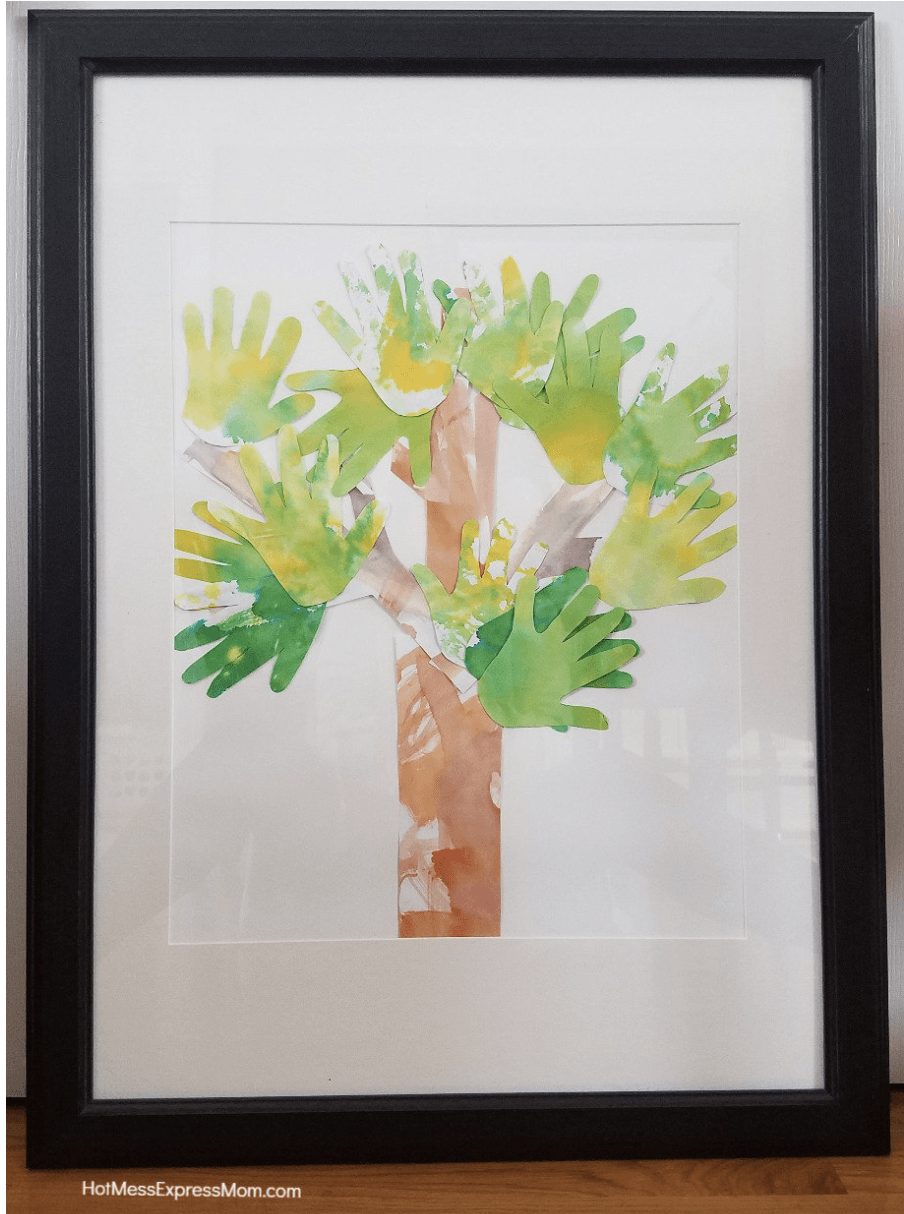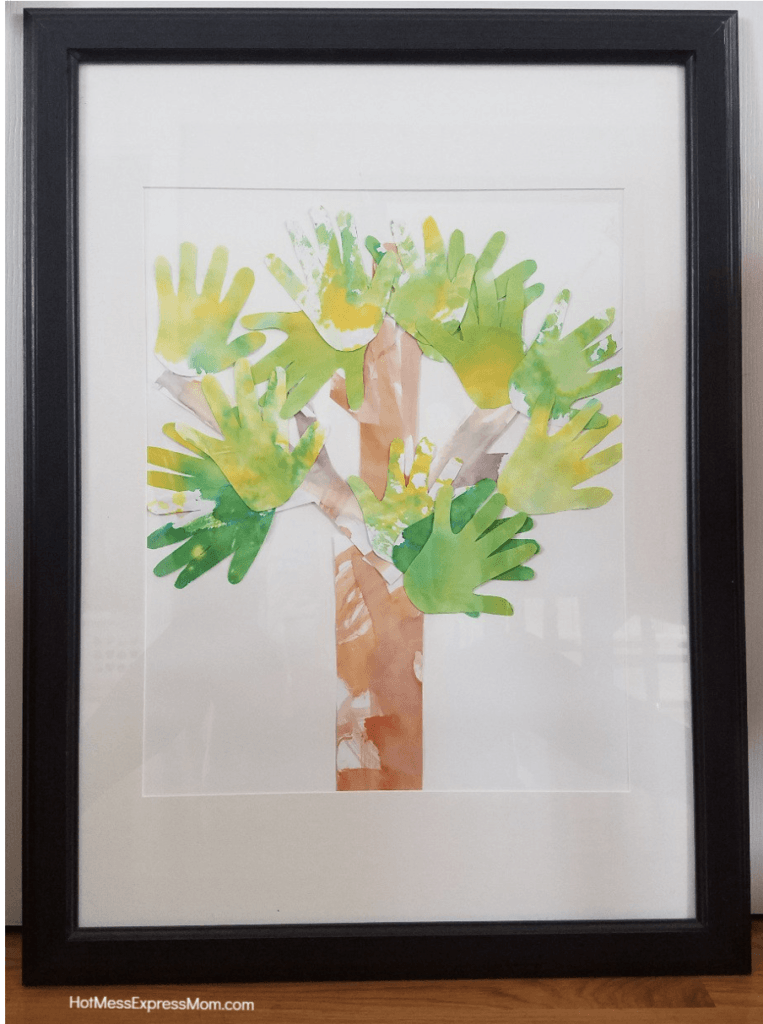 Hot Mess Express Mom combines several preschool fine motor skills like painting, hand tracing, cutting, and pasting which all come together to make this pretty piece of nature art.
My favorite part about it is that she came up with the idea because of not knowing what to do with all the paintings her son had made. You know the kind where the kid just fills the whole paper with the same color and they are super proud of their work but you don't know what to do with it? She traced his hands on them and they cut out the shapes to form this tree. Creative and sweet!
Coffee Filter Sun and Planet Earth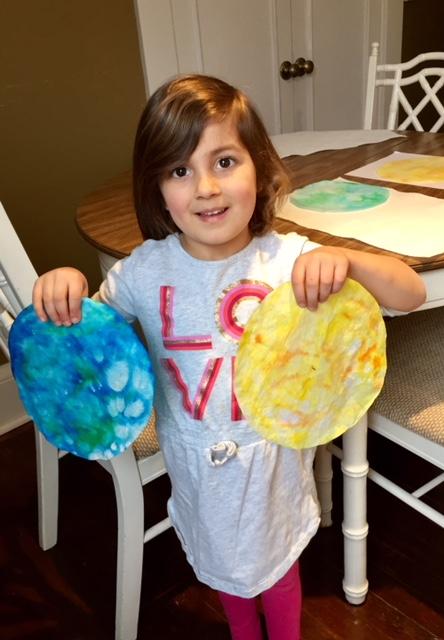 Elle and I had so much fun making these! My favorite part was how few materials they require. Her favorite part was spraying the water over the colored coffee filter and watching the colors drip and blend together. It lead to some great exploration about planet Earth too, just in time for Earth day. Check out the post for all the directions and photos.
Paper Plate Rainbow Ribbon Collage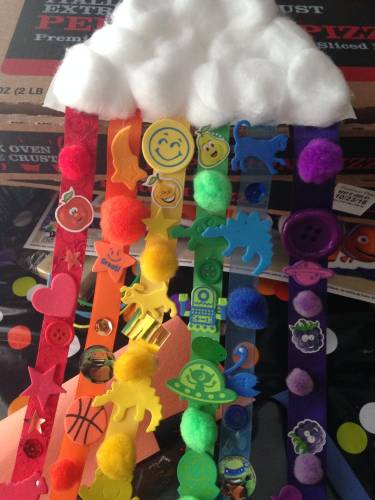 This is a totally different take on a rainbow craft from Mama Writes Reviews. She stocked up on materials like stickers, pom poms, buttons, and sequins in all different colors. Then the child can sort all the items by color and glue them to the matching ribbon. I know my preschooler would be entertained by this for a LONG time!
Easy DIY Bird Feeder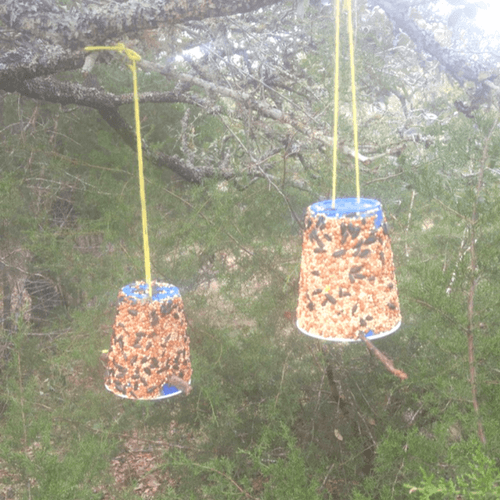 This is a great hands-on nature lesson for kids by Rule This Roost, who happens to be an un-schooling Mom!
It's a simple solo cup covered with peanut butter and rolled in bird seed. A nice touch is the stick going through horizontally for the birds to stand on while they eat. The lesson continues when different types of birds come and you can teach your little one about each one.
Spring Flower Garland
This is a super simple craft from Family Focus Blog that even toddlers can do. It uses cookie cutters to get the flower shape out of any brightly-colored foam paper. Glue on a pom pom for the pistil of the flower, and string them on some twine. Now you can hang them anywhere in your house to bring springtime indoors.
I hope you enjoy these simple spring crafts for preschoolers! If you are looking to do more preschooler brain-building, check out our best books for preschoolers!