Searching for special homemade Mothers Day cards to make with the kids? Look no further than our free printable card you can download below!
I always love getting a card with my child's own thoughts and handwriting on it. It's so amusing to see what their thoughts are about us! And I had to put the age question on there because you know some kids think their Mom is 10 and other kids think she's 100 😄
And of course I had to throw a sweet quote on there at the end. Is it even Mother's Day if Mom's not tearing up?
This card is to keep!
I rarely keep any greeting cards- let's face it, they are the same year after year and usually the person just signs their name.
Kids' artwork tends to go in the trash after a couple weeks on display as well. But these types of cards get filed in away in my special "keep" folder because I know my kids and I will have a good laugh looking back on them later.
One year my oldest filled out a card like this and shocked me with how well she knew me! She was in kindergarten and filled in the question "My mom always loves to…" with "go to Barnes and Noble." She was 100% right, bookstores make me ridiculously happy. I was surprised that she knew this was one of my favorite things, especially since I typically go by myself when the kids are in school!
Not to be out-sweetened, I asked my younger daughter "what is Mommy's favorite place?" and her answer was "wherever I am." Cue heart melting!
Help Dad out
If you're the Mom in your house, here is a little tip to help Dad out. Print these off for him and leave them where he will see them! Not too many Dads are searching Pinterest for these things, and they will be grateful for the assistance.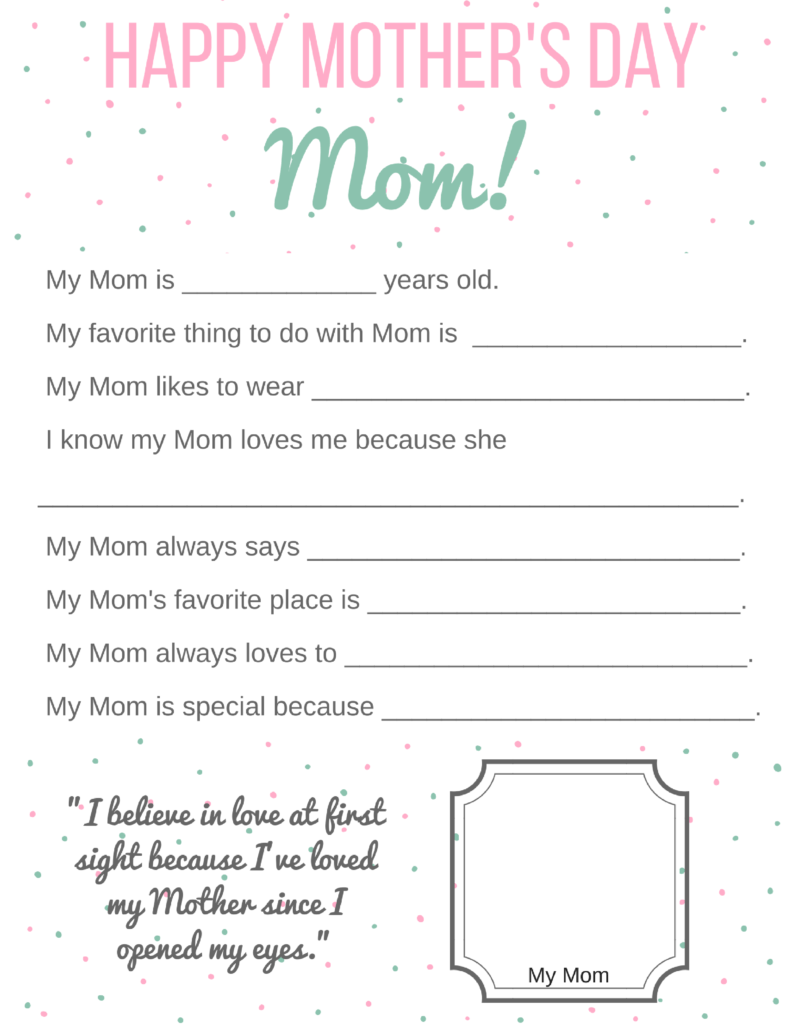 To download the 8.5 x 11 PDF to print, CLICK HERE
Don't worry- Grandma won't be left out of the fun! The Grandmother version of this card can be found here.