Are you thinking about doing Disney while pregnant? Whether being pregnant at Disney was an unexpected plot twist or a planned decision, many women are nervous how pregnancy will affect their trip to the most Magical Place on Earth. But fear not- a trip to Disney World can be as magical as ever even if you're expecting!
Let's go over some of the major do's and don'ts of tackling Disney during pregnancy, and then get to the all important question: Can I still go on rides?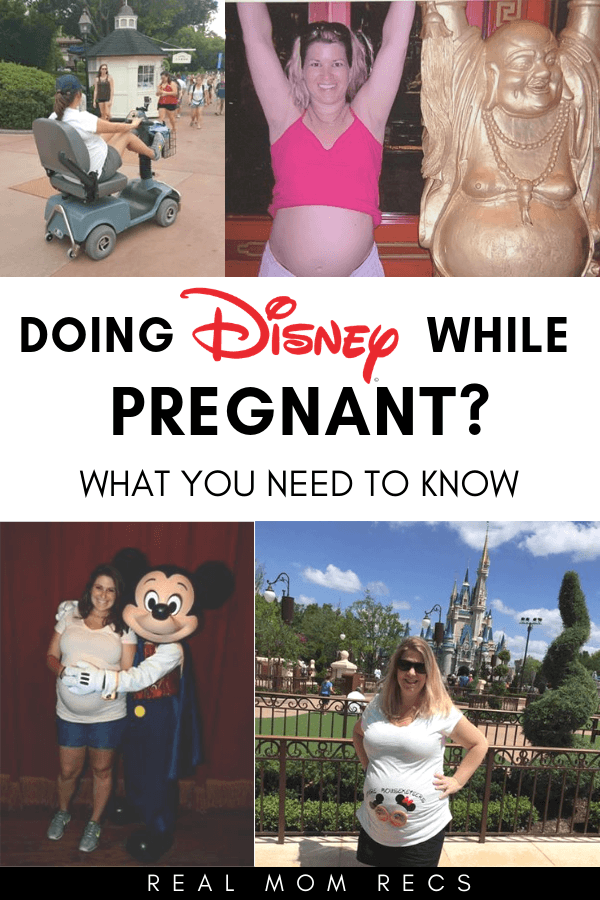 Top Tips For Doing Disney While Pregnant
Avoid Heat
Try to plan your travel between the months of October and April if at all possible. May to September can range from pleasantly warm to unbearably hot, and many women are bothered by the heat even more than usual during pregnancy.
If your trip has already been planned and it's during the sweltering summer months, make sure to go prepared. I always recommend bringing these Misting Fans
everywhere you go. It really does help you stay comfortable!
Other ways to avoid getting overheated:
-use a Cooling Neck Towel
-go back to your hotel room or to the hotel pool during the hottest time of day (noon to 3pm or so). This works especially well if you have a toddler who needs to nap then anyway.
-spend some time at one of the water parks
-plan frequent stops inside air conditioning (Enchanted Tales with Belle, Mickey's Philharmagic, Carousel of Progress, or inside any shops or restaurants).
Stay on top of hunger and thirst
Photo credit: Simplybessy.com
No matter the weather, be sure you stay hydrated and keep your blood sugar up. These are easy to overlook when you are going from attraction to attraction, but when you're pregnant you don't want to compromise your health in any way.
To stay hydrated: Stick some water bottles in the freezer the night before you head to the parks. Then put a couple in an insulated cooler bag inside your park bag. As they melt throughout the day you'll have some nice refreshing water without even having to get out of line or make an extra stop.
You can also stop in at any quick service food location in the parks and they will give you a cup of tap water free of charge.
Once you feel thirsty, dehydration is already kicking in. So stay ahead of it by planning your water breaks. Come up with a set interval that you're going to take a water break. Every time you change "lands", or every 3-4 attractions might be an appropriate interval. Or you can set a reminder on your phone to go off every hour reminding you to drink up.
Similarly, be planful about your meals and snacks. Of course there are tons of tempting sweet treats on every corner of Walt Disney World, and it's fine to indulge here and there. But you'll also want to make sure you are packing or buying nutritious snacks like nuts and fruit to refuel your body.
Minimize Walking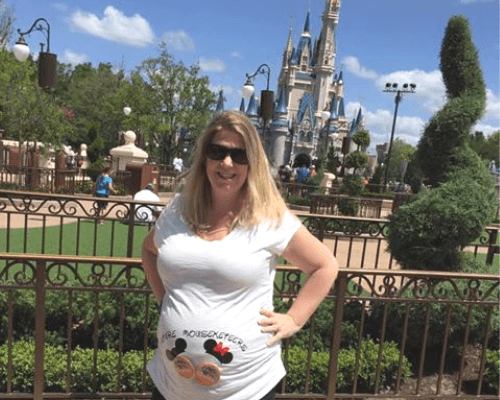 Jodi of Tips From The Disney Diva did Disney while pregnant with TWINS!
I always recommend hitting the Disney parks with a plan, such as planning to avoid crowds, making the best fastpass selections, and saving money on your Disney trip.
When you visit Disney World pregnant, you should also make a plan to minimize walking.
WDW Info estimates that an average day at the parks involves 10 to 12 miles of walking! That is a lot more than most of us are used to doing. And if you're suffering from common pregnancy ailments such as back pain, sore feet, and fatigue, it will be even more difficult.
Take it one "land" at a time
Make sure to plan your day to avoid criss-crossing the park to get to Fastpass and dining reservations. I recommend taking it one "land" at at time and covering what you want in that land entirely before moving on to the next. Personally, at Magic Kingdom I like to start in Fantasyland and then continue on clockwise and end in Frontierland, but you can tackle it any way you like.
Take frequent breaks
Find a comfortable bench to sit out any rides that you can't go on with your group (more on that later). Take that time to grab your water and snack while you wait and give your feet some rest.
Again, you may want to follow this touring schedule: parks in the morning, break at your hotel during the afternoon, and then you can choose to return (or not, depending on how you feel) in the evening.
Consider a wheelchair if necessary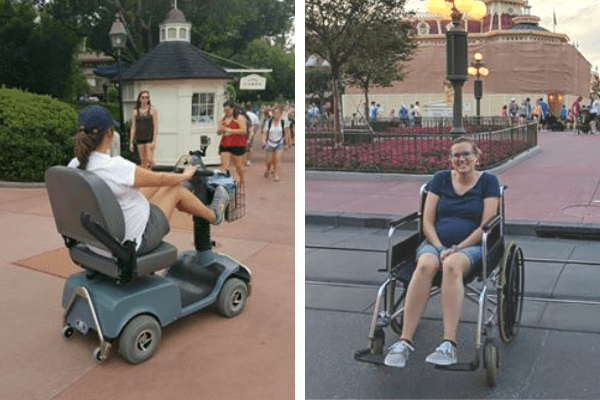 Photo Credit: www.amotheradventure.com, craftedfromthekingdom.com
No shame in the pregnant mama hitching a ride in a wheelchair! If you are in too much pain to walk and don't want to miss out on the family memories, renting a wheelchair might be a good option to keep you in the action.
You can rent a wheelchair through Disney for $12 per day, or upgrade for a motorized ECV (Electric Conveyence Vehicle) through outside companies that work with Disney. More info on wheelchair and ECV rentals here.
What Can I Ride At Disney While Pregnant?
The short answer is: LOTS!
Ultimately the decision is yours, but for a normal pregnancy you are safe to ride anything that doesn't have a height restriction. Rides without a height restriction mean that even babies can ride, so it is a very tame ride and should pose minimal risk to your unborn child.
The rides you want to avoid are marked with an Expectant Mother Advisory on the sign. They are mostly thrill rides that require a tight harness or safety bar. Another type of ride you want to avoid are ones that jerk/bounce you around a lot, such as Tomorrowland Speedway or Kilimanjaro Safaris.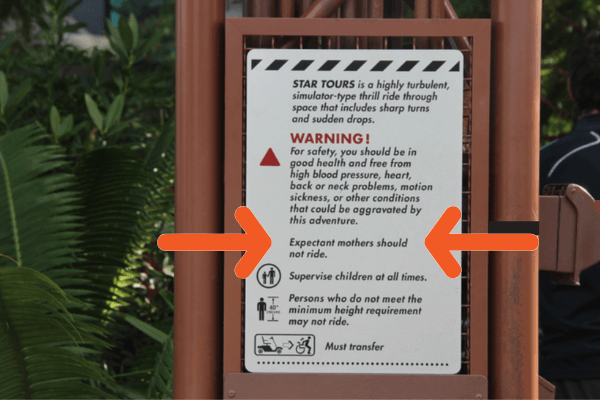 Here are all the rides in WDW you will want to AVOID while pregnant (by park):
Magic Kingdom
Barnstomer
Big Thunder Mountain Railroad
Seven Dwarfs Mine Train
Space Mountain
Splash Mountain
Tomorrowland Speedway
Epcot
Mission: Space
Test Track
Hollywood Studios
Rock N Roller Coaster
Slinky Dog Dash
Star Tours
Twilight Zone Tower of Terror
Animal Kingdom
Avatar Flight of Passage
DINOSAUR
Expedition Everest
Kilimanjaro Safari
Primeval Whirl
If you're feeling sad about many of your favorite rides being on the "do not ride" list, keep in mind there are many more rides that AREN'T on this list than ARE.
And, in addition to rides without the Expectant Mother Advisory, you can of course enjoy all the non-ride attractions like shows, parades, street performances, nighttime spectaculars, and areas to explore like Tom Sawyer Island and the countries of the World Showcase.
Of course dining experiences and meeting characters are often the highlight of a Disney vacation, and those can certainly be enjoyed while pregnant.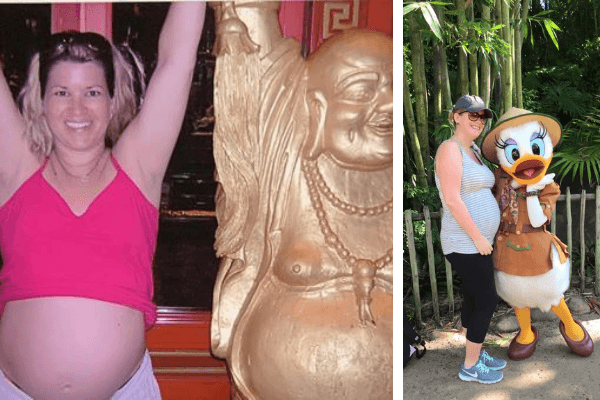 Sami enjoys the China pavilion in World Showcase; Megan pals around with characters.
What other questions do you have about doing Disney while pregnant?
Leave me a comment and I'll be happy to answer!