If your family is anything like mine, they are incredulous about how many exciting Disney movies are coming out this year! The kids are actually going through and putting them on the calendar so we can keep track of all of them. With this handy cheat sheet, you can do the same! Here are all the 2019 Disney movie release dates.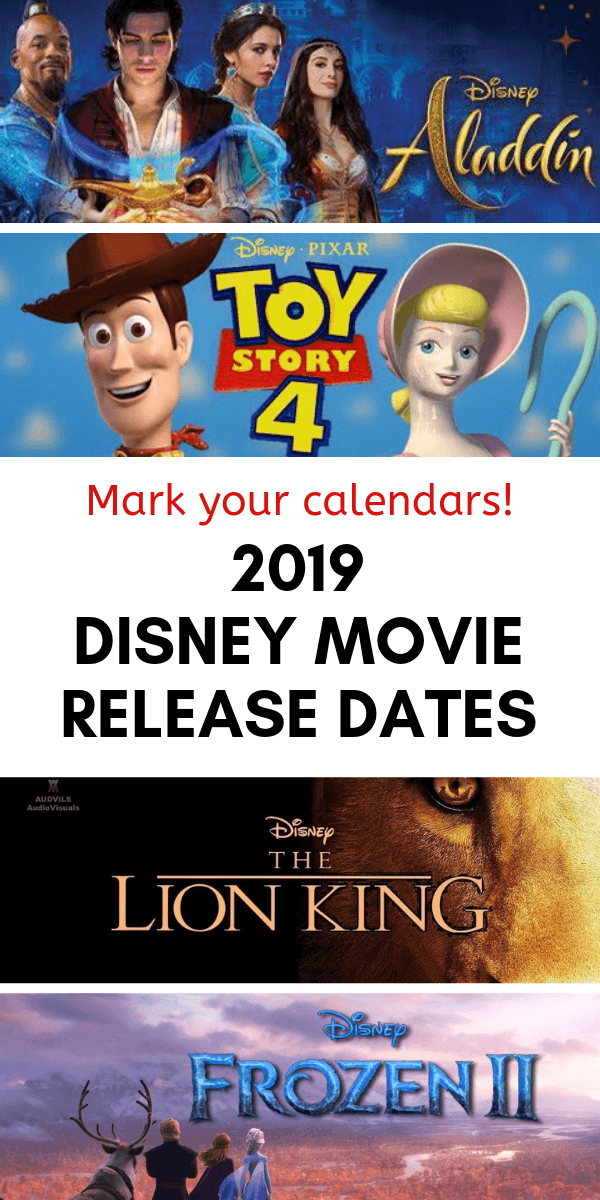 Spring 2019 Disney Movies
These have already been released, but some are still in theaters. If you missed them be on the lookout for DVD releases!
Captain Marvel– March 8, 2019
Kimpossible– March 2019 on Disney Channel
Dumbo– March 27, 2019
Disneynature's Penguins– April 19, 2019
Avengers: Endgame– April 24, 2019
Aladdin– May 22, 2019
This live action remake delighted me as much as it did my children. Visually stunning, it sticks close to the original story (music included) but still feels fresh and new. Will Smith nailed it as Genie.
Summer 2019 Disney releases
Toy Story 4– June 19, 2019
Nine long years after the last installment, and a whopping 24 years after the original, this sequel has been a long time coming. And I'm very interested to see how Keanu Reeves fits in with the original stars Tom Hanks and Tim Allen.
The Lion King– July 17, 2019
This is another live action remake, and given that the cast is all animals I can't wait to see how they pull off 100% CGI characters!
Descendants 3– August 2, 2019 on Disney Channel
The Art of Racing In The Rain: August 9, 2019
A family dog reflects on the life lessons learned from its owner who happens to be a race car driver. Sounds interesting!
Fall-Winter 2019 Disney movie releases
Frozen 2– November 21, 2019
While little is known about the plot, you can bet this movie is going to be an enormous hit. The original four cast members will be returning, and Sterling K. Brown and Evan Rachel Woods join in for the sequel.
Star Wars: The Rise of Skywalker– December 18, 2019
We didn't expect Disney to build two new Star Wars lands and then stop making movies, did we? The Skywalker saga will come to its conclusion as the remaining Resistance face the First Order once more.
Spies in Disguise– December 25, 2019
An original animated movie starring Will Smith as a spy who gets turned into a pigeon.
What to lookout for in 2020
Artemis Fowl- The best-selling young adult novel is finally hitting the big screen May 29, 2020.
Cruella- It's already been given a release date of December 23, 2020. This will be a prequel to 101 Dalmatians focusing on the young life of Cruella de Vil, to be played by Emma Stone.
Mulan- The live action remakes aren't stopping anytime soon.
Onward- A new Disney-Pixar film about two elf brothers seeking to find if true magic is still found on earth.
Maleficent: Mistress of Evil- Angelina Jolie is back to pick up where she left off with the story of how Maleficent turned evil on sweet Princess Aurora.
Guardian of the Galaxy 3
Jungle Cruise- A movie based on a Walt Disney World attraction?! I'm intrigued. Dwayne Johnson (aka the Rock) will star.
Disney Streaming Service
If you are looking forward to the remakes of Lady and the Tramp and The Sword In the Stone, you will need to view them on Disney's new streaming service.
Called Disney Plus, it will be ad-free and will allow downloading so you can watch movies and shows offline. The cost will undercut Netflix at $6.99/month or $69.99/year.
According to CBS News, "the service's entire lineup will cover five categories: Disney, Pixar, Marvel, Star Wars and National Geographic." Disney Plus will launch November 12, 2019.
Which of the 2019 Disney movie new releases are you most looking forward to?