Disclaimer: This post contains affiliate links, meaning if you click my link I may earn a small commission at no extra cost to you.
As I promised in my post about Easy Frugal Tips for Moms, here is the little trick I use to get flights for my family for almost nothing on Southwest. Of course I choose to use these flights for trips to Disney, but you could fly anywhere Southwest flies using this method.
I first heard about this when I was Googling how to get Southwest Companion pass (more on that later) and landed on a website called The Points Guy. He is basically a professional credit card churner, meaning he leverages credit card sign on bonuses to accumulate airline miles and cash.
The Points Guy had a post about Southwest's Rapid Rewards Plus Credit card by Chase. You apply for the card, use it to make $2,000 worth of purchases in the first three months, and you are rewarded with 50,000 bonus miles to buy flights on Southwest.
I had never been one to sign up for credit cards before, as I had been raised to believe that credit cards are the gateway to debt and will get you into big trouble. In fact I think my husband and I had one or two that we regularly used and never applied for any others. We always used our credit cards responsibly, paying the full balance every month and this helped us achieve healthy credit scores.
How we did it
At this point I realized that my healthy credit score meant it was completely safe to apply for a couple credit cards and reap the rewards of the sign on bonus.
Given that we were planning a Disney trip, it wasn't hard at all to put $2,000 on the Southwest credit card the first month it arrived, and I was overjoyed when the 50,000 bonus miles hit my account. A roundtrip flight to Orlando costs about 15,000 points, so that meant 3 of us were already covered!
Next, I had my husband repeat the same process so we could get another 50,000 bonus points and cover the other members of our family. We paid off both of cards that same month and then never used them again after that.
Ok so are these flights totally free or practically free?
Like I mentioned in the title, these flights are not COMPLETELY free. Each card has an annual fee of $79 that can not be waived and it is charged in the first month you receive the card.
The only other fee is the mandatory $5.50 September 11th security fee that can not be waived on any domestic flights.
So in total for our six roundtrip flights, we paid:
$79 x 2 cards = $158
$5.50 x 6 people x 2= $66
Total cost: $224
Considering the flights would have cost $275 per person for the trip, we saved $1,426!
Check my math:
$275 x 6 = $1650
$1650 – $224 = $1426
And, we still had points leftover after all of us flew so there's an additional value there.
Southwest Rapid Rewards FAQs
Does Southwest have blackout dates or other restrictions on redeeming the points?
NOPE! This is one thing I love about Southwest. The points are used the exact same as cash when booking flights. If there is a seat on the flight for purchase, you can book it with points.
Southwest is also fantastic about cancelling or rescheduling flights if you need to. You can cancel and rebook another flight anytime without any fee or penalty. It seriously could not be easier! And (I have done this!) if the cost of a flight goes down after you've already booked it, they allow you to re-book it for the cheaper price.
Who is a good candidate for this card and who is not?
I would never recommend this (or any) credit card to someone who is already struggling with credit card debt. Only use the card if you have $2,000 worth of purchases to put on it that you are going to make anyway. And that you will be able to pay in full when the bill comes.
Also, your application will be rejected if you have applied for too many credit cards in a short period of time. The rule of thumb is "5/24", meaning you can not apply for more than 5 credit cards in the last 24 months.
Doesn't applying for more credit cards damage your credit score?
Having more credit cards only hurts your credit score if you're carrying an outstanding balance. If you pay your bills on time, adding another credit card actually helps your credit score. This is because it increases your available credit, improving your debt-to-credit ratio.
Are you penalized for cancelling the card later?
Your points will not be revoked after they are awarded, even if you cancel the card. Your only requirement is to spend $2,000 in the first 3 months after applying for the card. After that, you are under no obligation.
For the same reason as above, it is better for your credit not to cancel cards. Since this card has an annual fee however, I do close it before the one year mark to avoid paying the fee on a card I don't really use.
What about Companion Pass?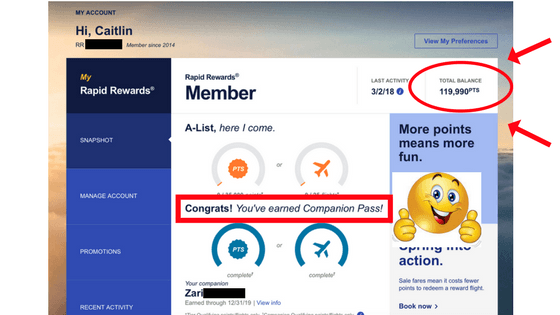 So the process outlined above was:
I get a card and get 50,000 points
Husband gets a card and we get another 50,000 points
We end up with 100,000 points to use for our family's flights
which worked great and we were very happy. But if we had known about Companion Pass at the time we could have made it even more amazing. You can bet this is exactly what I did the second time around!
If the SAME person accumulates all 100,000 miles (so just me, or just him), then you qualify for one of the best perks the airline industry has to offer: Companion Pass. This means for the rest of the calendar year AND the entire following year, anytime you fly you get to bring someone else along completely free. Think of how many trips you can take in that amount of time- there is no limit to how much you can use this!
On our second go around, we knew that one of us alone had to accrue all 100,000 miles. The way to achieve this is by getting two credit cards, but they have to be different cards. In addition to the  Rapid Rewards Plus credit card, Southwest also has one called the Rapid Rewards Premier credit card, and they have a business credit card. I went with the business credit card since it offered an even higher bonus of 60,000 miles.
(These bonuses are offered periodically throughout the year and they fluctuate in the amount, so definitely hold out and wait for a good one. You want 50,000 points or higher! If you apply for the Plus card through my link you will get the 50,000 point bonus anytime.)
If you're thinking about getting the business card saying "but wait, I don't have a business", I'd tell you to think a little harder. For example, I got the business credit card because of this blog. Do you have a website? It doesn't even need to be profitable. Doing childcare or teaching piano lessons count as a business, as does eBay or Etsy sales.
When all 110,000 miles posted to my account and I got the "Congratulations, you've earned Southwest Companion Pass" email in my inbox, it felt like Christmas morning!
How To Fly With Companion Pass
After you're done with your happy dance, you can go ahead and start booking flights with Companion Pass.
First, book your flight for just yourself using either cash or points.
Next, go to My Travel and click "Add Companion". It then automatically books your companion on the same flight as you, and the only thing you will pay is the $5.50 9/11 security fee.
Any questions about Southwest Rapid Rewards credit cards or how to earn Companion Pass?
Ask in the comments and I will do my best to help you out!