If you've been following my blog, you know I'm a Disney fan through and through. But when it was time to take my second child on a one-on-one trip with Mom, my Harry Potter superfan son had other ideas.
We ended up doing a split-stay between Disney World and Universal Studios Florida/Islands of Adventure. The combo turned out to be amazing, and through our experience I came up with these first-timer tips for visiting the Wizarding World with your Harry Potter obsessed kid!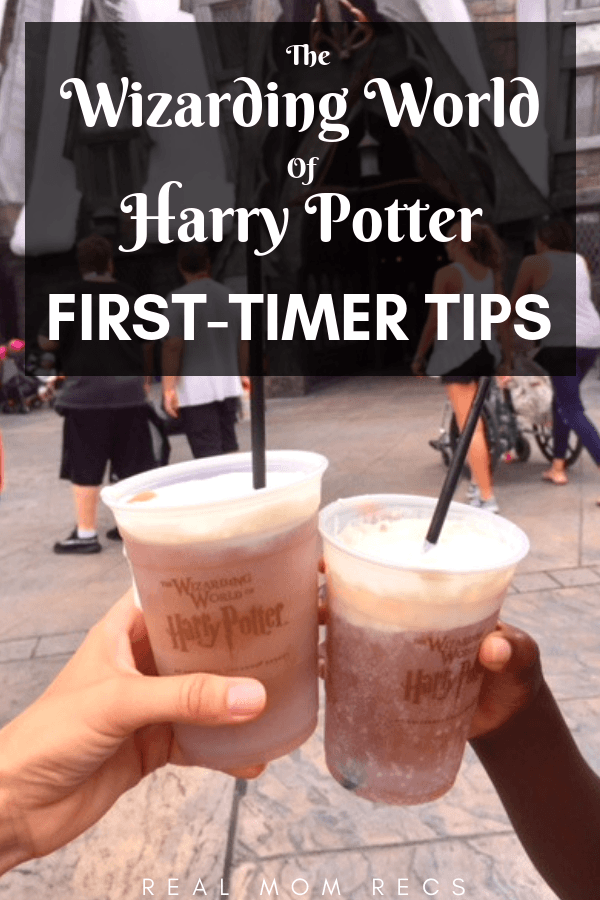 Do all you can to minimize crowds
As much as I love theme parks, I absolutely hate going when the parks are stuffed with people. And my hyperactive 8 year old can't STAND waiting in line.
While the crowds at Universal are more manageable than Disney crowds in general, the two Wizarding World sections (Diagon Alley in Universal Studios and Hogsmeade in Islands of Adventure) attract so many people, they almost always feel crowded. The design of the spaces with their narrow alleyways and small shops create bottlenecks all over.
I've written about how to beat crowds at Disney and many of the same principles apply to Universal. The most important of which is to go during a low crowd time of year!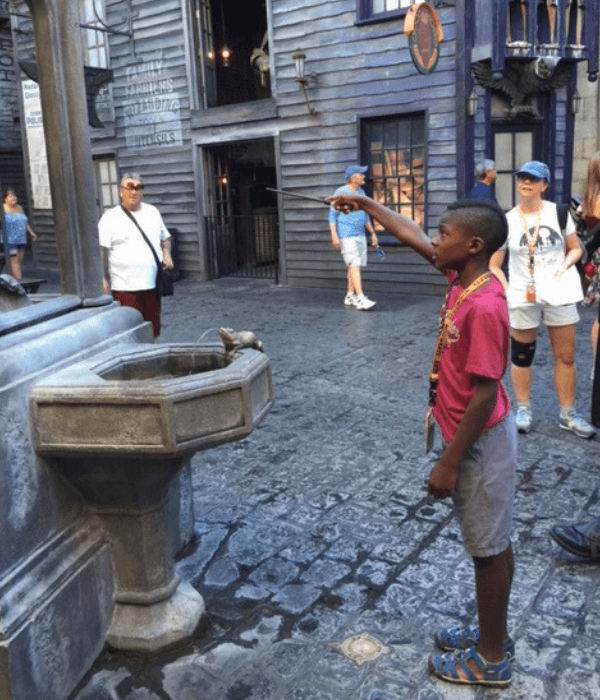 We were there in September, which has the lowest crowds of the year, and it was fantastic. If at all possible, avoid going during holiday weeks like Thanksgiving, Christmas, and New Year's. The whole summer also sees high crowds until the second of half of August.
Even minor holidays like Columbus Day will draw higher crowds at the parks.
The second best way to minimize crowds is to get there early! We had early park admission due to staying at a Universal hotel, so we were able to get in at 8am when the park opened at 9am. The crowds were non-existent at 8, and stayed low all the way until noon! This was when we enjoyed the parks the most.
If getting up early doesn't appeal to you, staying late is another good plan. (Or do what we did, and do both!) Crowds start to die down around dinner time as people fatigue from the day. 8-9 PM was a wonderfully empty hour for us at Diagon Alley.
Finding Diagon Alley
Remember in Harry Potter and the Sorcerer's Stone when Hagrid takes Harry to Diagon Alley for the first time?
In case you forgot, it is located behind the Leaky Cauldron, an unassuming little bar found in between a bookstore and a music shop. And, it's impossible to be found by muggles.
As authentic as everything in the Wizard World of Harry Potter, Diagon Alley is hidden from view when you're walking through the section of Universal Studios that looks like London.
In fact, it's so well hidden, my son and I walked back and forth about five times without finding it!
I think I was expecting a big sign or something, not realizing how authentic all the Harry Potter details are.
Eventually we noticed a lot of people walking into this indiscriminate brick opening which I had assumed to be a bathroom: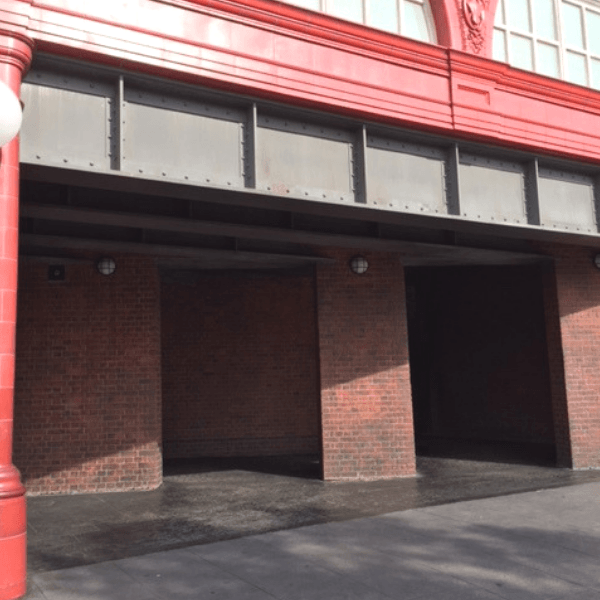 Once we passed through the brick opening, we found a completely hidden, bustling world that looked and felt completely different than what was on the other side. It literally took my breath away!
The stark contrast from the muggle world to the wizarding world is just the first of many times you will feel like you're living Harry's experience from the books.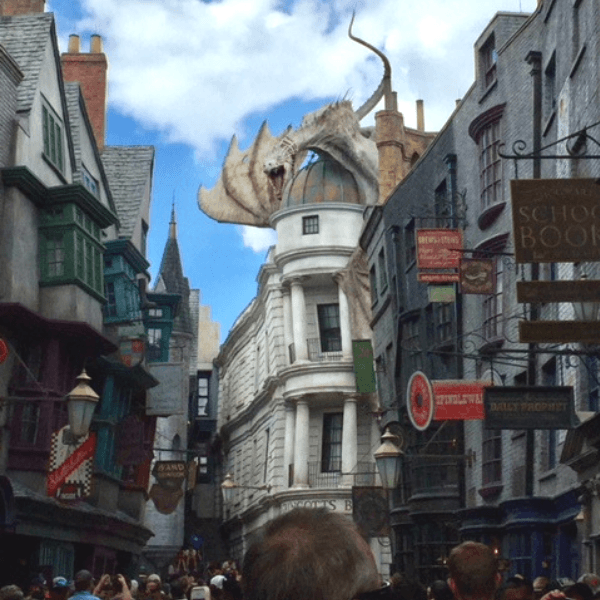 The interactive wands are a must
Yes, paying fifty-some dollars for a plastic wand stings for a minute. But that interactive wand was the highlight of the entire trip for my son.
If your child dreams of becoming a wizard like Harry Potter, this will allow them to make magic!
Hopefully, you've followed the first tip and are there without huge crowds. It isn't nearly as much fun to do a spell when 10 people in front of you have just done it.
Here you see my son in front of Ollivander's, dying to get in and get his wand, yelling at me for stopping to take a picture!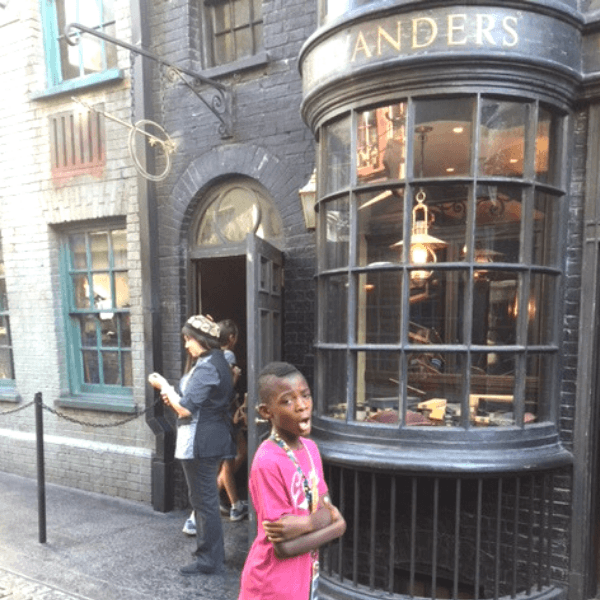 This is why our FIRST stop of the morning was Ollivander's to get Zari his wand. He was out and about casting spells before anyone else so they were truly a magical surprise for him.
Letting the wand choose you
Another reason we got to Ollivander's first thing in the morning was because I really, really wanted my son to get picked for the wand show where "the wand chooses you".
We did end up being in the first group of the morning to get in, but Zari was not picked. A brother/sister pair was chosen instead.
My son loved the experience anyway!
I had planned on getting back in line and doing the show again until he was chosen, but when the time came I decided this was a bad idea. Once I saw how my son was a true believer in the magic of the show, I realized it would completely spoil the magic for him to see it again and realize it's the same every time.
As it turned out, my son was secretly hoping for Harry Potter's wand (they sell a version of the wand for each character from the movies) so it was completely a non-issue.
Zari scouring over his wand choices before choosing his perfect one: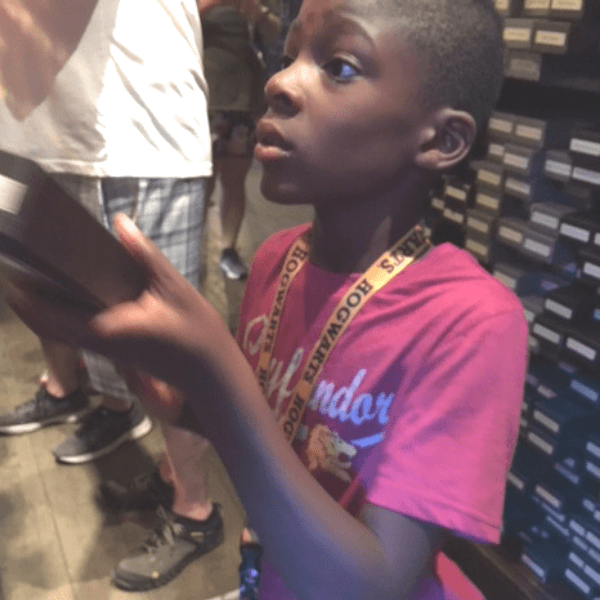 If you aren't picked to have the wand choose you in the wand show, there are still other ways for your wand to find its way to you: Look for the wall that lists descriptions of personality traits and the corresponding wand that goes with them. The description that best matches you will lead you to your wand.
If none of those work for you, you can also be matched with your wand based on your birth month.
Or just go with Zari's method and get the same wand as your favorite character!
When choosing a wand, be aware that the boxes with gold labels are interactive wands. Boxes with white labels have wands that are only for collecting and don't have the ability to cast spells around the park.
Avoiding frustration with the wands
A bit of a warning if your child is inclined to get frustrated easily- making magic with your wand truly does take practice.
In fact, we actually returned the first wand to the store thinking it was broken. In reality, we just weren't doing the spells exactly right.
By the end of the trip, Zari had mastered casting spells with his wands using these techniques:
Keep your arm out straight and only make the motion with your wrist. Kids tend to want to wave their whole arm around and it makes the motion too big. Think of it almost like writing with a pencil.
Be sure to stand right on the plaque on the ground or just slightly behind it. If you're too far away, the spell won't work.
If the spell isn't working, look for the black square censor hidden in the display window (it's usually visible). Aim for that.
Other factors like direct sunlight on the windowpane sometimes interfere with the censor's ability to read your wand. Try again later in the day if you think that's the case.
Grab a cast member nearby to help if you still can't get your spell to work. There are typically some hanging around the areas with a lot of spells just for this purpose.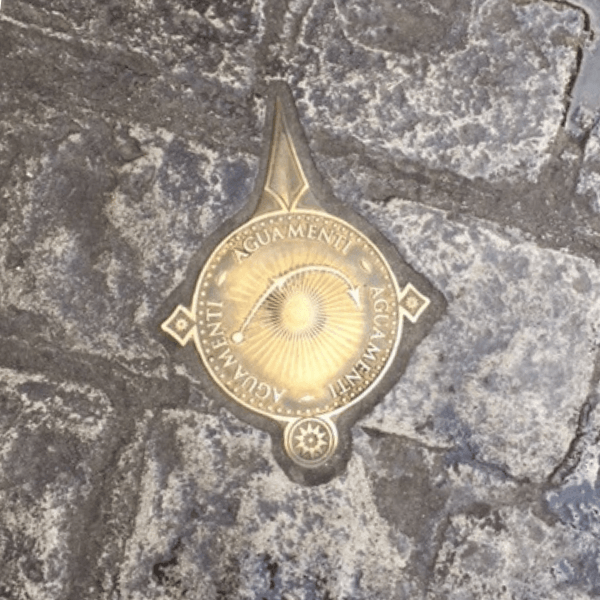 This is what the plaques on the ground look like, indicating where the magic spells are. If you have a hard time deciphering the map that comes with your wand, just look for these on the ground.
Here you can see the spell is called "Aguamenti" and you need to move your wand in a wave-like motion.
Riding the Wizarding World Rides
The Wizarding World of Harry Potter rides are some of the most unique and immersive I've ever encountered in a theme park. There aren't many of them, so I'll go through each one.
Escape From Gringotts
Get up close and personal with the Gringotts bank goblins in the queue for this ride!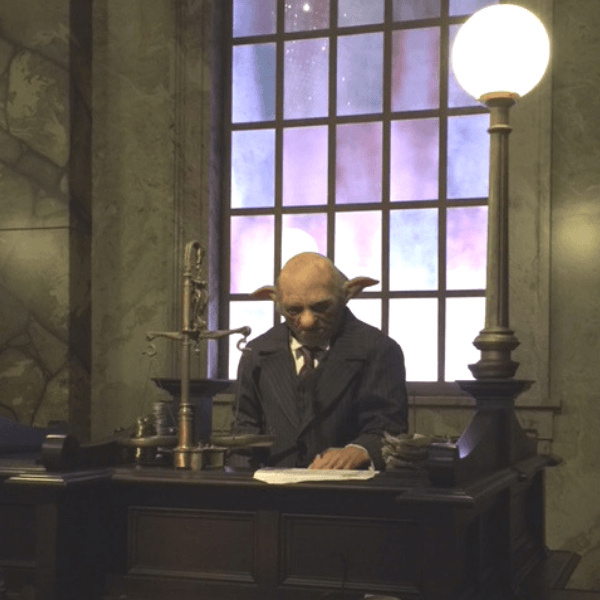 A hybrid of roller coaster and simulator, this 3D ride is exciting and fun (and just a little bit scary). You do get jerked around a bit, but I did not experience any motion sickness.
It is required that you put all your belongings inside a locker to ride Escape from Gringotts. The locker room next door allows you do this for free while you ride. The machine is relatively easy to figure out and it has directions in many different languages.
Escape from Gringotts is the only ride in Diagon Alley, unless you count the Hogwarts Express (located at King's Cross just outside the entrance to Diagon Alley).
The Hogwarts Express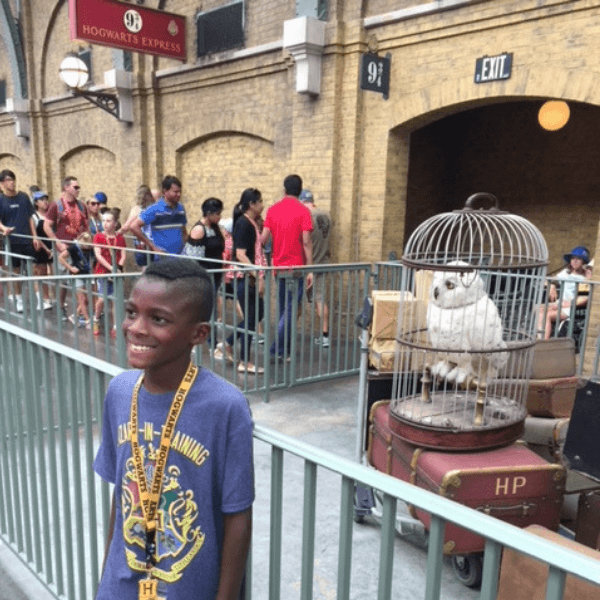 This train is not only an attraction, it's also your transportation between Diagon Alley and Hogsmeade (inside Universal Studios and Islands of Adventure, respectively). For this reason, you need to have park-to-park tickets to ride.
The train ride is quick but a lot of fun for Harry Potter fans, because it looks just like the train Harry and his friends take to get to Hogwarts in the movies. And instead of looking out an actual window, there is a virtual window showing some of your favorite characters and places from the books, while moving to make it feel like you're looking out a real window.
If you look in the opposite direction at the divider on your train car, you see shadows of various people and creatures and hear their voices, making it seem like they are riding the train with you.
The experience is different in each direction, so ride it both ways if you can.
Forbidden Journey
Get inside Hogwart's Castle on this intense, in-your-face thriller.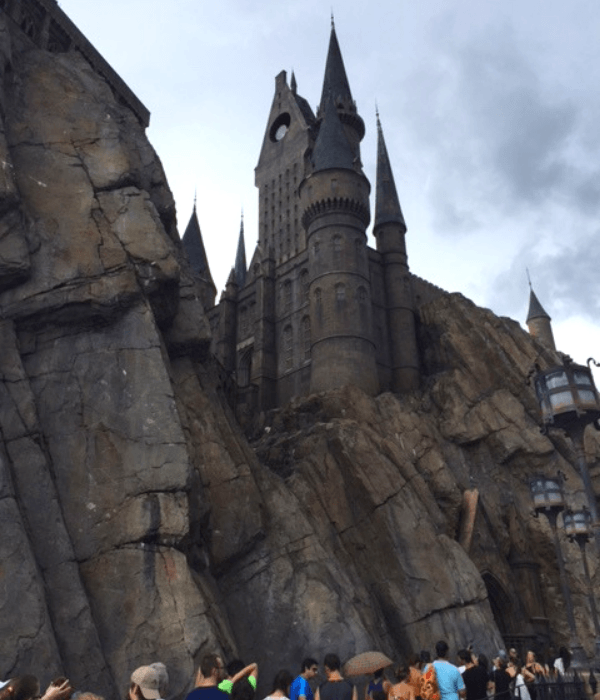 Completely innovative, this ride is part virtual-reality and part being thrown around like a rag doll by a robotic arm. It is truly unlike anything I've ever ridden.
All of the scary aspects of Harry Potter including spiders and Dementors are way too close for comfort on this ride, which definitely frightened my sensitive 8 year old. And all the whipping around made me a little queasy.
But we were both still glad we rode it.
In fact we rode it again the next day! So put your fears aside, and just go for it. It really is that cool.
Flight of the Hippogriff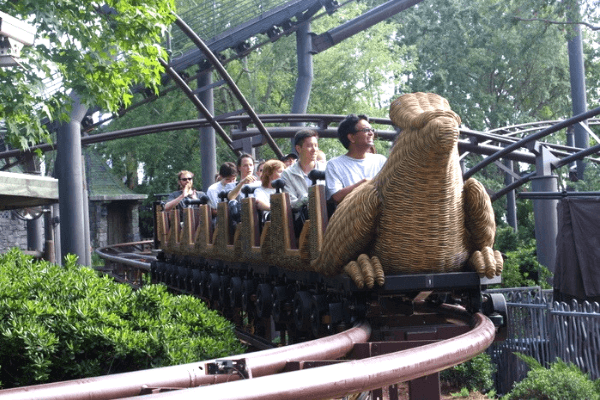 Right across from Forbidden Journey is a relatively small roller coaster called Flight of the Hippogriff. This ride is what I'd consider a family coaster (just a slight step up from Barnstormer if you speak Disney).
It's a fun ride, and you get to see Hagrid's hut, but it is very short. No big deal if you have Express Pass or the line is 5 minutes, but if it has a long wait I would probably pass it over.
Don't Miss the Fire Breathing Dragon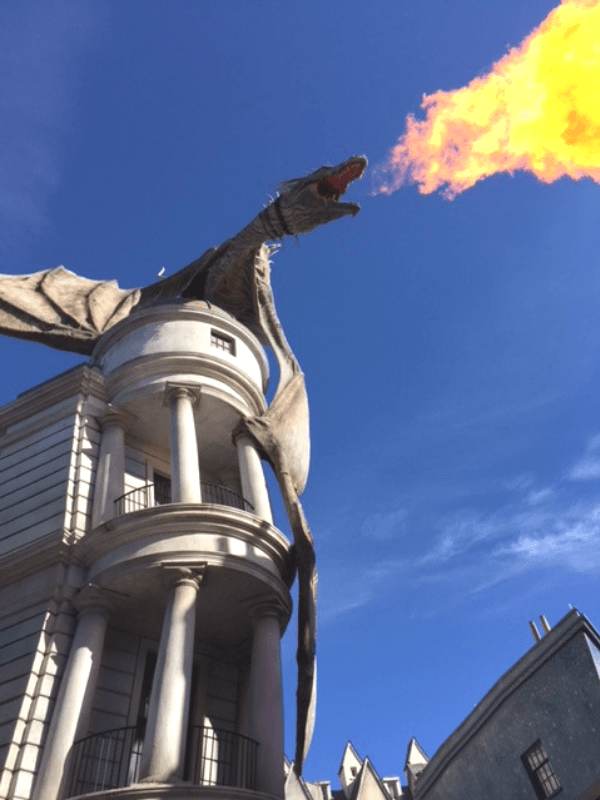 The focal point of Diagon Alley is Gringott's Bank, with its gigantic dragon on top. At various time intervals, this dragon shocks and awes all the guests by breathing a giant angry fireball.
As far as I could tell, there isn't a specified time interval for you to be able predict when this will happen. One of the days we spent in Diagon Alley, it only happened once. The other day it seemed like it breathed fire every 10 minutes.
You may not be able to schedule your visit around it, but you will have a warning sign to take your camera out before the fire. The dragon starts grumbling and groaning about 30 seconds before it blasts. When you hear it starting to get angry, move yourself to a good vantage point and get ready!
Try ALL The Butterbeer Variations
If you're planning a visit to the Wizarding World, you're already planning on trying its signature drink, butterbeer. But did you know there are three variations of this marshmallow-meets-cream-soda deliciousness?
The regular butterbeer is carbonated like soda and comes with a marshmallow-y white topping. (Don't try to order it without the topping- it's a trademarked beverage so they will not serve it any other way even to accommodate allergies).
They also make a frozen version of butterbeer, with a consistency that's more like a smoothie. This variety is great for cooling down on a hot day, but it isn't carbonated so it seemed somehow less refreshing to me. Frozen butterbeer is also served exclusively with the white topping.
In the photo below you can see frozen butterbeer on the left, and the original on the right: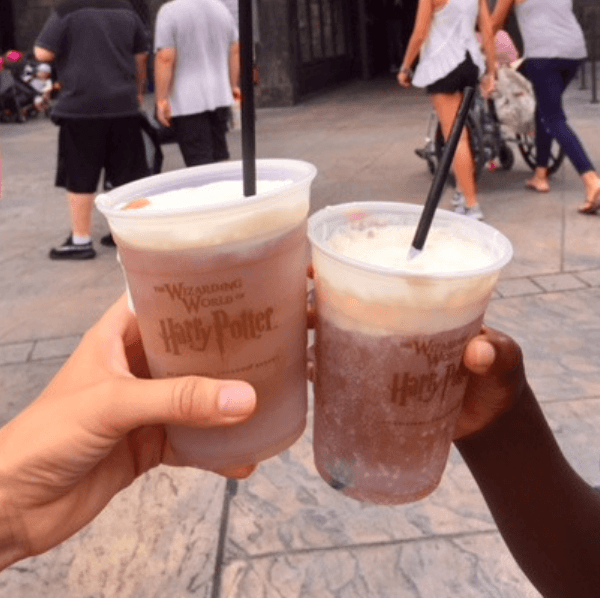 Lastly, there is butterbeer flavored soft serve ice cream. It's very good, as long as you're in the mood for something super sweet.
You won't get butterbeer anywhere in the Muggle world, so live big and try all three varieties while during your visit to the Wizarding World! I wasn't planning on doing so, but my son talked me into it and I'm glad we tried them all.
The Secret Spell Locations
This is truly NOT essential to enjoying the Wizarding World of Harry Potter, but if you have a spell-obsessed child like mine, knowing the secret spell locations will delight them.
Unlike all of the known spell locations, the "secret spells" are not found on the map that comes with the wands, nor are they marked by a plaque on the ground. (You can however spot the little black censor that you point your wand at, if you look closely.)
I can't say for sure how many of these there are, but we can verify two in Diagon Alley:
Invisible Ink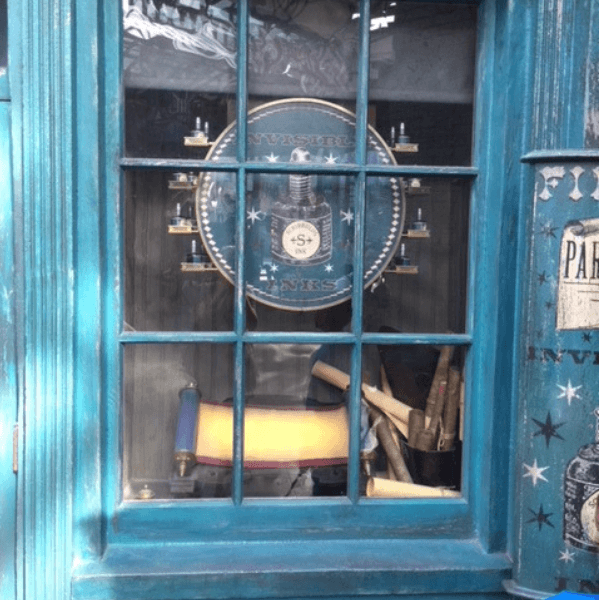 Take a right at Gringott's bank and walk a little ways down the alley. Just past the "Wingardium Leviosa" spell where you lift a feather, you will see this window (above).
Successfully cast a spell, and a secret message will appear on the scroll written in invisible ink.
Dragon Poop
When you walk into the main alleyway of Diagon Alley, look for a purple storefront on the left hand side called "Slug and Jiggers Apothecary":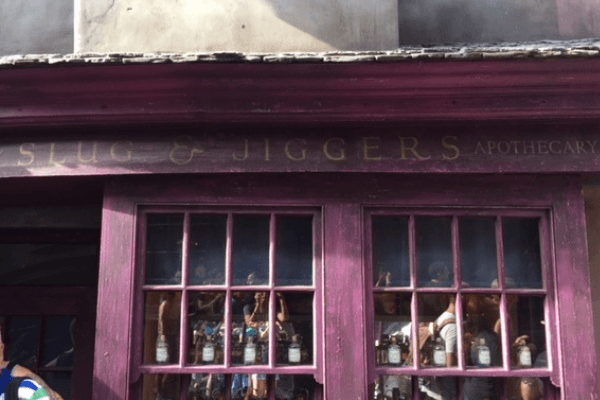 Through the store window you will see a big bowl full of brown mush (yup, that's the dragon poop). Spin your wand in a small spiral motion, and the poop will rise up while a foul scent is emitted from the window.
As you can imagine, this spell was a favorite for my pre-pubescent boy!
So many photo opps
You could spend hours exploring every nook and cranny of the parks if you're a big Harry Potter fan.
Even if you're more of an Instagram fan, there are plenty of fun photo opps to enjoy. Here are just a few I got when I was able to pry my son away from casting spells:
The Knight Bus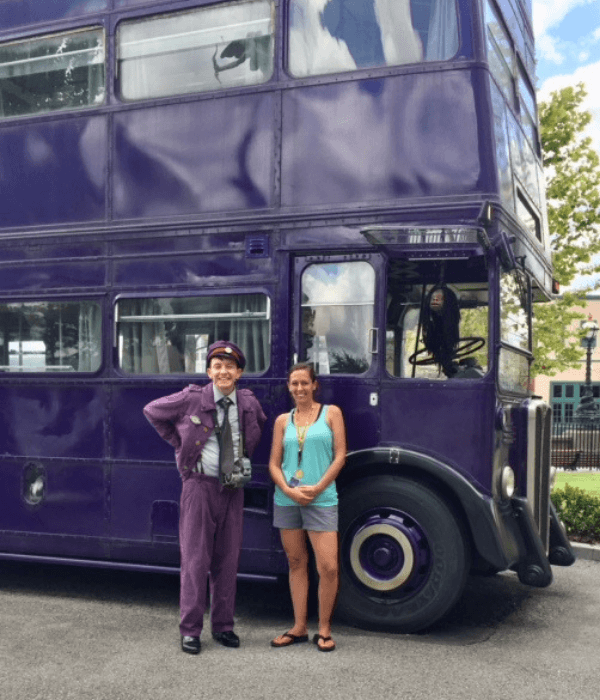 Hagrid's motorcycle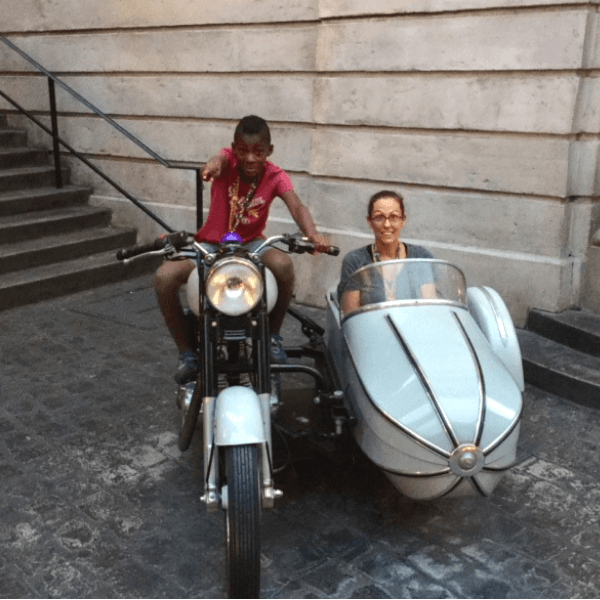 The Hogwarts Express Train Conductor
If you get a minute to chat with the characters, they stay true to their roles and it's very entertaining.
Got questions about visiting the Wizarding World?
Ask away in the comments!