Seeing that first positive pregnancy test is such a surreal, emotional moment. I know for me, the feelings of joy were quickly followed by a sense of "what do I do now?!" Rest assured, we've got you covered with all the first trimester to-dos. Here are the first 12 things to do in your first 12 weeks of pregnancy.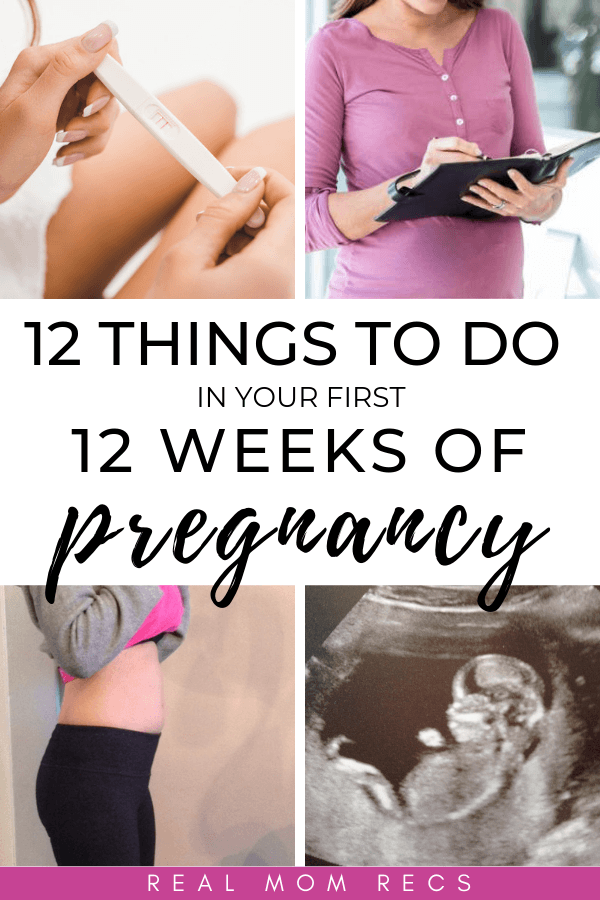 START TAKING PRENATAL VITAMINS
Some people start taking prenatal vitamins
before they even start trying to get pregnant. Those people are on it. Others of us didn't even know we were pregnant until six weeks in (oops), and had to start taking them right after finding out.
Either way, just start taking them as soon as you know you're pregnant. If you're feeling sick, try taking them with saltines at whatever time of day you tend to feel the best. I always had good luck taking them right before bed so I would be asleep before I noticed any nausea.
CALCULATE YOUR DUE DATE
Unless you were very carefully tracking ovulation, chances are you'll have to estimate based on your last period. If you don't use a period tracker, look over your last month and try to remember what day your period started based on what you had going on. Some event on it might help jog your memory.
Once you know your the start date of your last menstrual period, you can calculate your due date with a simple calculator like this one from Babycenter.
Some digital pregnancy tests estimate how many weeks you are based on the HCG level in your urine. This is a VERY rough estimate, so you would not want to rely on these to give you any reliable idea of your due date.
If you really don't know your last period, an early dating ultrasound is typically done at your first OBGYN appointment that can tell you your due date. Which brings us to your next to-do…
MAKE AN APPOINTMENT WITH YOUR OBGYN
A lot of the important medical checks take place at the first appointment, typically around week 8. They'll need to do bloodwork, the first ultrasound (be prepared, this is done vaginally not through your belly like ultrasounds you see on TV), discuss genetic testing, and take a comprehensive health history and family history.
GET YOUR PREGNANCY PLANNER + JOURNAL
Pregnancy can be so overwhelming, especially if this is your first go-around. The Oh Baby Pregnancy Planner guides you through each step so you can be completely calm and prepared.
This planner helps you stay organized throughout your pregnancy (hello pregnancy brain) and even walks you through things you probably didn't think you needed to know (like questions to ask your pediatrician and how to set up your home before baby arrives). The Oh Baby Pregnancy Planner includes over 50 printables to help you prepare for baby and beyond.
The entire planner is great for any expecting mom, but I think my favorite part is the breastfeeding guide and newborn care sheets. This planner is packed with information I wish I'd had at my fingertips the first time around.
TELL YOUR SUPPORT PEOPLE
Ok so this one is personal choice. I know a lot of people subscribe to the conventional notion of waiting until the end of the first trimester to tell anyone they're pregnant. The idea is that the risk of miscarriage is highest in the first trimester and it would be painful to have to go back and tell everyone you're no longer pregnant.
I thought about it a little differently. If I were to suffer a miscarriage, would I want to go through that completely alone? Personally I think suffering in silence would make it even harder.
So instead of telling no one but my spouse about the pregnancy, I told the people that I would lean on in the event of a miscarriage. Those people are your support people. My siblings, a couple friends, and mother in law would help me get through it if I were grieving, so those are the people I didn't wait 12 weeks to tell.
DECIDE HOW TO ANNOUNCE YOUR PREGNANCY
For the rest of the world, they can wait 12 weeks to hear the news. And that gives you some time to come up with a creative way to announce it. There are so many adorable ideas for announcing pregnancy on social media.
Here is what we did for baby number 4: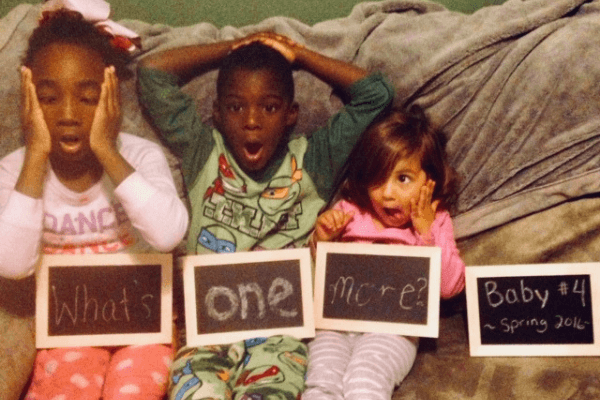 TAKE A BEFORE PICTURE
Who doesn't love a growing baby bump progression? It's one of the most fun things to document during pregnancy!
Of course, your pregnancy probably won't show for a good ten weeks or so (or 16 as was the case with my first). That gives you a good amount of time to take your "before" picture before the changes really start.
GET YOUR PREGNANCY ESSENTIALS
I'm not someone who runs out and buys ALL THE THINGS, so I wrote this post about what you actually need during pregnancy.
If I had to pick the three most important, I'd say my Snoogle
, Bellaband
, and Maternity Undies
were the things I really couldn't live without.
START YOUR AMAZON REGISTRY
While you're on Amazon buying your pregnancy essentials, why not start your baby registry
? It's the best place to register because friends and family in any location can easily buy off it and send you a gift that you really want. Plus, they have everything!
I love Amazon because I can take the time to read reviews and compare my options, especially for the big items. You can keep your registry private until you're ready to share it.
READ UP ON A PREGNANCY-SAFE DIET
Considering I felt ready to puke the whole first trimester, I didn't put much thought into the food I was eating. My diet was mostly crackers and bagels for most of it. But if you're one of the lucky ones who is still able to eat actual food, you'll want to know what is and isn't safe for pregnancy.
Alcohol is a clear no in early pregnancy. Most doctors advise against raw meat or super rare meat and deli meats (unless it's been heated through). You have to watch the mercury level with fish, and make sure your cheeses and milk are pasteurized.
Some women choose to cut out caffeine, but the guidelines say to just keep it under 200 mg per day. If you still need your coffee in the morning, 1-2 small cups per day is fine.
CONSIDER EXERCISE
Try not to laugh too hard right now if you're laid out on the couch with morning sickness and fatigue.
If and when you feel up to it, walking is a great habit to get into to keep you healthy all pregnancy long. Prenatal yoga is another good form of exercise that can also help with your aches and pains as you progress through the pregnancy.
If you are a fitness buff, it's most likely fine to continue the workout routine you had before you got pregnant. Just clear it with your doctor first, and be sure to listen to your body and not push too hard.
THINK ABOUT MATERNITY LEAVE
Wait, I'm just at the beginning of pregnancy and you already want me to think about maternity leave?
Yup.
You'll want to research the maternity leave policy at your workplace and make an informed decision about the best time to tell your boss.
If the pregnancy will affect your ability to do your job (i.e. heavy lifting) you will need to disclose early on and your employer is required to make reasonable accommodations for you. You'll also want to know the amount of paid time off you have and how you're allowed to use it, and whether or not you will qualify for unpaid leave under FMLA.
Depending on your area, there may be extensive waiting lists for daycare so having this information will help you determine when you will need your daycare spot and get one reserved early on.
Can you think of any other things to do in your first 12 weeks of pregnancy?
I'd probably add "be kind to yourself" and "take a nap!" How about you? Let me know in the comments!
And for all things pregnancy and baby, follow me on Pinterest: