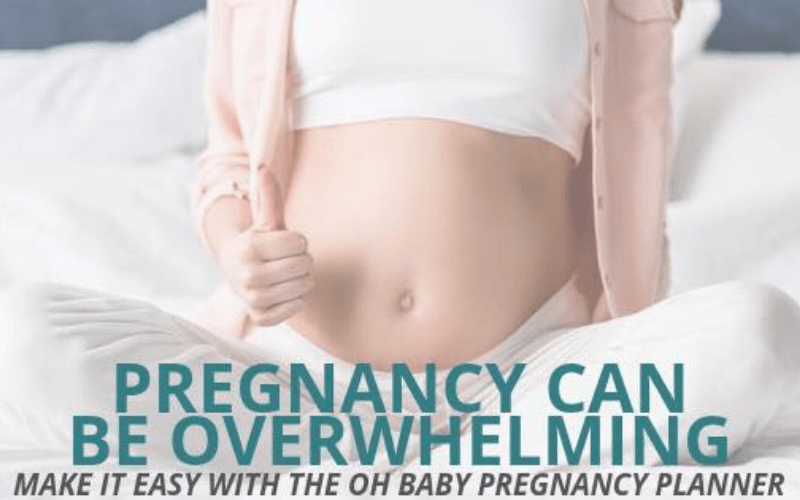 Are you a pregnant mama who is feeling overwhelmed by everything you need to do before your baby arrives?
Are you looking for a stress free way to stay organized while preparing for your bundle of joy?
Are you unsure of how to get ready for life with a newborn?
We want to take the worry out of new motherhood.
The Oh Baby Pregnancy Planner guides you step by step through pregnancy and beyond. Enjoy planning for your baby's arrival with 50+ pages that will keep you organized, prepared, and ready to tackle mom life!
This planner answers all the questions that come up during pregnancy like, "what should I be doing at this stage of my pregnancy? What should I pack in my hospital bag? What's supposed to be in a birth plan? What the heck do you ask on a hospital tour?" The list went on and on.
We covered all the important pregnancy prep work so you can sit back, relax, and look like you know what you're doing (even if you really don't).


What's Included in the Oh Baby Pregnancy Planner?
Trimester To Do Lists – Stay organized and on task during each phase of your pregnancy.

"Must Have" Checklists – Know exactly what you'll need to survive pregnancy, postpartum, breastfeeding, and more.
Provider Questionnaires – Know the important questions to ask when interviewing OBGYN's, pediatricians, childcare providers, and taking hospital tours.
Pre-baby checklists – Prepare for all the changes a new baby can bring with the maternity leave prep sheet, a family budget planner, the home preparation checklist, and more!

Labor and Delivery Worksheets – Be ready for the big day with the hospital bag checklist, a birth plan template, and a newborn feeding tracker.
Newborn care sheets – Simplify the early days of motherhood with a safe sleep checklist, sample sleep schedules, a breastfeeding guide, and more.

BONUS: Document and remember each month of your pregnancy with the Oh Baby Pregnancy Journal. This keepsake journal keeps you up to date with the growth of your baby and gives you space to answer timely questions that you'll love to look back on.

How does the planner work?
Purchase your Oh Baby Pregnancy Planner and get instant access to 50+ pages of need to know information. You can download the planner in one simple click and print each page for an organized and stress free way to prepare for baby!
The Oh Baby Pregnancy Planner:
Keeps all the important information in one place and serves as a must have resource for all expecting moms

Is one of the most affordable and thoughtful planners on the market

Thinks of everything so you don't have to (hello pregnancy brain)

Helps moms thrive during pregnancy, document their journey to motherhood, and simplify life with a newborn.
What do other Moms have to say about the Oh Baby Pregnancy Planner?
"I wish I'd had something like this when I was pregnant with my first. I was the first of my friends to get pregnant and I felt like I was wading alone in such unfamiliar territory. This guide is incredibly thorough- they really thought of everything." – Christina, Mommy of 2
"I found it so overwhelming to scan all of the mommy articles on the internet to make sure as a first time mom I wasn't missing anything. This planner is amazing and allows you to have everything you need all in one place, to make sure no stone is left unturned. With this planner, I felt 100% prepared before, during and after birth." – Ashlee, Mommy of 1
"The Oh Baby Pregnancy Planner is extremely thorough and in-depth! I'm usually a super organized and prepared person, but I struggled towards the end of my second pregnancy. It's just not as easy to keep track of everything once you already have little ones running around. This planner really helped me focus and make the most of the few weeks I had left, both logistically and emotionally! I feel 1000% more prepared! Can't recommend enough! " – Victoria, Mommy of 2
About the authors
The Oh Baby Pregnancy Planner and The Postpartum Handbook were created by experienced moms who love helping women transition into motherhood. As the creators of Real Mom Recs and Coffee and Coos, we've spent years writing valuable content for new and expecting moms. Being moms and helping moms is our greatest joy.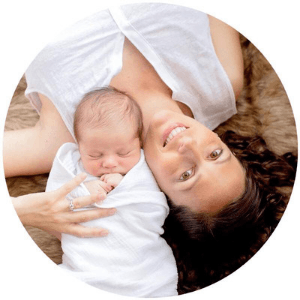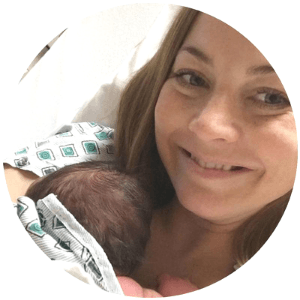 Still not sure about the Oh Baby Pregnancy Planner? Subscribe to our Oh Baby Prep Course, free via email!