Know what tends to put a damper on Thanksigiving joy when you're a parent? Spending days preparing and cooking special dishes, only to sit down on the big day to have your kids eat a dinner roll.
A lot of classic Thanksgiving recipes are just a little too different for picky children. If you are looking for some new kid-friendly ideas to add to your holiday menu this year, I've gathered up some of the best Thanksgiving recipes for kids!
And if you're looking for more kid-approved dinner ideas that are easy to make AND please picky eaters, don't miss my kid-friendly dinners for slacker moms!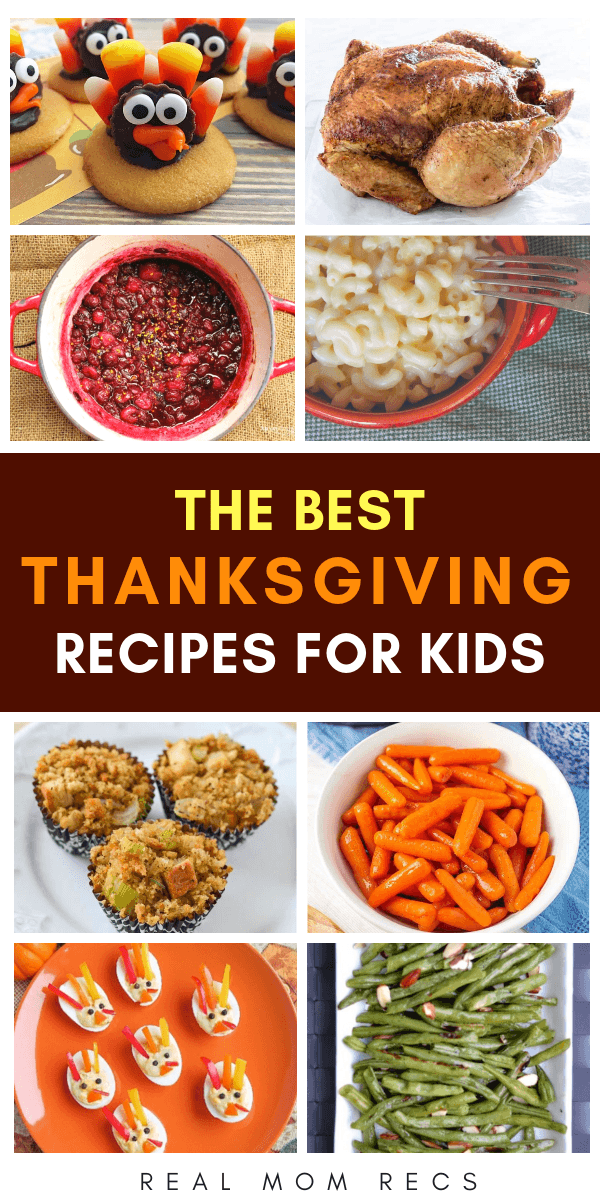 Cranberry Sauce That Everyone Will Love
Pink Fortitute hit the nail on the head with this cranberry sauce recipe. It uses natural sweeteners like apple cider and pear juice to balance out the tart flavor of the cranberries. And the best part? No gel from a can (with the can lines showing!) to scare off your guests and kids.
Roasted Green Beans
One out of my four kids turns his nose up any time I try to serve him any of my boring steamed green vegetables. But when he smells these flavorful roasted green beans, he just might be tempted to try something green! Just the smell of them cooking in the oven gets attention. They are so simple to make, and no condensed soup to make them unhealthy.
Air fryer whole chicken
At this risk of offending people by how non-traditional this idea is… how about a whole chicken for Thanksgiving? If you have an Air fryer
, you can get juicy chicken with that delicious crispy skin without even taking up space in the oven. Plus it only takes an hour!
Picky kids do better with foods that are familiar, so even just hearing the word chicken instead of turkey might make them more likely to try it. I know my kids go crazy for a fried chicken, so it's worth a try if your little one has made too many handprint turkeys to ever want to eat one.
Deviled Egg Turkeys
Doesn't it seem like every other holiday has more kid-friendly fun appetizers? Halloween has mummy dogs and jack o'lantern everything, but you never seen anything for Thanksgiving.
How cute are these deviled eggs made to look like happy little Thanksgiving turkeys? I think they just might be cute enough for kids to want to eat!
Even if your child just eats the pepper slices and hard boiled egg (like my kids do), that's still a great healthy snack before they go stuffing themselves up with pie.
Easy Potatoes Romanoff
If you've been here awhile, it will come as no surprise to you that I LOVE recipes that start with the word "easy"! I'm not about to cook anything that takes too much time or requires too many ingredients.
This classic comfort dish is known as "that hash brown dish" and it's full of creamy, cheesy, potatoe-y deliciousness. And the part that makes it perfect for Thanksgiving? If you're all out of oven space, you can make this in the Crock-Pot
!
Check out Food Meanderings for the recipe- it is sure to please the entire crowd you're having for Thanksgiving from your toddler to your great Aunt Sue.
Cinnamon Glazed Carrots
Sometimes adding a little sweetness to those vegetables is what helps the kids learn to love them.
These are cooked perfectly tender in the Instant Pot
with just the right amount of cinnamon and orange juice to ramp up the flavor. Then you add brown sugar and honey to turn up the sweetness!
If you want some veggies on your kids' plates on Thanksgiving that won't end up in the garbage, don't miss this recipe from Simply Happy Foodie.
Slow Cooker Applesauce
Here is one even the pickiest eater will happily eat: homemade applesauce!
My favorite things about this recipe? 1. It has no added sugar, so the delicious sweetness is all natural. 2. You make it in the slow cooker, no mashing required! and 3. You can make it that day and serve it warm, or make it ahead and serve it cold. Yummy either way 🙂
Trader Joe's Copycat Mac and Cheese
Another staple for all the picky eaters, this Mac and cheese recipe is a definite crowd pleaser!
This homemade mac and cheese has none of the junk you find in the boxed variety, and is super creamy and flavorful.
I love how this recipe makes enough cheese sauce for 2 lbs of pasta. Use half for your Thanksgiving side dish, and freeze the other  half for a super quick and yummy dinner later!
Thanksgiving Stuffing Muffins
Why is it that everything tastes better in muffin form when you're a kid?
Let the little ones help you when you make these simple, yummy individual stuffing servings. Only 6 ingredients and 15 mins of prep time means they can try a traditional holiday stuffing without a ton of work.
I think they'll take a liking to the savory, buttery flavor with just the right amount of crunch on top.
Thanksgiving Dessert Turkeys
Here is another adorable one from Dancing Through The Rain! My kids tend to like the traditional apple or pumpkin pie, but I know a lot of children who don't particularly like pie. This cute little turkey-faced cookie and candy creation makes the perfect dessert (non-traditional, but still in the Thanksgiving spirit.)
And with melted chocolate serving as the food "glue", kids will have just as much fun making them as they will eating them.
So there you have it, 10 fantastic and festive Thanksgiving recipes for kids!
Make them all, and you'll have a well-balanced Thanksgiving dinner that's super kid-friendly.
And-
Don't forget to check out the NEW Real Moms Shop! My funny Mom tees and mugs make great gifts for Moms this holiday season.
Just a couple of my favorites: