The 2-5 year old age bracket has spoken, and these are their favorite experiences at Walt Disney World! If you're planning on doing Disney World with preschoolers, here are the attractions and experiences you can't miss.
Download the free printable checklist to make sure you hit them all!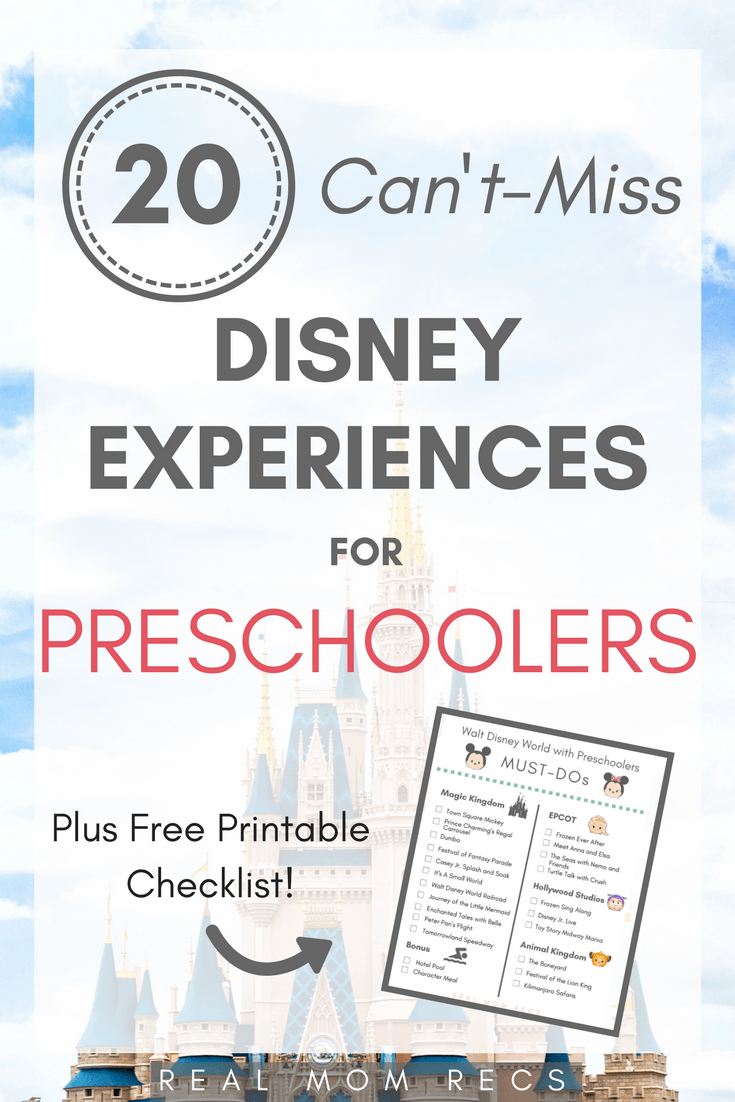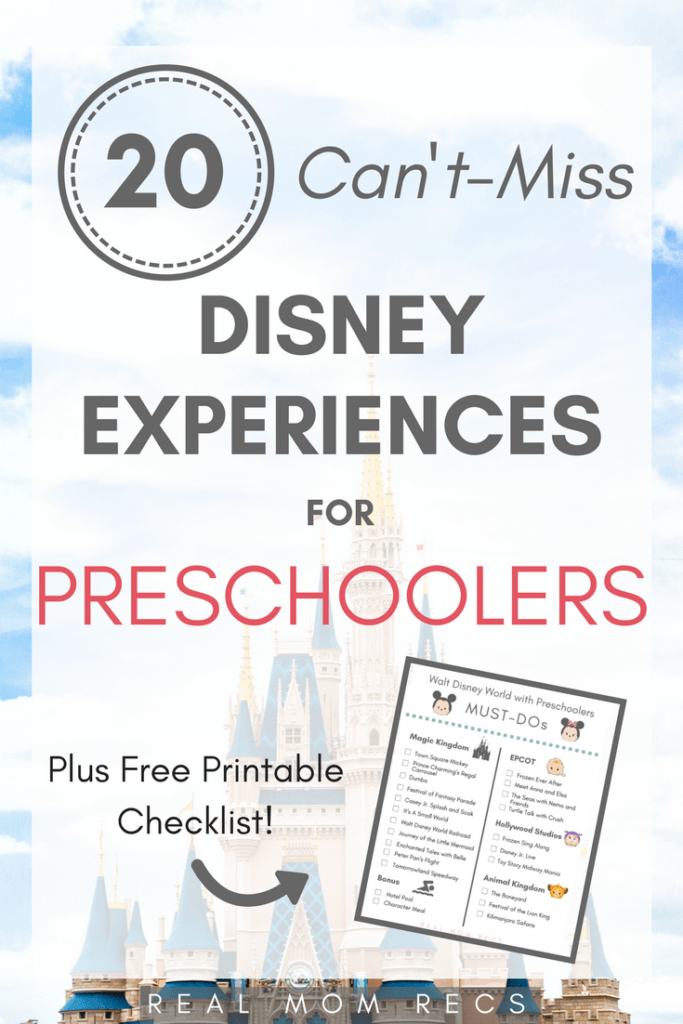 None of these has a height limitation that would preclude a preschooler, nor are they potentially frightening for small children. (For a guide to all the height restrictions and potentially scary rides in Disney World, read this post.)
Magic Kingdom
It's no surprise that the majority of preschoolers' favorites are at Magic Kingdom. This is the park that has the most rides in general and by far the most for small children to do. If you're planning a 5 day trip, I would recommend doing 2 Magic Kingdom days and 1 day at each of the other parks.
Town Square Mickey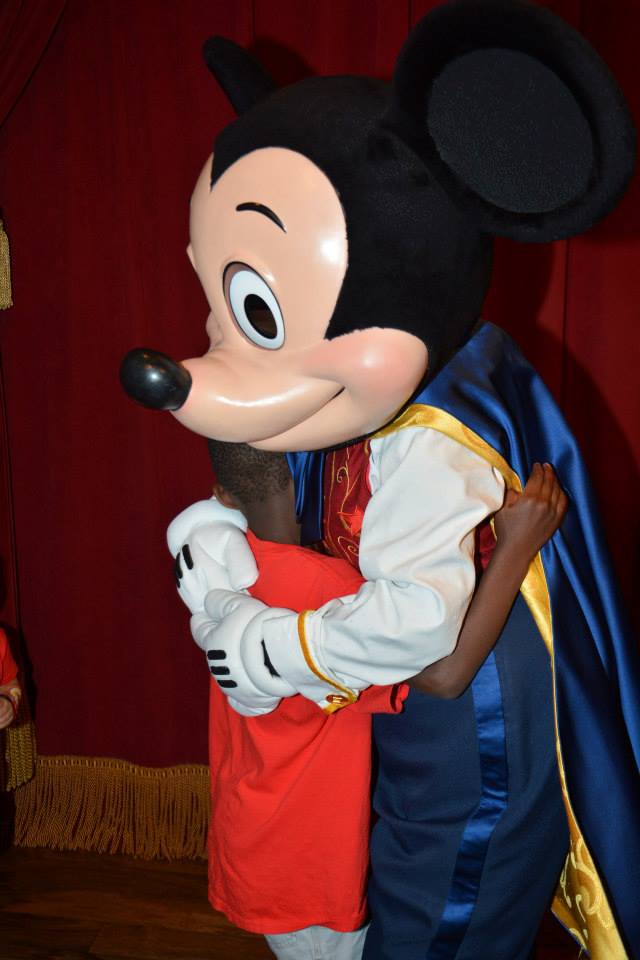 Aka Talking Mickey! Meeting characters is a huge source of excitement for most preschoolers, and the main mouse tends to draw the most excitement of all. Of all the places to meet Mickey, this one is not to be missed because he's the only one that talks! He will greet your child, ask them questions and even tell jokes.
Prince Charming's Regal Carrousel
After walking through Cinderella's castle, you will see every child's eyes light up when they see the carousel. In fact, if you are rushing to another attraction you should probably take a different route to avoid walking by the carousel. If you walk by it, your kid is going to want to ride it right then!
Dumbo
It doesn't matter that today's tykes most likely have never seen the movie. They will still want to take a spin on the classic flying elephant! An added perk is that you don't have to wait in line. When you enter the queue you will be handed a paging device which you hold onto while you relax/play in the air conditioned play area. While parents cool off and sit down to rest their legs, the little ones will love running and climbing.
Festival of Fantasy parade
A catchy song, dancers, all their favorite characters, and a fire breathing dragon? What's not to like? Tip: keep kids under a sun-shaded stroller if you have a stroller. Most of the viewing areas are in direct sunlight and that pavement will cook you. Grab a spot and then send one parent to get them an ice cream and some ice water. It will help the wait go by and keep the kids cool.
Casey Jr. Splash and Soak
Speaking of keeping cool, if you're visiting during one of the 9 months of the year when it's hot at WDW, pack a change of clothes and let the kids get soaked at the Casey Jr. splash pad.
It's A Small World
Disney Scrooges hold your tongue. The little ones truly enjoy this ride, and to them the song is fun, not annoying.
Walt Disney World Railroad
They say Walt himself was a lover of trains and that is why there are so many train-themed attractions in Disney World. Preschoolers may be too small or too scared to ride Seven Dwarfs Mine Train or Big Thunder, but they can certainly enjoy the quaint train ride that circles all of Magic Kingdom. BONUS: Use the train to get from one side of the park to the other if your need to rest your legs and take a break!
Under the Sea: Journey of the Little Mermaid
Ariel fans will be captivated by this mini journey through the movie, taking you virtually under the sea and through all the major scenes from the movie. My 5 year old son was afraid of the larger-than-life Ursula, but I don't expect most kids have that reaction.
Enchanted Tales with Belle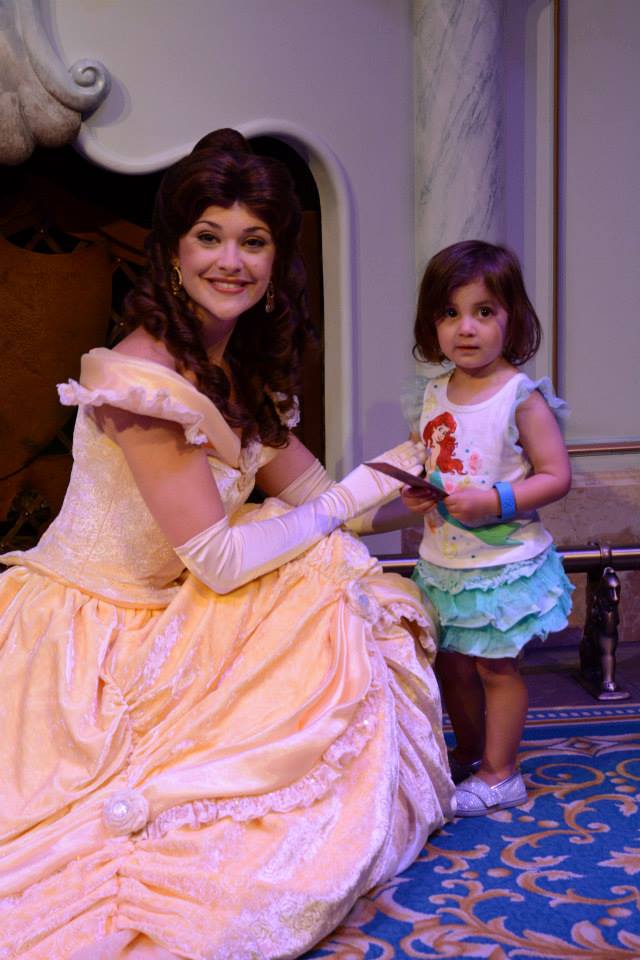 This one is a bit of a time commitment, so plan accordingly! It is well worth it to work it into your touring schedule. Disney magic transports you to the day Belle met the Beast in a way that leaves even adults wondering "how did they do that?" Many small children will get a role in the re-enactment that follows, putting them into the heart of the story.
Peter Pan's Flight
The line is almost always long for this popular ride, so get to it first thing in the morning or better yet book a Fastpass! Kids love the sensation of flying when the pirate ship you boarded moves by suspension from the ceiling.
Tomorrowland Speedway
It kind of kills me to put this one on here, because it's truly one of my least favorite Disney rides. The smell, the heat, the old cars that barely move… it's pretty awful for adults. But this is about the preschool crowd and unfortunately they LOVE it. It's every small child's fantasy to drive a car and they manage to see past all its faults and enjoy this attraction.
Epcot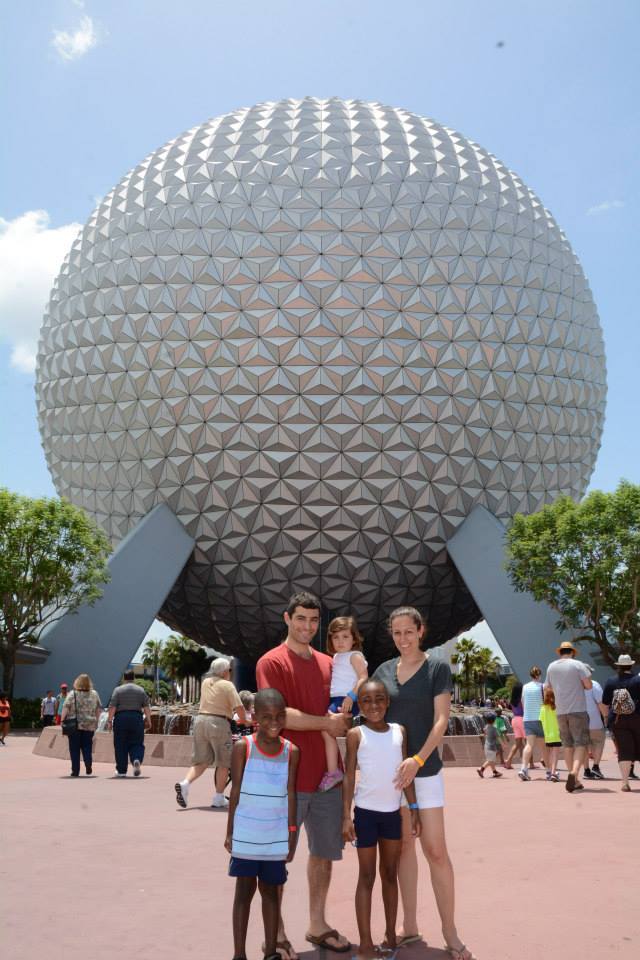 Frozen Ever After
Disney knew what it was doing by bringing Frozen to Epcot. Any parents who were considering skipping this park, which is known for lacking "kid appeal", are now making a beeline for it so their little Frozen fans can ride this.
Meet Anna and Elsa at Royal Summerhaus
Piggybacking off of the Frozen ride, you will also find Anna and Elsa's meet and greet at Epcot. My son (the same one who was terrified of Ursula) was afraid that Elsa would "blast him with her ice powers" but I'm pretty sure every other preschooler is delighted to meet the Frozen duo.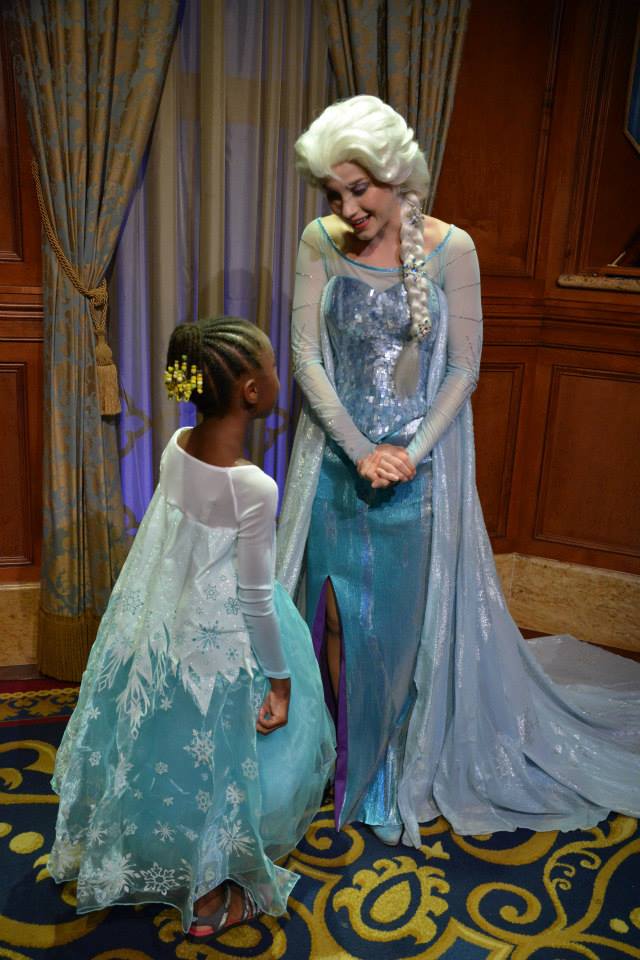 The Seas with Nemo and friends
Similar to the Little Mermaid ride at Magic Kingdom, Epcot has the Finding Nemo ride that makes you feel like you're going under the sea. The building that houses this attraction has a fun little aquarium for kids to explore so plan to spend some time there.
Turtle Talk with Crush
Another attraction in the Seas building is this interactive experience with talking Crush, the hippie turtle from Finding Nemo. It's really impressive to see how he actually responds to what the kids say, and he's hilarious too. Another great example of Disney magic at work.
Hollywood Studios
Frozen Sing Along
Just in case your kiddos didn't get their Frozen fix at Epcot, there's the Frozen sing along at Hollywood Studios. Kids love the show, which will have everyone joining in to sing. Have you ever heard of this little tune… what's it called again?… Let It Go?
Disney Junior Live on Stage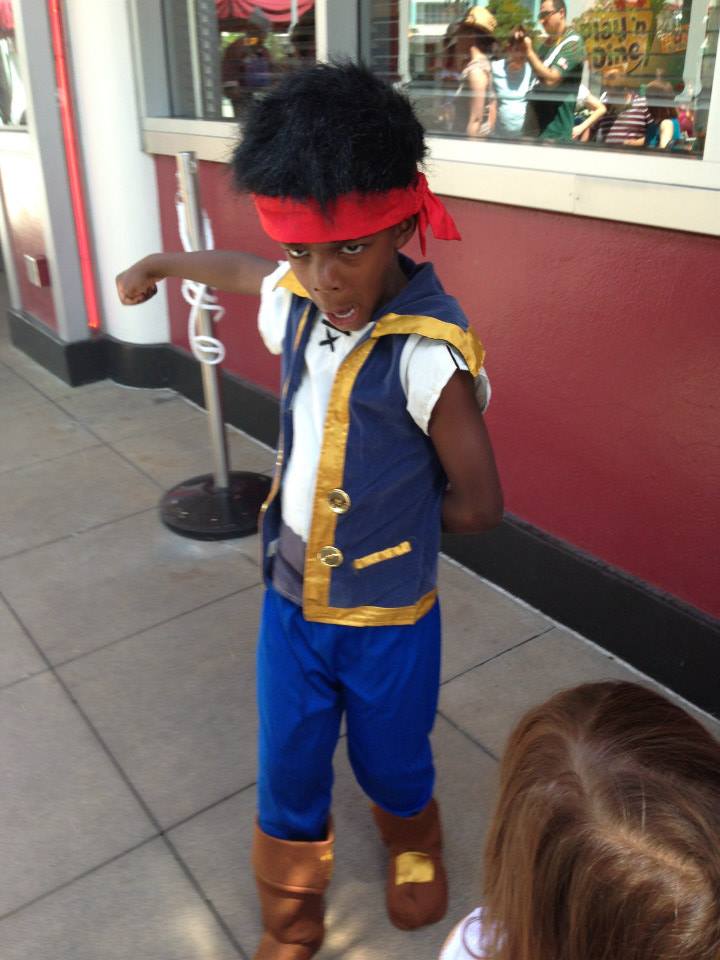 This is a can't-miss show for preschoolers. Join Mickey, Sophia, Jake, and Doc McStuffins in a live stage show with all their hit songs and plenty of surprises like bubbles and gold doubloons falling from the ceiling.
Toy Story Midway Mania
An all-around fun ride for young and old alike! Put on your 3D glasses and get spun around to a series of midway shooting-style games with all the Toy Story characters. You will want a Fastpass for this one as it's very popular. Heads up: There will surely be other preschool favorites coming to Hollywood Studios soon with the addition of Toy Story Land, coming in the summer of 2018!
Animal Kingdom
Nope, it's not a zoo. It's definitely a theme park (and it's my husband's favorite!)
The Boneyard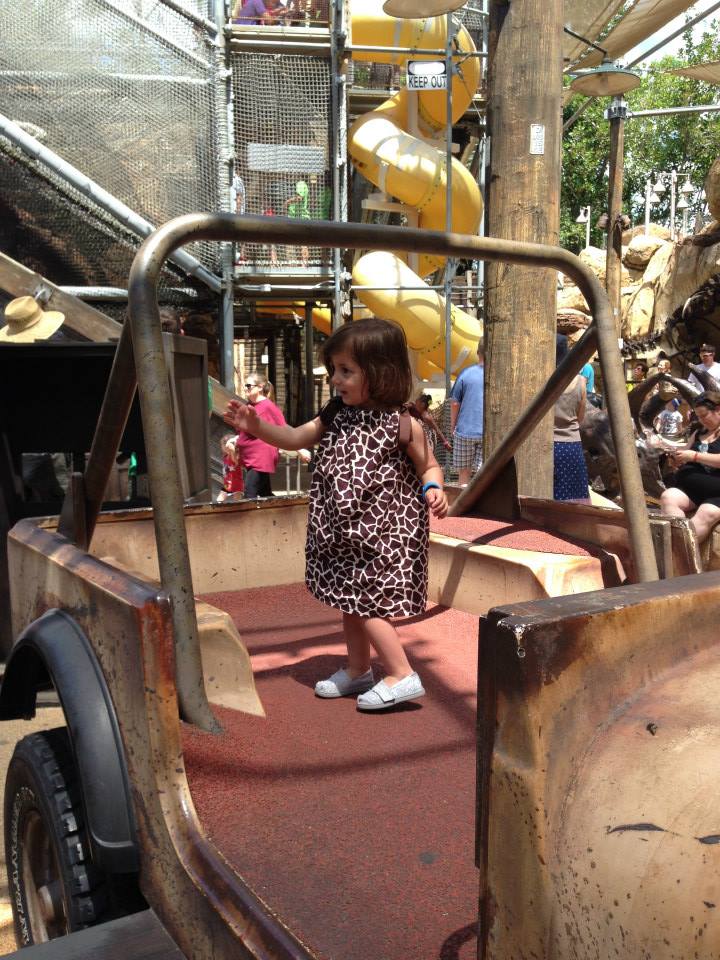 Make sure to take the little ones over to Dinoland USA to let them burn off some energy at the Boneyard, a very cool themed play area. In addition to running and climbing, kids can be mini paleontologists by digging up dinosaur remains with their shovel and pail. Do this one early before it heats up too much to be enjoyable.
The Festival of the Lion King
Don't miss this captivating show with amazing costumes, music, and talented acrobats. It's definitely a highlight of Animal Kingdom for the younger set who isn't quite thrilled by the World of Avatar yet.
Kilimanjaro Sarafis
While Animal Kingdom isn't a zoo, it does have animals. Board your jeep and drive through the terrain on this safari to see animals "on the loose" in their habitats (there are invisible enclosures). The giraffes, elephants, and lions were the highlight for my kids.
These are family favorites that you won't find on every must-see Disney list.
Plus, 2 can't miss bonus experiences
Schedule some time at your hotel pool!
Parents might cringe at this, but when you ask a preschooler what their favorite part of the Disney World was, most often their answer is the hotel pool! Make sure to take breaks from the parks and let the kids go for a swim. All the Disney resorts have life jackets in various sizes that the kids can use.
And lastly, book a character meal!
There are so many great ones to choose from, I can't recommend just one. Cinderella's Royal Table or Akershus if you have princess fans, Chef Mickey's or Tusker House if you want the classic Mickey characters, Crystal Palace for Winnie the Pooh and the gang… I could go on and on. Just pick one (or more than one) and book it. It's a great way to get to meet multiple characters without waiting lines, and a fun way to eat a meal if your kids need some entertainment to enjoy a restaurant. Win-win.
If you're planning to do Disney World with preschoolers, print this checklist to make sure you hit all the attractions they are sure to love!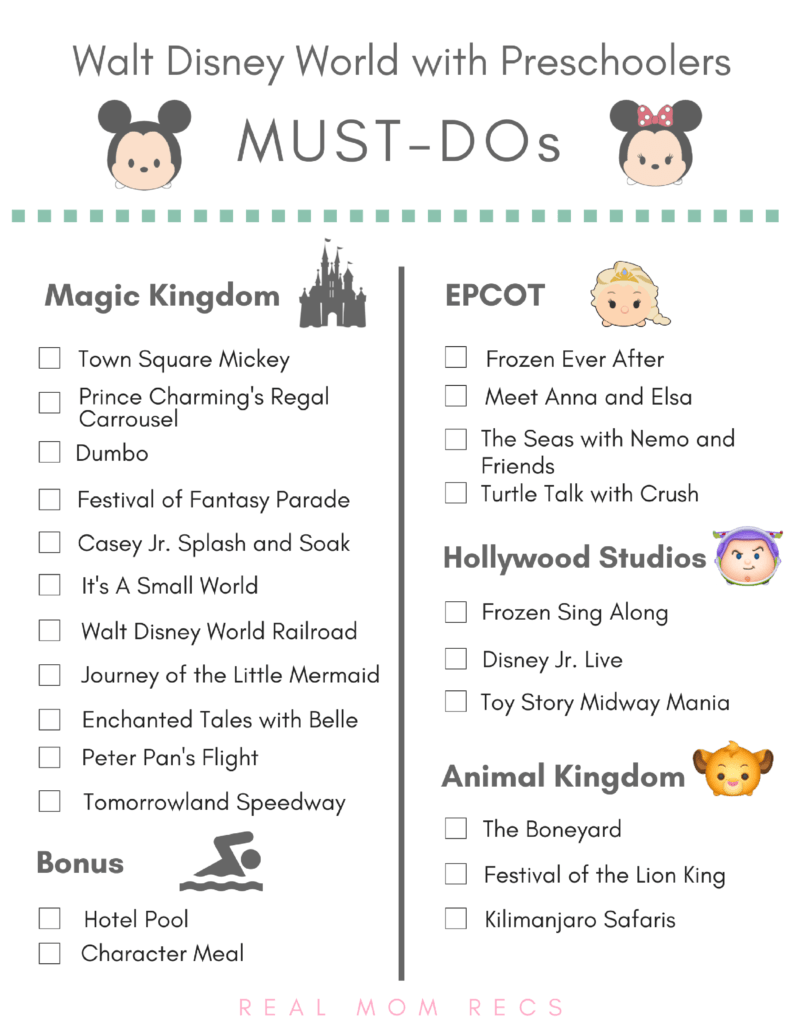 Click here to download and print!