Wondering what things you need while pregnant? It's so easy to overspend with so-called maternity must-haves everywhere you look. There are actually only a handful of things you need to buy for a happy and comfortable pregnancy.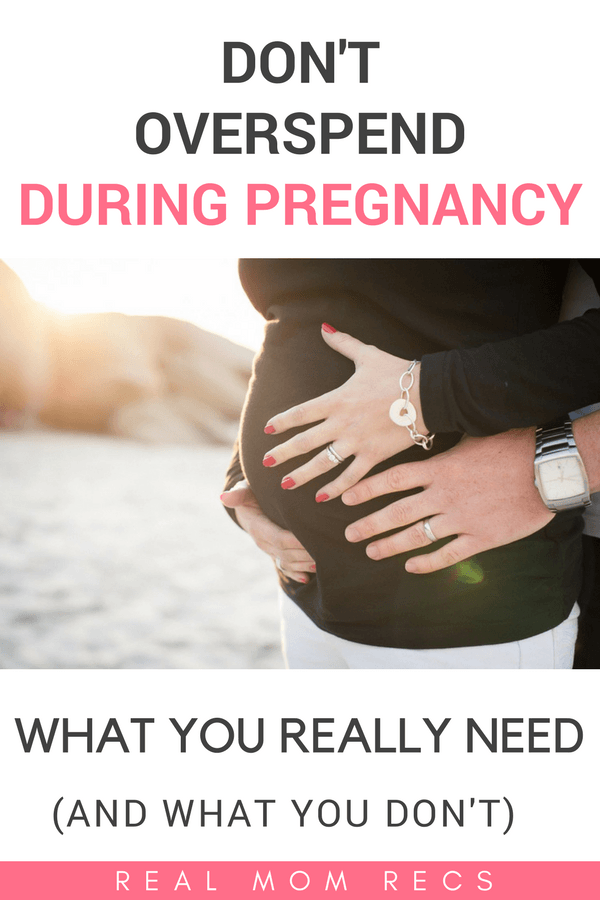 Disclaimer: This post may contain affiliate links, which means if you click one of the product links, I receive a small commission at no extra cost to you.
With my first pregnancy, it seemed like the pee stick wasn't even dry yet when people started telling me all the things I needed to buy.
I was suddenly getting coupons and samples in the mail which made me wonder how did they even know I was pregnant?
As someone who is notoriously frugal (cheap) I wasn't about to buy anything just because it said it was for pregnant women. Here are the things I did buy that I absolutely wouldn't want to go through pregnancy without.
PREGNANCY BODY PILLOW

For me, it was this Snoogle
.
My sister had told me over and over again how I needed this thing and I fought it so hard. It will take too much space in the bed. I can just use regular pillows. I don't need to buy some huge special pillow.
Finally as my bump grew bigger and sleep became more uncomfortable, I caved. The first night I slept on it, I was so mad at myself for not getting it sooner. It was the only thing that took the weight of the belly off my body.
During my second pregnancy, I couldn't wait to pull my Snoogle back out and start using it again. It even came with me on road trips because I didn't want to go one night without it.
PRENATAL VITAMINS
Yes, you know you need to keep taking your prenatals even in the depths of morning sickness hell, but sometimes in the midst of first trimester gagging and heaving you just can't manage to choke down any horse pills.
These gummy vitamins
 were recommended to me from some ladies in my online birth club group because they don't taste bad and don't make you sick. Much easier to take when you aren't able to keep much down.
MATERNITY UNDERWEAR
Yet another one I fought very hard against. I was determined to only gain weight in my belly (haha, wasn't it cute how I thought I had control over that?) and I felt like buying new underwear meant accepting defeat in the no-butt-weight-gain effort.
The day inevitably comes when you decide you are DONE trying to squeeze into your pre-pregnancy underwear when everything feels so uncomfortable against your belly. Not to mention dealing with a perma-wedgie.
Needless to say I got over myself and got the comfy maternity undies
. They are cut low in the front and don't put pressure on your growing belly. (They aren't too low in the back that you are showing crack though.) The cross front design is super comfortable and they actually stay put. I may or may not still be wearing these a year after my last pregnancy!
A PREGNANCY AND BIRTH CLASS
The closer you get to giving birth, the more scary it starts to become. I highly recommend all first-time moms take a prenatal and birth class. Some things might be scary to hear, but it's not as scary as going into the delivery room unprepared.
Hilary from Pulling Curls is an experienced labor and delivery nurse who happens to have a fantastic ONLINE prenatal class. It covers everything you need to know and won't scare you. She's actually super entertaining and will have you laughing along the way.
And you can't beat the convenience of at home and on demand.
(Not sure if you're up for enrolling in the class? Try out her free starter class and see if you like her style!)
PREGNANCY JOURNAL

When you're pregnant, you feel like you'll never forget all the exciting things that are going on. But next thing you know, you are caring for a newborn while existing on 90 minutes of sleep and you can't even remember what day it is.
For each of my pregnancies, I got this pregnancy journal
and wrote down everything. Our favorite baby names, the names we rejected, the funny thing that happened at the ultrasound appointment, what foods I was craving and what foods I was hating, EVERYTHING.
I can't tell you how many times I've gone back and opened those up and said "whoa, I completely forgot about that!"
This journal also has daily "what's going on with your baby now" that I enjoyed reading. It's cool to find out in real time when baby can hear you for the first time, or blink, or swallow.
BELLABAND
For the first trimester, to get an extra inch in the waist of your favorite pre-pregnancy jeans, you can get by with the hair elastic trick (demo from Green Baby Deals):
But somewhere around 12-16 weeks your cute little bump will pop just enough that you can't close your pants. You don't want to go into huge end-of-pregnancy maternity clothes yet, and you don't want to waste money on the very temporary itty-bitty bump clothes.
This is when you need the Bellaband
, which essentially turns your regular pants into stretchy waist pants. You leave your pants unbuttoned and put the grippy/stretchy band over it to cover the gap and keep the pants closed. This little piece of fabric got me almost until my 3rd trimester without having to buy any maternity clothes, which made this frugal girl happy.
UNNECESSARY PREGNANCY PRODUCTS
Just because it says it's for pregnancy doesn't mean you need it! Save your money and don't buy these.
MORNING SICKNESS CANDY
I understand why these sell. Morning sickness can be torture and people want to believe these will help.
The truth is, they will help as much as any hard or sour candy will. Sometimes the taste can talk your body out of hurling, other times it can't. Might as well carry around whatever your favorite candy is. Sour patch kids saved me once or twice.
MORNING "CHICNESS" VOMIT BAGS
Really? Stylish vomit bags are a thing? Sorry but there's nothing stylish about puking and there is no need to pay twice as much for a design on your barf bag.
HOME FETAL DOPPLER
I totally get the temptation, because the sound of baby's heartbeat is pretty much the best sound in the world to a pregnant mom. But leave the medical care to the medical professionals. Here is a good article explaining why. The most important one being, if you have concerns about your baby you should see a doctor right away. Using these products without medical training can give women a false sense of security when they really should be getting medical care.
PREGNANCY STRETCH MARK CREAM / TUMMY BUTTER
I'm looking over my shoulder right now for an angry mob of pregnant ladies because honestly every woman who's ever had a child has bought this stuff. But unless you just like smelling like you bathed in cake batter, it's seriously unnecessary.
Lots of people will tell you these products work, because they used them and didn't get stretch marks. But these are the people who weren't going to get stretch marks anyway.
By all means rub whatever you want on your belly because the skin does stretch like a balloon and it gets itchy. Just don't be lured into thinking a product is going to prevent stretch marks- genes are responsible for that.
That's it for the things you need while pregnant! If you have any others that I didn't mention, let me know in the comments!

Don't forget to pin it for later!