For those who have been following, you know about the mother-daughter trip to Disney Tiana and I took in October. This is the trip report of our first day, which included traveling to Orlando, checking in to Saratoga Springs, and spending the rest of the day at Animal Kingdom. (Spoiler alert: we made it on both of the new rides in Pandora- the World of Avatar.)
Pre-trip planning
Since this was a special one on one trip for my daughter, I let her make a lot of the decisions in the planning. We only had three days, so I told her to pick three parks. Her original choices were Magic Kingdom for the Halloween party, Hollywood Studios, and Epcot.
As everyone who has planned a trip to Disney World knows, a lot of advanced planning goes into these trips. So I was a little thrown off when one day Tiana saw a commercial featuring Pandora- The World of Avatar and wanted to change our plans to include a day at Animal Kingdom! I rolled with it as best I could and set to out get us Fast Passes for at least one of the two Avatar rides.
We both REALLY wanted to get a Fast Pass+ for Flight of Passage, having heard all the hype. I knew the standby lines were in excess of 3 hours so the only way we'd get to ride it would be with FP. Of course when I logged in at the 60 day mark, there were none available. I did get one for Na'vi River Journey, but I was definitely bummed that we didn't get our first choice.
I thought about changing our plans back to Epcot once again. Then I remembered a time I had been in a similar FP conundrum before. A few years ago when people were waiting all day to meet Anna and Elsa at Princess Fairytale Hall, Fast Passes were nearly impossible to get. I got in the habit of checking every day at different random times just in case anyone decided to let theirs go. About a week before the trip at 6am, I got one. I think the was the closest I've ever felt to winning the lottery!
Once again we were pixie dusted by the Fast Pass gods because a couple weeks before our trip I happened to check for Flight of Passage Fast Passes for our Animal Kingdom day and there they were. Tons of time slots magically opened up, indicating Disney had released a whole batch of new FPs. I really didn't care about why, I was just so happy to know that we'd just scored the hottest ticket in town.
Travel
Our travel day started early, as we had to leave our house at 6am. Both of us were so excited about the trip that waking up early was no problem. It was too early for any traffic so it was smooth sailing to the airport.
Tiana was using her own piece of rolling luggage for the first time so she was enjoying feeling like a big person.
The flight was three hours of peace and quiet like we never get at home with the three younger kids. We both enjoyed our books and Tiana enjoyed coloring with some scented markers I had picked up for the flight.
Soon enough the plane landed and we made our way to Magical Express. The only noteworthy tidbit about this part of the journey is that we stopped to use the restroom and there was an ENORMOUS cockroach in one of the stalls. It scared Tiana so much that she's basically sworn off using any airport bathrooms for the rest of her life.
There was no wait at all for our Magical Express and we arrived at Saratoga Springs before lunch time.
Checking in to Saratoga Springs
Arriving at our resort wasn't quite as smooth as other Disney resort check ins I've had in the past. We had received a text that our room was not quite ready yet, so I thought we'd just leave our bags and get to the park. But we weren't appropriately dressed for 80 degree Florida weather, so dropping our bags and running wasn't exactly an option.
In addition to changing clothes, I also had to rearrange a lot of our stuff to turn our backpack full of flight entertainment into a park bag. Bell Services is right next to the entrance to the very busy lobby so opening my bags right there with people passing by was not very pleasant.
In the middle of all that, my phone buzzed and I saw that our room was now in fact ready. I quickly abandoned my bag re-packing mission to head to our room. A cast member pointed us in the direction of our room so we had a vague idea where we were going.
It ended up being a bit of a hike to our room, plus we got lost on the way there which made it even longer. I was feeling a little annoyed that the Cast Member hadn't offered to help us with our luggage knowing how far the room was. The joy of carrying her own luggage had definitely worn off for Tiana by now.
I snapped this pic just before we went the wrong way and got totally lost:
Eventually some kind soul helped us and we got to our room. We changed and freshened up a little, packed our park bag and hopped on the bus to Animal Kingdom.
Finally at Animal Kingdom!
I am infamous for taking crappy cell phone pictures, but HOW did I not notice that the "m" was cut off from Animal Kingdom in this photo???
We had some time to spare before our first FP, so we happily explored the park and some of the animal exhibits. We both love just wandering this park and taking in the cool vibe and energy it has. One of Tiana's dreams is to visit Africa one day so she especially loves hanging out in that part of the park.
Pretty soon it was time for our Expedition Everest Fast Pass. Tiana was nervous about this one! Even though she likes roller coasters, she isn't into the scary elements and she doesn't particularly like going backwards.  She asked me if she HAD to ride it, and I told her no, she never has to ride anything. I did remind her though that this was our only day at Animal Kingdom and I wasn't sure when we'd be back for another trip just to make sure she understood if we skip it she can't change her mind tomorrow. She thought about it for a couple minutes and decided to give it a go.
In the past, this one has made me so motion sick I almost lost a whole day of touring. This time I was prepared and had taken Bonine for motion sickness so I was feeling confident!
The verdict on Everest? I think this face says it all:
Tiana was NOT a fan! I would have enjoyed the ride except that she was screaming and maybe crying so I had to try my best to console her while my brain was getting rattled around. She told me she is NEVER going on it again, "not even if I bring my kids here and they beg me and beg me". 😄
I'm pretty sure I got her a Mickey bar at this point to get her back in a good mood. It also helped that our next FP was for Kali River Rapids, which we both love.
It was mostly overcast that day, so Tiana decided she didn't want to risk getting soaked on Kali. Luckily we were armed with these bad boys:
We always end up laughing so much on this ride talking with the other people on our boat. Everyone knows a couple of us are going to get soaked and no one wants it to be them! The line wasn't too long, about 20 minutes, so we rode it again standby since we had plenty of time on our hands.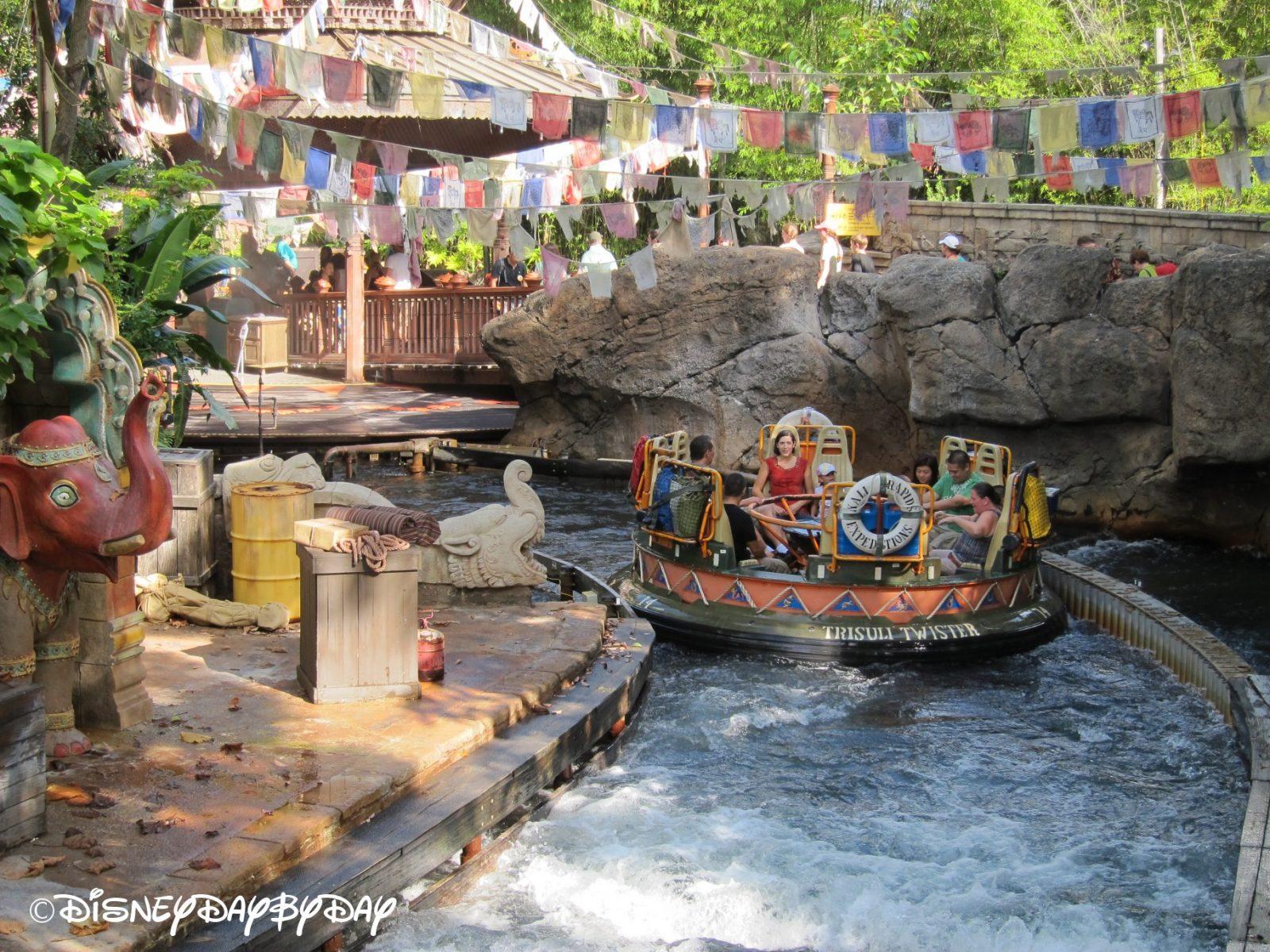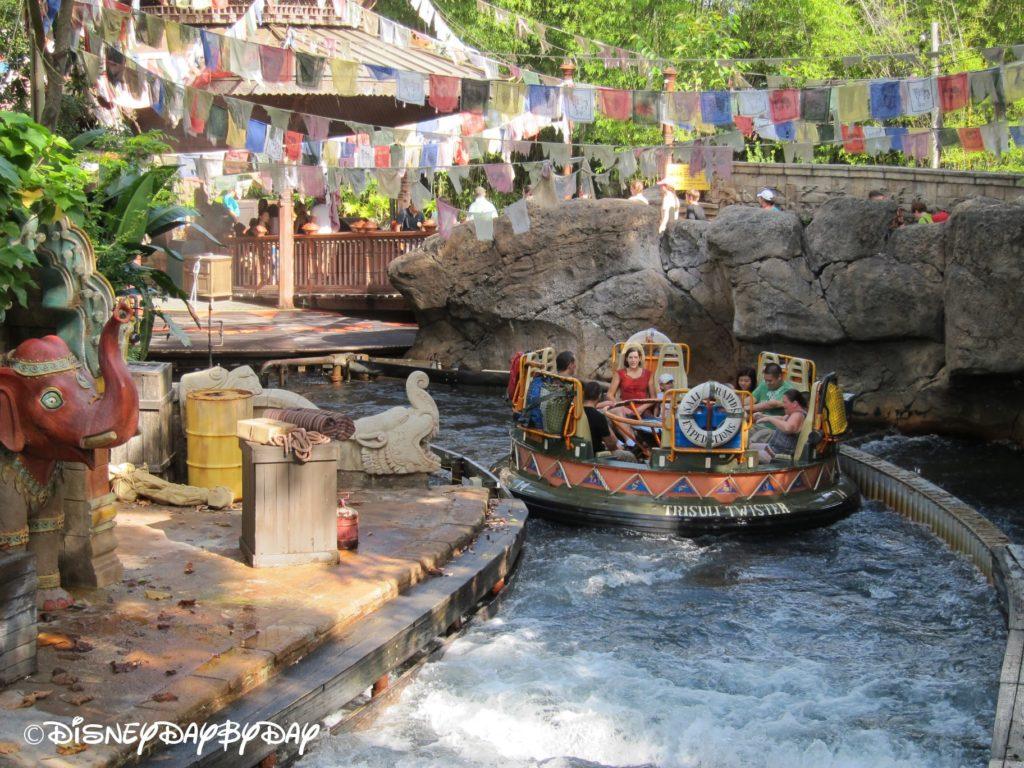 Just a pic of the ride in case anybody isn't familiar with it.
One little detail that will pop up again later in the trip: After riding Kali River Rapids in her poncho twice, Tiana went to take it off and it ripped all the way down the front. I considered it garbage at that point and threw it out, leaving us with just one poncho in our park bag.
Now I was getting super excited because we were finally headed somewhere I'd never been before…
Pandora- the World of Avatar
Disney does such an amazing job of transforming the mood when you switch from one land to another. Going over the bridge to Pandora you can feel a shift in the atmosphere. The sounds are different, the smell is different. It is hard to describe but we felt a certain mystical energy building.
We loved checking out all the little details and of course stopped for a pic of the floating mountains.
Everywhere we looked, people were holding this brightly colored frozen drink with an enormous amount of kid appeal. Not surprisingly, Tiana suddenly couldn't live another minute without one!
The Night Blossom: aka the most Instagrammed beverage in Disney history!
Note the paper straw as plastic straws are not allowed at Animal Kingdom (dangerous for the animals).
I thought this drink would be so overly sweet that we wouldn't be able to finish it between the two of us. Well those fears were unfounded because we CRUSHED it.
By now it was time for the moment I had been waiting for. Time to ride Flight of Passage!
It almost felt wrong cruising by in the Fast Pass lane with people waiting an estimated 3 hours to ride. Almost.
The indoor portion of the line is like a dark, cement cave. Very industrial. I'm sure it's authentic to the movie but I only saw it once and don't remember these details!
I had purposely avoided reading much about this ride prior to our trip. I wanted to go in with no expectations. All I can say after riding it is WOW. Whatever expectations I had were blown away!
The guy in front of me in line had warned me that it was "intense" but I wasn't really getting it. After experiencing it, that really is the best description for it.
In fact it was a little too intense for Tiana, she was screaming her face off the whole time!
It turns out, she believed every word of the pre-show and was convinced an Avatar was going to come take over her body. She thought the whole thing was 100% real. So that kicks up the intensity to a whole other level.
Dinner time
After Flight of Passage Tiana was suddenly very interested in going on Na'vi River Journey. I had to sacrifice the original FP I had gotten for it in order to book the Flight of Passage FP since you can only get one. So I had mentally crossed this ride off my list since I knew the line would be majorly inflated. We walked over to check anyway and it was about two hours. I was not interested in waiting that long so I told her we could come back at night and see if the line was down then.
Moderately satisfied with that answer, Tiana decided to head over towards Dinoland. We mostly just browsed shops and watched street acts, whatever Tiana was interested in. We passed by character spots but Tiana chose not to meet them, so I guess at 9 she is not as into meeting characters anymore. (She did end up changing her tune later in the trip so it wasn't a completely character-less visit to WDW!)
Around 6:00 we made our way over to Rainforest Cafe, which Tiana had chosen for our dinner reservation.
It's probably not the restaurant I would have chosen, but I have to say we had an awesome time there.
With a family of 6 Tiana doesn't get the chance to go to restaurants all that often. And going out to eat just me and her is something I'm pretty sure has never happened! Which is exactly why we needed this trip 👍
After we'd had our fill of animatronic animals, pretend thunderstorms, and lines of servers shouting "volcaaaaaaaano!", we headed over to catch Rivers of Light.
Animal Kingdom by Night
It was starting to get dark as we passed by the Tree of Life.
I was excited to see Rivers of Light because I had never seen it before.
We were seated up near the front on the left side of the amphitheater. We watched the huge seating area fill up as we waited. I would never have guessed that many people were even in the park that day! Crowds are so different when spread throughout the park versus all in one place.
The show started and while we thought it was cool to see, we also kind of felt like we didn't know what was going on 🤷
It also felt SUPER short! When it ended I was actually confused. It seemed like there should have been more. In future trips I think I won't bother watching this one again.
(Just my honest opinion, I know some people love it!)
Back to Pandora
Being seated on the left was good because we were able to make our exit before most of the crowd. We walked with intent over to Pandora, since I had told Tiana we could check the wait time for Na'vi River Journey before park close.
The posted wait time was 90 minutes and I had told Tiana I was only willing to wait 60, but she talked to me into it.
I'm glad she did, because the wait ended up being just under an hour. And with friendly people to chat with in front of us in line it went by surprisingly quickly.
The ride was very cool to look at with immersive theming from the movie. It was so serene and relaxing. We enjoyed it, but I'm glad I didn't wait over an hour for it.
We exited the park right after riding as it was actually past closing time. Tiana was so happy after our long exciting day, she talked about it the whole bus ride back to Saratoga Springs. I went to bed that night so happy that I had decided to take this trip with her.
Next up…
Follow along with our trip as we head to Mickey's Not So Scary Halloween Party on day 2!