If you're planning the ultimate kid-centered Walt Disney World vacation, you'll definitely want to stay in one of the best Disney resorts for kids. You will also want to book dining reservations at the best Disney restaurants for kids!
While it's true that almost all restaurants in Walt Disney World cater to children, some dining spots are definitely better suited for the younger set than others. From elaborate theming to exotic menu choices or their favorite characters, here are the kids' picks for best Disney World restaurants.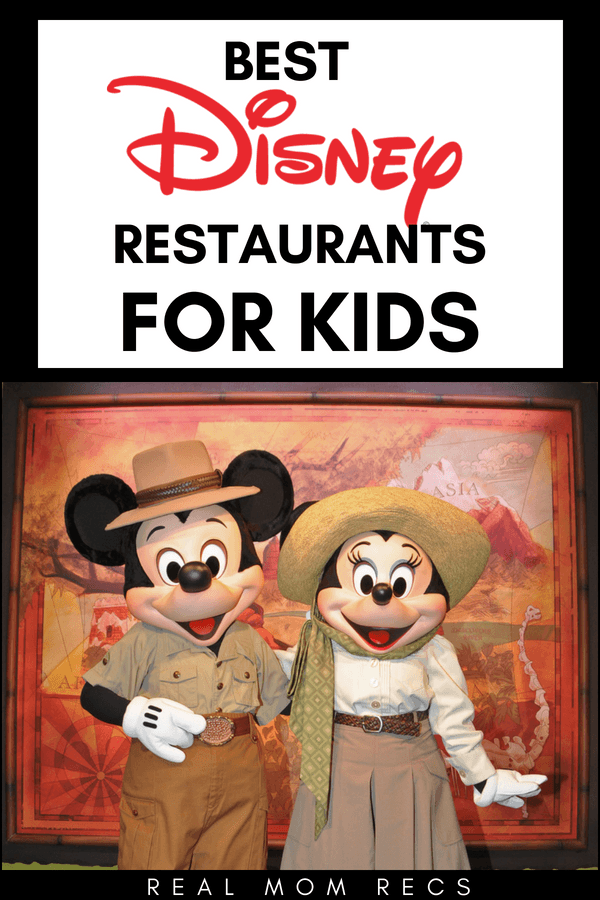 And by the way, the kids who shared their opinions below happen to be the children of some of the best Disney gurus on the web!
SECTION 1: CHARACTER MEALS
Character meals are a no-brainer for parents heading to Disney World with small children. The kids get to meet some of their favorite characters and get autographs without waiting in line. It's perfect for kids who get restless at the dinner table as they will be up out of their seat and distracted by who is coming to their table next.
The drawback of character meals is that they can feel chaotic. It's hard to relax with a larger-than-life character stopping by your table and thrilling your child every few minutes.
Another negative for some (but not all) character meals is that the quality of the food can be lacking. A lot of character meals are buffets, and many have the same kid-friendly go-to dishes that get redundant after a while.
We like to mix up our dining reservations to have a nice balance of character meals and regular sit down meals, which tend to have a slower pace.
Tusker House
So when I said character meals have lower quality food, this would be an exception.
The food at Tusker House is unique and delicious with an African flare. You can find things like carved bone-in ham, corned beef hash, potato and leek frittata, and the famous POG juice at the breakfast buffet. (In case you haven't yet had the pleasure of drinking POG juice, POG = passion fruit, orange, and guava.)
Lunch and dinner feature carved meats, seafood, couscous and African stews and salads.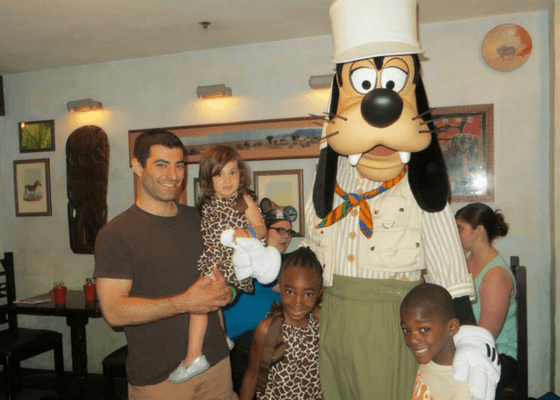 My kids loved meeting Donald, Daisy, Mickey and Goofy at Donald's Safari Breakfast at Tusker House. Zari says his favorite part was "meeting Mickey with his explorer outfit on, eating waffles and the really good juice that was like… tangy and tropical."
1900 Park Fare
My daughter Tiana loves the character dining at 1900 Park Fare at the Grand Floridian. First of all she loves everything about that resort, since it's "the most beautiful and fancy of all of them."
If you go there for dinner, try to go on a Magic Kingdom day so you can take the monorail from the park to the resort. Get there a little early so you can walk around the lobby and explore a bit before eating.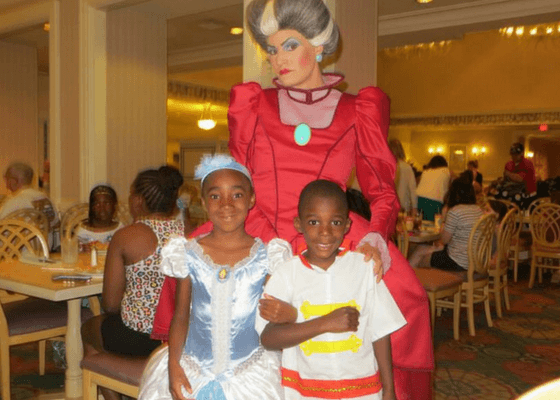 She also loves the characters at dinner, especially Lady Tremaine, Anastasia and Drizella: "Lady Tremaine was mean just like in the movie. But not too scary. The stepsisters were fighting over my brother because because he was in a prince costume and they both wanted to marry a prince!"
Sarah from MomMoment.com agrees that 1900 Park Fare is great fun for kids. She says:
Our favorite Disney Restaurant is 1900 Park Fare in Disney's Grand Floridian Resort. We've hung out with the Evil Stepsisters for dinner, and stuck our tongues out with Alice and the Mad Hatter at breakfast. I'm usually not a fan of the buffets, but 1900 Park Fare has really delivered with good quality food every time. I also love the variety of Characters you can meet, including villains like Lady Tremaine and favorites like Mary Poppins and Winnie the Pooh.
Her son says, "I love it because it's a buffet, but the food is really yummy. The characters are all ones that you can't find at the park really easy. I've never found Mad Hatter at the park, and Alice in Wonderful is kind of hard too."
Crystal Palace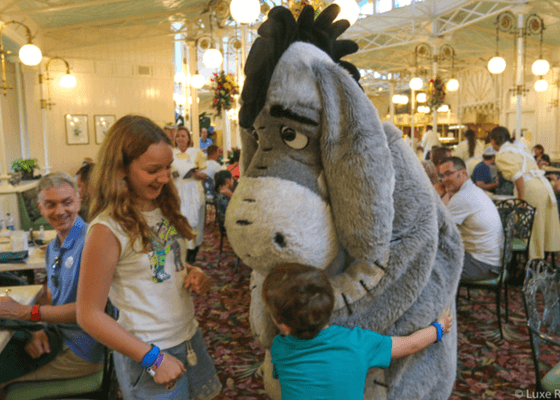 Robin of Luxe Recess says her children's favorite Disney dining option is Crystal Palace in Magic Kingdom:
My kids consider Crystal Palace in Magic Kingdom our family ritual. We have photos of Pooh, Piglet, and Eeyore from over the last 7 years that serves as our kids' unofficial growth chart. We have always enjoyed an extended air-conditioned break for lunch, and the buffet offers lots of healthy options so that we can indulge in Mickey bars in the afternoon.
Bon Voyage Breakfast at Disney's Boardwalk
Disney's Bon Voyage Breakfast at Trattoria Al Forno on the Boardwalk offers the unique opportunity to meet some Disney PRINCES! The character breakfast features Ariel, Prince Eric, Rapunzel, and Flynn Ryder.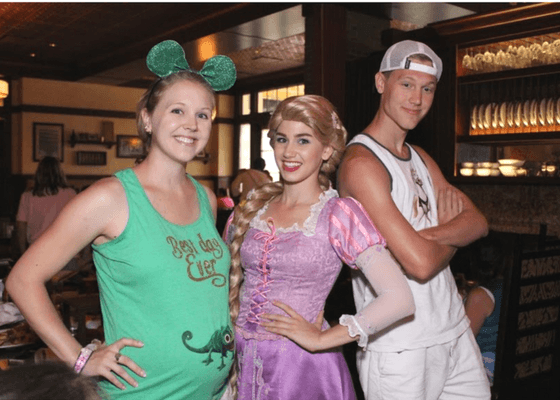 Kayla from Mommy of a Princess writes:
We enjoyed meeting both princesses and princes. They did a formal announcement for each character while we were there which was really fun to see. Rapunzel and Flynn danced together which was absolutely adorable! They also did a character parade (happens once per hour) for all the kids to follow and dance with the characters together. Our food was delicious and presented in a very fun and creative way. I ordered Rapunzel's Tower of Pancakes and it was so yummy! My little princess loved the pancakes too. She liked the powdered sugar sun off and ate nearly as much as I did!
Ohana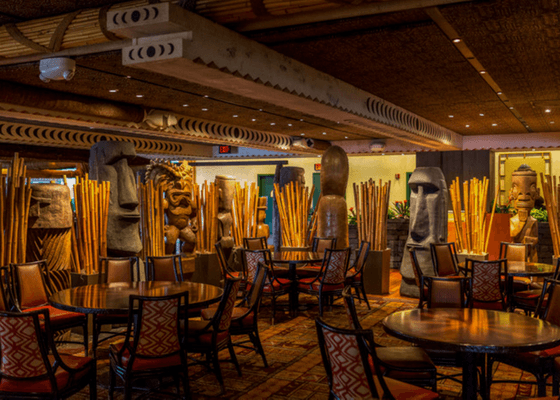 This one technically qualifies as a character meal AND non-character meal, because it has characters at breakfast (typically Lilo and Stich, as well as Mickey and Pluto in their Hawaiian garb) and no characters and lunch or dinner. Both are great fun and delicious food, but I think the breakfast wins as the meal of choice for kids.
During breakfast, children are given maracas to do a little parade around the restaurant with Mickey.
The food is served family-style in a large skillet in the center of the table. It's all-you-care-to-eat, so they will keep refilling it until you're done. The breakfast starts with Hawaiian welcome bread and a side of fruit. Then the skillet comes out filled with eggs, bacon, sausage, biscuits, breakfast potatoes, and Mickey waffles.
If you're not staying at the Polynesian, booking a meal at Ohana also gives you a reason to go check out the resort. The theming is exquisite and there are several great restaurants on site.
Hollywood and Vine
Truth be told, the food at Hollywood Studios' Hollywood and Vine has never really impressed me much, but kids rate it one of their favorite Disney restaurants.
Disney Junior breakfast at Hollywood and Vine features some hard to find characters, including Doc McStuffins, Jake from the Neverland Pirates, Sofia the First and Roadster Racer Goofy.
Depending on the season, dinners at Hollywood and Vine feature Minnie in various holiday garb with friends like Daisy, Mickey, Donald and Goofy.
Shannon of BRB Going to Disney says her toddler daughter loved seeing the characters all dressed up for in their pastel best at Minnie's Springtime Dine. She especially loved Minnie's dress!
SECTION 2: NON-CHARACTER MEALS
50's Prime Time Cafe
This Hollywood Studios restaurant is always a hoot, even if the nostalgia factor is appreciated by the parents more than the kids.
Adults will be blown away by the details in this restaurant where seemingly every tchotchke is the exact one from your grandparents house! Kids enjoy the interaction with the servers, especially when they give their parents a hard time.
Tiana says,
I love how the Aunts and Uncles are your servers and they tell you things like "Get your elbows off the table!" One time my mom got yelled at for being on her phone and it was SO funny!
Randomly, I actually caught that incident on video so here it is:
The menu includes classic Southern comfort food like fried chicken and meatloaf, just like Grandma would make. Definitely a unique experience that is not to be missed.
Teppan Edo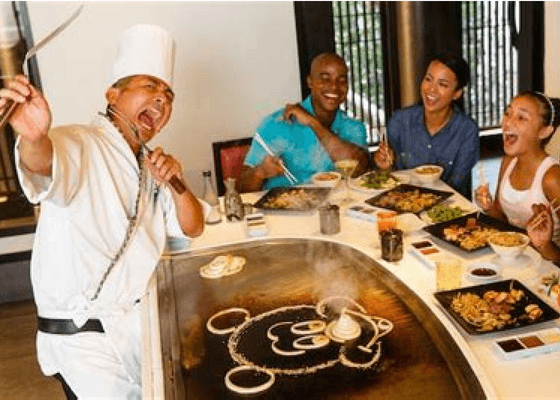 Teppan Edo is a fun, interactive Hibachi restaurant located in the Japan pavilion at Epcot. It makes a great meal for families because it holds the little ones' interest but allows the parents to get a break from the typical American casual cuisine and enjoy some yummy Asian food.
Gena from GingerCasa.com says, "My boys (4, 7, 9) all say Teppan Edo at Epcot! My youngest was celebrating his birthday and they gave him a chef hat and he loved it! The food is THE best and they were all so nice (of course!)."
Via Napoli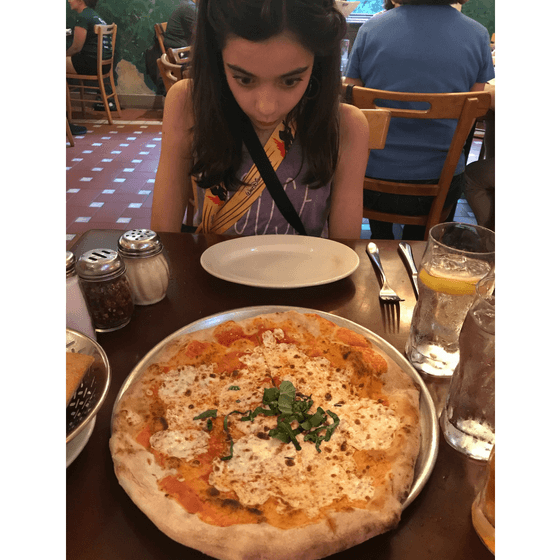 Lisa from Adventures In Familyhood shares that her 11 year old daughter loves Via Napoli in the Italy section of Epcot:
My favorite Walt Disney World restaurant is Via Napoli. The pizza is heavenly! It tastes as if the chefs put Disney Magic into every pie they make. The margarita pizza is my absolute favorite. It's the dough that makes the pizza so yummy.
Sci-Fi Dine-In Theater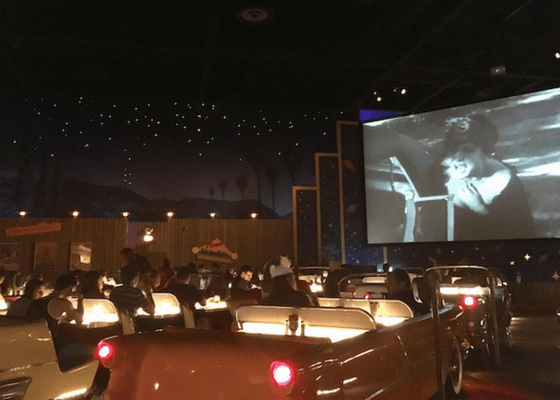 Lindsey of Red Head Baby Mama writes:
My son loves Sci-Fi- Dine-In Theatre because of the unique car seating and awesome movie clips! Mama likes the fact that he'll clean his plate here, too.
AJ, age 7, also loves Sci-Fi Dine-In Theatre:
The Sci-Fi drive in movie restaurant is the coolest because you get to sit in these cool cars and you get to watch TV!
Some parents love Sci-Fi as well, however they caution that it can be very dark and difficult to read the menu. There is also the issue of the seats, which all face the screen. That means if two parents are sitting with two kids, you are not facing each other. The kids most likely won't mind, but it can make it a little difficult to cut their food and address any needs they may have while they dine.
Rainforest Cafe/T-Rex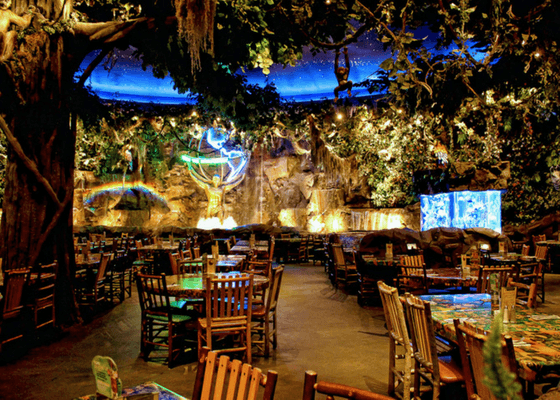 Darkness, noise, and animatronic animals might not be at the top of the list of characteristics adults look for in a restaurant. But for kids, the unique experience found at Rainforest Cafe and T-Rex (both owned by the same company) is about as thrilling as dining can be.
Lena, age 5 says: "We went to Disney Springs and I liked Rainforest Cafe. It looks like a real rainforest and kind of like a zoo!"
Most kids will go gaga for the theming if they are animal fans or dinosaur aficionados. However, if your child is easily frightened by darkness or noise (or thunderstorms!), they might not enjoy the experience.
Both of these serve up your standard American fare with large portions and themed names like Prehistoric Pasta and Guac-asaurus burger.
With two Rainforest Cafe locations (Disney Springs and Animal Kingdom) plus T-Rex also at Disney Springs, these reservations are pretty easy to get in case you missed that 180 day mark when planning your trip.
Does your kid have a favorite Disney World restaurant?
Leave a comment and let us know what it is!