If old fashioned and traditional names aren't your style, you'll love this list of modern baby boy names with new and interesting baby names for today's millenial moms!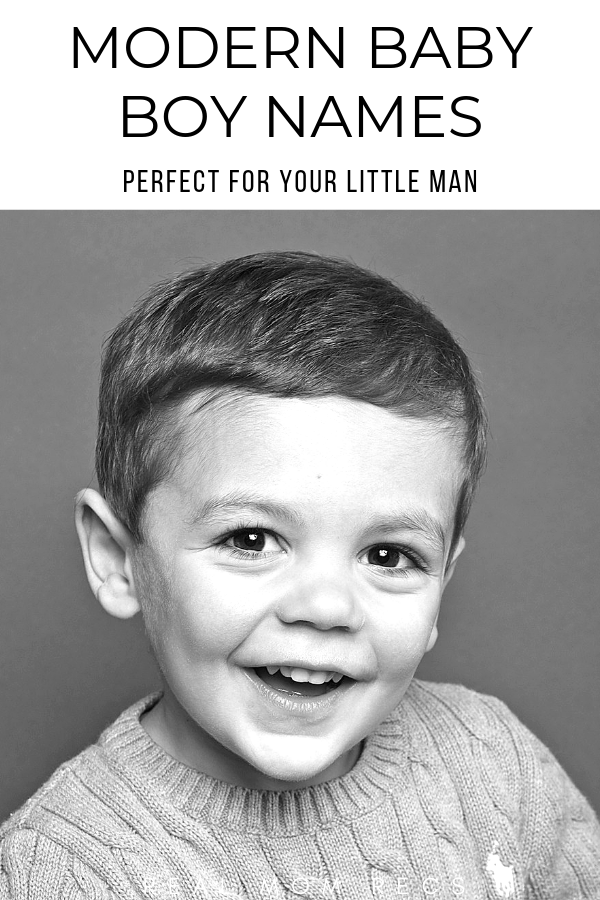 Historically, parents have been more creative with girl names than boy names. Girl names turn over faster in the top ten spots on the charts, while boy names stay more constant. It has been our cultural norm to choose traditional, classic names for sons. Parents have also chosen to name their sons after family members much more often than their daughters.
Lately however, the trends are starting to change. Parents are looking at more unique boy names to help their sons stand out, a change from all the Johns and Michaels we grew up with. Millenial parents are more up on the trending baby names and make their choices accordingly.
What makes a baby name modern?
Unlike old fashioned baby names, modern baby names have been introduced to society more recently. They tend to follow certain patterns, like the -ayden baby name craze (-ton, -con, and -lo names are other examples). Modern baby names may explode based on the popularity of a celebrity, or the name chosen for a celebrity baby. Other times they are simply invented based on a look or sound that is pleasing to today's eyes and ears.
Can modern names have historic roots?
My personal answer is yes. A name can exist in history but then go unknown for decades. If it just crept onto the radar in the last 10-15 years, I consider it a modern name.
Keep in mind that baby names tend to go in waves, so what sounds fresh and new now could be like Dorothy or Ernest 60 years down the road!
List of modern baby boy names
Aspen
Maverick
Cason
Lyric
Colby
Oscar
Makai
Beck
Jaxson
Bentley
Silas
Liam
Crew
Dax
Azlan
Bowie
Oliver
Gray
Asher
Lawson
Baker
Emmett
Burke
Elias
Ford
Case
Dalton
Easton
Cash
Jude
Trenton
Royal
Kai (included on my list of adorable three letter baby names!)
Zion
Layton
Brantley
Kingston
Renly
Trace
Ledger
Finn
Vaughn
Kayden
Axel
Dash
Sebastian
Zane
Damian
Camden
Ryker
Conall
Gatsby
Drake
Maddyx
Ronan
Jayvion
Arrow
Cullen
Jett
Maxen
Cyrus
Justice
Hawk
Cale
Jace
Koen
Agustin
Rylan
Julian
Kyson
Talon
Raiden
Dante
Onyx
Bear
Xayden
Ziggy
Looking for more name inspiration?
Don't miss these posts to help you find the perfect name for your little one:
Stunning baby names you have not thought of is my most recent popular post- don't miss it if you're looking for a name that's off the beaten path.
Baby boy name combinations will help you come up with a first and middle name combination that flows well together.
Unique baby names has lists for boys, girls, and unisex!
If you found names on this list that you love, make sure you Pin it for later!