I'm sure you've heard about Amazon Prime Day 2018, touted as having more deals than Black Friday. The deals start July 16 this year and go for a day and a half.
Read on for the best Prime Day deals for Moms! PLUS, how to get in on the action even if you don't want to pay for a Prime membership!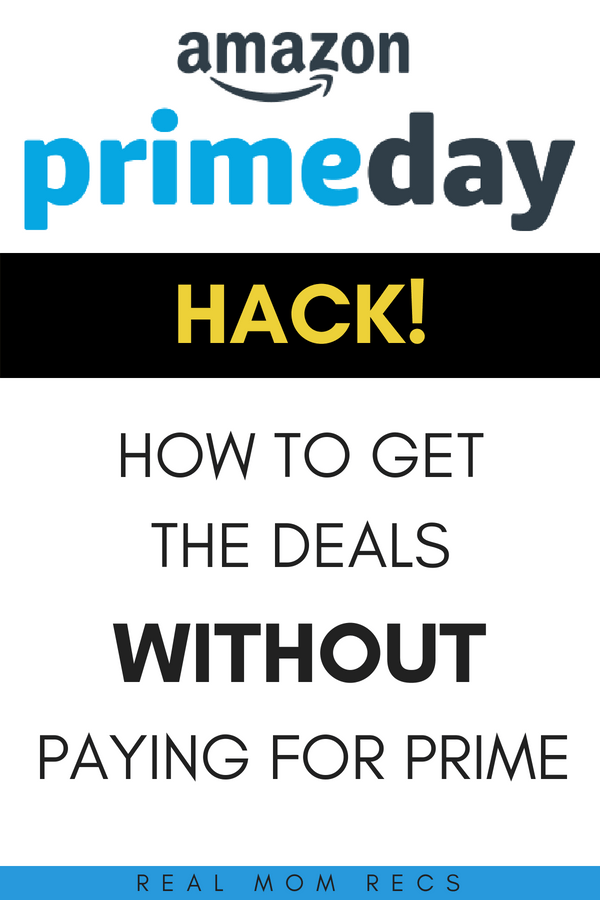 Disclaimer: This post contains affiliate links, which means if you click one of the product links, I may receive a small commission at no extra cost to you.
Deals to watch for:
There will be deals on all Amazon devices so if you've been eyeing something, this will be your time to buy!
Fire tablets
The kids edition of this tablet has everything you need for kids:
-a kid-proof case (pick blue, pink, or yellow)
-8 hour battery life (take it on those long car rides!)
-16 GB of storage
-1 year of FreeTime Unlimited means you don't have to pay extra for apps! You have access to 15,000 popular apps and games, videos, books, and educational content from PBS Kids, Nickelodeon, Disney, and more
–Best of all, a 2 year worry-free guarantee! If your kids break it, just return it and they will replace it for free. NO QUESTIONS ASKED!
Amazon Echo
I got this for my husband at Christmastime and I swear it's the only gift I've ever gotten him that he actually uses and likes!
"Alexa, what's the weather today?"
"Alexa, how is the traffic in Baltimore?"
Or, "Alexa, play Jimmy Buffet."
He says Alexa is the only girl in his life who always listens and never talks back 😆
We keep ours in the kitchen to play music while we cook. That is also a handy place for her because you can add any ingredients you run out of your shopping list, or just order more off Amazon right from Alexa!
Once you have the Echo, grab an Echo dot to have Alexa in any room in the house.
Fire TV / Fire TV Stick
Get the latest streaming device to access Netflix, Amazon video, Hulu, and more. Launch content with the Alexa voice remote!
This looks so cool, I think it will be our next Amazon purchase. It's a best-seller so I'm expecting a hot deal for Prime Day.
Other deals from last year's Prime Day included TVs, electronics, toys, home goods, school supplies, and computers. Be sure to check the deals throughout the day if you're in the market for any of these.
My best guess at this year's hot products
While there's no way to predict what the best deals will be this year, I have some predictions to be on the lookout for.
Nintendo Switch
was a hugely popular item last year:
The Instant Pot Pressure Cooker
has been one of Amazon's bestsellers for over a year now:
Echo Show
is their latest hot item so I'd be shocked if it weren't included in Prime Day:
Tips and tricks: Make a Wish List
I'm a big believer in not buying things just because they're on sale. One trick I use to keep me on track with Amazon is to make a wish list ahead of time of items I'm already planning to buy. Then once Prime Day starts, I can check my wish list to see if the price has dropped.
HOT TIP:

How to get in on Prime Day 2018 without paying for Prime

Ok so we know the deals are going to be awesome, but they are exclusively for Amazon Prime members. So how can you get in on the action without coughing up the annual fee to become a member?

All you need to do is take advantage of the FREE TRIAL! It's the easiest workaround ever.

Sign up for a Amazon Prime Membership 30 day Free Trial
and just use it for Prime Day! Or, use it all 30 days and set a reminder on your phone to cancel it once the 30 days are up.
Why we love being Prime members
Don't be surprised if you don't want to cancel after 30 days. Amazon Prime is so convenient, especially for Moms who don't want to drag all the kids to the store every time you need to pick up a birthday present for your kid's friend or a mildew-proof shower curtain.
I'm so used to 2-day shipping now I get annoyed when I shop online elsewhere and have to wait a week for it to arrive!
We also do subscribe and save for diapers and wipes so I don't ever run into that panic of realizing you're all out!
Other awesome Amazon deals for Moms:
Amazon Family diaper deal:
Prime Pantry $10 coupon deal:
Get a free gift with Amazon baby registry:
Hire a pro from Amazon Home Services:
Kindle Unlimited for only 99 cents (normally $29.97!)
Hope you all score some hot deals on July 16-17 for Amazon Prime Day 2018!